My now three year old began thinking about her birthday a couple of months ago. She had watched how we made dinner for my birthday and then within a few days she began asking when we were going to "make her party." I thought it was interesting that she kept using the phrase "make a party" because it was clear that to her a party was more than just an event you attend. She had enjoyed helping me put all the details together and wanted to be able to make her own "pink" birthday dinner.
My youngest daughter absolutely adores the color pink. She loves dressing up and her favorite is jewlery.  She reminds me a bit of the classic children's book character, Fancy Nancy. Anything that comes with glitter and jewels is always better. So when I walked into Paper Source and saw this pale pink wrapping paper with gold glitter polka dots I thought it would make the perfect inspiration for her pink birthday dinner. So from there I found tiny gold glitter crowns and I thought my daughter would just love. Wrapping paper can make a really beautiful table runner for a festive occasion. In the past I have found some great paper patterns at Hobby Lobby, the Container Store and Paper Source. Then I found some paper napkins from Meri Meri with scalloped edges that worked as both placemats and napkins and some gold hearts that would make pretty place cards.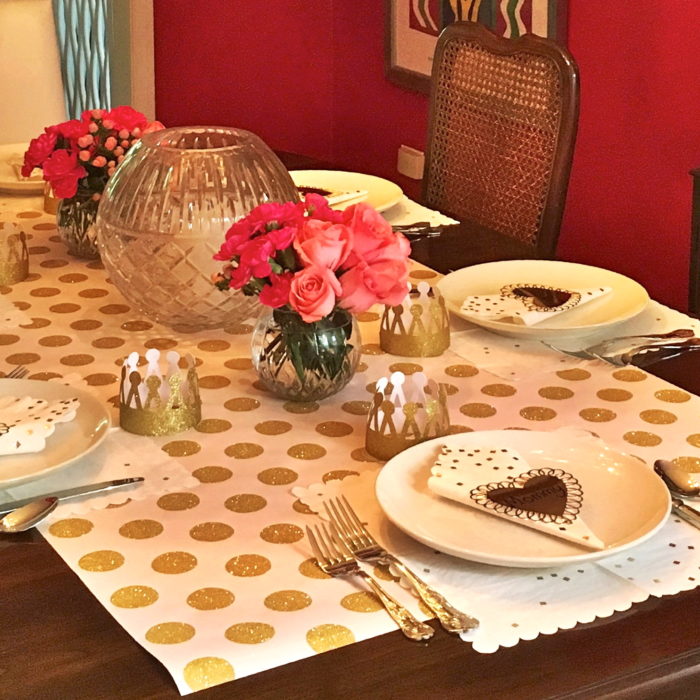 Then for the some pretty pink details I put together some two toned coral and pink tissue paper peonies.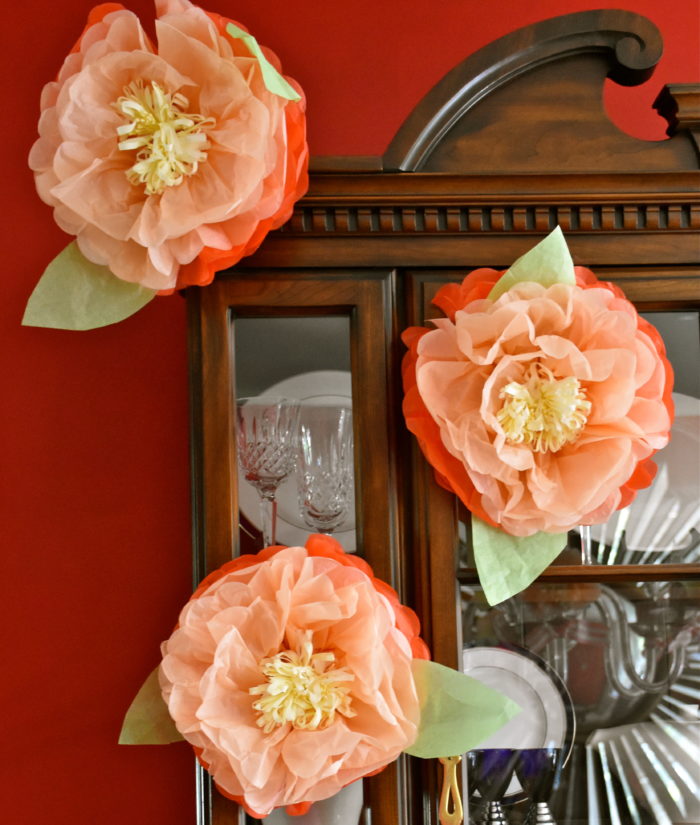 Then I decided to let my girls decorate their crowns with stick on jewels from the craft store. The birthday girl decorated hers in all pink. This little project was easy enough for preschoolers to do themselves and they were thrilled with the colored jewels. This would be a fun party favor. I could also see using the same kind of jewels to decorate wands as well. Here is a link to an example of some star wands that I think would also make a fun kids party favor.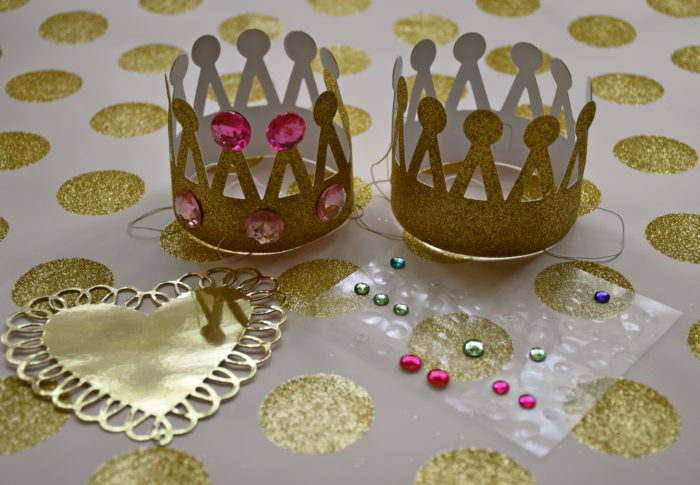 Sometimes I like to decorate my chandelier to make the dining room feel festive so I made some smaller pink peonies to hang above the table.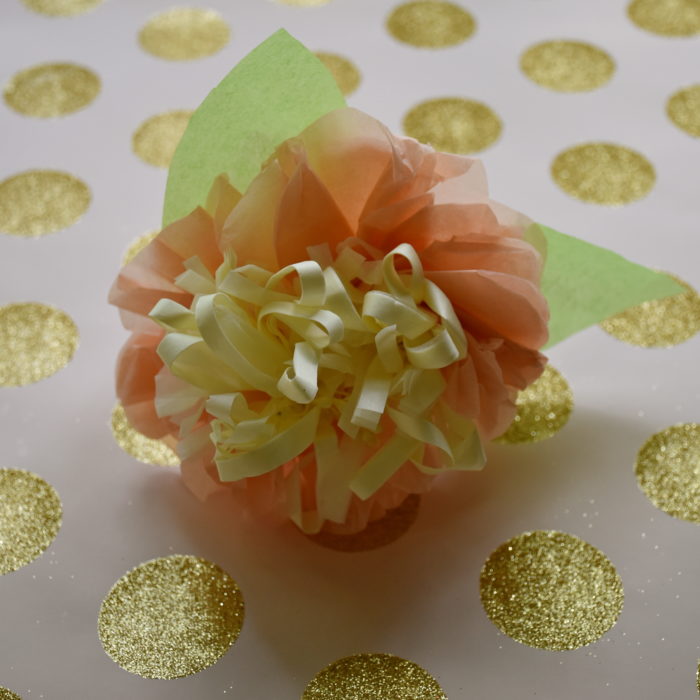 I wanted the flowers to fit over the candles on my chandelier without damaging them so I took some cardboard rolls I had left over from vacation bible school stickers and I wrapped then in ribbon and hot glued the flowers to them.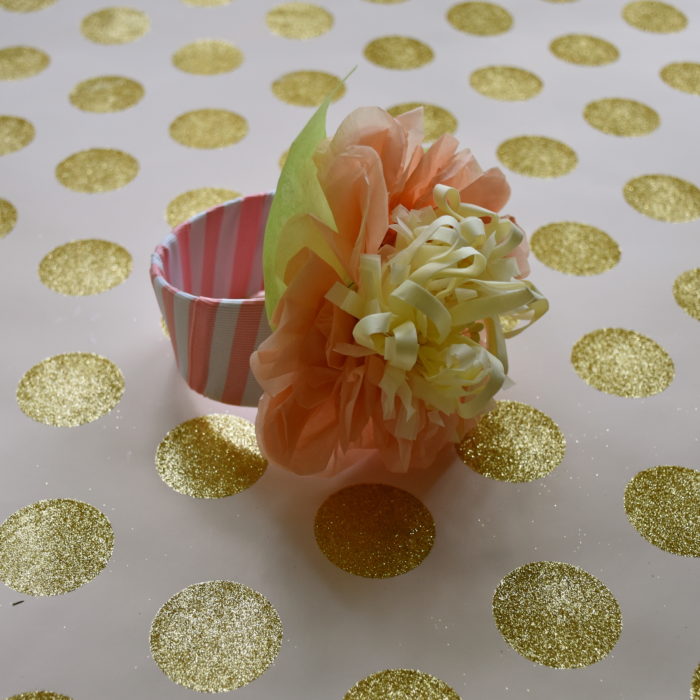 Then for an extra touch of pink I tied some ribbons below the flowers.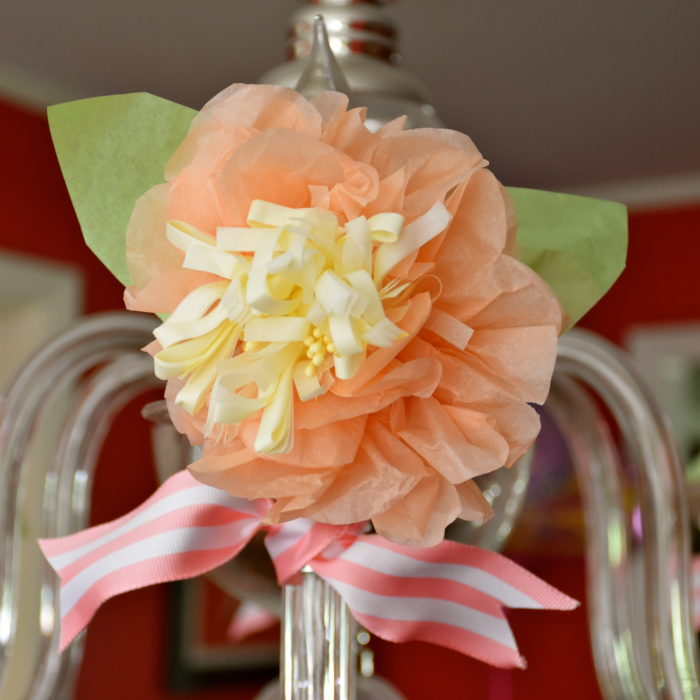 Finally, the last details were some balloons and pink roses and carnations for the table. My daughter loved helping me set up and decorate everything. She definitely enjoyed every minute of her birthday. It was so fun to watch her face as she sat in the dining room taking it all in with a huge smile on her face. The best part was that her grandmothers came to celebrate with us. It was definitely a fun evening filled with all the pink glittery details my little party planner loves.