Every family has their favorite traditions, in our house one our favorites is homemade birthday cakes. I love to bake so one of the things I do is try and come up with a unique cake to suit the tastes of the birthday girl or boy. Sometimes I get a request for a certain type of cake, other times I try and make something that I think they will like. My youngest daughter loves strawberries and the color pink so I thought I would create a strawberry cake with cream cheese icing. The only recipe I had was one that called for a box cake mix, but I prefer to bake cakes from scratch because they tend to be more flavorful and moist. So for this recipe I worked to create my own recipe for strawberry cake. I love the traditional pink color so I kept the strawberry jello because it gives the cake its truly signature color.
This recipe makes two nine inch round cakes. I made two batches of the cake because I decided I wanted a taller three layer cake for the birthday party.
Strawberry Cake
2 cups of sugar
4 eggs
2  1/2 cups flour
3/4 cup milk
2  1/4 tsp baking powder
1 tsp vanilla
3/4 cup vegetable oil
1/4 cup sour cream
1 (3oz) box of strawberry jello
1 cup of fresh strawberries pureed
Preheat your oven to 350 degrees
First, I like to prepare my strawberries by removing the stems and then chopping the berries in half. Then I put my berries in my mini food processor, but you could also use a blender. I then pulsed the berries till they were like a thick jam with some tiny even bits of berry. Then set the berries aside to mix in the batter later
Next using your mixer beat together the sugar and eggs on medium speed for about a minute. Then add the flour, milk, oil, baking powder, sour cream and vanilla and mix until just incorporated.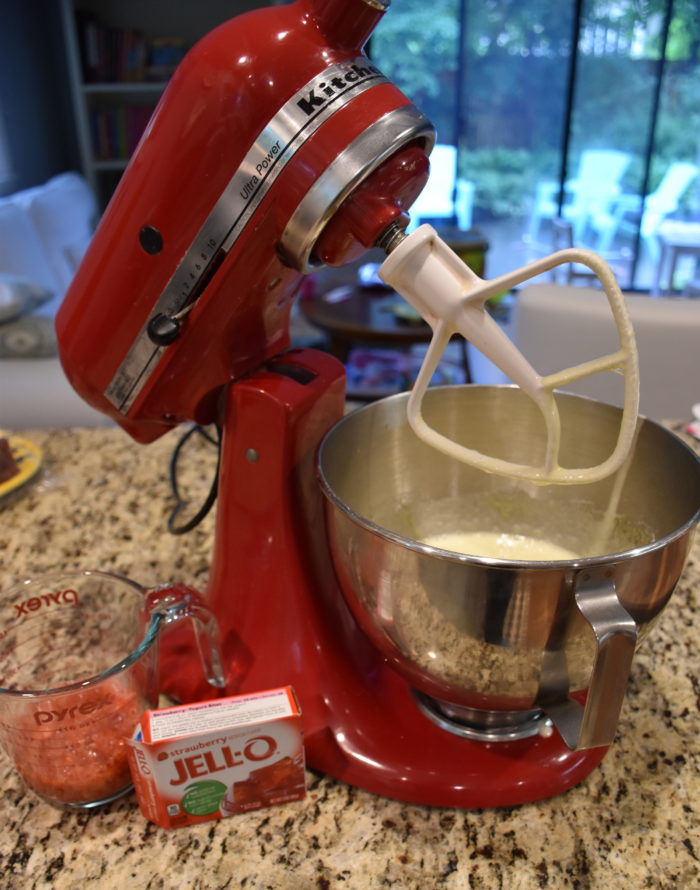 Next add in your strawberry gelatin and strawberries and mix on medium low until the batter turns pink and the ingredients are evenly incorporated.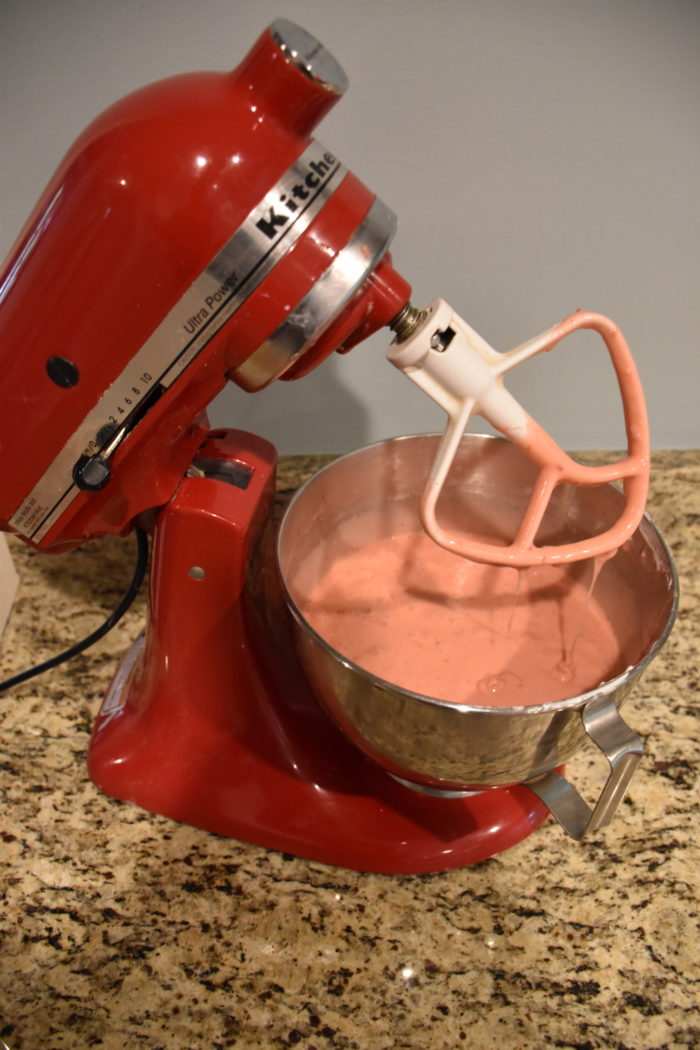 Next prepare your pans by cutting parchment paper rounds to fit inside the bottom of your pans. Then grease you pans using baker's joy or grease and then flour them. The parchment paper will ensure that your cake comes out of the pan smoothly. Then pour the batter in evenly between the two pans.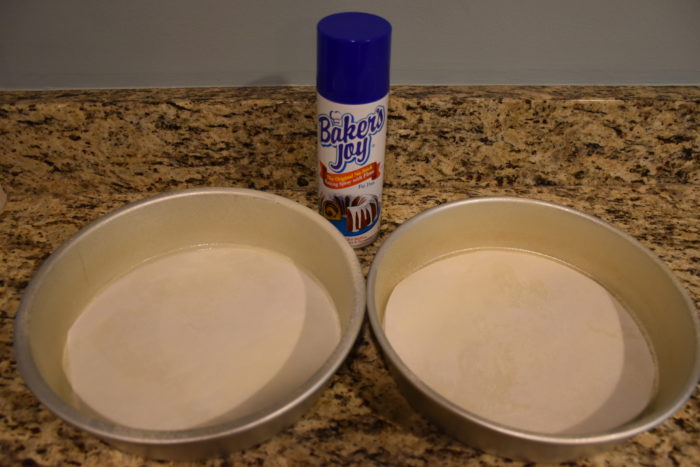 Then bake the cakes for 30 to 35 minutes. Keep a close eye on the cakes because you don't want to over bake your cake. You can check the doneness by testing the cake with a toothpick. If the toothpick comes out clean the cakes are done. Let your cakes cool in the pans for 10 minutes then turn them out of the pans to finish cooling on a wire rack. You want your cakes to be completely cool before you frost them.
Cream Cheese Icing
2 Sticks of Softened Butter (I usually let it sit out of the fridge for an hour)
2 (8oz) Softened Bricks of Cream Cheese (I let it sit out with the butter)
2 Tsp Vanilla
8 Cups of Powdered Sugar
1 TBSP of Milk
In the bowl of a mixer cream the cream cheese and butter. Add the powdered sugar vanilla and milk. Mix on high speed until the icing is smooth and fluffy.
To frost a cake I put a small dollop of icing on the plate or cake round to keep the cake from sliding. Put the bottom layer on top and then spread icing as a filling.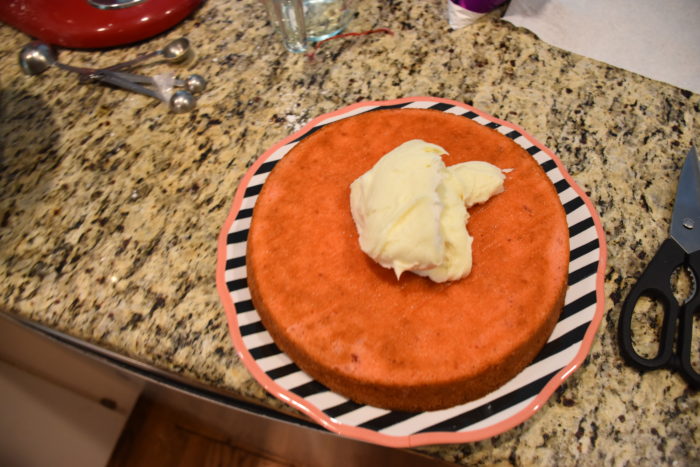 Then put the top layer on or if you want to make a three layer cake like I did then fill and stack your middle layer and then place on the top layer. Frost the cake by putting several large spoonfuls of icing on the top of the cake and use a separated spatula to spread the icing from the top and around the sides. I want to make sure the sides are covered so there are no gaps between the layers. This initial crumb coat does not need to be perfect. It just needs to seal in to crumbs and fill in any gaps in the layers.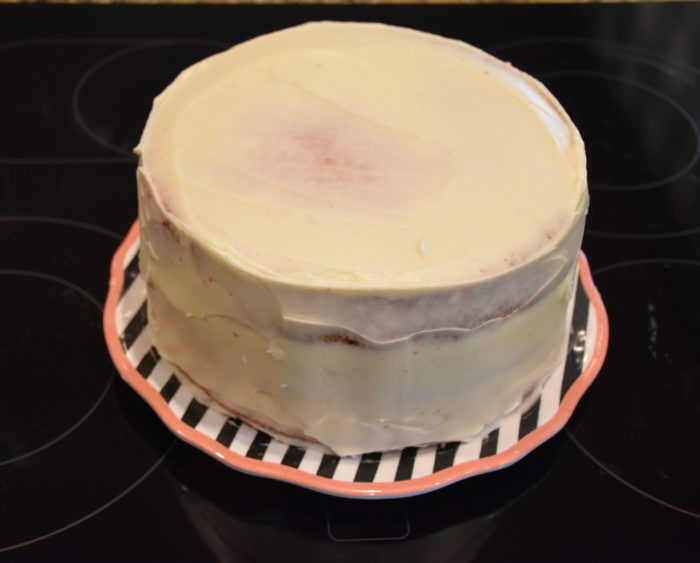 Once I get the cake frosted with a base layer (crumb coat), I place it in the fridge to firm up for about 30 minutes.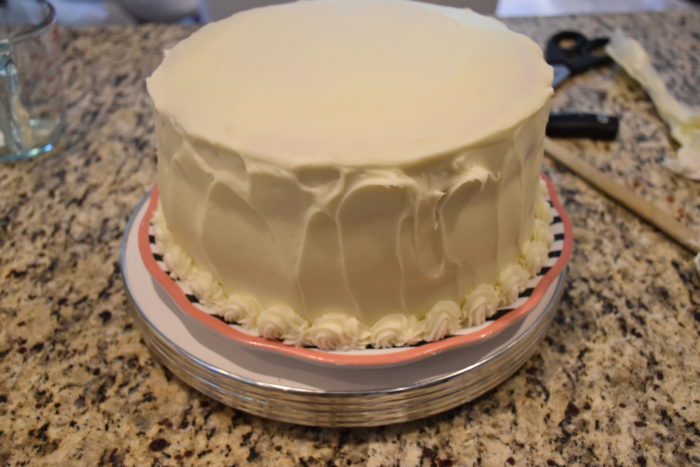 Then for my final layer I decided to give the sides a more textured look by taking my separated spatula and giving it a up and down motion. You can see that I have my cake on a lazy susan that I have which makes it quicker for me to frost a cake.  Then I smoothed the top.
If you want to go for a simpler decoration you could decorate the top with some fresh strawberries or you could make some fondant strawberries using the tutorial I have on this post here.
I wanted a more whimsical look for my decorations since this was for my young daughter. I like the taste of frosting better than fondant, but I still like the look of fondant decorations. I tend to decorate my cakes with some fondant cut outs and sugar gum flowers. So for this cake I decided to try out a new technique for making a chalkboard like cake topper.
To make the happy birthday topper I rolled black fondant to on a piece of parchment paper that I lightly dusted with powdered sugar. Then I cut out a circle using the lid of a jar. I painted on the lettering using white food coloring thinned with a tiny amount of lemon extract.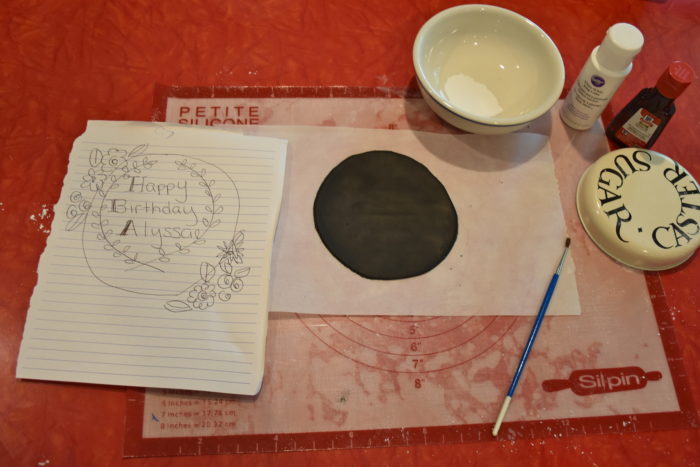 I like to plan out the spacing before I place it on the cake so I used my cake pan turned upside down to plan the decorations.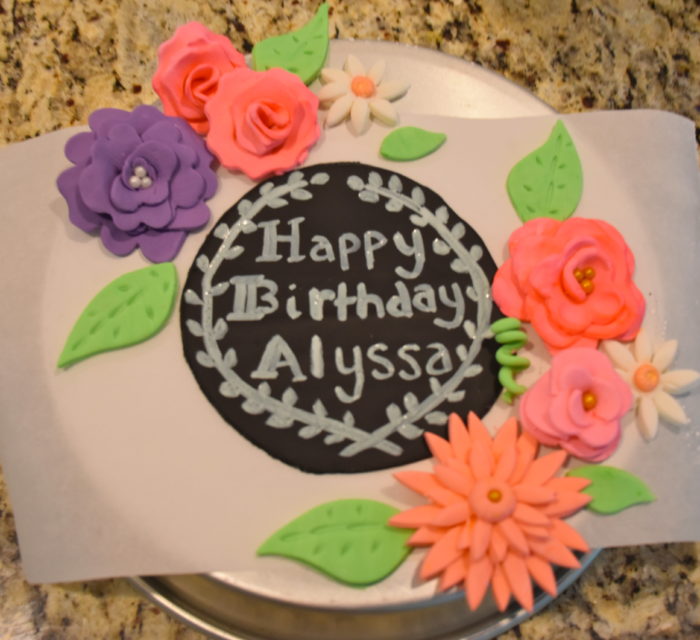 I plan to post more on gum paste flowers, but they really need a post of their own.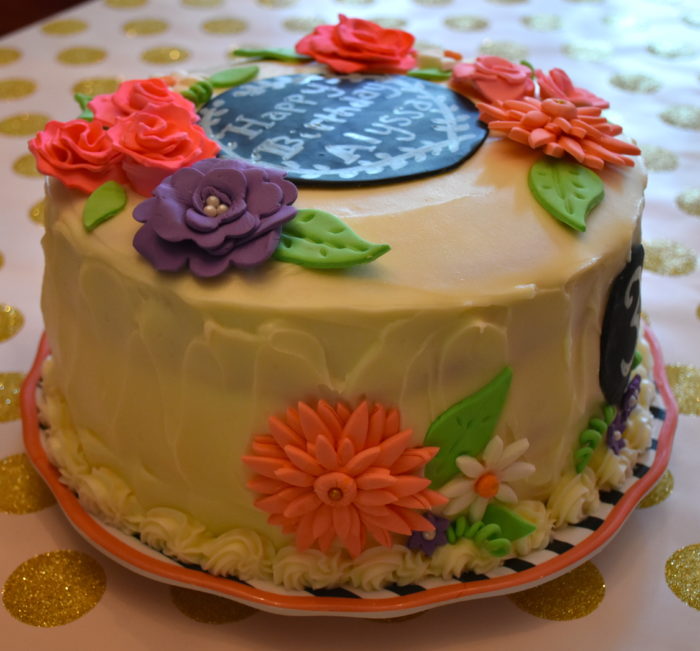 I like to decorate the sides of a cake as well.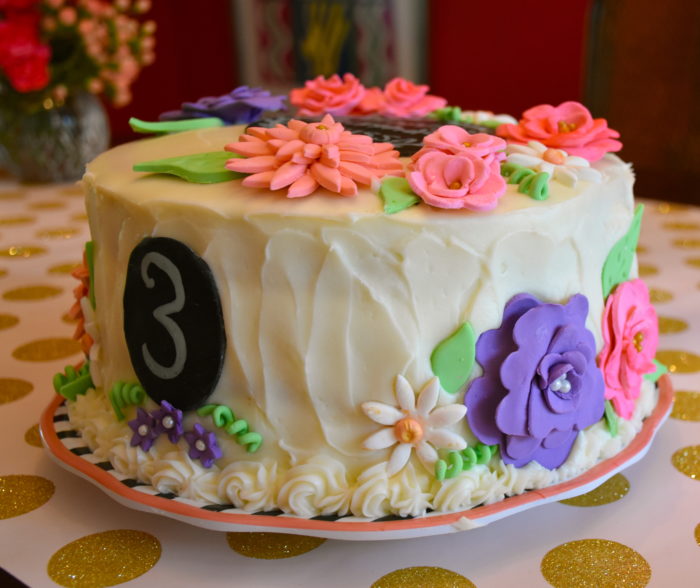 I thought the number three with the three purple flowers was a nice finishing touch for the front of the cake.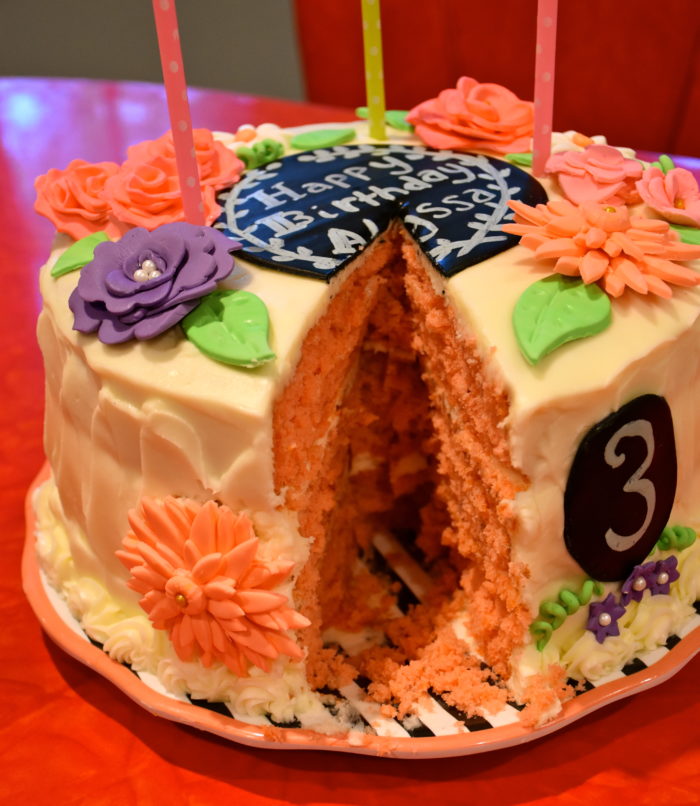 Here is the a view of the inside of the cake so you can see the festive bright pink layers.