There's a chill in the air, the fall gardening season is in its full glory here in the Midwest. As the summer leaves and plants are starting to fade, the trees are putting on quite a show. I love seeing the vibrant ochre, orange, crimson and gold leaves. Porches and gardens are overflowing with pretty pumpkins, mums, cabbages and kale. So this week I am sharing a few of my favorite fall garden ideas.
Grouping Small Pots Can Make a Dramatic Statement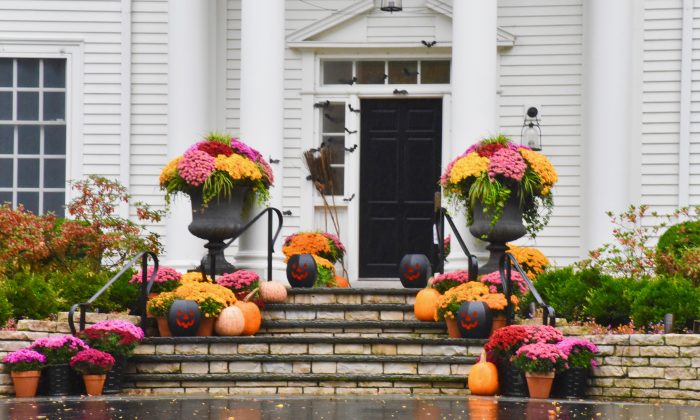 This house is one of my fall favorites. Look at those urns overflowing with color and trailing grasses. I love how the clusters of small terra-cotta pots and pumpkins below create such a dramatic impact and the small pots make it easy to plant and arrange. This reminds me of a beautiful European styled potted garden.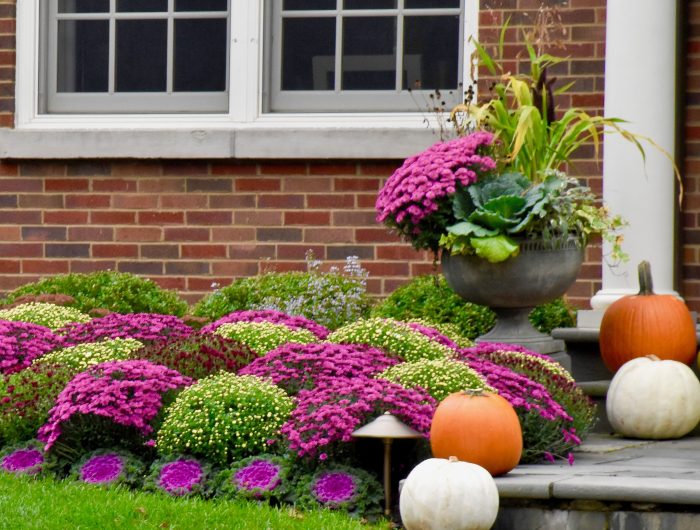 A large grouping of mum and kale create a colorful border that adds a pretty accent to this front stoop. The staggered stages of chrysanthemum blooms will make this fall color last longer.
Think About Adding Texture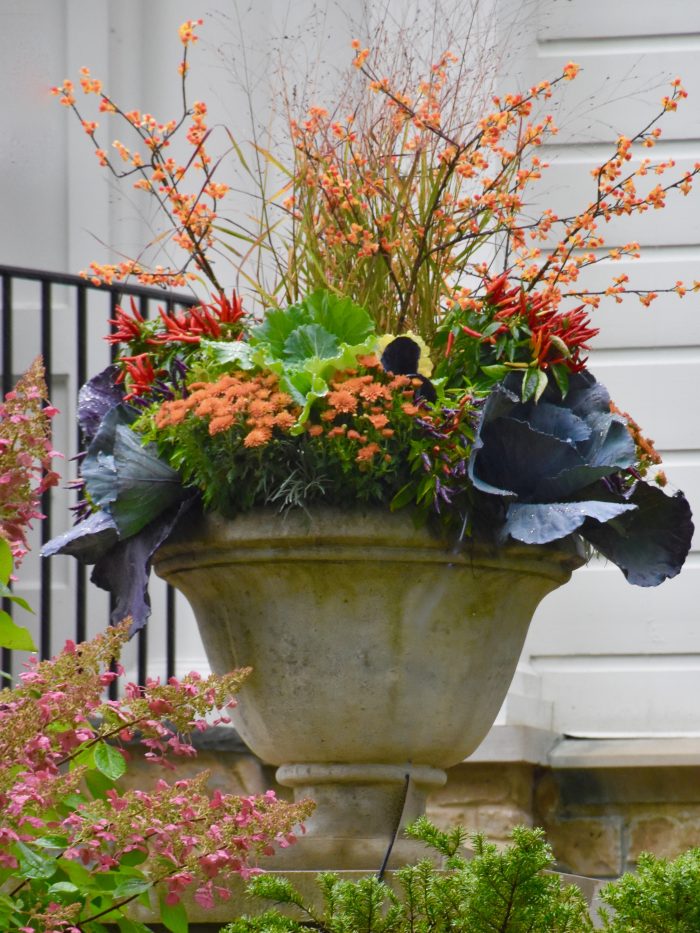 Bittersweet branches, ruffled cabbages, feathery grasses and red missile peppers add layers of texture and interest in this autumn planter.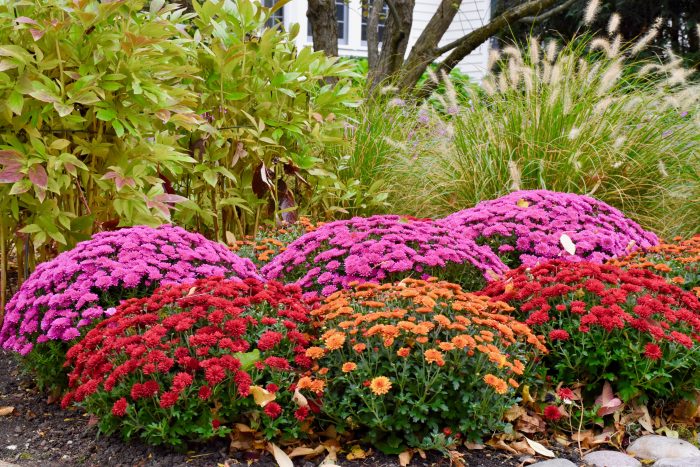 A trio of purple, red and orange mums brighten a perennial bed of peonies and ornamental grasses.
Asymmetrical Arrangements and Trailing Vines Add Interest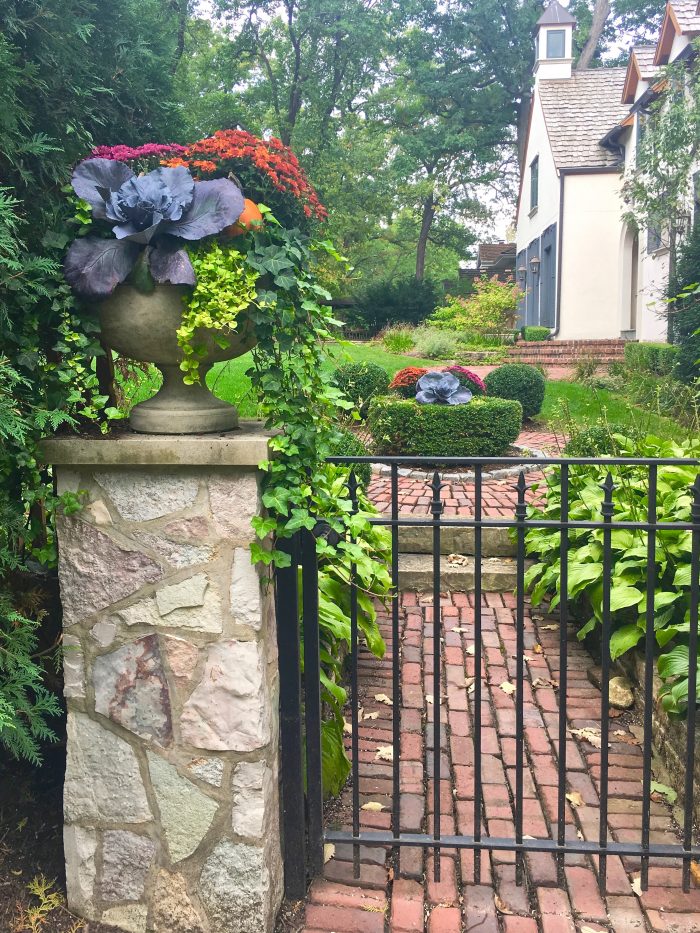 This garden gate planter creates quite the impact. I like how the asymmetrical planter arrangement has trailing ivy and creeping Jenny. The planter draws you into garden and the boxwood hedge.
A Few Fall Plants Can Anchor and Add Color to Your Garden Beds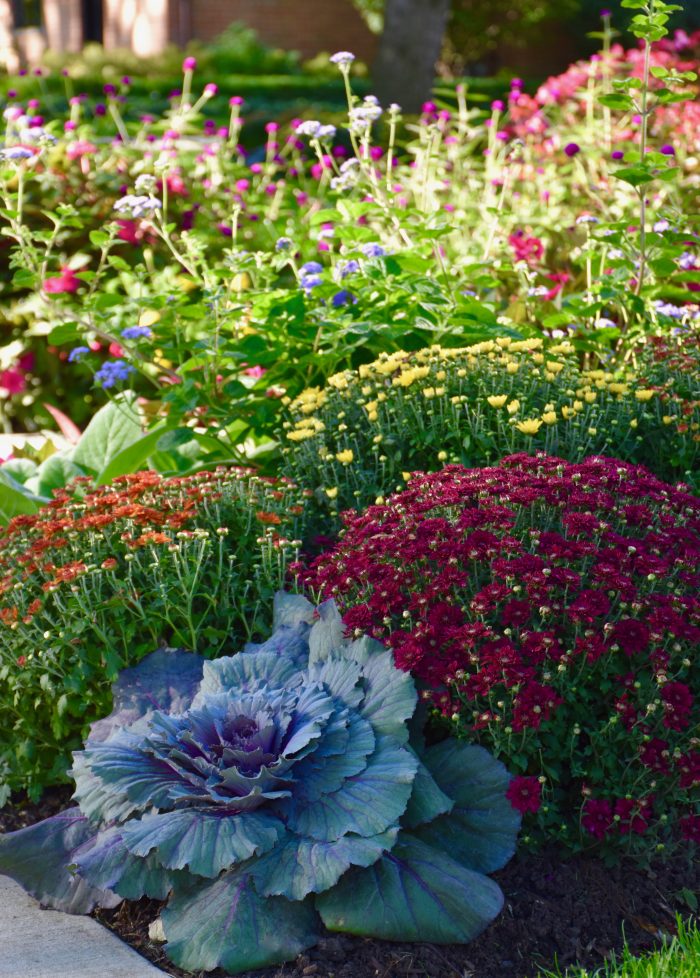 A cluster of fall flowers mixed in with some vibrant summer flowers creates a pretty mix for the short midwest fall season.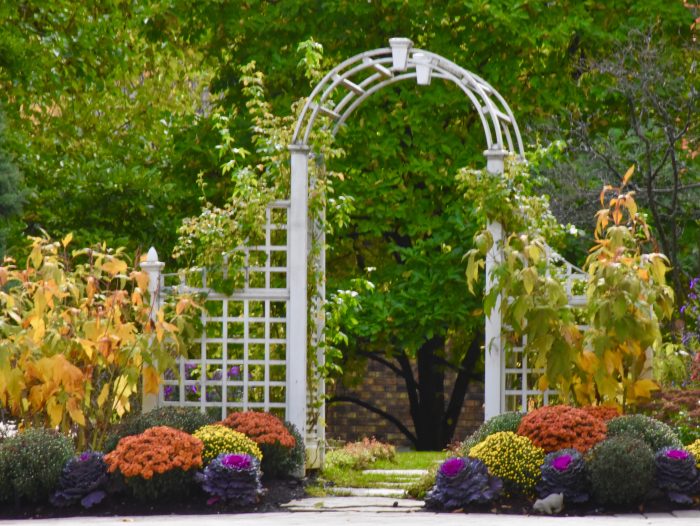 This garden arbor is simply stunningly the fall colors and overflowing beds welcome you inside.
Pumpkins and Gourds Are Pretty in Pots and Planters Too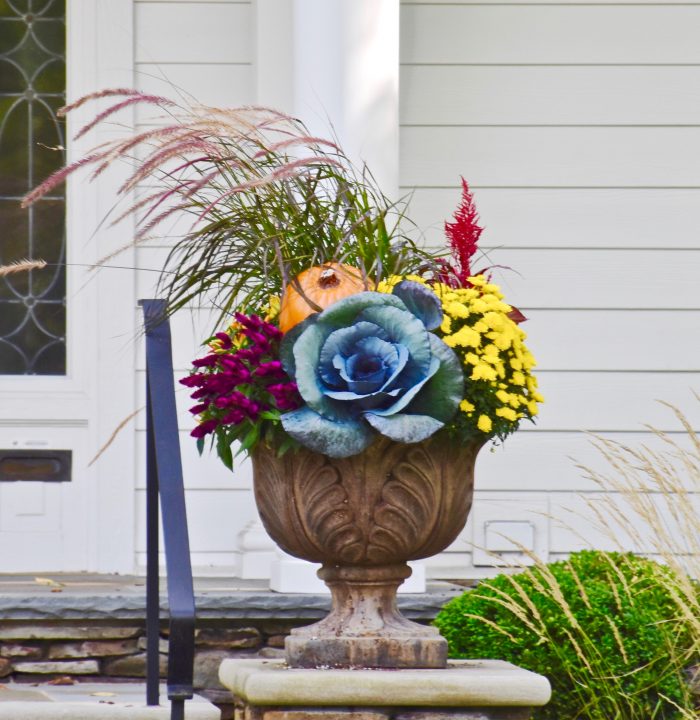 This small pumpkin adds a pop of pretty orange color to this arrangement.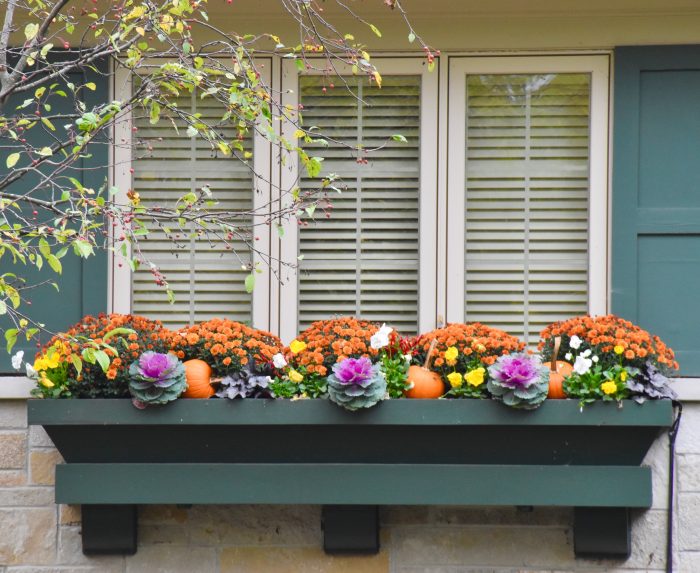 This window box has a few of my personal fall favorites, pumpkins, purple heuchera and pansies which add lasting color.
A quick pumpkin tip: I have found that the squirrels tend to leave my orange pumpkins alone when I spray them well with acrylic spray. Then before the spray fully drys I sprinkle on some chili powder on so it sticks. However, if your squirrels and chipmunks are especially cheeky then stick with white pumpkins they have a bitter taste that keeps them away.
Add Height and Interest With Branches and Berries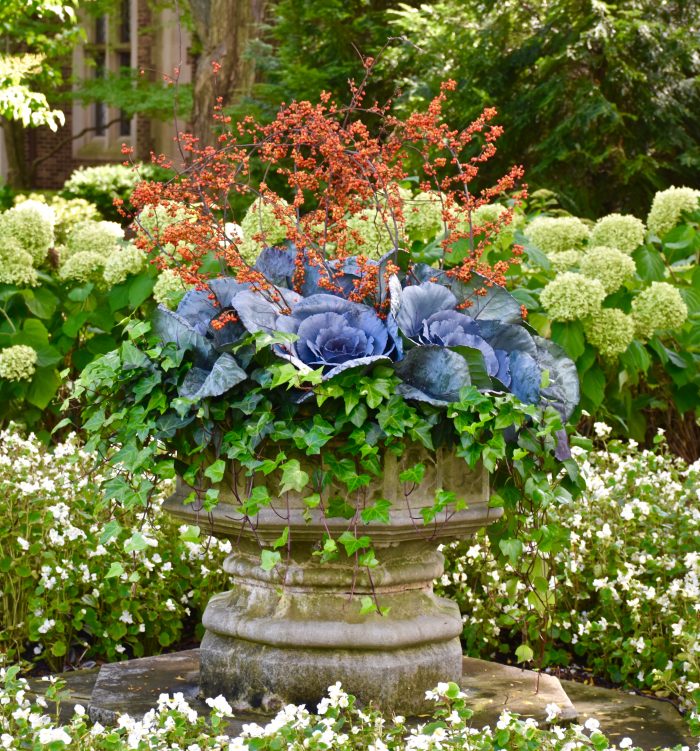 The English styled home above has one of my favorite planters. This year I happened to be passing by when the gardener was out planting. Although dried bittersweet is pretty it can be brittle. So in this planters they cleverly used very realistic faux branches. The wired branches allowed them to get his curved crown like shape.
The willow branches and small pumpkins become the stars of these planters adding fall color and interest.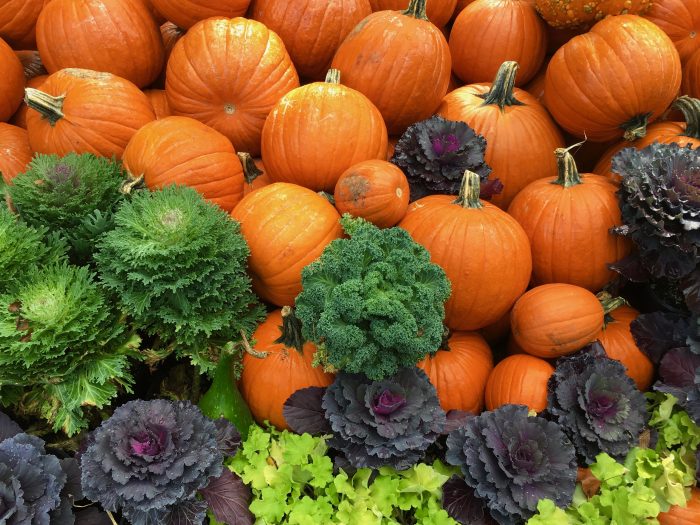 As my gardening year in Chicago comes to a close, I am savoring this blissful, but short autumn season. I love seeing all the pumpkins and planters. I particularly like all the fall flower pots and container gardens. They are like gorgeous little fall bouquets for your garden and front door.