The cold winter weather is here and I am already feeling the chaos of the holidays. How is it that Thanksgiving is already right around the corner?  But as I stand at my stove the worries of the day simply melt away. I take in the sizzle of okra and the smell of roux toasting in my soup pot. I taste the soup and when I do the flavors of the gulf coast come flooding back.
New Orleans has a rich culinary history. If you have ever had the pleasure of visiting the Big Easy then you know just how celebrated a meal can be. This week I have been reading and eating from Julia Reed's New Orleans Food, Fun and Field Trips for Letting the Good Times Roll. Reed is quite the story teller and her book is a feast for the eyes. It is filled with gorgeous photography, tales of parties and  introductions to the cooks and restaurateurs who make New Orleans so delicious.
The city has a a tradition of making some distinctive and amazingly flavorful soups, including my favorite seafood gumbo. So as I soon as I saw Reed's recipe for Gumbo I knew that I had to try it. Gumbo is one of those dishes that you don't see too often in the Midwest so this was definitely a treat. If you too want a taste of Reed's beloved, New Orleans then try her Gumbo. It took me a little over an hour to make, but you just can't rush flavors this good. Reed's recipe is party sized to serve 10 to 12 so I adapted it for a smaller party of 4 to 6. I like to serve my gumbo with a side of rice and some garlic bread.
Julia Reed's Seafood Gumbo (Serves 4 to 6)
1 pound medium shrimp, deveined and peeled
1 1/2 teaspoons kosher salt
4 tablespoons vegetable oil, divided
1 pound okra sliced
1/2 pound andouille sausage, thinly sliced
1 tablespoon flour
1 medium yellow onion, chopped
2 celery stalks, chopped
1/2 cup green bell pepper chopped
4 green onions chopped, with tender green parts
2 garlic cloves, minced
1 tablespoon tomato paste
3 cups seafood stock
2 bay leaves
1/2 teaspoon dried thyme
1/8 teaspoon cayenne pepper
1/4 teaspoon freshly ground pepper
2 teaspoons Lea and Perrins Worcestershire sauce
1 cup whole tomatoes, roughly chopped and 1/3 cup of their juice reserved
1/2 pound lump crabmeat (I made mine with just shrimp and sausage but when I can find it crab is always good)
3 finely chopped green onions as garnish and topping
4 to 6 cups cooked white rice
In a large skillet heat 2 tablespoons of oil over medium heat add okra and sprinkle with 1/4 teaspoon of salt and sauté stirring often for about 10 minutes
Then place your okra in a bowl to add back to your gumbo later. Next sauté your andouille sausage until browned and then set it aside to add in later.
In a large stock pot heat 2 tablespoon of oil over high heat. Add flour, lower the heat to medium and stir constantly. You want your roux to cook till it turns a medium brown. Add your onion, celery and bell pepper and sauté. Continue to stir and cook until you're vegetables soften, 4 to 5 minutes. Add in your garlic and green onions and cook an additional 3 minutes.
Next stir in your tomato paste, tomatoes and and 1/3 cup of their reserved liquid, thyme, bayleaves, pepper, Worcestershire, and 1 teaspoon kosher salt. Then gradually stir in your seafood stock. Add the sausage and okra. Bring to a boil over high heat and cover. Reduce heat to low and simmer for 30 minutes.
Then remove and discard your bayleaves. Stir in your shrimp and simmer for 2 minutes. Stir in your crab meat and simmer for 1 minute more. Remove from heat and serve in bowls over rice.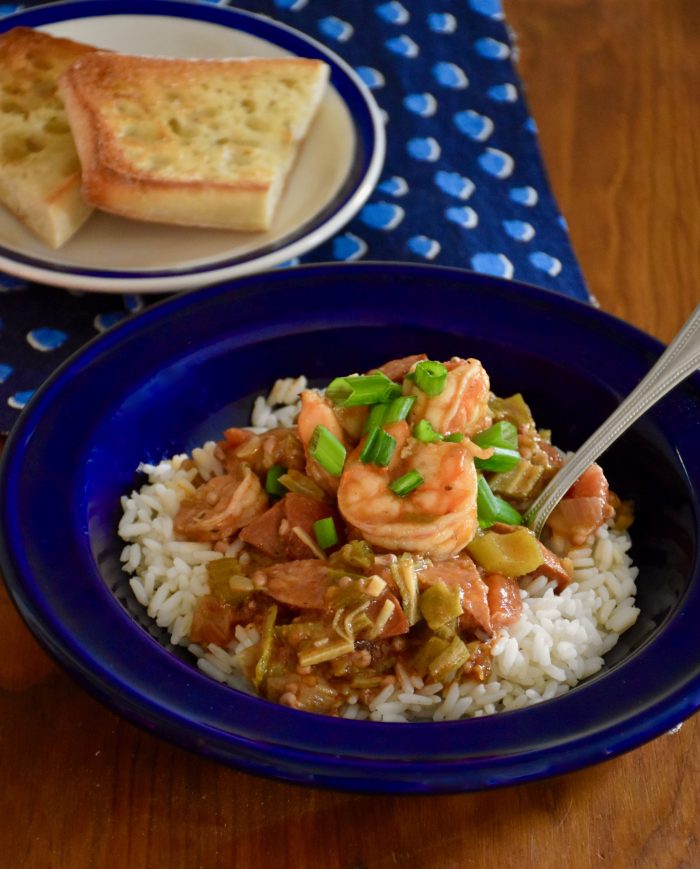 Reed notes that this recipe can be made up to two days ahead of time, but she recommends leaving out the seafood. Heat the gumbo up to a boil and then add your seafood right before you serve it, according to the last step in the recipe.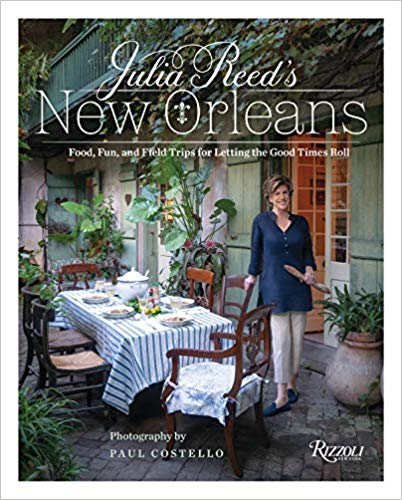 So Laissez bon temps rouler, Julia Reed's New Orleans has been hard to put down. I have loved seeing the city with her writing as my guide. I know this book is one that  I will continue to cook from in the years to come. I am already eyeing other recipes like her scalloped "Christmas Potatoes," Strawberry Salsa and Rum Pecan Pie. So if you are already thinking about holiday gifts then this cookbook would make a wonderful present for the entertainer or cook in your family.