Thanksgiving celebrates gratitude, family and food and in our house plenty of nostalgia. I love hearing about people's holiday traditions. What kind of turkey do you cook? Or do you skip the turkey and make a more adventurous and less traditional main course?
My mom makes an excellent herb roasted turkey while my husbands' family has a unique but equally delicious tradition of a breaded turkey fricassee. Then there are of course the side dishes. In our house the general rule is the more the merrier from my grandmother's cheese onions and black cherry Jell-O salad to my great grandmother's cornbread stuffing, my mom's sweet potatoes, cranberry sauce and green beans. Finally, there is dessert where there are usually three to four different pies and sometimes even a cake. When we are all together our family puts together quite a meal.
In all families change happens, so making new traditions is important too. Moving has meant that some years we can't always make the grand event. I now have few new dishes of my own like turkey schnitzel with a beurre blanc and mashed potatoes. The four of us can only eat so much so I have edited the side dish list just a bit, but it's still delicious.
However, the one tradition that I haven't trimmed is setting the Thanksgiving table. I come from a long line of gracious hostesses, so even for a table of just four I will still pull out all the pretty dishes and create something beautiful. I can remember Thanksgiving at my grandmother's house. The table would be set with her brown and rust Spode dishes and a pretty flower arrangement. Flowers and just a few small touches can make any table holiday ready.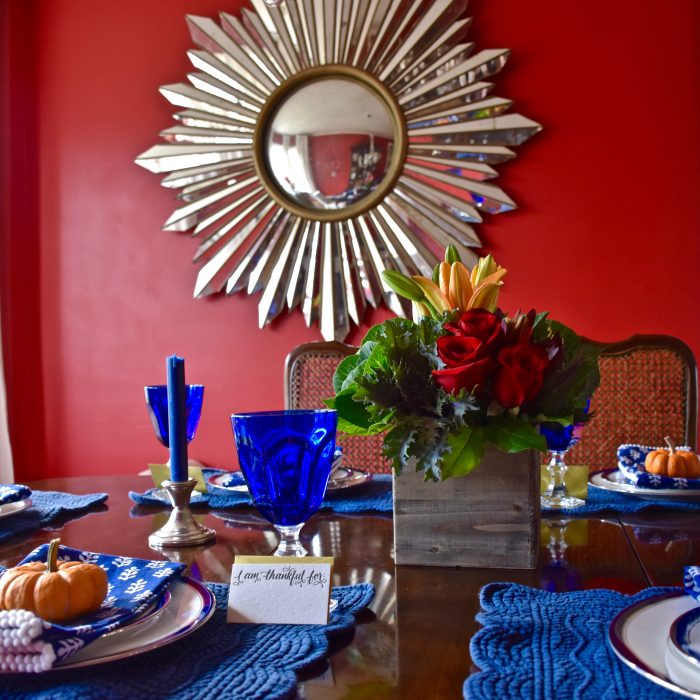 As I look back, I thought I might share a few of my favorite flowers. A bowl, a wooden box or even a hollowed-out pumpkin with a little floral foam and a grocery store bouquet can make a quick and pretty centerpiece. I have found that the way to instantly make any bouquet better is to buy extra greenery. Add in some small kale or some interesting leaves.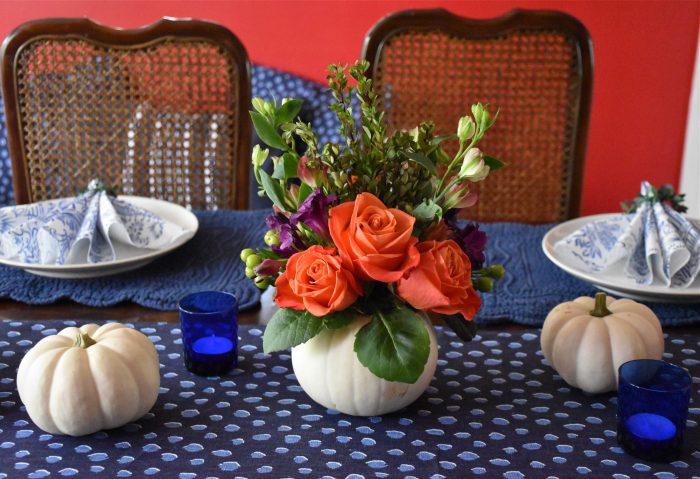 Use some pears, apples or mini pumpkins as place card holders and you have an inexpensive way to add something special to each place setting.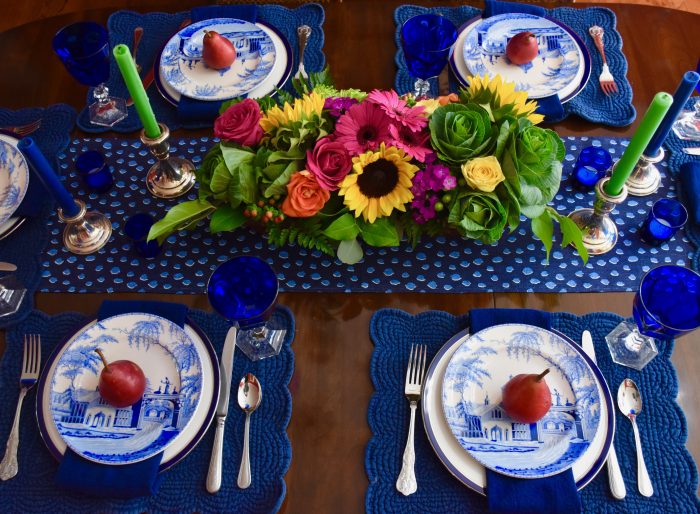 I am looking forward to setting my own table this week and sharing a meal with some of my favorite people. My girls and I will cook together while my husband periodically checks in to do a little "taste testing."
Over the years, I have learned that the key ingredient for any holiday meal is laughter and a good sense of humor. I just remember the Thanksgiving when my grandmother the grand entertainer tried using multicolor mini marshmallows on the sweet potato casserole. The dish was a tutti fruitti mess but I still remember us all laughing about it. Those stories keep me grateful for blessings of family and time together. So even if all the togetherness and holiday stress have their moments, I will still love the happy chaos of it all. Happy Thanksgiving my friends!