What should I bring for dessert? I was looking for a recipe to share with friends last week and I thought it might be fun to make a tart. So as I was searching through my cookbooks trying to decide what to make, I found this recipe for a Chocolate Cabernet Tart from a well-loved French restaurant in Houston called Chez Nous. It comes from a wonderful cookbook my sister-in-law gave me a few years ago called Houston's Classic Desserts. The book has a collection of dessert recipes from some of the best restaurants from my hometown of Houston.
This recipe just read like it would be good, so I decided to take a risk and try something new. The results were so delicious that I decided I would make it again and share it on the blog. It's an elegant and pretty dessert, but it's also surprisingly easy to make. The crust is made from almonds so this tart is also gluten free. I know I have some readers with nut allergies, so if I were going to make a crust without nuts then I would substitute a chocolate graham cracker crust instead.
Chez Nous' Chocolate Cabernet Tart (Serves 8)
1 2/3 cup almonds,blanched and slivered
3/4 cup granulated sugar
4 tablespoons unsalted butter
1/2 cup creme fraiche (you can also use sour cream I have tested both but the creme fraiche adds a subtle tanginess that I like)
1/2 cup granulated sugar
3/4 cup Cabernet
3/4 cup heavy cream
10 ounces semi sweet chocolate, broken into small pieces (I used Ghirardelli but you could use another high quality chocolate)
1 (6 ounce) container of raspberries
1 small bunch of mint leaves (optional)
Preheat your oven to 350 degrees.
Place the almonds, 3/4 cup sugar and 4 tablespoons butter cut into small pieces in the food processor and blend them at high-speed for 45 seconds to 1 minute.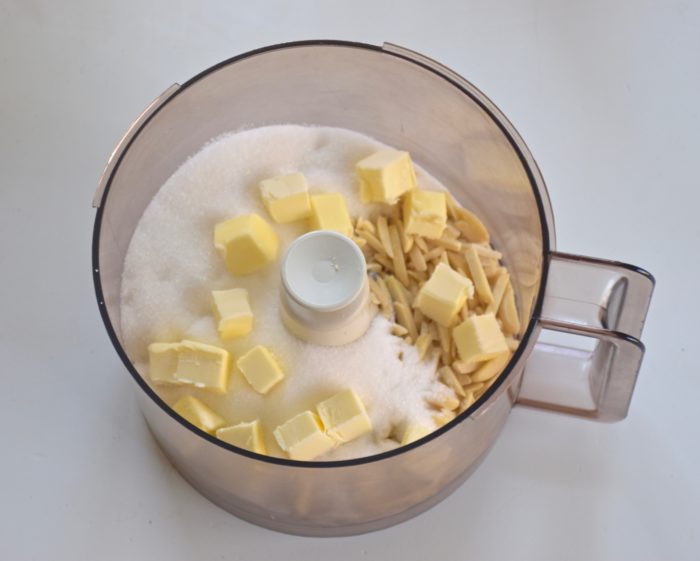 Then scrape down your sides of your food processor and do this about 3 times so your nuts are finely chopped and blended with your butter.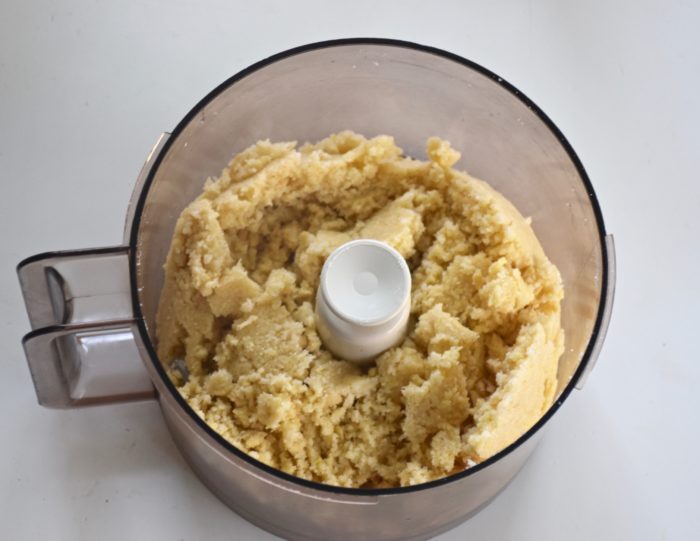 Here is what my almond mixture looked like before I place it in my tart pan. Then lightly spray the sides of a 10 inch tart pan with a removable bottom with cooking spray and press your almond mixture evenly on the sides and bottom of your pan. I like to start with my sides first because I find that it is easier to get my sides even if I start there and then press the remaining crumbs evenly on the bottom. Next, to keep your tart from unevenly puffing up as it bakes, I like to use a fork to lightly prick some holes in just a few places to allow the steam to escape as it bakes.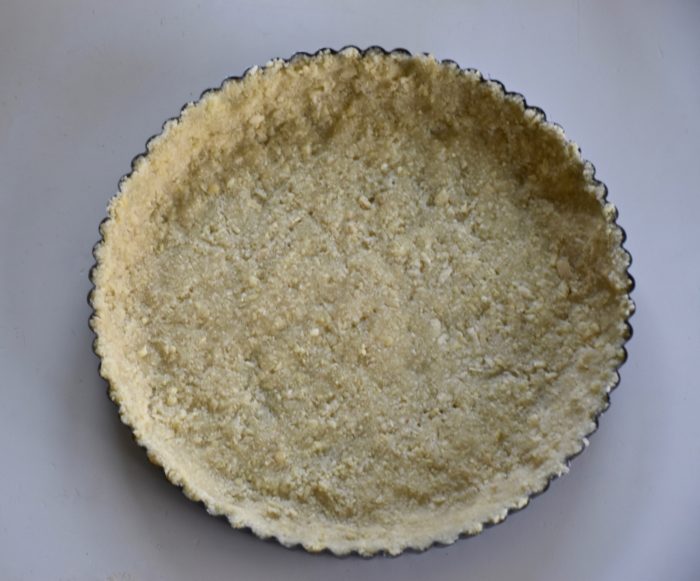 Here is my tart crust before I placed it in my oven to bake. Bake for 15 to 20 minutes until your crust turns golden brown.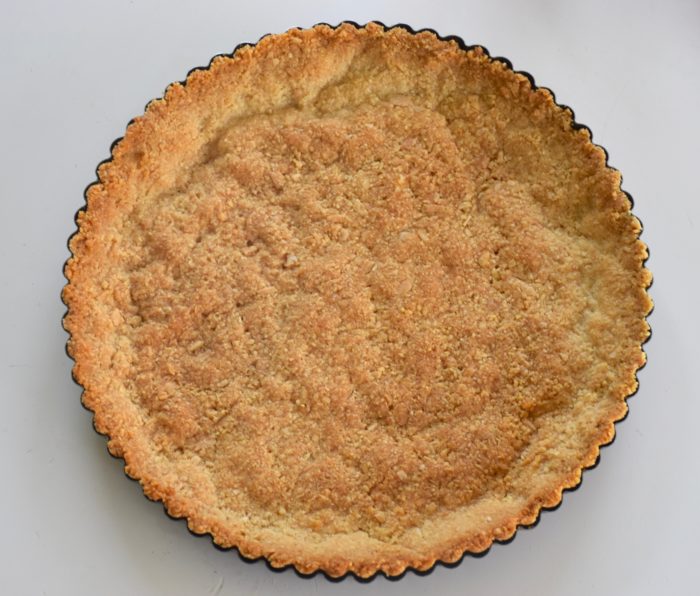 Then let your crust cool while you make the chocolate filling. First get you chocolate broken or chopped into small pieces in a medium-sized mixing bowl. Then in a medium sauce pan mix together your creme fraiche, sugar, cream and Cabernet and bring it to a simmer over medium heat. Whisk your creme fraiche mixture so the sugar dissolves evenly. Then when it comes to a simmer take your pan off the heat and pour it over your chocolate. Then whisk together the chocolate and creme fraiche mixture. Until it is smooth and all the chocolate has melted.
Then pour your chocolate filling in your almond tart shell. If you get a few air bubbles that rise to the top then use a toothpick or the tip of a knife to pop the tiny bubbles so you have a smooth glossy top.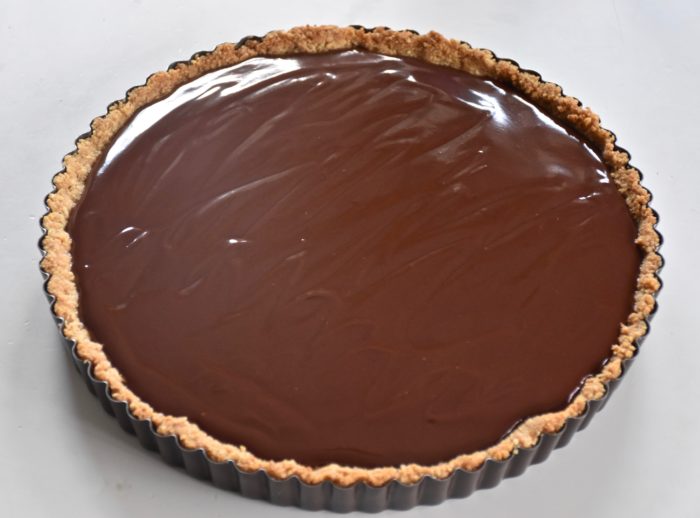 Then place your tart in the fridge to cool and set for a least 3 hours before serving. Once your chocolate tart is set you are ready to remove the ring from your tart pan and decorate the top with raspberries. I made one where I covered the whole top with raspberries and then I made this second one that I liked even better, where I made a wreath of berries around my tart with some mint leaves. Decorating or garnishing the top is always my favorite part. I used a clusters of three berries with one mint leaf placed at a slight angle and I repeated that pattern all the way around my tart.
One bite of the crunchy almonds, silky smooth chocolate and the sweet raspberries makes it's worth the effort. This tart is particularly good because the richness of the chocolate is balanced with the subtle flavor of the Cabernet.  Chocolate, wine and French pastry all in one dessert, am I dreaming? It's just amazing. So if you are looking for some baking fun then you need to try this raspberry chocolate tart. It's as delicious as it looks.