My grandfather was French and he loved a good meal, but he would often remind us to "know what we were saving room for" because to him there was nothing better than a delicious dessert. We don't serve dessert every night in our house, but I do love to bake so usually once a week I make something sweet. This spring meal had me thinking about making a gorgeous dessert that would be easier to decorate than your traditional cake but every bit as impressive.
So I decided to go with a lighter angel food cake that is filled with lemon cream and fresh berries. You don't have to be a cake decorator to make this pretty cake because the berries, lemon slices and fresh mint make such a pretty top . If you are running short on time you could even buy an angel food cake from the store and just follow my instructions for the lemon cream.
Heavenly Angel Food Cake (Serves 12) Cake Recipe Adapted From Martha Stewart's Menus For Entertaining
1 1/4 cup cake flour (Usually you can find it in a box on the top shelf of the baking aisle)
1 1/2 cup superfine sugar, divided
14 egg whites, at room temperature
1 1/2 cup cream of tartar (You can find it in the spice aisle)
2 tablespoons lemon zest
Preheat your oven to 350 degrees.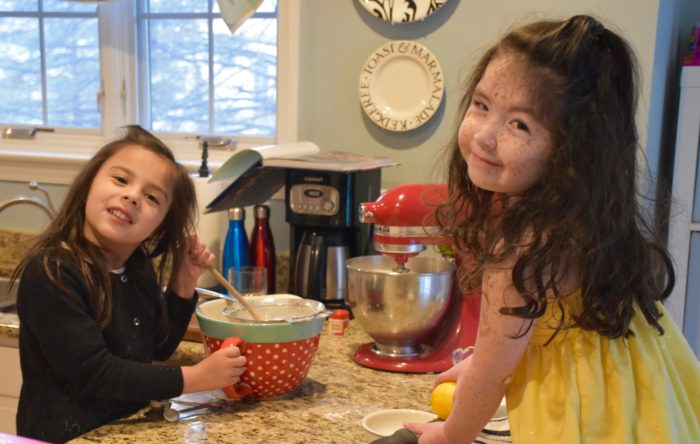 Then in a medium sized bowl sift together your flour and 3/4 cup of your sugar and then zest your lemon in a small bowl.
Then in the large bowl of your electric mixer beat your egg whites and medium speed until they are foamy about a minute and a half.
Then add in your cream of tartar and increase your mixed speed to high and beat the egg whites until they become thicker and nearly triple in volume.
Then sprinkle on the remaining 3/4 cup of your sugar and continue to beat your egg whites on high until they can form stiff peaks and have a glossy sheen.
Finally you want to fold in your flour mixture and your lemon zest. Folding is a way of carefully incorporating your flour mixture into your egg whites so they don't loose their fluffy texture. Sprinkle 1/2 cup of the flour mixture on top of your egg whites then use a rubber spatula or large spoon to fold or in a circular motion the egg whites from the bottom of your bowl on top of the flour. Keep folding by scraping down the side of the bowl and then folding the mixture on top. I usually turn my bowl as I go. Sprinkle in the remaining flour mixture until it is all folded in.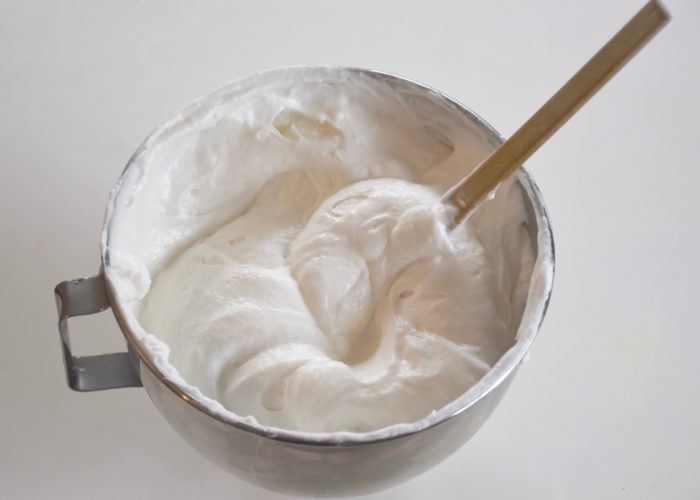 Then you need to evenly spoon your cake into your 10 inch angel food pan. They key to angel food cake is to NOT grease your pan (the special angel food pan with its removable bottom makes this work). Then when your cake batter is in your pan you can run a table knife through your mixture to make sure there are no air pockets.
Bake you cake for 45 minutes until your cake is golden and springs back to the touch.
Then turn your cake pan upside down to cool. This is key because gravity will begin to work on the sides of your cake and the cake will keep its light texture. Keep your cake upside-down  until it cools usually it take at least an hour. Then my trick for getting it out of the pan is to use a serrated knife to careful cut around the edge and inside around the center to help loosen it. Then take you pan and place the center on a bottle so the bottle supports the bottom of the pan while you lift off the side piece.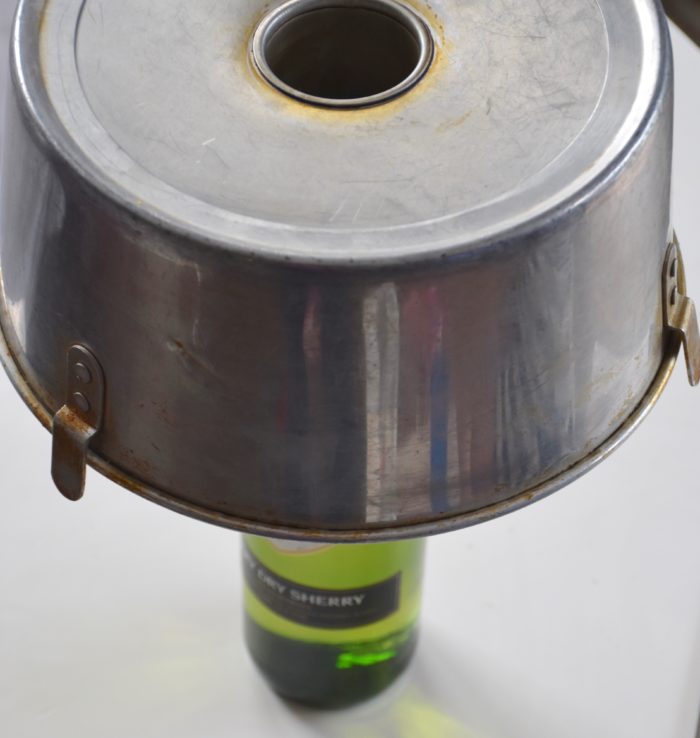 Then take your serrated knife and hold it flat to free the top of your cake.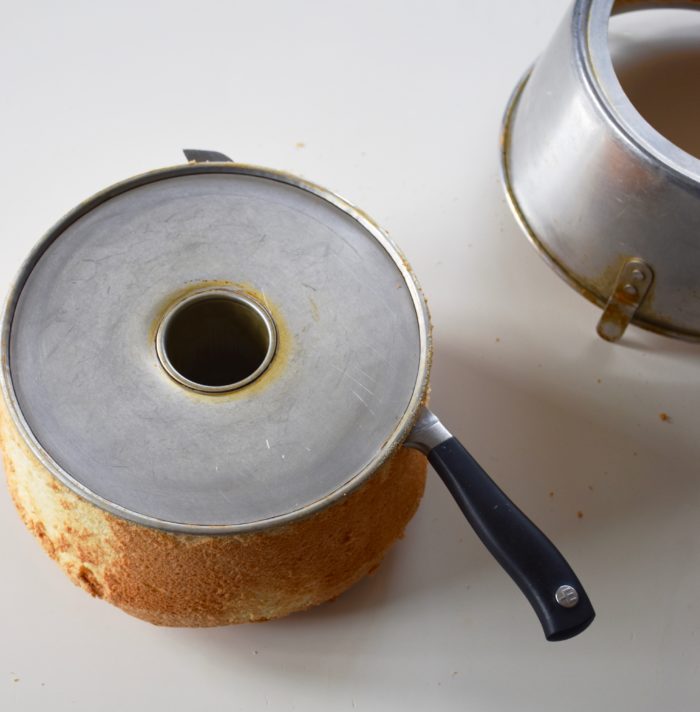 Then you are going to want to make your lemon cream and get your berries ready. If you are entertaining you can make the cake the day before and keep it out on your counter wrapped in plastic wrap.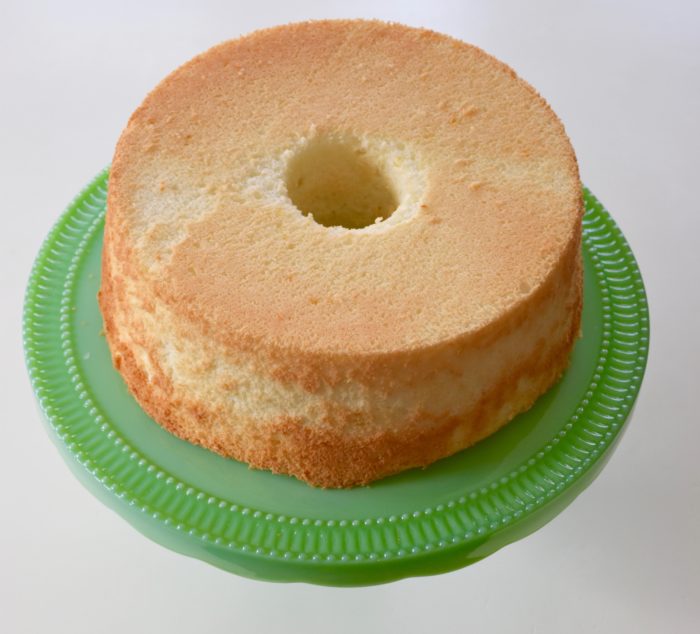 Lemon Cream
4 cups (or 2 pints) of heavy whipping cream
1/2 cup of powdered sugar
2 tablespoons of lemon curd (I used the Bonne Maman brand but if you can find it I also like Stonewall Kitchen's lemon curd as well. I can usually find it on the jelly aisle)
1 teaspoon of vanilla extract
1 pint of blueberries
1 pint of blackberries
1 package of mint
2 lemons, cut into thin round slices
In the bowl of your stand mixer mix together your cream and sugar and beat them on hight with your balloon whisk attachment. Then when you cream becomes thick and can hold a firm peak add in your lemon curd and vanilla and whisk until they are just incorporated.
Now you are ready to decorate your cake. Take your serrated knife and with a sawing motion cut your cake in half. Then spread an even layer of whipping cream on your bottom layer and place enough berries on top so they evenly cover the cake layer.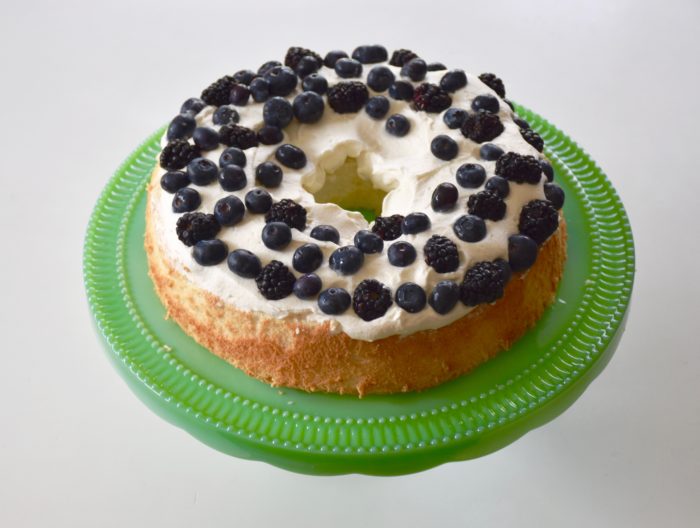 Then take the top of your cake and layer it on your base layer. Then you are ready to decorate the top. I uses a large star tip to pipe some stars on the top of my cake and then I placed my berries on in groups of threes. If you don't have a piping bag you could just neatly spread some of the lemon cream on top. I like to decorate with odd numbered groupings of berries because they are very pleasing to the eye.
Then I took my thin lemon slices and cut a small cut half way up the center (just like you would if you were going to cut a lemon for the side of a glass.) That half cut allows you to create a lemon twist.  I created five lemon twists and I spaced them evenly on top. Then as a final touch I added some mint sprigs. As long as your whipping cream is firm and you get your cake in the fridge immediately you can decorate your cake a half a day in advance so you won't have to worry about having to put this together last minute.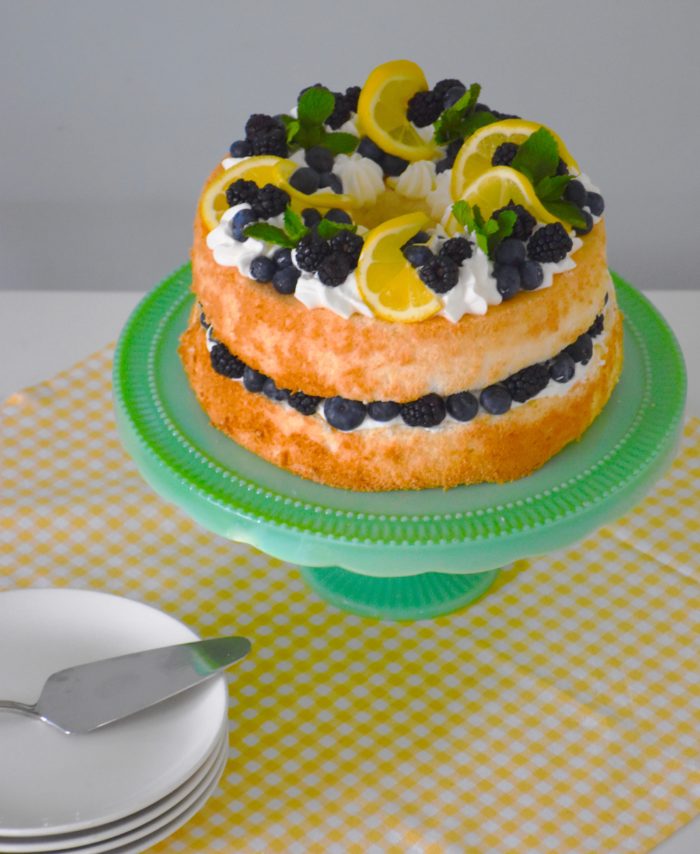 There you have it a pretty cake that doesn't take long to decorate. If I am making dessert for friends then I want it to be memorable and the berries and lemons give this cake an impressive look. I also like to follow a meal with heavier dishes like the herbed goat cheese chicken and mashed potatoes with something a bit lighter so this heavenly angel food cake is a great dessert to finish this menu and definitely something worth saving a little room for.