Fall is a time for family gatherings and meals together. One of my favorite dishes to entertain with is this salmon in puff pastry or if you want to sound elegant and French salmon en croute. This is one of those dishes that looks fancy, but it is actually very easy to make. You only need 4 ingredients and if you can giftwrap a basic package then you have all the skills you need to make this delicious showstopper. This is hands down one of my husbands very favorite meals. People often ask me what recipes are my favorites and I would say that in our house this salmon is definitely on the top of the list. It's wonderful for entertaining because it can be made ahead and then popped in the oven 20 minutes before you want to serve your guests. So you can enjoy your company and still have a meal that looks very impressive.
Salmon in Puff Pastry- Serves Four
1 (approximately 1 pound) piece of fresh center cut salmon
4 tablespoons fresh pesto from your refrigerated food section (I use the Giovanni Rana brand)
1 (17 oz) package of frozen puff pastry (I like using the Pepperidge Farms brand)
1 egg beaten
First plan ahead and defrost your puff pastry according to the instructions on the package.
Then preheat your oven to 375 degrees .
To prepare this dish pull your puff pastry out of the package to warm up a moment while you remove the skin from your salmon. Use a sharp boning knife or chef's knife  lift up on the skin and slowly cut the skin from your fillet.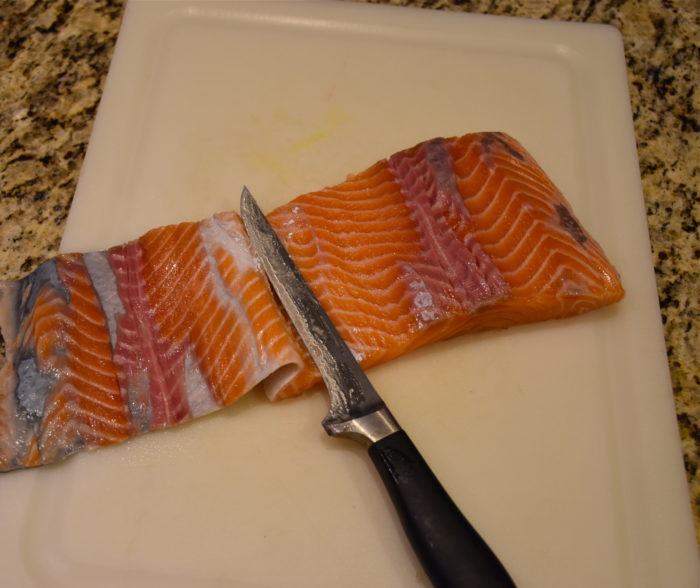 Then cut your salmon into 4 equal portions.
Then take a little flour and lightly dust your counter and rolling pin to keep your pastry from sticking to it. Next pull out one sheet of puff pastry and roll it out about an extra half-inch on each side. rolling the pastry slightly will smooth the seams where it was folded in the box and it will make it just the right size to use one sheet of pastry to wrap all four pieces of fish. Then cut your pastry sheet into 4 equal sized pieces.
Next, take each piece of salmon and place about 1 tablespoon of pesto on top of each piece of fish.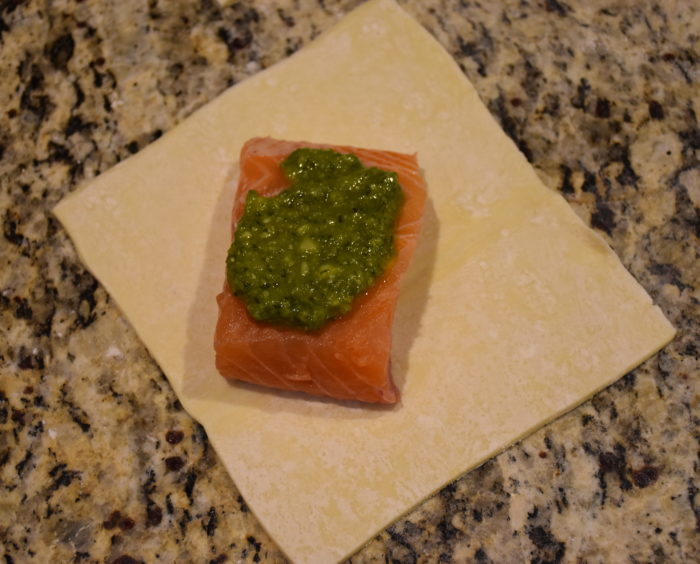 Then turn your fish over where the pesto is on the bottom facing the puff pastry. Now you are ready to wrap you fish. Take your puff pastry and fold the long sides in first so they overlap each other. Then take your shorter end and fold them over so you have a neatly wrapped salmon package. Then flip that package over so the seam side faces the bottom.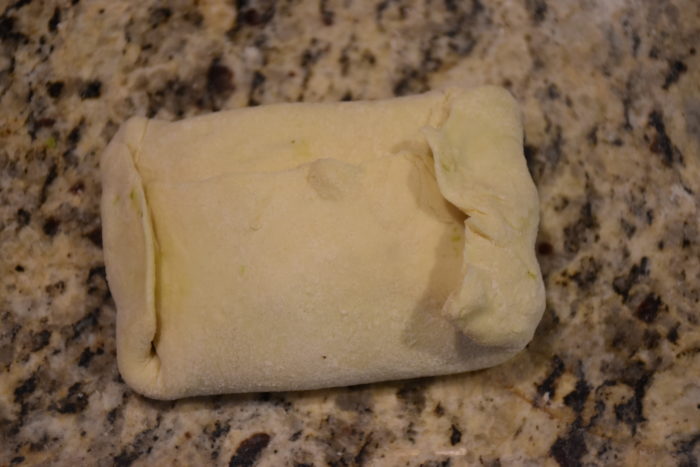 Then if you want to be extra fancy then add a design detail with some cut out leaves. Use the second puff pastry sheet and roll it out just a bit with a rolling pin. Then use cookie or fondant cutters to make your decorations. I used a small leaf cutter I got from the craft store in their baking supplies aisle, but you could also use some fall leaf or holly leaf pastry cutters sold for decorating pies.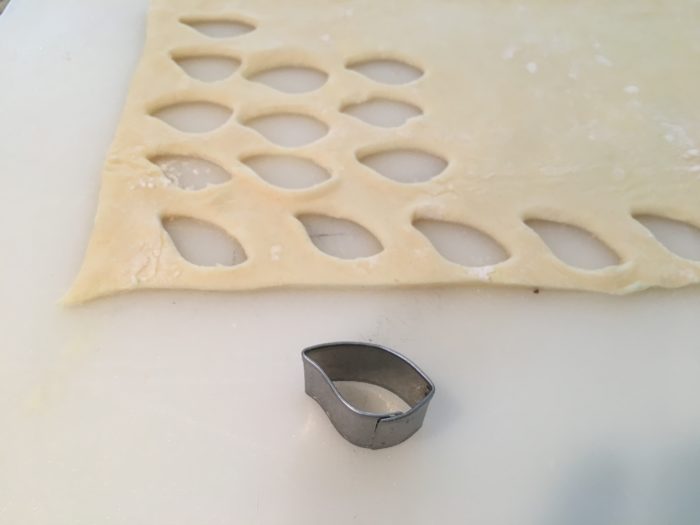 For my tree branch design I cut a little stem with a pairing knife. Sometimes I also add some veins on the leaves with a few marks from my knife.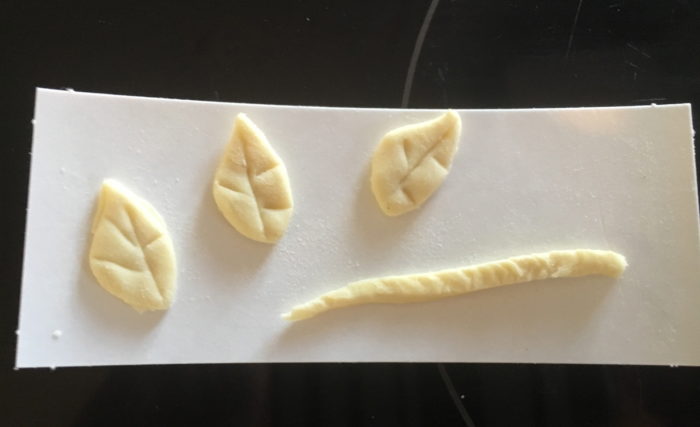 Then take your beaten egg and brush it on the top and the sides of the pastry. You want the seams side of the fish to be on the bottom. Then once you have a base coat of egg, put your leaves on and brush them with the egg wash as well. The egg will give your pastry a beautiful color as it bakes.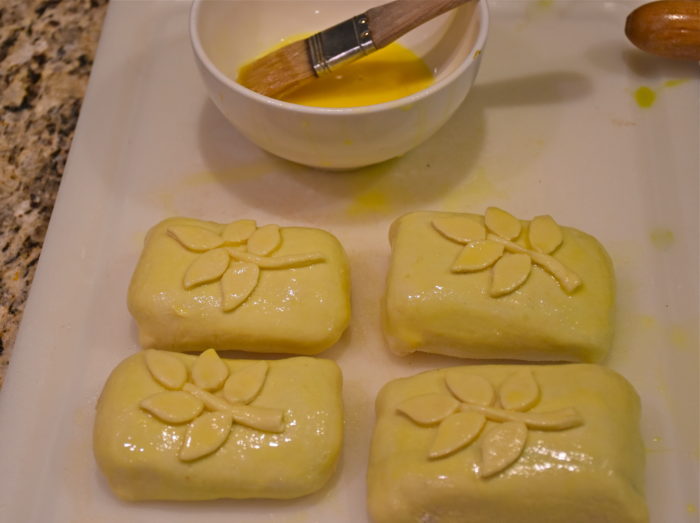 Bake your fish on a baking stone or a sheet pan lined with parchment paper. Place your salmon in the oven and bake it for 20 to 25 minutes until the pastry is puffy and golden. I like to serve mine with a cranberry rice pilaf that I will be sharing with you soon. If you are making this fish a few hours ahead then refrigerate your preassembled puff pastry packages, but wait to add your egg wash until you are ready to bake them. So there you have it one of my favorite dishes to share with my family and friends.
Here is the link to a printer friendly version of my recipe at Pioneer Woman's site Tasty Kitchen.