Sometimes in cooking the preparation is less important than the shopping. The offerings at grocery stores keep getting better so why not take advantage of the wonderful ingredients you can find. One of those items that I love is gourmet pasta. Fresh pasta cooks in less than five minutes so why not shop your way to a simple and wonderful meal.
In Chicago there is a brand of refrigerated pasta made by Giovanni Rana and I really think this brand is a cut above the rest. I know I am not the only one because when I was in the checkout lane my friendly cashier saw the package and without even a comment from me she was raving about how much she liked it too. I should note that I have also found some other great locally sourced gourmet pasta at Whole Foods. This is one of those things where you tend to get what you pay for so go with the best you can find. So what should you do with this fresh pasta? I suggest that in the Italian style you keep it simple.
The first time I had butternut squash ravioli with sage brown butter was at classic Houston restaurant called Pregos. It was truly love at first bite. The slightly sweet and earthy flavor of the squash was complimented by the nutty flavored brown butter with crispy walnuts and sage and the slightly salty Parmigiano-Reggiano cheese.
It was so good that I still remember it and I thought I would recreate that dish at home. My husband has an aversion to all things containing squash, so I have also made this dish with cheese ravioli or cheese tortellini. I have also made it without the walnuts and it is still good so if you have an allergy the nuts are optional. So here is my five ingredient five minute main course.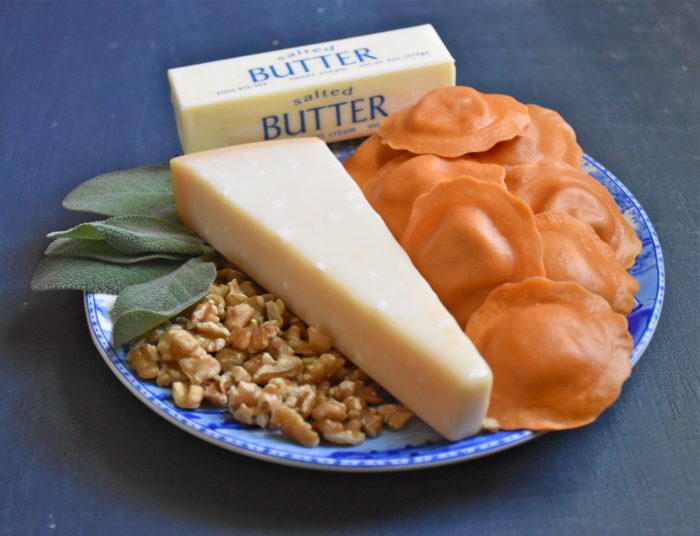 Butternut Squash Ravioli with Sage Brown Butter- Serves 4
2 (10 oz) packages of fresh butternut squash ravioli or your favorite flavor
6 tablespoons of salted butter
8 fresh sage leaves
1/4 cup of freshly shaved or grated Parmigiano-Reggiano cheese (Get the good imported cheese.)
1/4 cup walnut pieces (optional)
First in a large pan get your water boiling and ready of your pasta. Then cook your pasta according to the package directions. Be careful not to overcook it because it can get mushy and loose its filling quickly. Then remove your pasta from the water with a large slotted spoon or a spider strainer.
Meanwhile in a large skillet melt your butter over medium heat and when it is melted and starting to bubble add in your walnuts and whole sage leaves. Continue to cook your butter turning your sage leaves over at least once until the butter turn a golden brown color.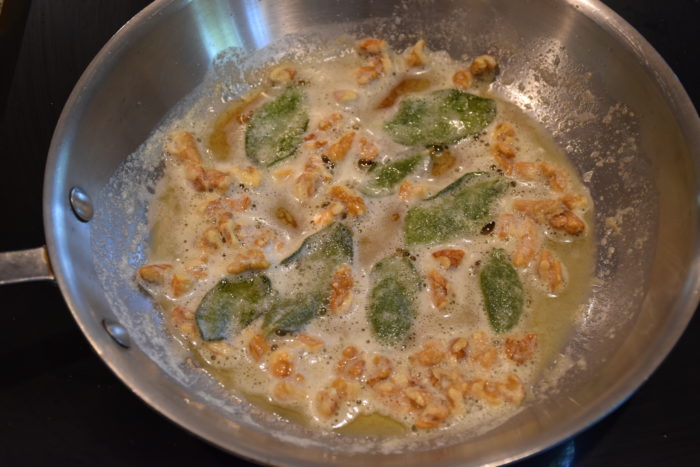 Plate your ravioli and drizzle the sage brown butter on top. Then sprinkle on your Parmigiano-Reggiano cheese. You can grate it with a microplane or shave off small pieces using a vegetable peeler.
There you have it a simple gourmet dish you can make in minutes and for a really fabulous restaurant style meal I like to serve mine with a seasonal side salad like my Apple Curry Walnut Salad.