Salads are a favorite side dish in our house, so I am always trying to think about new seasonal ingredients. Something a little different than your ordinary house salad night after night. One of the things that keeps me interested in cooking is trying new flavor combinations.  This recipe was something I created a few years ago. I wanted to make a fall salad with apples and to make it something a bit more special I decided to create my own salad dressing. Making your own salad dressing takes just a little bit of effort but the pay off is some amazing flavor. For this salad I decided to create a curry apple cider dressing. Curry powder is actually a blend of spices including savory cumin, turmeric, bay leaf and sweet cinnamon and clove. It has a sweet earthy flavor that pairs well with apples.
The textures in the salad with the crisp apples, chewy raisins and crunchy caramelized walnuts make it a delicious bite. I like to pair this salad as a side with all kinds of roasted meats from pot roast to lamb chops and I also like it with fall pasta dishes like butternut squash or pumpkin ravioli. However, this salad is so good that I could eat it as a meal with a side of bread and maybe some good french cheese. So no matter how you choose to serve it, give this salad a try it is definitely one of my fall favorites.
Apple Walnut Salad- Serves 4 to 6 (2 For A Main Course)
6 cups of sweet lettuce mix or baby romaine leaves
1 or 2 honey crisp apples or your favorite apple (I find that apples can really vary in size so if you have a huge apple just one will do) sliced into thin slices
1/2 cup golden raisins
1/4 cup of thinly sliced red onions
1 cup of walnut halves
2 tablespoons granulated sugar

 
Curry Apple Cider Dressing
3 tablespoons apple cider vinegar
2 tablespoons apple juice concentrate (frozen apple juice thawed)
1 teaspoon dijon mustard
1 teaspoon curry powder
1/4 teaspoon kosher salt
1/8 teaspoon ground pepper
1/2 cup canola oil
The first thing I like to get prepared is the walnuts. I know I have some readers with nut allergies, so you can make the salad without the nuts or if you have a walnut specific allergy you could substitute pecans.
In a medium nonstick skillet heat 2 tablespoons of granulated sugar over medium heat. Add your walnut halves and keep a close eye on your walnuts stirring them occasionally until you start to see the sugar melt and turn a carmel color.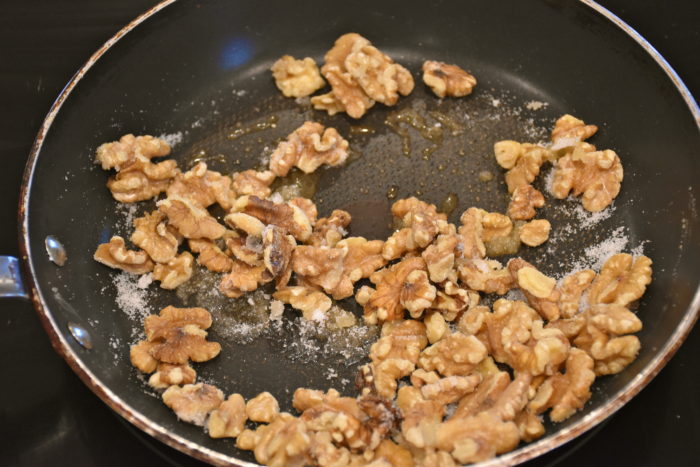 When the sugar starts melting make sure you have a piece of aluminum foil or a plate ready to put your nuts on. As the sugar melts continue to stir the nuts to coat them evenly with the melted sugar. Then once coated get them off the heat quickly so they do not burn. If you want you can make the nuts in advance.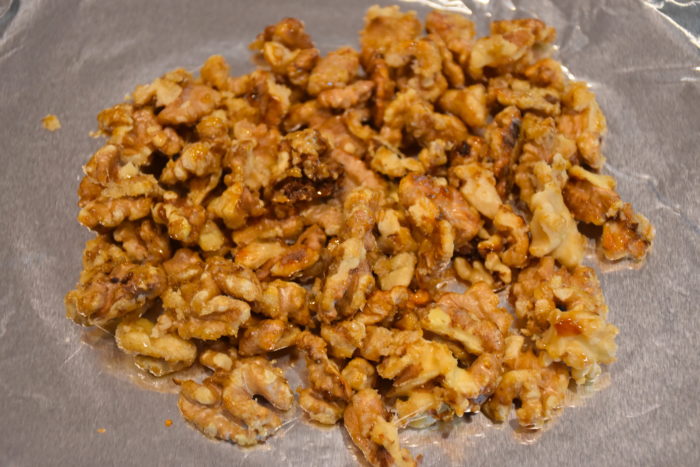 Then I make the salad dressing. In a medium bowl or in a small food processor mix together the apple cider vinegar, apple juice concentrate, dijon mustard, curry, salt, pepper. Then when that is well blended slowly whisk in your oil until it is all well incorporated.
Once the dressing is made start slicing your apples and red onion. Apples tend to turn brown quickly so I like to toss a little salad dressing on the apples and set them aside until I am ready to assemble my whole salad.
Then when you are ready to serve your salad toss together your lettuce mix, apples, red onions, walnuts and golden raisins and drizzle your salad dressing on to taste.