I love a good fish taco, but usually when I eat one they are made with a beer battered fried white fish, so when I came across a recipe for salmon fish tacos I had to try it. My sister in law gave me Ina Garten's new cookbook Cooking for Jeffery for Christmas this year. When I flipped through the book, this recipe caught my eye so it was one of the first I tried. Ina calls for roasting her salmon in the oven, but I really love to grill and I thought this recipe could be adapted for a healthy grilled taco. My husband is the expert on cedar plank salmon in our house so we teamed up to work on this one together. Being a Texan I have cooked and eaten quite a few tacos in my day so I made a few changes to the seasonings in the recipe to suit my taste. So this is my version of salmon tacos. Now that the Summer grilling season is here, these delicious tacos are definitely going to be one of our favorites.
Grilled Salmon Tacos
Serves 6
Red Cabbage Slaw
2 cups of finely shredded red cabbage
1 medium sized cucumber sliced into matchstick slices
1/4 cup apple cider vinegar
3 tablespoons of chopped fresh dill
1 teaspoon of kosher salt
1/2 teaspoon of black pepper
Salmon
1  3/4 pounds of fresh salmon (if I am making this for my husband and I then I use 1 pound of salmon)
2 teaspoons of Chili Powder
The zest of one lime
1 tablespoon of lime juice
1  1/2teaspoon kosher salt
12  corn tortillas warmed (I happen to like the white corn tortillas with this recipe)
Guacamole
4 ripe avocados
2 tablespoons of lime juice
1 teaspoon cumin
1/2 teaspoon kosher salt
1/4 teaspoon coriander
1 teaspoon Siracha (a Thai chili garlic sauce you can find in the International food section of your grocery store. If you are hunting for it in the store it usually has a rooster on the front with a bright green lid)
First soak your cedar plank in water for two hours to prevent it from burning when you put it on the grill.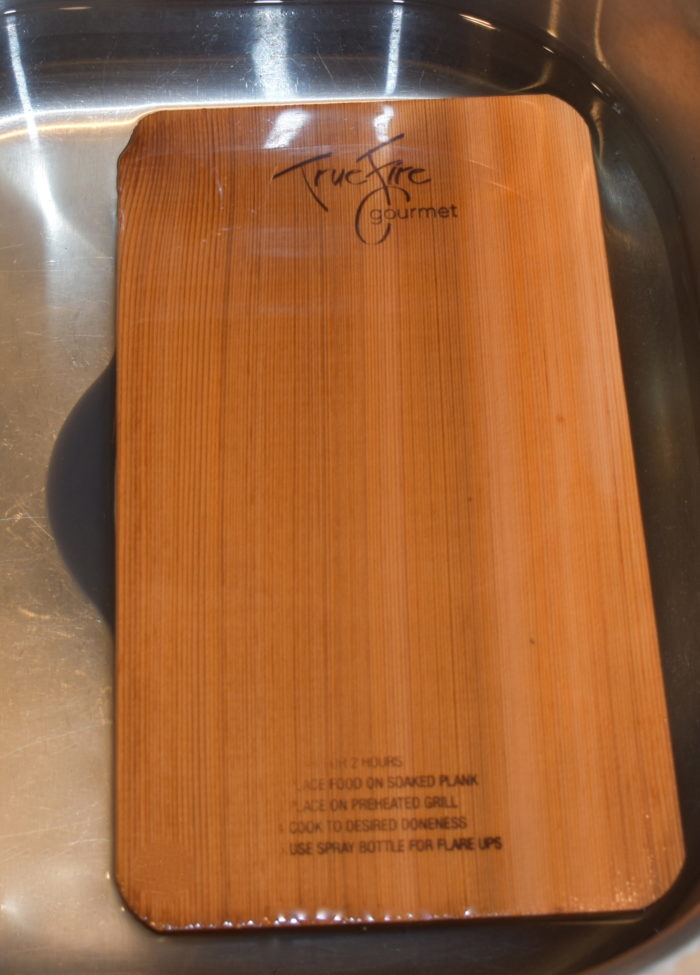 Then get your grill ready to go. We have a gas grill so I like to preheat mine by turning it on a least 30 minutes before I am going to grill. This recipe would also work with charcoal you just need to get your briquettes going so you have a nice even medium high temperature without any flames.
Meanwhile in the kitchen begin getting your red cabbage slaw put together. I start by quartering a cucumber and then cutting off the seeds. Then I chop the cucumber into thin matchsticks slices because I want them to roughly match the side of the cabbage I am going to chop next.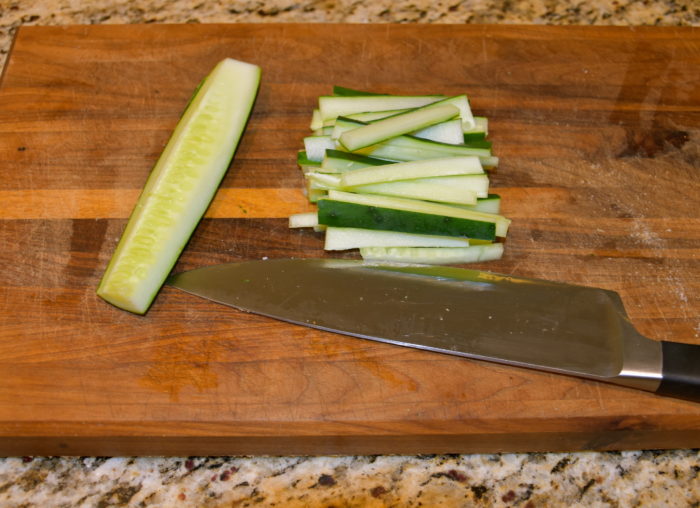 Then chop about 2 cups of red cabbage (about 1/3 of a large head of cabbage). Take your cabbage and slice it into thin even circles or rings. Then chop those thin slices into skinny strips. Place them in a mixing bowl with the cucumber and mix in 1/4 cup of apple cider vinegar, 3 tablespoons of chopped dill and 1 teaspoon of salt and 1/2 teaspoon of black pepper. Then cover the slaw and place it in the fridge to marinate for 30 minutes to an hour.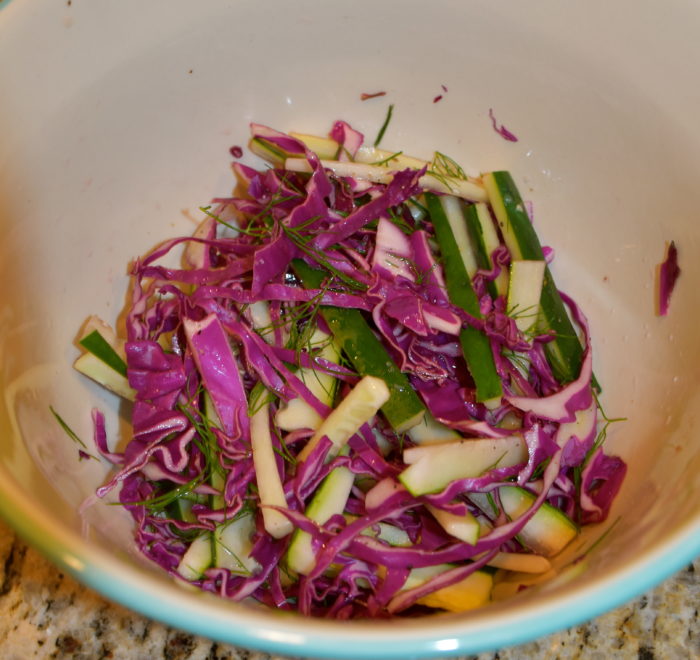 Next in a small bowl mix together two teaspoons of chili powder and 1 1/2 teaspoon of salt. Then in a separate small bowl I use a rasp or microplane to get the zest of one lime. Then cut that lime in half and so you can use the juice to coat the salmon so the seasonings will stick to the fish.
A note from my husband the grill master:  to enhance the smokey flavor of your fish, you can place your cedar plank on the grill for a minute before you put your fish on it to char the wood a bit (if you are short on time you can skip that step and the fish will still cook well with a little less smokiness). Next put your salmon skin side down on the soaked cedar plank. Then squeeze the juice from half of a lime about a tablespoon over the fish and make sure the juice covers the surface of the salmon. Then evenly sprinkle on the chili power and salt mixture. Finally sprinkle on the lime zest and you are ready to grill.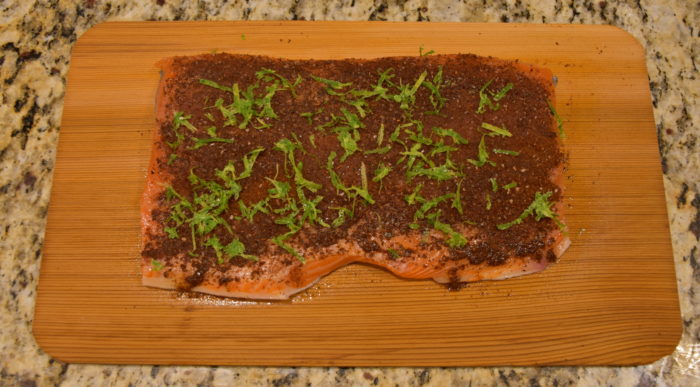 Place your cedar plank and fish on the grill and grill it for 20 to 30 minutes depending on the size and thickness of your salmon. This smaller piece of fish took 20 minutes. If you have a digital thermometer the temperature should be about 140 degrees. We have a   digital fork thermometer which makes it easy to check grilled meats. If you like to grill often its a really helpful tool. Otherwise your fish should feel firmer to the touch and you can prick a tiny hole in it to make sure it is not too pink.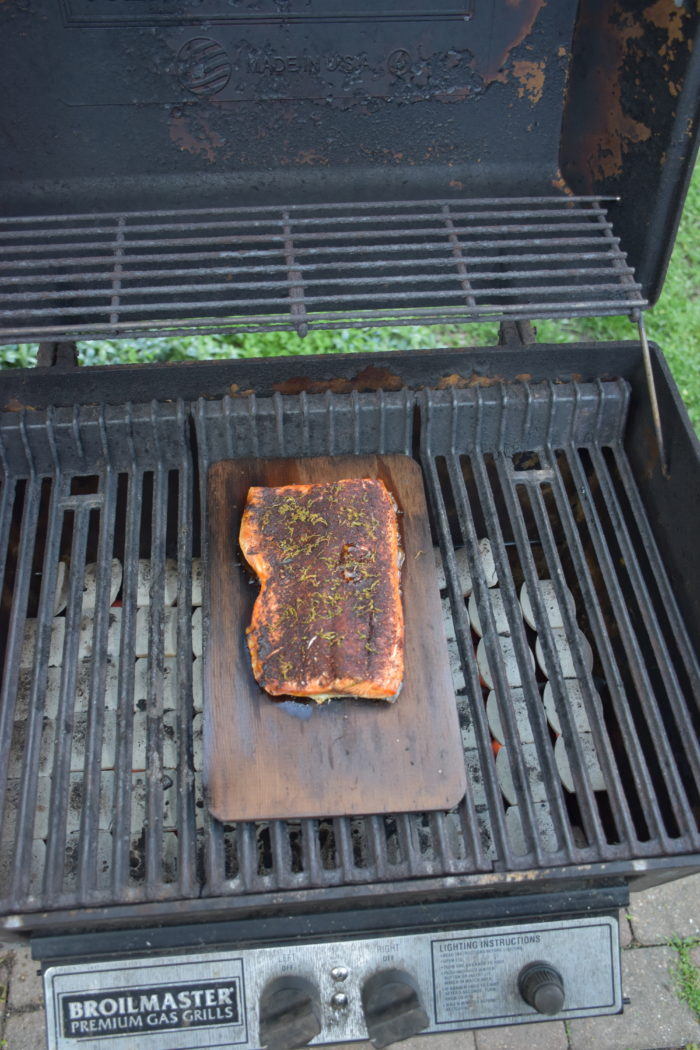 While your fish is cooking make the guacamole. Take 4 avocados (If I am making this just for my husband and I use two and cut the guacamole recipe in half) then remove the avacado seed and scoop the avocados out of their skin using a spoon. Roughly mash the avocados using a fork or a potato masher. I like mine to have a few chunks, but you want it to be smooth enough to spread on your tortillas. Then add in 2 tablespoons of lime juice, 1 teaspoon of cumin, 1/2 teaspoon of salt, 1/4 tsp of coriander and 1 tsp of Siracha.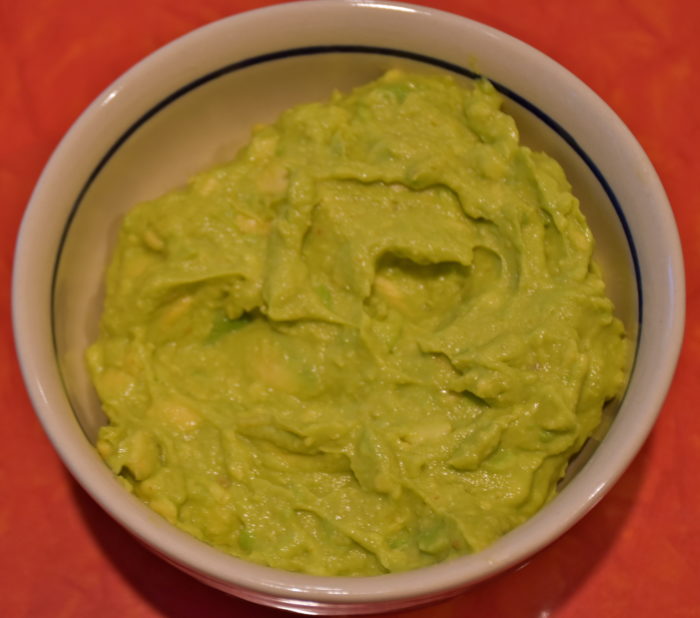 Before serving, I flake the salmon into smaller chunks using a fork and I remove the skin from the bottom.
Then take your warm corn tortillas and layer on some guacamole, salmon and red cabbage slaw. If you are serving this for guests you could put out the toppings and let everyone make their own tacos. Happy grilling!