It was my birthday a few weeks ago and the weather was beautiful so I decided it would be fun to eat outdoors. We have a concrete patio but we don't have lots of outdoor furniture because our girls love to ride their trikes out there and color with sidewalk chalk. We decided that for now that we were going to give them some space to play. I have a folding table that I pull out when we want to dine alfresco. I believe in celebrating even if things aren't all perfect. We don't have amazing patio furniture (our chairs are plastic from Home Depot) but it was still a very fun and festive evening.
We had a next door neighbor at our old home named Sally. She was in her eighties although she was very active, she had suffered through some illness. That same year her two daughters who lived out of town couldn't make it to celebrate her birthday, so she decided to throw a party and invite her neighbors. We didn't know her well at the time, but I thought the idea was wonderful. Lots of neighbors came and she made food and  her famous homemade ginger ale. It was a great evening and a reminder that celebrating  the small things is important.
So remembering that story I went down to the basement to find the christmas boxes. At the bottom of the pile I found the outdoor light box and got out a couple of long strings of lights. My two year old was there with me and when she saw me pull out the lights a huge smile lit up her face. "Mommy, Christmas is a good idea." That's exactly what I was thinking. So I pulled out the ladder and we strung the lights up to the trees and the patio light. The girls clapped and there were squeals of delight as I turned the lights on. We had been thinking about adding some outdoor string lights, but we hadn't planned how we were going to string them so Christmas lights it was. Next the girls helped me set up the table and get flowers from the yard. They had fun making a cake and tasting the buttercream icing. I have had birthdays in the past with more elaborate plans, but this one was fun. I will definitely remember it because our girls had such a good time helping me make the party. I made some of our favorites: King Ranch chicken and black bean salad.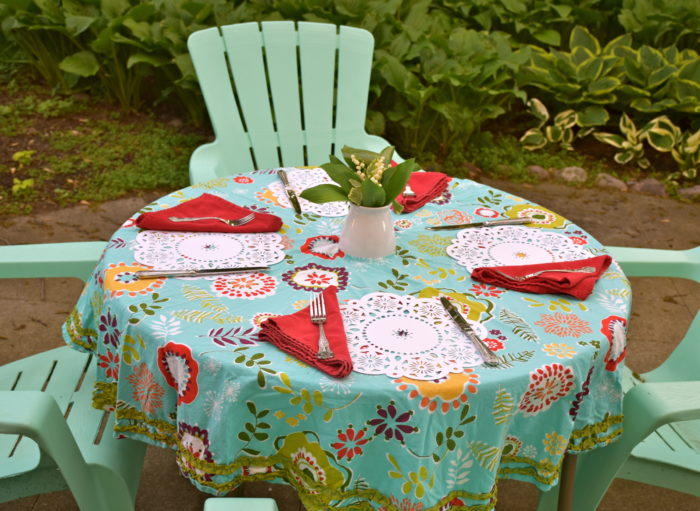 A good friend of mine teaches elementary music and she says that birthdays are always  more fun to celebrate when you have a classroom of excited kids. She is right there is nothing like hearing my girls belt out happy birthday at the top of their lungs while trying to get close as they can, so they can help blow out the candles. So here's to celebrating even the small things and know that Christmas lights can make just about any party better.