If you are working on last minute Easter dinner plans like me, then I have a few simple and stylish ideas for your table. When it comes to setting a pretty table the small details count, but they don't have to be difficult or expensive. I have three different place setting ideas that you could put together using small items from Target or your favorite craft store. I used flowers from my yard and a small bunch of four dollar flowers (purple stock) from the grocery store. When it come to flowers think about the rule of three. I used three different flowers in each setting to add interest. I keep the color scheme simple with purple and yellow flowers and I kept the scale of the flowers small since they were going to be used at individual place settings.
Next, think about what you want to use to hold your flowers. I have three ideas that could be used individually for a whole table or be mixed and matched if you are serving a larger party or have two tables.
My first table setting uses these fun art deco shot glasses that I have. I have always thought they looked a little like egg holders so I decided to hollow out an egg and use it as a small vase for flowers. To make the egg vase use a sewing needle or a small ice pick to make a dime sized opening in the top of the egg. Then carefully pour the egg out and rinse out the egg shell. You may have your own egg cups, but if you don't I have seen some at Michaels and Home Goods. You could also use a decorative glass votive holder. My shot glass was a little deeper than your standard egg cup so I  put a small piece of folded paper towel inside to hold the egg steady and make it rest a little higher. Next put a little water in your egg vase and a mix of three small flowers that coordinate with your dishes and table linens. The whole place setting is pictured above. The placemats are from Ballard Designs and the navy napkins are from the dollar bins at Target. I love how the flowers add a little color to each plate.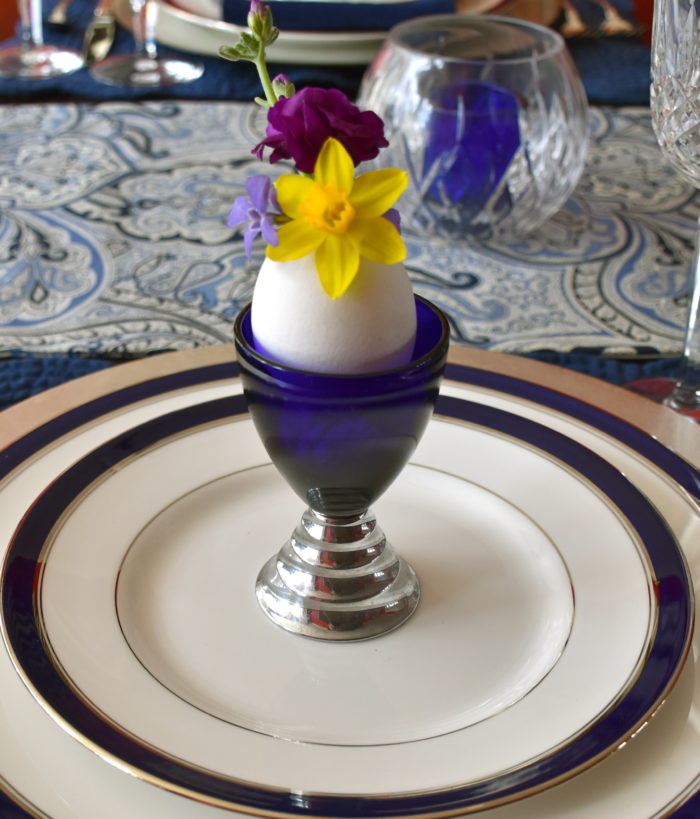 Some other egg cup options that I thought would be cute as small vases.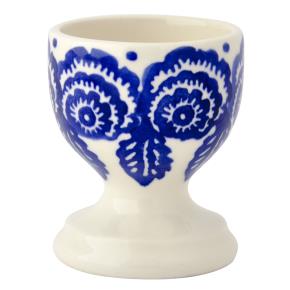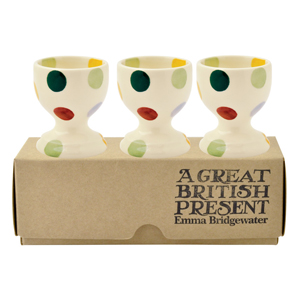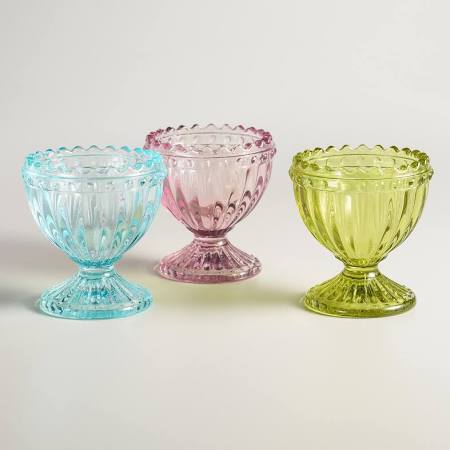 The next look uses white ceramic bunny place card holders that I found at Target. These sweet little bunnies come in packages of two and at just three dollars they are a budget friendly way to add something special to your table. The bunnies have a slit for a place card, but I thought they looked better with small flowers in the slot instead. Since the flowers won't be in water these are arrangement you need to finish an hour or two before your guests arrive. They are easy to put together and you could have your flowers trimmed and in water ready to go the day before. If you want to use the place card you could place it in front of the bunny.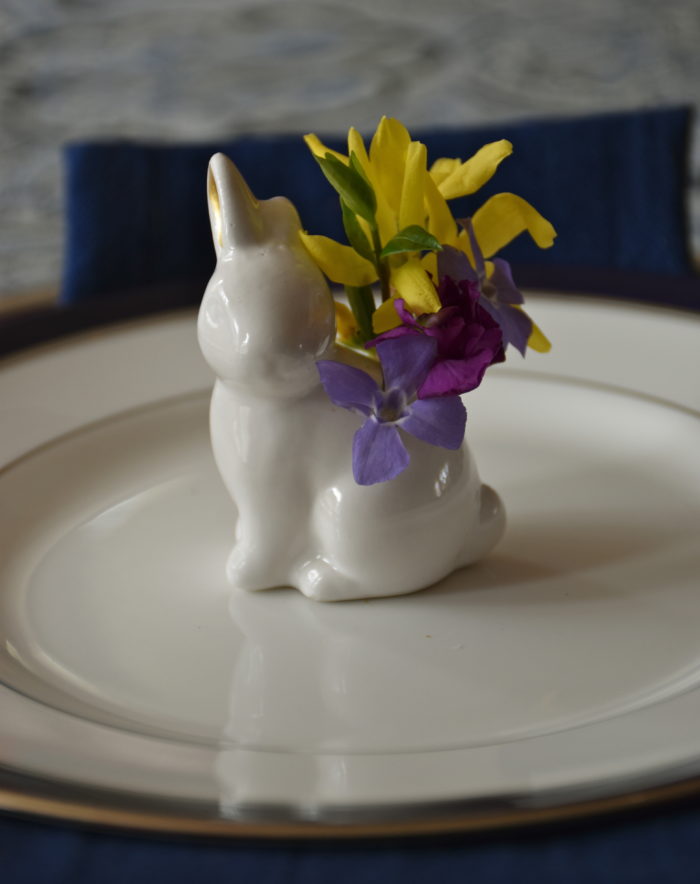 Here is what they look like at the place setting. I folded my napkin long ways and folded the ends underneath. Then I topped the napkin with a salad plate. I thought the solid blue napkin added some color to contrast with the white bunny and dishes.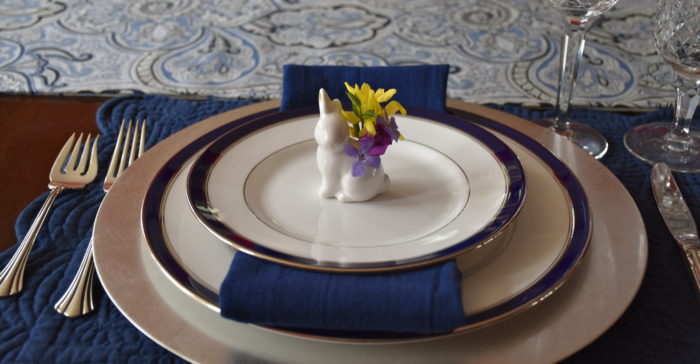 The last look uses non-breakable items so it would work well if you have younger guests or if you plan on setting a kids table. I got grapevine napkin rings from Michael's and I added green moss inside to create a birds nest. Next, I added some candy coated chocolate eggs. Then a hour before your guests arrive add a few fresh flowers to dress your nest up for Easter.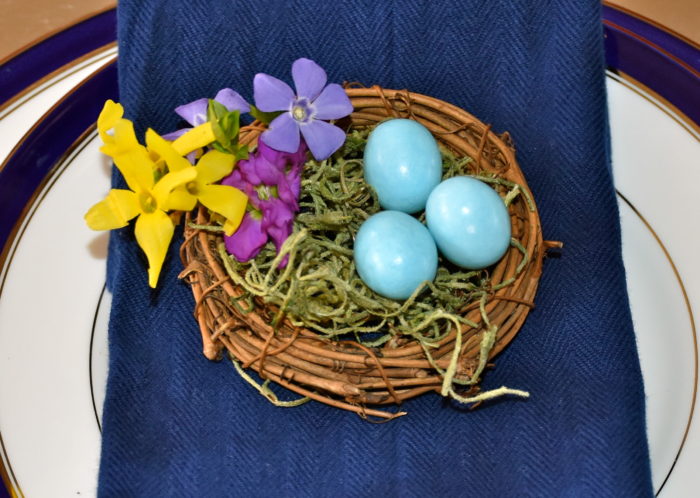 I placed the nest on top of my napkin to keep any tiny pieces of moss from falling on the plate. I used blue candy eggs so that they would look like robin's eggs, but you could use another color to custom coordinate it to you linens or dishes.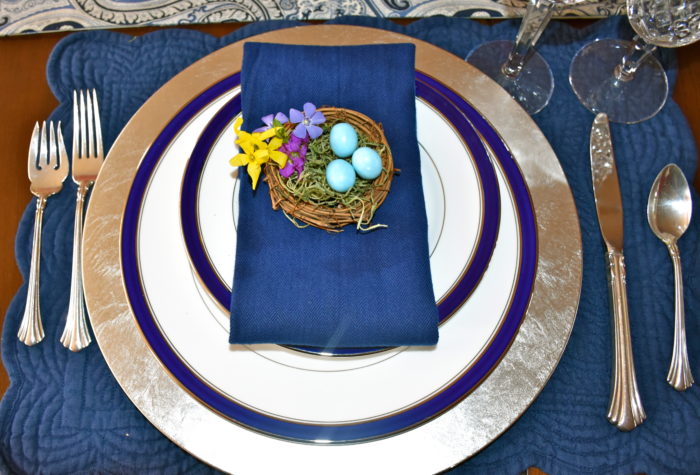 I just love setting tables, so hopefully these ideas will inspire you to set your own beautiful table for family and friends. Happy Easter Friends!