It's 100s day here at Maison McCauley and to celebrate the occasion of my 100th recipe. I am baking and sharing one of my best cakes, lemon cupcakes with a blackberry buttercream. I believe that one of the best measures of a baker is to taste their white sponge cake. Sponge cake although ubiquitous and available at every local grocery store has a texture that is tricky to get right.
Chocolate and flavored cakes lend themselves to being moister and more tender, while the standard butter based white cakes can sometimes be dry and heavy. So the challenge for me was was to create a lighter and moister cake. When baking sponge cakes I prefer oil based cakes because they generally have a superior texture and crumb. They also tend to be moister then butter based cakes. But even oil based white cakes can be heavy if make with all purpose or cake flour alone.
So after baking hundreds of cakes over the years and trying all sorts of methods, I have found that the way to create a better sponge cake is to use a little potato starch. This one ingredient makes an extraordinary game changing difference when it comes to texture. You can find it with the specialty flours in the baking aisle or possibly in the kosher section of your grocery store. However, make sure it says starch and NOT potato flour because they are not the same.
This featherlight cake is not your ordinary sponge cake. When I was creating and testing this recipe the cake was so good that my daughters were trying to eat the cupcakes before I could even get them frosted. Usually cupcakes for them are just a vehicle for frosting, but these little cakes are different. One of the gifts of blogging is that it has pushed me to be an even better cook and baker. If I am going to put my name on something and share it with you, then I really want it to be delicious. I want to create and share recipes that are truly worth the time and effort it takes to make them. So thank you my dear friends for reading, cooking and eating with me. It's been quite an adventure.
Maison McCauley's Lemon Sponge Cupcakes– Makes 12 Cupcakes
1 cup sugar
2 eggs
1 1/2 teaspoons lemon zest
1 teaspoon vanilla
1 cup all purpose flour
1/4 cup potato starch
1/8 teaspoon kosher salt
1 1/4 teaspoon baking powder
 6 tablespoons canola or vegetable oil
1/4 cup milk
Preheat your oven to 350 degrees
In a large bowl or the bowl to your standing mixer add your sugar, eggs, lemon zest and vanilla. Mix about a minute on medium speed.
Add in the potato starch, salt, baking powder and half of your flour with your milk and oil. Mix on low speed until just blended then add in the last part of your flour and mix until the flour is incorporated.
Line your muffin tins with the paper liner of your choice and very lightly spray with Pam or Baker's Joy
Then evenly fill your muffin cups to about 3/4 of the way full.
Bake your cupcakes for 20 minutes until the tops are golden and the cake is cooked through. Let them cool completely before you frost them.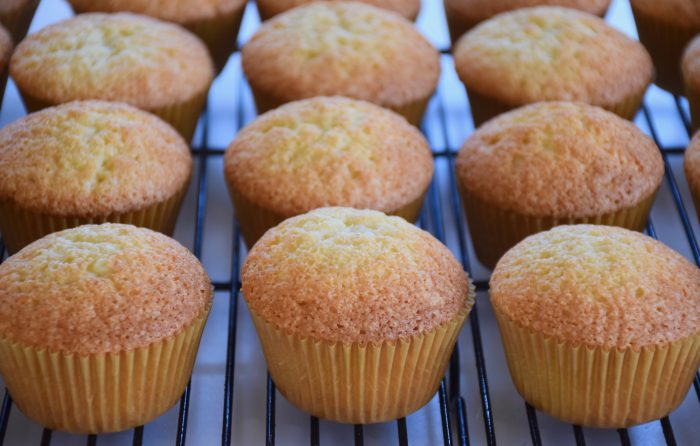 Blackberry Syrup- makes approximately 1/4 cup
2 cups blackberries
1 tablespoon lemon juice
1/4 cup water
1/4 cup sugar
In a small food processor, blender or using an immersion blender, mix and puree your blackberries, lemon juice and water. Then strain the berry mixture through a fine sieve into a small saucepan. Strain out all the seeds and fruit pulp. Once you have pushed all the juice through add 1/4 cup of sugar and heat your berry mixture over medium high heat.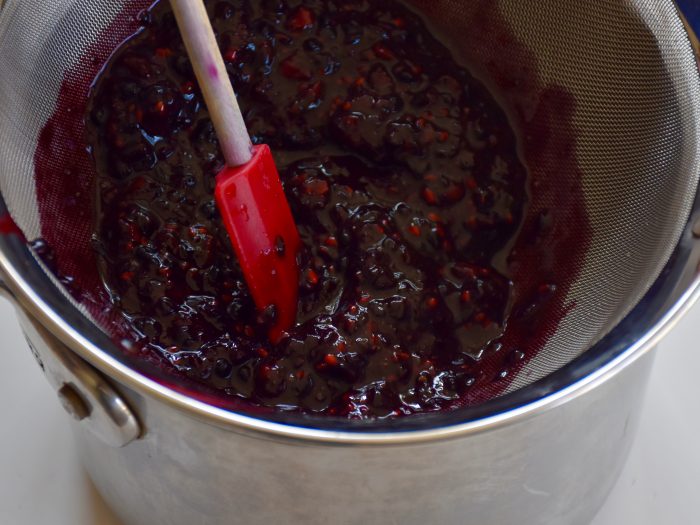 Stir the berry juice frequency as it reduces down to a thicker berry syrup. You want it to reduce down to about 1/4 cup.
You will know it's ready when you can pull a line down the pan with your spoon or spatula and it will hold for a few seconds. This syrup will need to cool before you add it to your buttercream.
Blackberry Buttercream
This may seem like a lot of frosting for a dozen cupcakes, but I like to use a very generous swirl of icing which requires a little more buttercream.
1 stick unsalted butter, room temperature
 1/8 teaspoon kosher salt
1 teaspoon vanilla extract
1 teaspoon lemon juice
1/4 cup of the cooled blackberry syrup
1/3  cup plus 3 tablespoons of milk
8 cups powdered sugar
Using a stand or hand mixer beat together the butter and salt. Add in your vanilla, lemon juice, blackberry syrup, milk and gradually add in your powdered sugar a few cups at a time. Beat your butter cream well over medium speed until the powdered sugar is well incorporated and your icing is light and fluffy.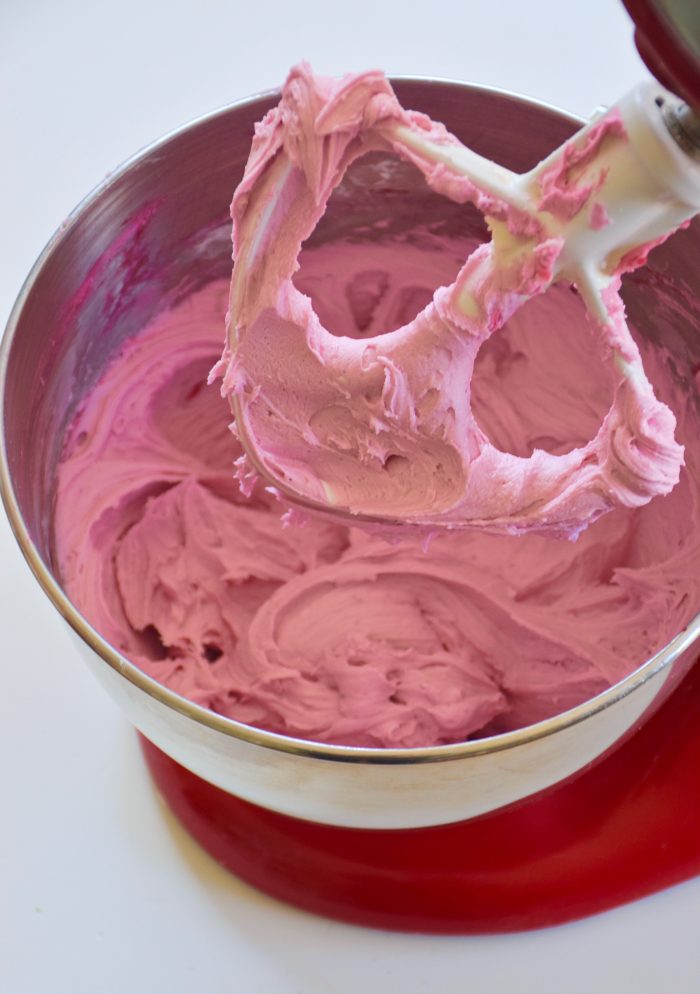 Then to give your cupcakes a bakery styled finish use a pastry bag with a large star tip. Pipe a swirl starting around the outside edge of the cupcake and  finish your swirl with a second circular motion in the middle. Add a sprig of mint and a blackberry or two on top for a finishing touch.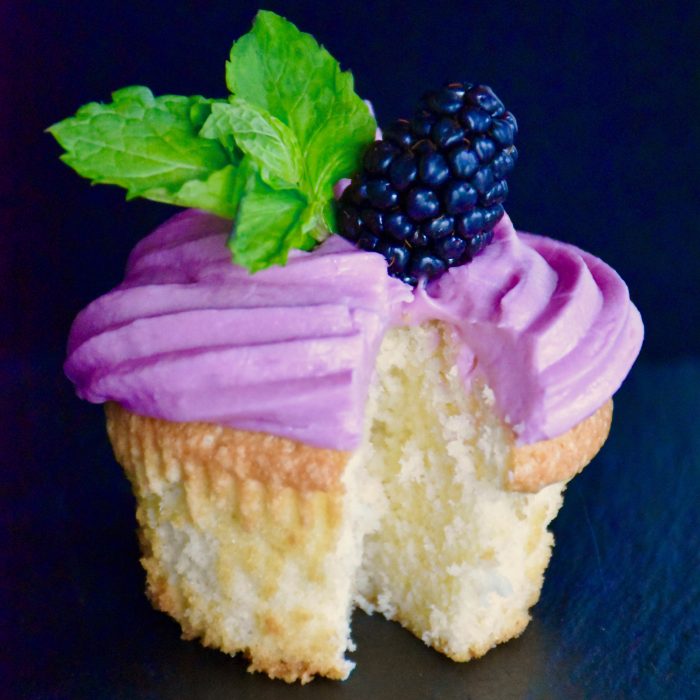 So move over Betty Crocker, these cupcakes are so much better than any box cake mix. I love topping them with blackberry butter cream, but I also think it would be great topped with this lemon whipped cream or with your favorite vanilla frosting. Happy 100s Day!
You can find a printer friendly version of my blackberry cupcake recipe at Tasty Kitchen.