Have you ever tasted potatoes that were so good that they stole the show? I must confess I have made many a resturant menu selection based more on the promise of a delicious sounding side of potatoes than the actual entree itself. So what's the secret that makes restaurant mashed potatoes so good? Having thought about it, I think it comes down to two things: first restaurant potatoes tend to have a lighter texture because they rice or mill their potatoes and second they have a richer taste because they use cream and not milk. Mashed potatoes are a classic crowd pleasing side so for part three of my entertaining menu I serving up an easy recipe for a spring inspired herbed mashed potatoes that go well with the roasted chicken.
Herbed Mashed Potatoes (Serves 4 to 6)
3 medium sized russet potatoes
3 tablespoons of butter
2 tablespoons of Alouette or Boursin garlic and herb cheese
2/3 cups cream
1/2 teaspoons of kosher salt
1/4 teaspoon of pepper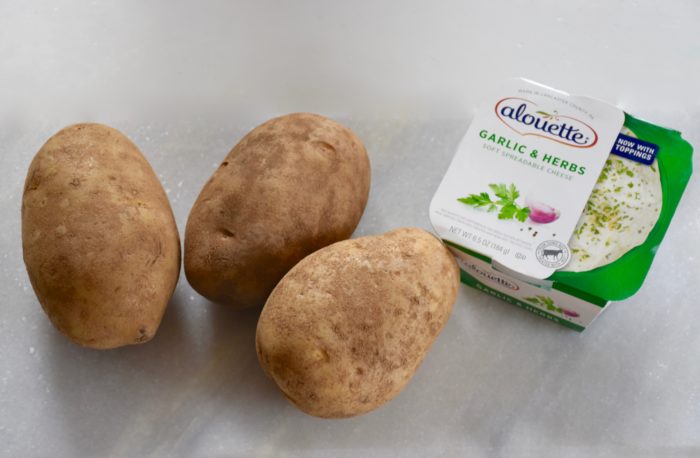 First, get your potatoes peeled and diced into even pieces. Then place them in a large stock pot and cover them with cold water so the water level is an inch above your potatoes. Then turn the heat up to high and boil your potatoes until they are tender and can be pierced easily with a fork about 20 minutes.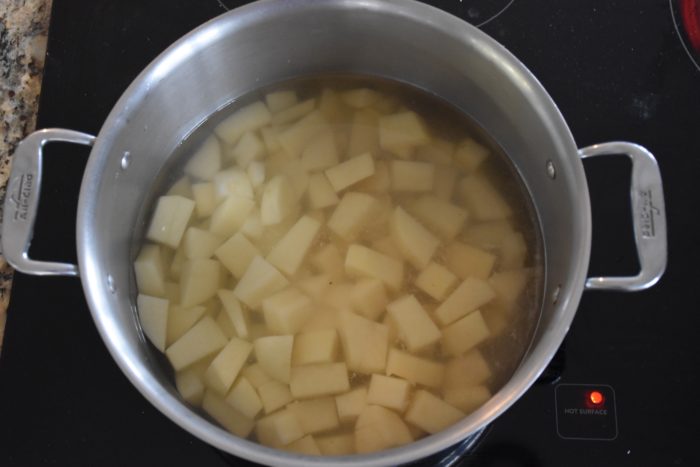 Then when your potatoes are soft drain them in a colander. I like to rice my potatoes because it makes for lighter and fluffier potatoes. A ricer resembles a big garlic press and it presses potatoes into small and even rice like pieces. The ricer  takes out any lumps and makes the potatoes easy to mix together with just a rubber spatula or spoon. When you overly whip or mix potatoes the starch in the potatoes can become glutinous so a ricer or food mill helps prevent that.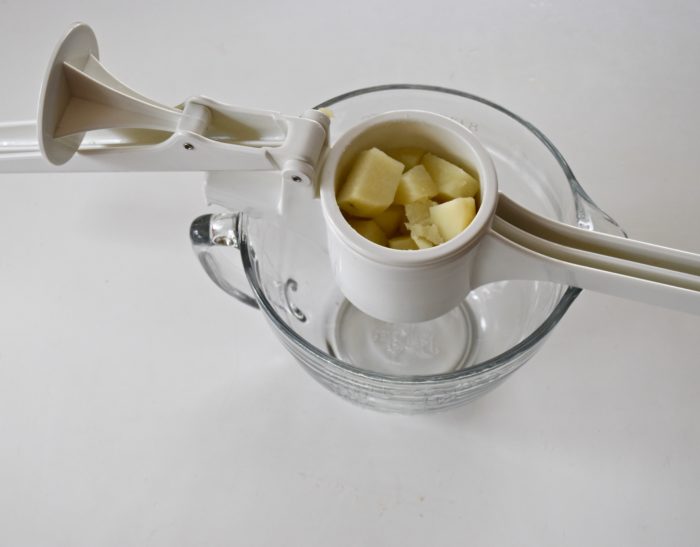 Here you can see  how I work in small batches to rice my potatoes. The potatoes go in the ricer basket and you press them by bringing the handles together.
Next add in your butter cut into small pats so it melts better and stir in your cream and cheese. Then finally season to taste with salt and pepper. You can make this recipe without a potato ricer or food mill, but I do think it makes a distinct difference in the texture of mashed potatoes.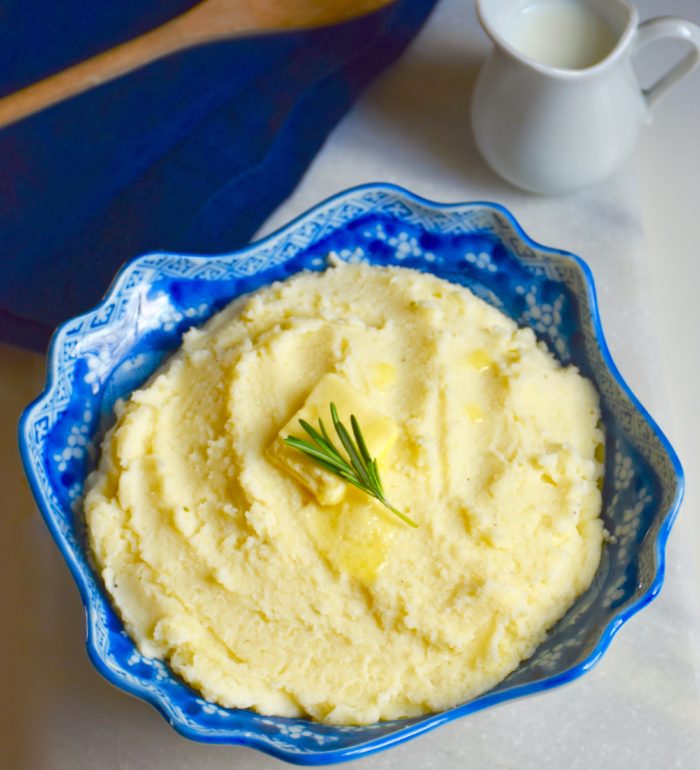 Finally, one last tip if you are entertaining you can have your potatoes ready to go in the water and then turn them on to cook when your guests arrive or you could make them just before and have them warming in an oven safe bowl in your oven's warming drawer or a at low temperature in your oven.
I have saved the best for last so come back this Sunday for the piece de resistance of this spring menu, dessert.