There are some childhood rules that just beg to broken, like "don't play with your food." The first person who uttered that phrase was surely not a cook. Over the years I have found being creative and playing with ingredients is one of the most exciting parts of cooking.
I love reading about what other cooks and chefs are thinking when they create a new dish. A while back I read a cookbook by Chicago chef Stephanie Izard. She was talking about how playing with certain ingredients had inspired new dishes. A pineapple panna cotta that she had dreamed up had flopped, but it got her thinking about pineapple juice. Which lead her to create an even better signature chili recipe. It turns out that the acidic juice that hadn't worked in her dessert, was perfect for creating more tender chili meat. It's amazing what a great chef can dream up from unexpected ingredients.
Recently, I decided to have a little fun in my own kitchen with an unlikely new ingredient-instant mashed potatoes. I had heard of cooks adding them to chicken fried steak or other breading mixtures. I decided that it might be fun to use them in a new recipe. As I thought about their light flakey texture, I began to wonder what they would taste like if I paired them with fish.
So, with a couple of cod fillets and my box of instant mashed potatoes I got to work. The end result was one of the lightest and crispiest pieces of fish I have ever eaten. It was so good that I decided they didn't need a fancy sauce. They were remarkably crispy and so much simpler to pan fry than your ordinary battered fish that it made me rethink my old traditional fish and chips recipe. My family agreed the new fish was delicious. Even my pickiest eater and toughest critic was back in the kitchen looking for seconds. Which goes to show you sometimes it pays to play with your food.
Fish and Chips -serves 4
Fish
2 pounds cod fillets (about 2 medium sized fillets)
1 teaspoon kosher salt
1/8 teaspoon ground black pepper
1½ cups flour
3 eggs
1 teaspoon dijon mustard
2 cups instant mashed potato flakes (I used Betty Crocker)
1½ cup canola or vegetable oil
Baked Chips
5 large red potatoes
4 tablespoons olive oil
1 tsp kosher salt
1/4 tsp garlic powder
1/8 tsp pepper
1 small sprig of fresh rosemary or 1 teaspoon dried rosemary
2 teaspoons chopped parsley (optional garnish)
First prepare and the chips and get them baking in the oven.
Preheat the oven to 375 degrees.
Slice the potatoes in half lengthwise and then cut each half into 6 thin wedges.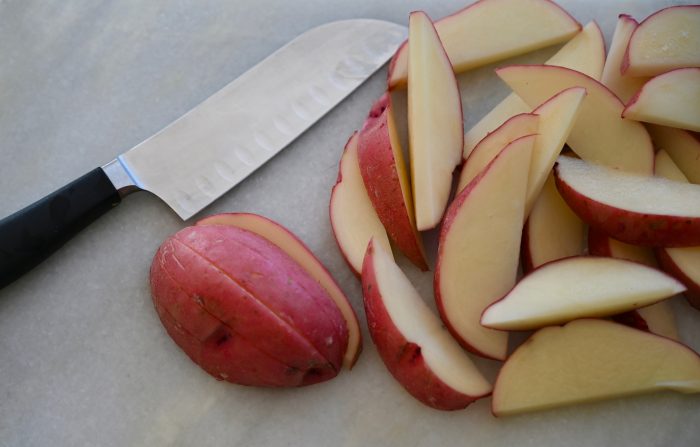 Then in a medium sized bowl mix together the olive oil, salt pepper, garlic powder and rosemary. Add the potato slices and stir them to coat them in the seasoned olive oil. Place the potatoes on a large baking sheet lined with parchment paper or aluminum foil making sure that they are spread out in a single layer with one cut side down.
Bake the potatoes for 35 minutes. After 20 minutes flip the potatoes over to the other side so they brown and crisp up evenly.
Next while the chips are cooking get your fish prepared.
Place the cod on a cutting board and season both sides with the salt and pepper. Cut the fillets into smaller (about 2 x 4 inch) pieces.
Then prepare your breading bowls. In one bowl or on large plate place the flour. In a second bowl whisk together the dijon mustard and the eggs. Finally in a third bowl or plate have the potato flakes ready.
Dip the fish pieces into the flour and coat them evenly. Then dip the flour coated fish in the egg mixture allowing any excess to drip back into the bowl. Finally coat the fish evenly in the potato flakes. Repeat this process until all of the fish is breaded.
Then pour the canola or vegetable oil into a deep skillet. Heat the oil over medium heat until it begins to bubble. To test the heat take a wooden spoon or spatula handle and stick it in the pan. If the oil quickly bubbles or sizzles around it then the oil is hot enough to begin cooking the fish.
Carefully place half of the fish in the pan leaving space between the pieces of fish. Since the cod fillets thickness can vary, I like to cook all the thicker pieces together first and then cook a second batch with the thinner tail cuts.
Cook the fish until it is golden brown on each side and cooked through turning it several times to ensure it cooks evenly. Cook the fish for 12 minutes (about 6 minutes a side) if it's on the thicker side or for a thinner pieces let it cook for for a total of 6 to 8 minutes (about 3 to 4 minutes a side.)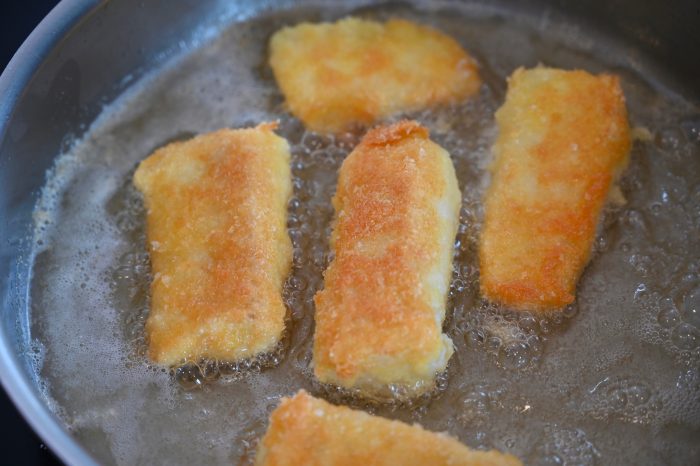 If you want to keep your first batch of fish warm place it on a sheet pan with a raised wire rack and place it in the oven with the potatoes for a short time.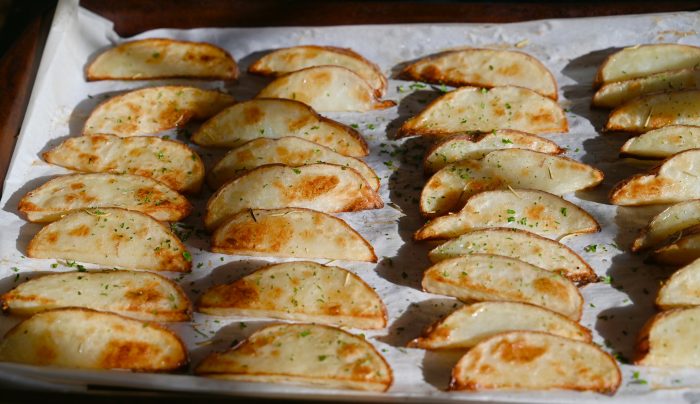 Then you are ready for dinner. I like to serve mine with a traditional side of green peas. I also made a quick tartar sauce to serve on the side.
Tartar Sauce
1 cup good mayonnaise (like Hellman's or Duke's)
2 tablespoons sweet relish
1 teaspoon fresh lemon juice
In a small bowl mix all the ingredient together and keep it chilled until serving.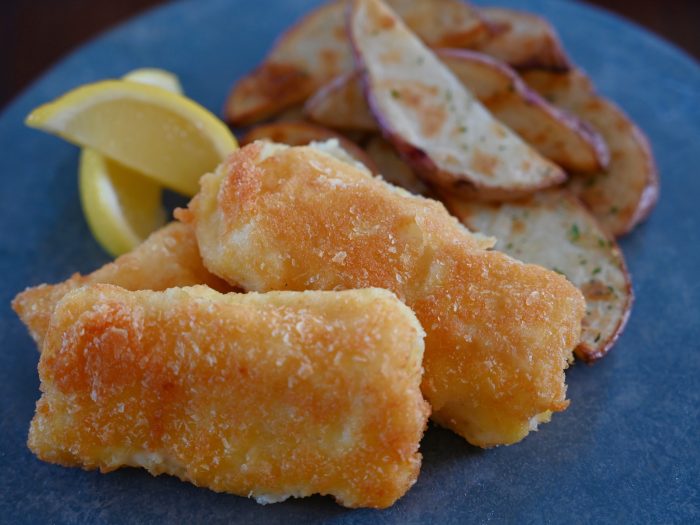 These golden crispy fish and chips make a great dinner. If you are running short on time then substitute your favorite brand of oven fries and just make the fish. All rules aside, cooking and eating together should be delicious and fun.