It had been a long week and by Wednesday night I was tired. As it goes with parenting, sometimes more worry fills my mind than should. My daughters have had some recent vision issues and challenges with reading. It's easy to loose perspective from time to time when things are hard. Mothering is absolutely wonderful, but it can at certain times feel like an all consuming role. As I was getting ready for bed all I could think was: is there anything I am really good at these days? I tried to shake off that nagging question and get some sleep.
Thankfully the next morning we didn't have a class or appointment we had to rush off to before afternoon school. My oldest daughter came downstairs and on her own she began clearing the breakfast table. She took her favorite pink floral quilt and set the table with forks and spoons. Next, she began digging through the dress up box looking for something, her chef's hat and apron. "We are having a tea party," she announced. Now my youngest wanted to join in the fun and find her apron too. "Let's make teacakes!" The dresses and shoes were now thrown all over the room and it was getting late since it was now 10 o'clock. I hadn't planned on baking, but I had can of refrigerator biscuits. So I made my own smaller version of the Pillsbury monkey bread coffee cake that my mom used to make for Christmas when I was little. My girls put on their own cooking show as they rolled the pieces of dough in the cinnamon and sugar. I helped make a glaze and then the little teacakes were in the oven. We pulled out my grandmother's white teacups and saucers and we made some tea and my girls played like we were all princesses.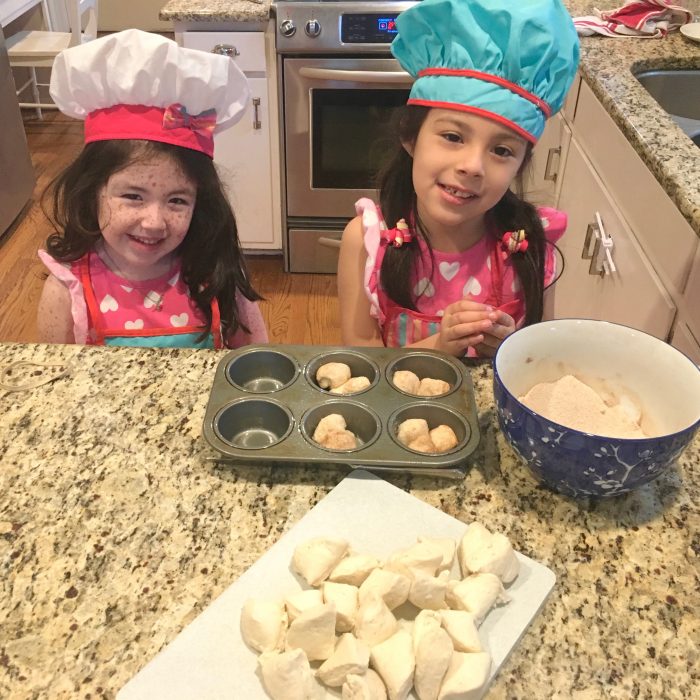 The smell of cinnamon and sugar began to fill the kitchen and the sweetness of those rolls baking in the oven and the giggles at that table caused the worries of the night before to begin to fade. Then as we were eating our teacakes, like a wink from above the thought came: I am divinely good at Thursday morning tea parties. That's the thing I have learned about motherhood, sometimes it isn't about having all the answers or being able to fix everything. It's finding a way to encourage and celebrate the small things that counts. This tea party was an important reminder to me that my girls won't remember all the things I worry about. Instead, I hope they learn how to find joy in the everyday from impromptu dance parties, to lego castles, to sidewalk chalk murals and bake offs. Because it's the loving, laughing and baking your way through it all that matters.
So in honor of Mother's Day I am sharing our recipe for Thursday Morning Teacakes. They are simple because they start with canned biscuits and their small size bakes quickly. It's something my young daughters can bake and they love eating these mini coffee cakes or as they call them teacakes.
Thursday Morning Teacakes– Makes 12 mini cakes
2 (12 biscuit) cans or refrigerator buttermilk biscuits OR 2 (8 biscuit) cans of grands southern style biscuits THE KEY IS DO NOT GET THE KIND WITH "FLAKEY LAYERS"
1/2 cup granulated sugar
1 teaspoon cinnamon
1/4 teaspoon nutmeg
1 stick (1/2 cup) butter
3/4 cup brown sugar
1 teaspoon vanilla extract
NOTE: I made these rolls with the smaller buttermilk biscuits, but they can be harder to find so if you can only find the grands then cut each biscuit in quarters instead of halves
Preheat your oven to 350 degrees and spray two muffin tins with cooking spray
Then cut your biscuits in half if using the smaller buttermilk kind (see note above for grands)
Roll those halves into small balls like you would make for clover leaf rolls
Then in a small mixing bowl combine your granulated sugar, cinnamon and nutmeg. Roll the dough balls in the cinnamon sugar mixture until they are well coated.
Then place four dough balls in your muffin tins.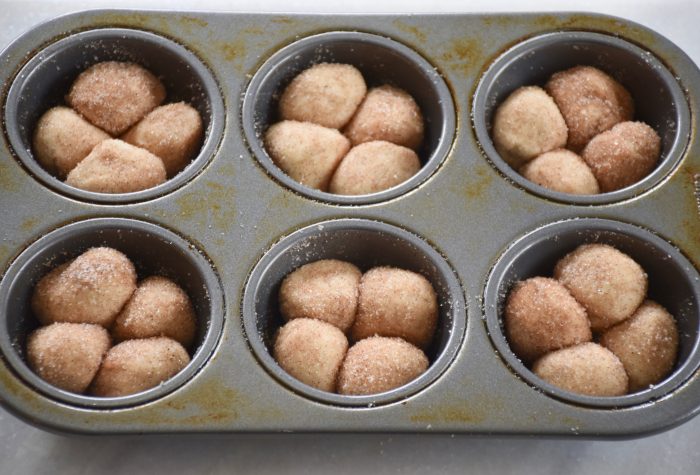 Next in a small sauce pan melt your butter and brown sugar over medium heat and add in your vanilla extract. Stir until the brown sugar has melted and the mixture is well combined. Then remove your brown sugar glaze from the heat. Then place a tablespoon of the brown sugar glaze on the top of each roll using the back of your spoon the spread it out evenly.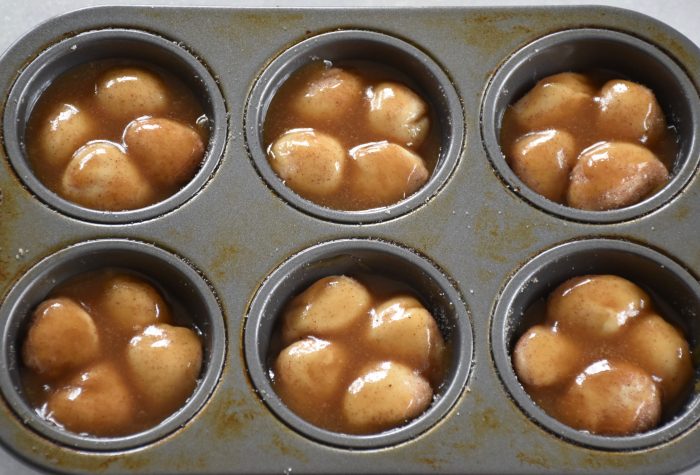 Bake for 15 minutes until the tops are golden brown. I like to bake mine with a baking pan underneath just in case a little glaze runs over the side while baking.
Baking with kids can be so much fun! I have found that my girls want to help with everything so these rolls are great because they can cut the biscuits with kitchen scissors and then roll them in the cinnamon sugar without too much help. This recipe is one of their favorites. Perfect for Thursdays or any day where you want to bake something, but you don't have lots of time.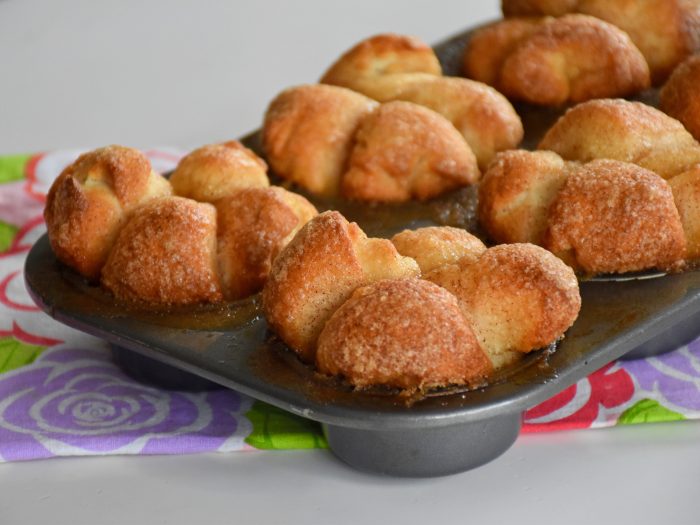 Happy Mother's Day!