I am back from vacation and happy to be writing again. I took a little break from writing about decor with my series on entertaining, but I have been working on a few projects of my own so I thought I would share a few ideas and sources I have found along the way.
It's no secret, I love blue and white. It's a classic color combination that in one shade or another has found its way into just about every room in my house. However, I'm not one to shy away from color and the best part about having some blue and white in my decor is that when I get a little tired of my current look I can energize and remix the whole room by just adding a few accessories in another bold shade.
Blue and white is wonderful, but on its own it can sometimes feel a little too predictable and traditional so I like to change things up a bit by pairing it with a dash of another color. One of my favorite ways to make a quick change in any room is to think about updating or adding new pillows. Pillows can be a relatively inexpensive way to add some color and pattern to your room. I know you all love pillows too, because my pattern play with pillow post was a popular one. So I thought I would share more pillows in some favorite blue and white patterns with a few ideas on how to add a designer touch by adding another more vibrant color to the mix.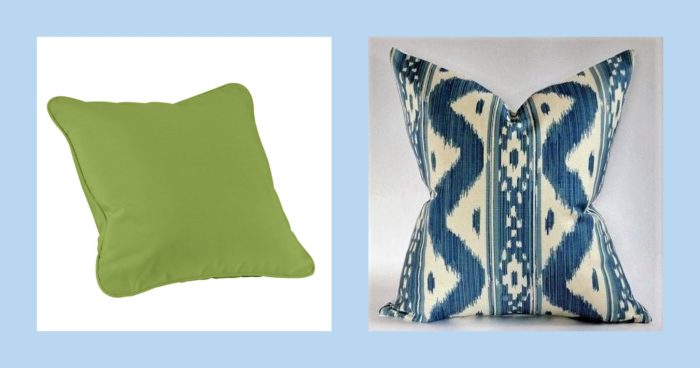 A cheery apple green pillow mixes well with a classic blue and white room. This color combination is certainly a designer favorite. Want to add a touch of this designer look to your home then check out this apple green pillow is from Ballard Designs paired with a pillow from Etsy in Quadrile's classic Bali Hai pattern. The green adds balance to this busy pattern and just a pop of color.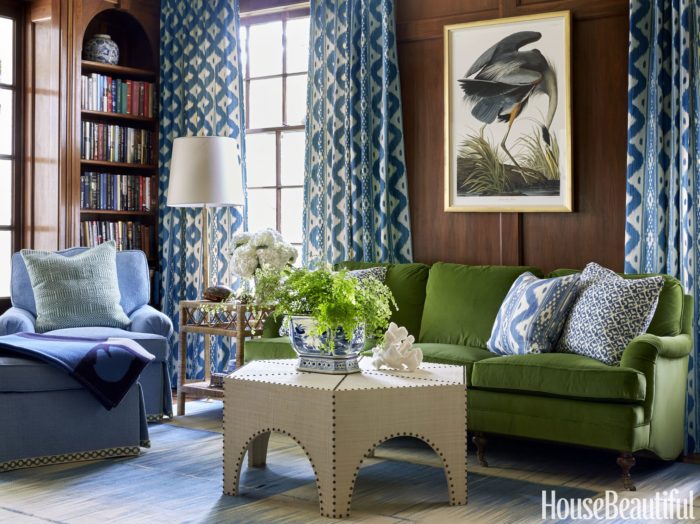 Want to see it in a a gorgeous design then check out this link to this home designed by Sarah Bartholomew that was featured recently in House Beautiful.
Pantone's color of the year for 2018 is ultra violet and although I happen to like purple, I suspect that not everyone is going to paint a room in their house this deep of a shade. However, using it as an accent color on a pillow is less of a commitment and I absolutely love it when paired with blue and white. I mixed a popular chintz by Schumacher called Pyne Hollyhock with an a softer shade of violet to give this blue and white a more modern and feminine accent.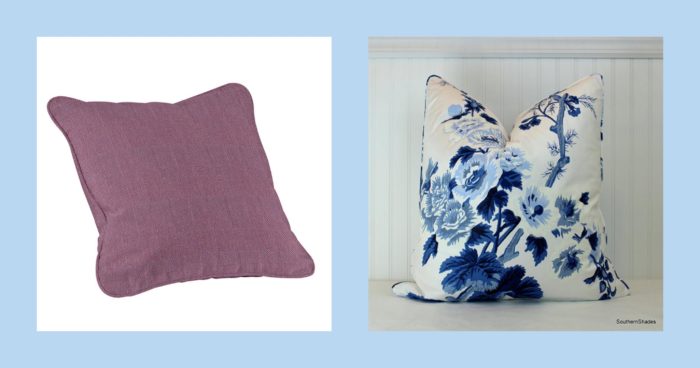 However, this purple would still look stunning with another geometric or block print pattern. Want to see a lovely blue and white home with touches of both violet and apple green then follow this link to House Beautiful to see this lovely new traditional home  designed by Lee Ann Thornton.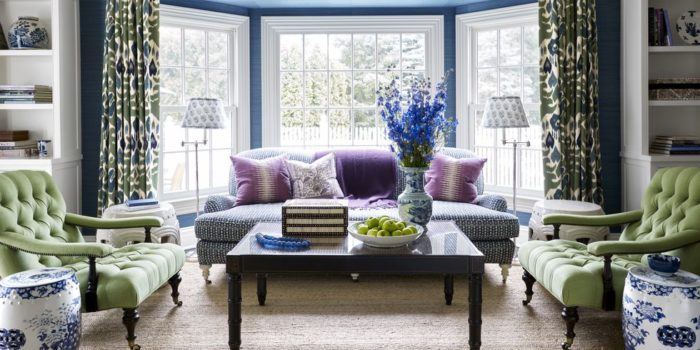 Now on to one of my all time favorite accent colors with blue and white, a bright cherry red. Red is a powerful color, so sometimes people shy away from pairing it with blue thinking it's best left for coastal design or the Fourth of July. However a touch of red with this pillow from Pottery Barn paired with a modern blue geometric pattern by Quadrile China Seas Sigourney can create a vibrant and modern mix.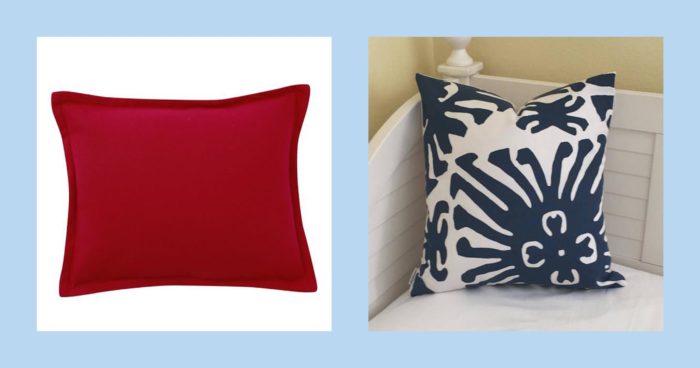 Have you seen the pictures of architect and artist, William McLure's apartment? This modern mix of blue and white with that bright Chinese lacquer box red had all the design blogs talking and for good reason. I love how McLure mixed in several shades of blue from a deep navy to a bright turquoise. You can see more about this living room by clicking on this link to Emily Clark's blog post that featured his work or check out McLure's Instagram account that has more of his inspiring projects and paintings.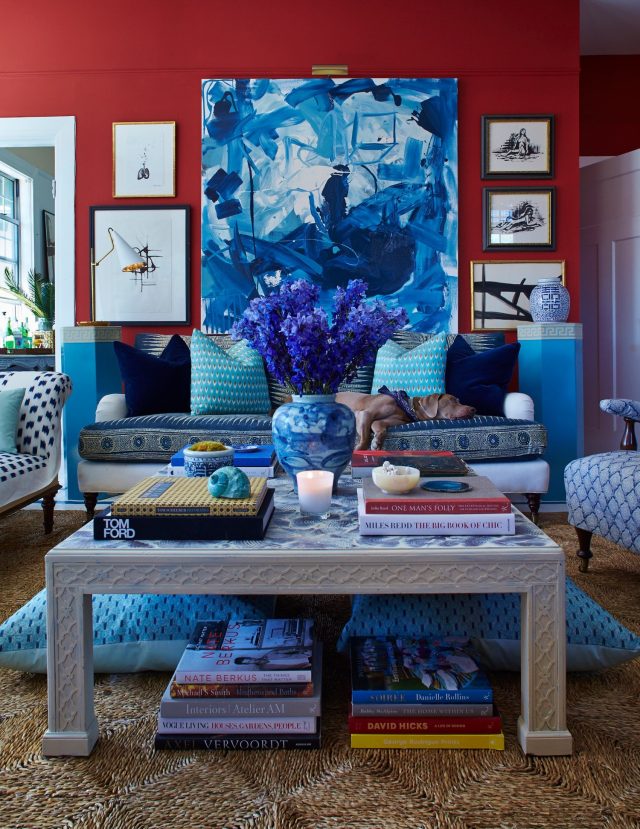 If red isn't your color then think about adding a bright touch of orange to your room. Orange and blue is another designer combination that adds energy and excitement to a room. Here I paired an bright Mandarin orange pillow from Ballard Designs with a Chinoiserie inspired print by Kravet called Banku Fish. Add in some touches of blue and white pottery and you have a timeless look that is anything but boring.
Want a master class in blue white and orange? Then check out the work of designer Mary McDonald who has some of my very favorite rooms using this color combination. She has gone bold with orange walls and blue fabrics or sometimes like this room below she uses just touches of orange in pillows and accessories.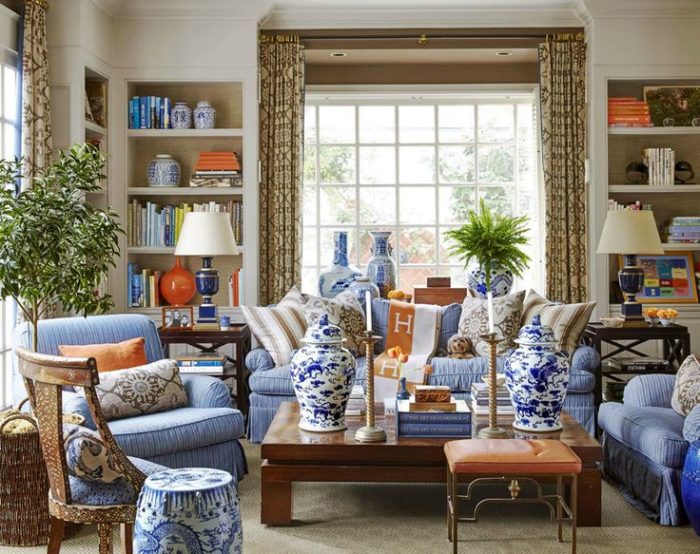 Another more current color that I am seeing more of is ochre yellow, my husband who helped me get my images together for this post wasn't so sold on the shade, but I think it could add just the right touch when paired navy or deep inky blue. This ochre velvet pillow is from Pottery Barn and I paired it with a geometric print by Lulu DK for Duralee in Lapis.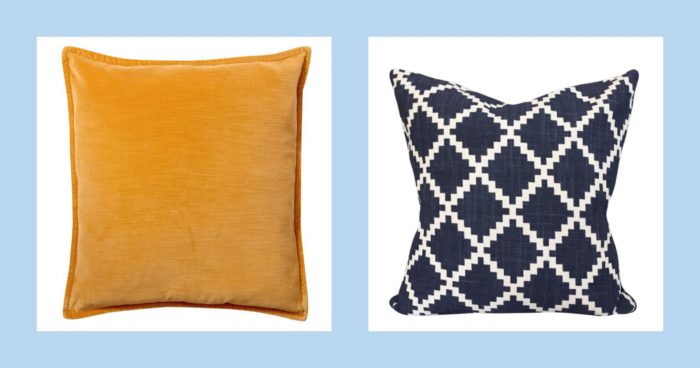 Want to see more of this moody and striking color combination? Then click on the link below to see more of designer Jeffery Bilhuber's work featured in House Beautiful. He is truly a master of color and I am always inspired, by his new projects and design.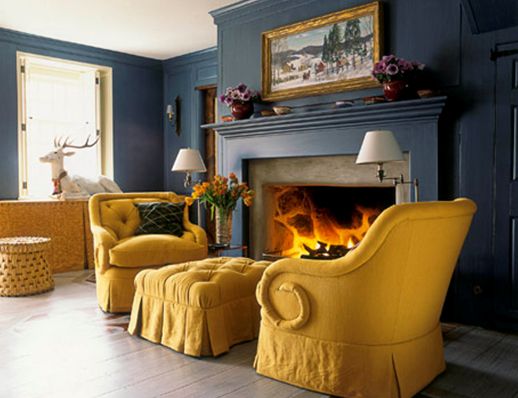 Then finally the color combination that had me started on this whole blue and white pillow post: blush pink with a light blue and white. I am looking to update my youngest daughters room and I want to keep the existing blue and white color scheme and dresser. She adores the color pink, so I am thinking that a soft pink pillow or two might be just the right touch.  Here I paired a velvet pink pillow from Etsy with a blue and white pattern by Dana Gibson.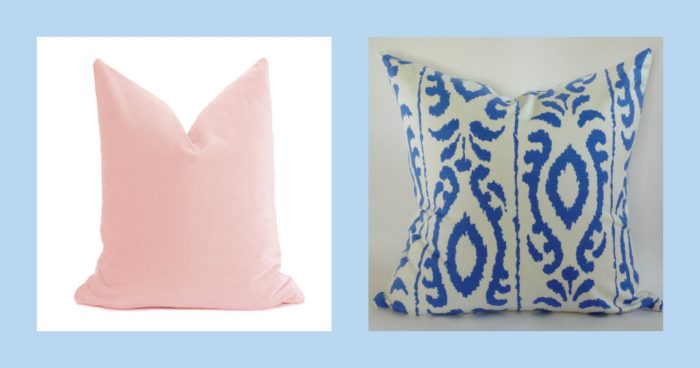 Want more pink and blue inspiration then check out Ballard Designs new fabrics in this pretty color combination.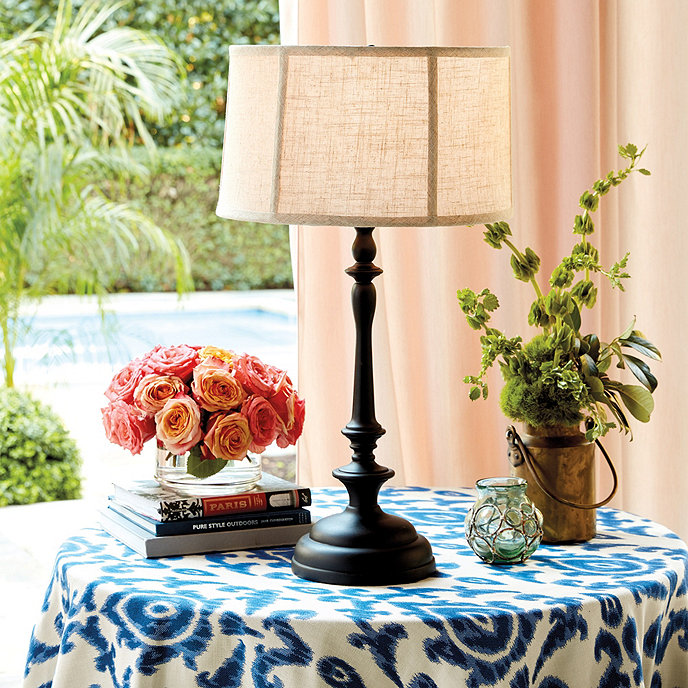 Do you have a favorite? I would love to know because it helps me keep up with what you like to read and see. Etsy has made it easier than ever to source designer fabrics that can sometimes be difficult to order outside of the trade, so I always love sharing great sources and ways that you can give your house a designer look at a fraction of the cost. So add a little a little color with a pillow or a throw blanket and put your own modern twist on the traditional look of blue and white.