"Look deep into nature and you will understand everything better."
Albert Einstein
Over the past two weeks the cold and brown landscape has begun to change here in Chicago and suddenly everywhere you look there is Spring. The bulbs and trees have awoken from their winter slumber and their gorgeous blooms are everywhere.  Their vibrant colors, their fragrance, their delicate petals: words fail to accurately describe their beauty. When I stop and really look and take it all in I feel the corners of my mouth begin to rise. I cannot help but smile. The blue sky and the crisp spring air wash over me and suddenly I have a peace and a deeper appreciation of God's beauty and love. Einstein was right there is a new sense of clarity and in the moment thinking that happen when you stop and look deeply into the beauty of nature. Inspired by all of the blooms I have been out photographing all the flowers around me, so here are a few of my favorites snapshots of spring.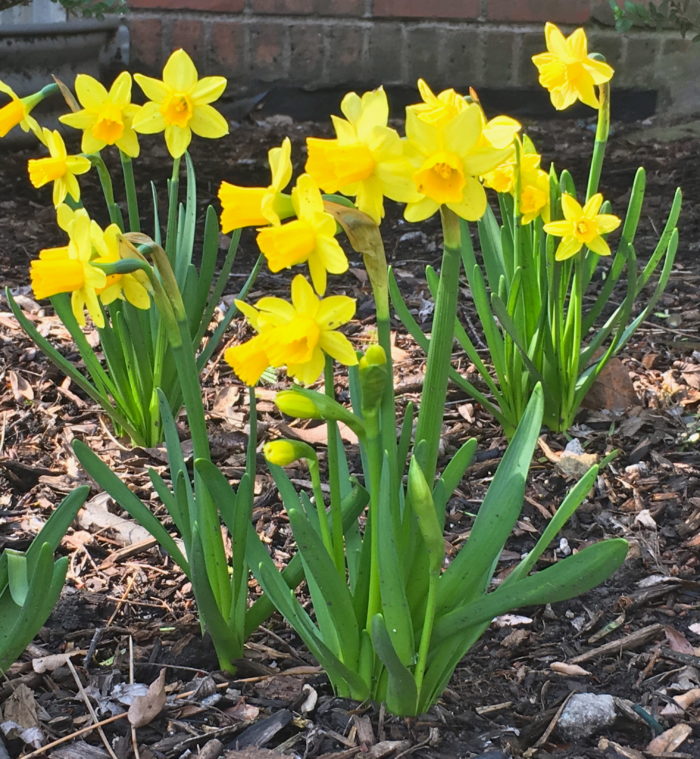 This year I was able to get daffodil bulbs from the Morton Arboretum bulb sale and I loved watching the bulbs bloom this spring. I look forward to adding a few more bulbs this fall.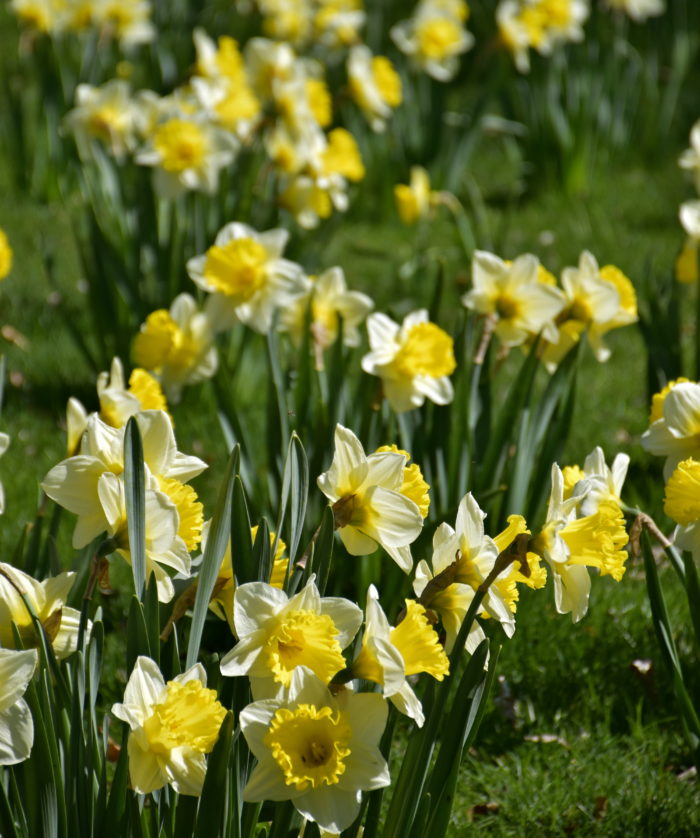 In her book At Home Sara Style, Designer Sara Richardson says she was so inspired by the daffodils at her country home that it influenced the design of her guest room. The previous owner's late wife had loved the property and spent years planting all of these fields of daffodils. Richardson said that she hadn't initially thought about using yellow, but the flowers inspired her choices for this light and bright guest room. Here is a link so you can see her home at Starlight Farm. Love homes inspired by nature here is another link to Richardson's sunny yellow kitchen from her previous country home and orchard called Paisley Acres.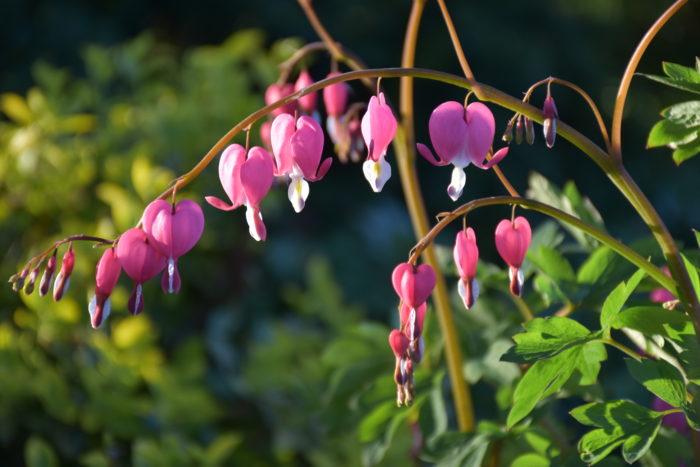 The shape of these bleeding heart flowers is beautiful. I love how these blooms cascade down and hang like little pink garden lanterns.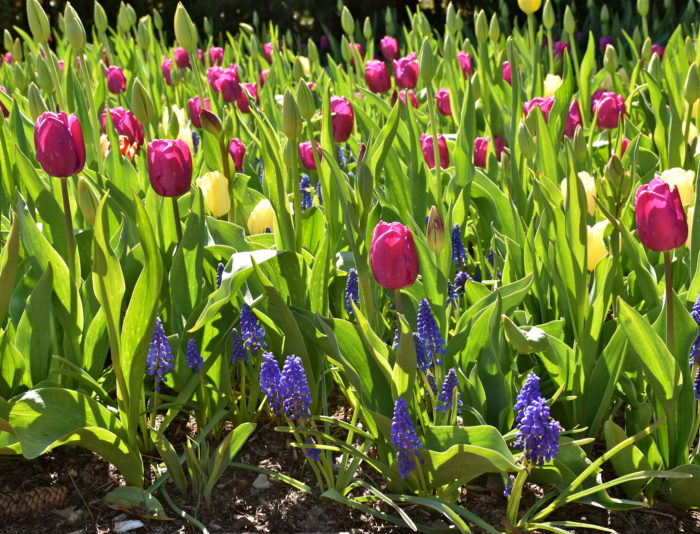 I love the blended colors with the fuchsia, yellow and periwinkle blooms.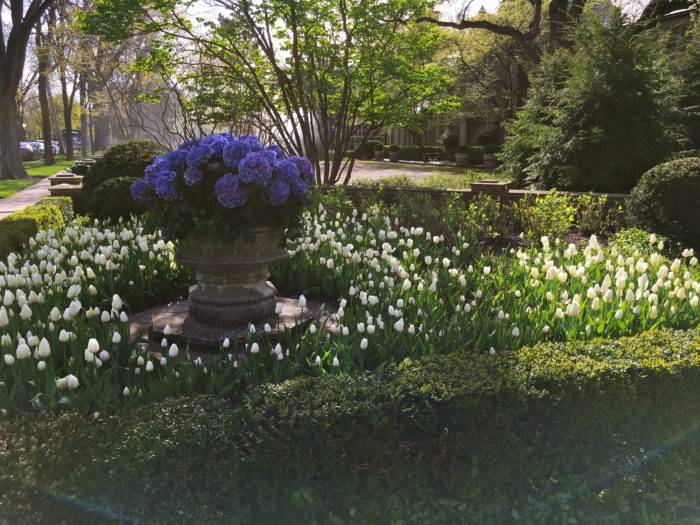 This home in my neighborhood as a very pretty English inspired garden. The boxwood lined flowerbed and the white tulips with the urn of blue hydrangeas is gorgeous.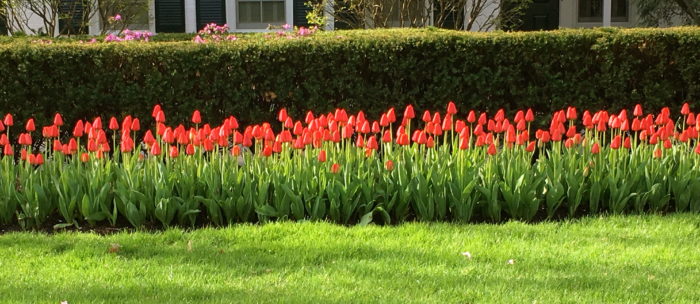 Another lovely garden in my neighborhood with a boxwood border and bed of red tulips.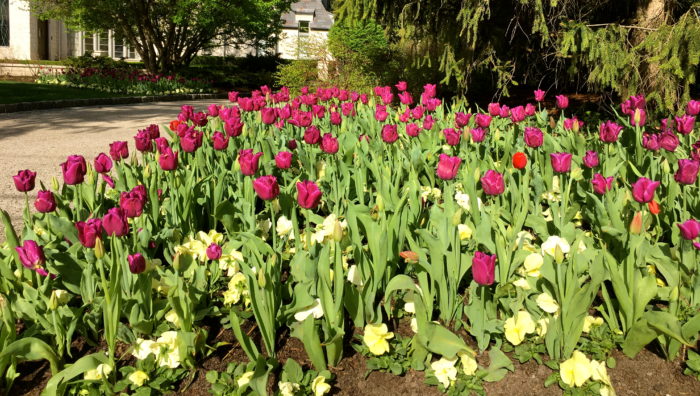 I like how this home had pansies mixed in with the tulips. If you love tulips like me you should see Serena and Lily's new bedding inspired by a field of tulips. Here is a link to their Cortina Quilt.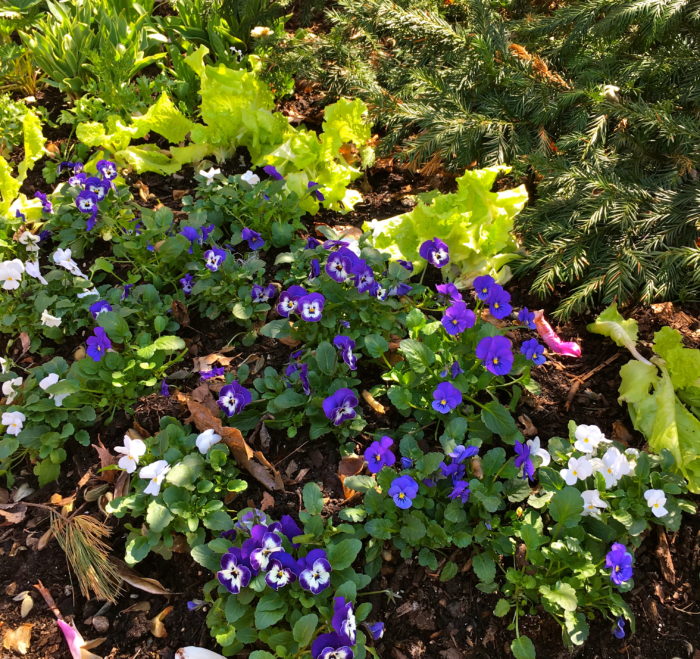 The vibrant purple violas against the bright chartreuse lettuce is pretty contrast.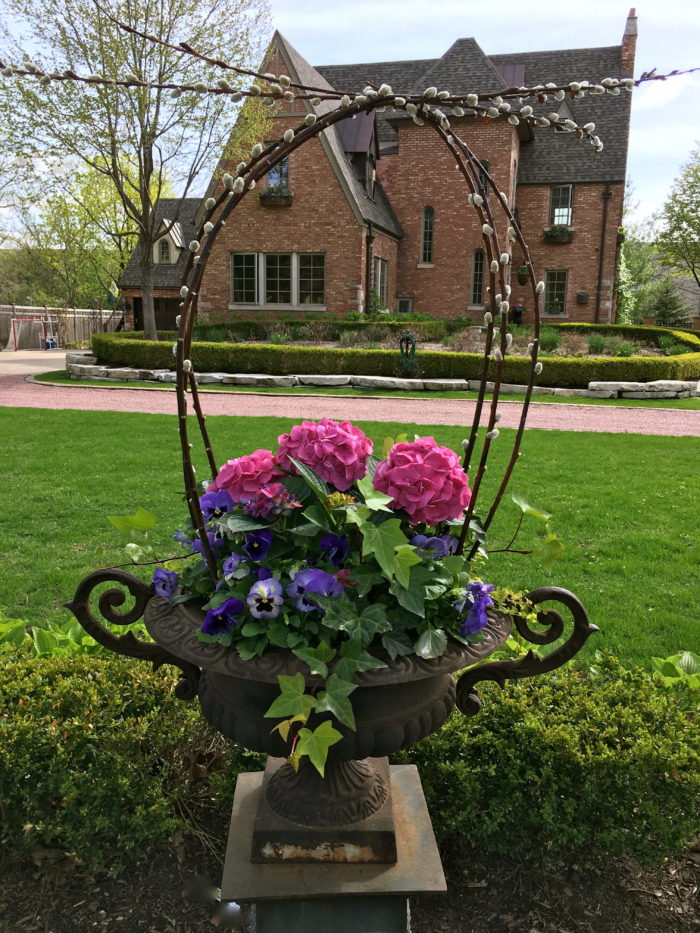 Finally beautiful planter from a home in my area that looks like a spring basket overflowing with pink hydrangeas, purple pansies and ivy.
May nature and the beauty of spring inspire you to get outside, feel the sun, hear the birds and take time to ponder the glorious details. The great wisdom, perspective and joy that nature brings is such a gift.