It's hard not to love a good brownie. There is something about that chewy chocolatey combination that makes them irresistible and for every recipe there are just as many opinions about what makes the perfect brownie. Brownies lovers tastes tend to fall somewhere on a continuum between liking a light cake texture to a dense chocolate fudge. Still other like less traditional brownies adding all kinds of extra ingredients like carmel, toffee, cream cheese, butterscotch, expresso or mint. I have made a lot of different brownies over the years but until now I didn't have one favorite.  While I was testing a gingerbread cake by Ruth Reichl I read an interview where she gave tips for entertaining. When asked what to serve she shared a recipe for brownies. The recipe was different from others I have made because it has a whipped egg base and less flour than the standard recipe.  I was curious. After all Reichl is a six time James Beard award winning food writer, so I wanted to see what her favorite brownies were like. In the end, I must admit these are great brownies. These brownies have managed to bridge the great brownie texture divide. They have have a light cake texture with a fudge center. The only thing I didn't like was the meringue like top. The topping was a little too flakey to get an A + in the presentation department and if I am going to share a dessert then I want a showy brownie. So I added a melted chocolate frosting which gave the brownies the glossy chocolate look I love. So if you are looking for a sweet to share with family and friends give this recipe a try.
Ingredients:
10 TBSP butter
5 ounces of good unsweetened chocolate
2 Tsp vanilla extract
4 eggs
1/2 Tsp salt
2 cups sugar
1 cup all purpose white flour, sifted
1 cup semi sweet chocolate chips
Preheat your oven 400 degrees (I set my convection oven to 375)
Take a 9×9 inch pan and make a parchment paper liner for your pan. I like cutting it so I have enough to fold over the sides. This will help you pull the brownies out of the pan easily. The trick to doing this in a pan with rounded corners is to cut the parchment a little smaller than the width of you pan so you don't have to deal with the corners. Spray the square pan and parchment paper liner with a butter flavored cooking spray like Pam.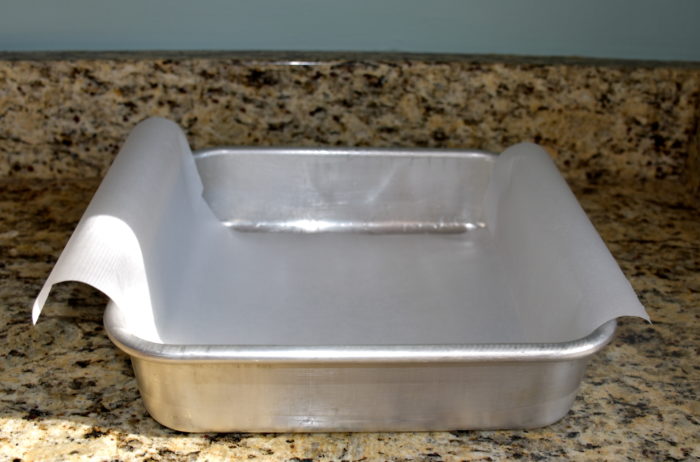 Next in a small sauce pan melt the butter and chocolate over low heat stirring until the chocolate is melted and glossy. Remove the pan from the heat and stir in the vanilla.
Then lightly beat the eggs and salt in the bowl of a stand mixer. I used the whisk attachment. Add the sugar and beat the eggs mixture on high for ten minutes. The mixture will turn much lighter.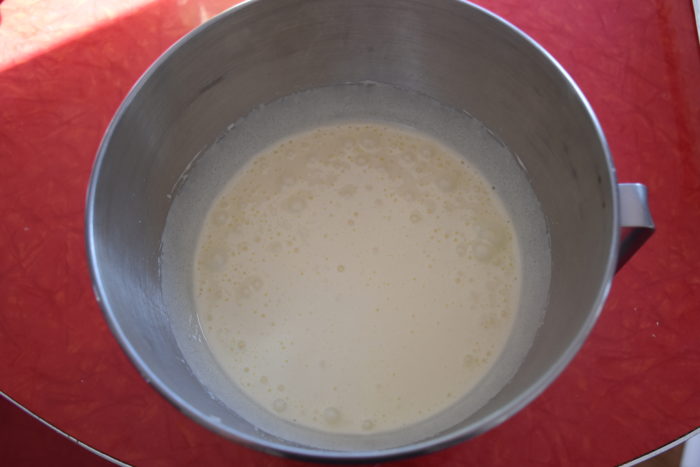 Then slowly pour the chocolate mixture in with the eggs as you beat the mixture on low until the chocolate is incorperated. Then add in the flour and whisk it just long enough for the flour to be mixed in the batter.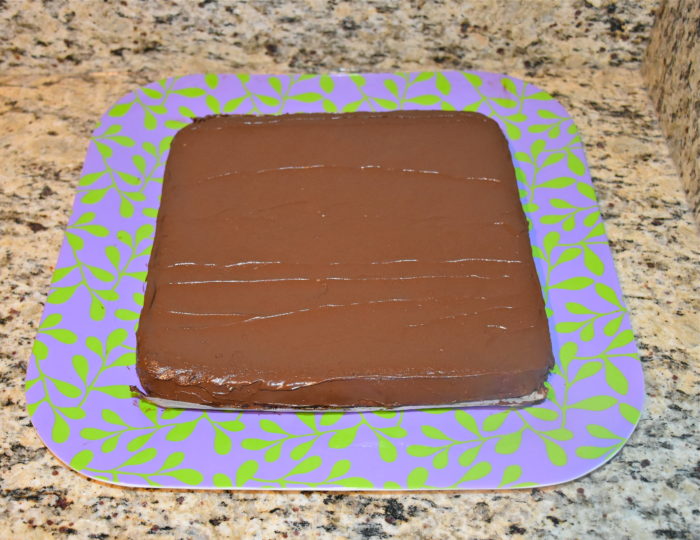 Pour the batter in the pan and turn the oven temp down to 350 degrees (I set my convection oven to 330) Bake for 35 to 40 minutes. The brownies have a fudge center so when you test it with a toothpick it should come out not quite clean.
While the brownies are cooling in the pan add 1 cup of semi sweet chocolate chips on top. The chips will begin to melt and when they do use a separated spatula to spread an even layer of chocolate on top. If the chocolate chips aren't melting just put the pan back in the warm oven for a minute and then they will be easy to spread. If things are busy and  you need to frost them later, then use a pyrex or microwave safe container and put the chocolate chips microwave for thirty seconds then stir and microwave for another 30 seconds till the chips are melted and ready to speed on top. While the melted chocolate is still soft you can add some chocolate sprinkles on top if you want to make them extra fancy. My girls and I made another batch of these and they loved getting to add the sprinkles. Use the parchment paper handles to help lift the brownies out of the pan. If you want to stack the brownies on a serving platter then allow the brownies to cool before you cut them into squares. If these are something you are serving right away then use a plastic knife which will make it much easier to cut the warm brownies.