Last Thursday was just one of those days. Thankfully it wasn't an awful day. It was one where nothing went quite to plan and no matter what I did I couldn't fix everything. I was reminded of that classic children's book, Alexander And The No Good Very Bad Day.  It all started when the girls and I went out to play, there it was in the middle of the yard, the dead squirrel. The dog and my girls were circling the squirrel. My oldest daughter is an animal lover, who was instantly in tears concerned about the sick squirrel. She is four so explaining squirrel heaven and what mommy was doing suiting up with garden gloves and plastic bags was difficult. No matter how I explained it, there were all kinds of questions about how the squirrel was doing in the garage and when he was getting better.
Then in the middle of the squirrel crisis my youngest's balloon, her current favorite, managed to fly right out the door. I turned around just in time to see the green balloon fly higher and higher until it was out of sight. My two year old had a plan. She knew that if only we could get ropes we could rescue her balloon. There were tears and a sad talk about the balloon taking an adventure and being gone.
The day had been busy because we were getting ready for my sister and brother-in-law's visit the next day.  The girls and I had baked a cake. It was sitting out to cool and I was cleaning in another room. When I walk back in the kitchen there is the chocolate cake with one handful missing. The scene read like a text book jury selection example I used to use when explaining the one witness rule. I looked at my girls and the little one blurts out that her sister did it. I knew it was my oldest because she adores chocolate and she was the one who had chocolate on her fingers. I was a little tired and now I was going to have to bake a second cake. There is a part of me that wanted to be mad, but sometimes you just have to take a minute and laugh. It was definitely one of those days and my oldest daughter just couldn't help herself. She loves chocolate cake and this cake is so good that it's worth making a second. So I stopped cleaning and we made another cake. Then we had fun making fondant strawberries together.
A week later there are still lingering questions about the fate of squirrel and the balloon in our house, but I think my girls understood the lesson about chocolate cake. I have learned that in life attitude is everything. Sometimes even when you can't make it all better, a little chocolate and a good laugh go a long way.
This cake is an absolute favorite sure to brighten any bad day from Rebecca Rather and her cookbook The Pastry Queen.
Cinnamon Chocolate Cake
1 cup (2 sticks) of butter
1/2 cup unsweetened cocoa powder
3/4 cup water
2 cups sugar
2 large eggs
1 cup buttermilk (or if you don't happen to have buttermilk add 1 tsp of white vinegar to the milk and stir)
2 Tbsp vanilla extract
2 cups of all purpose flour
1 tsp baking soda
1 1/2 tsp ground cinnamon
1/4 tsp salt
Chocolate Ganache Glaze
1/2 cup (1 stick butter)
1/4 cup milk
1/2 cup cocoa powder
2 cups of sifted powdered sugar
1 tbsp vanilla extract
1/4 tsp salt
Preheat your oven to 350 degrees
Then grease a 10 to 12 cup Bundt pan with Baker's Joy. You can find it next to the other cooking sprays in the grocery store. It is absolutely the best for bunt cakes since it greases all of the small bends in the pan better an anything else. There is nothing worse than making a cake and then when you go to turn it out having part of it still stuck to the pan.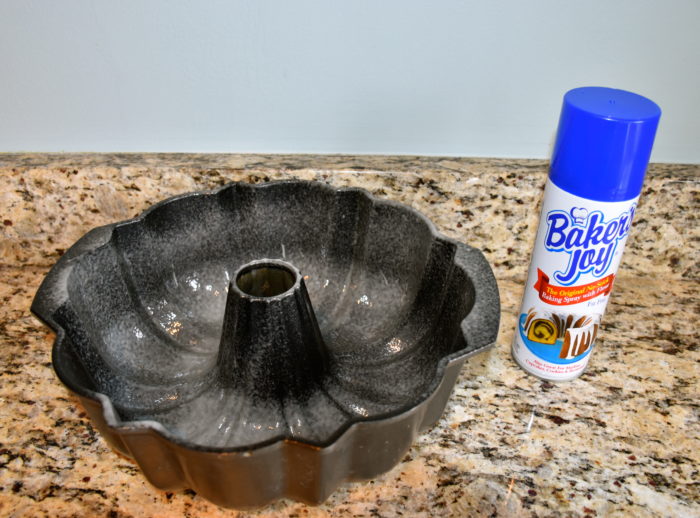 Next in a saucepan melt the butter over medium low heat. Then add the cocoa and whisk until it is smooth. Then remove the pan from the heat because you don't want it to boil. Next whisk in the water until smooth. Then add 2 cups of sugar and continue to whisk until it is smooth and fully incorperated.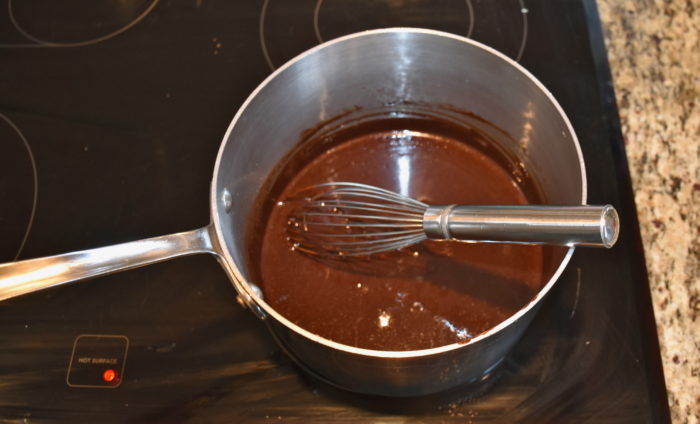 Next pour the chocolate mixture into the bowl of your mixer. Then add all at once the eggs, buttermilk and vanilla. (this keeps the eggs from getting to hot and causing an issue). Add the flour, baking soda, cinnamon, and salt and mix until the dry ingredients are fully incorporated. Then pour the batter in your greased pan.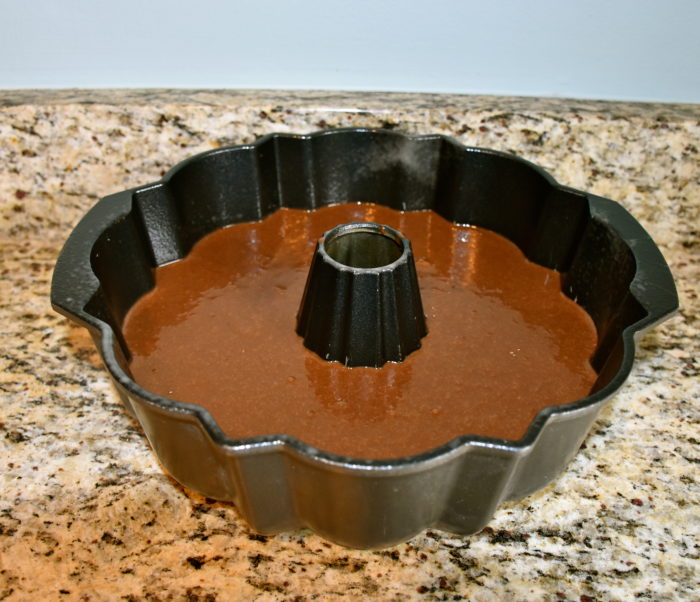 Bake for 40 to 45 minutes. You will see that the sides of the cake will pull slightly away from the pan and the cake will be firm with springy touch. Allow the cake to cool in the pan for 20 minutes then turn it out on a large plate.
To make the chocolate ganache melt the butter in a saucepan over medium low heat. Add milk, cocoa powder and powdered sugar and whisk. Remove the pan from the heat then whisk in the vanilla and salt. The chocolate should look smooth and glossy.
Next drizzle the chocolate ganache over the cake using a large spoon. If you want a thicker and more controlled look like mine then wait for the cake to cool completely before you make the chocolate ganache. If you want more of a glaze then make the ganache and spoon it on while the cake is still warm. The heat of the cake will make the chocolate thinner. The cake keeps best covered at room temprature.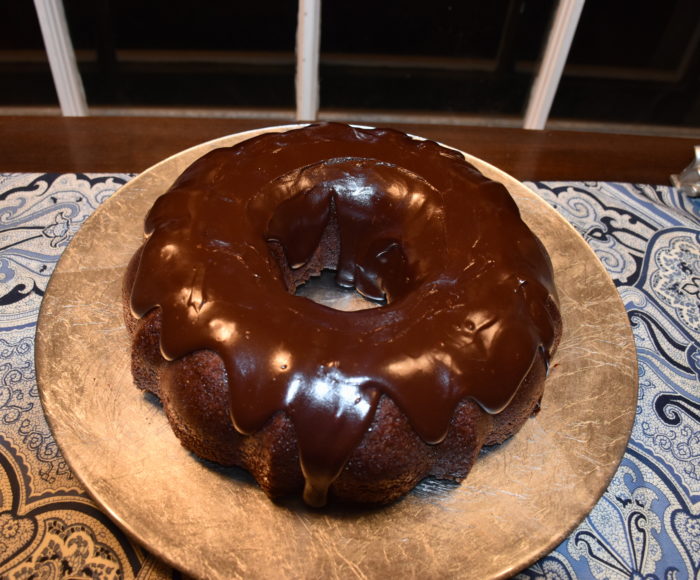 If I am making this cake for company, then I like to add some decorations to the top. On this cake I decided to make fondant strawberries. Fondant is made of powdered sugar, cornstarch and agar agar (a thickener derived from seaweed that is also used in making marshmallows). I have tried a lot of brands and my favorite is from Duff Goldman at Charm City Cakes. You can find his fondant on Amazon or at Walmart. Although fondant is not known for tasting great, Goldman's is vanilla buttercream flavored so it tastes better than any other brand I have tried. Fondant can come pre-colored or you can buy white and then mix in gel food color to tint it any color you want.
Fondant will be hard when you open it, so the trick to using it is to cut off the amount you need and then place in a microwave safe dish. Heat it for about 10 to 20 seconds depending on the amount you are using. The heat will make it a bit softer and easier to work with. I have a set of fondant cutters that I have gotten at Michaels over the years. For this project I used two different shaped flower cutters and a play dough mold I have that has a strawberry shape. If you don't have a mold for the strawberry then you can shape some by hand and then use a toothpick to make the seeds (I have done it before and it still looks cute.)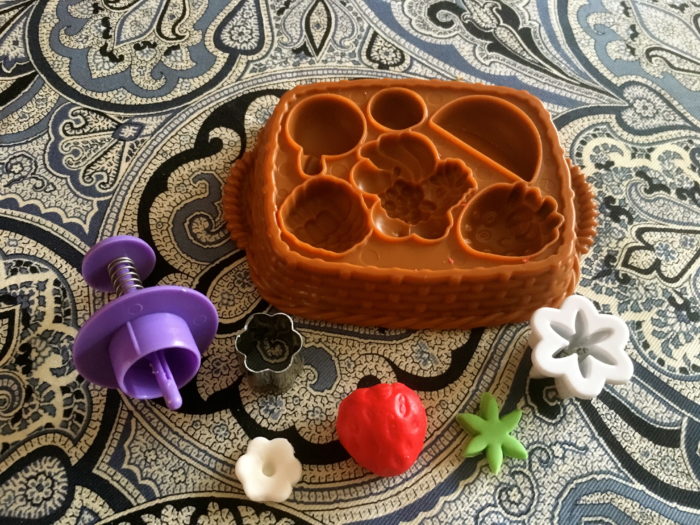 Then I used a leaf shaped cutter to make the leaves and I used the tip of a knife to make the veins on the leaves. When attaching the leaves and stems to the strawberries use a tiny amount of water on your finger. It will help it stick and stay in place. To add a finishing touch I made vines by rolling out small snake like bits of green fondant and then twirled them. I also made little yellow centers for the flowers. Here is what they looked like up close.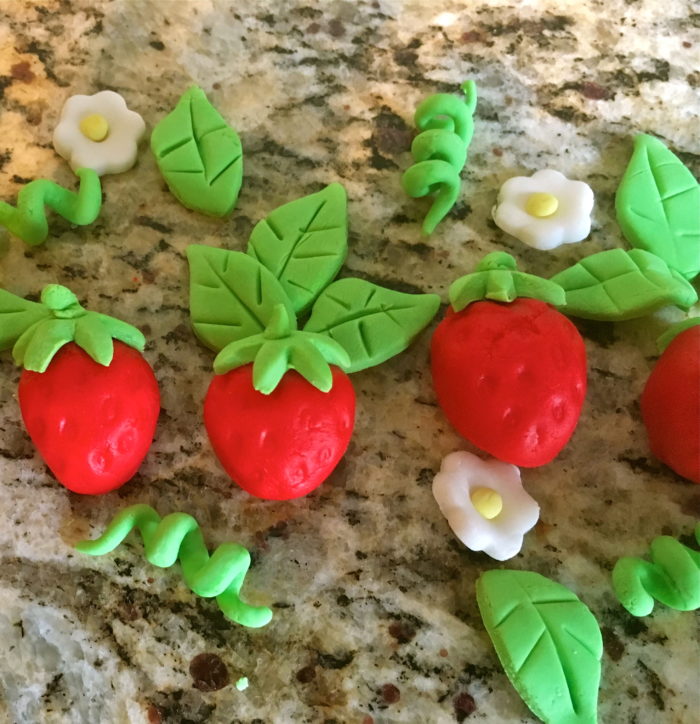 Next I placed them on the frosted cake in a pattern that made it look like they were still growing in clusters on the vine. This project was lots of fun and my girls liked helping since working with fondant is a lot like playing with play-dough.