Alexander Graham Bell once said, "When one door closes another opens, but we often look so long and regretfully upon the closed door that we do not see the one which has opened for us." New doors hold great possibilities but ours needed some new paint before I could step into it as my own. Our house has these great double doors, which are one of my favorite things about the exterior. The only issue was they were hunter green and the hardware had seen better days. So an update was definitely needed, but sometimes it's easier to identify what you don't love than to find the perfect new shade.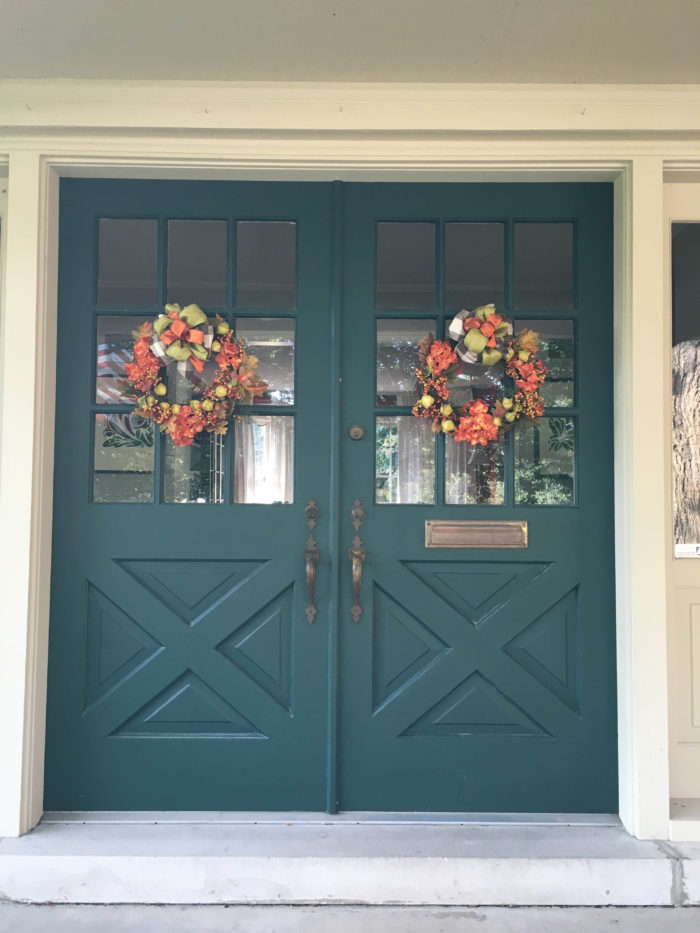 The façade of our home has mixed material finishes with orange toned brick and siding. We plan to update the golden beige siding color later this year, but since my husband isn't crazy about painting the brick, I had to work with the orange.  I knew I wanted to paint the door something other than green and I wanted to go with a brighter color. Something that would stand out a bit. I loved the colorful Georgian doors I had seen on a trip to Ireland years ago, but given the very traditional style of our home I didn't want to go too bold. In the end I decided to go with blue but a shade that had some green in it to complement the orange brick . There are so many great blue front doors out there.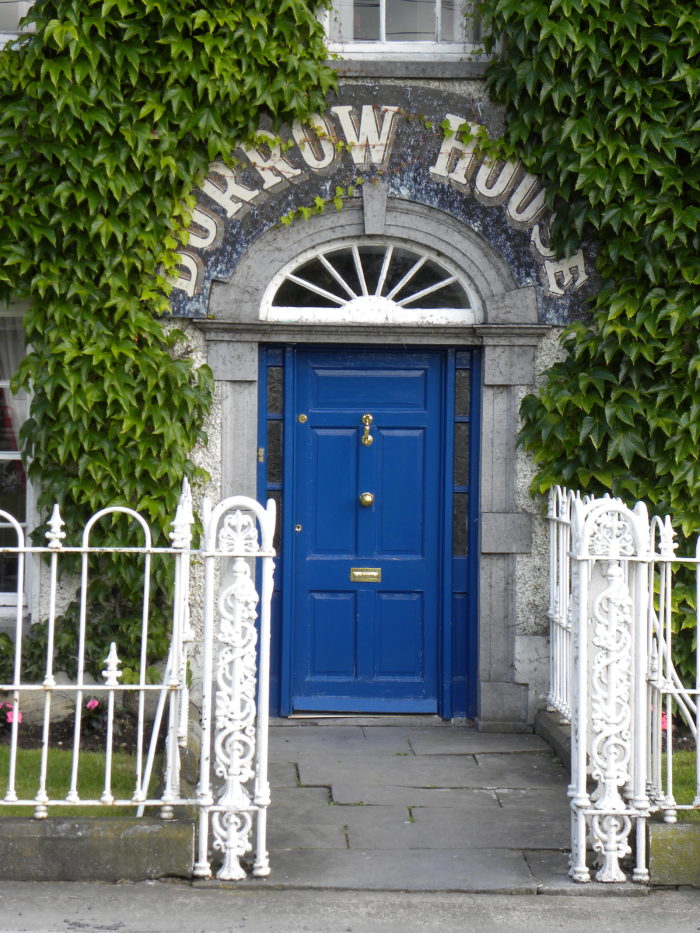 Links to other great photos and front door ideas: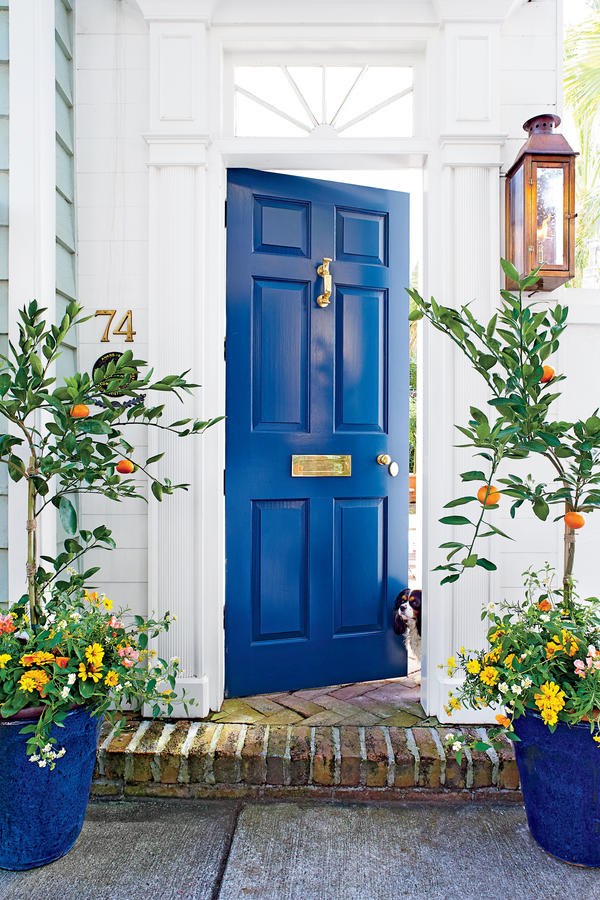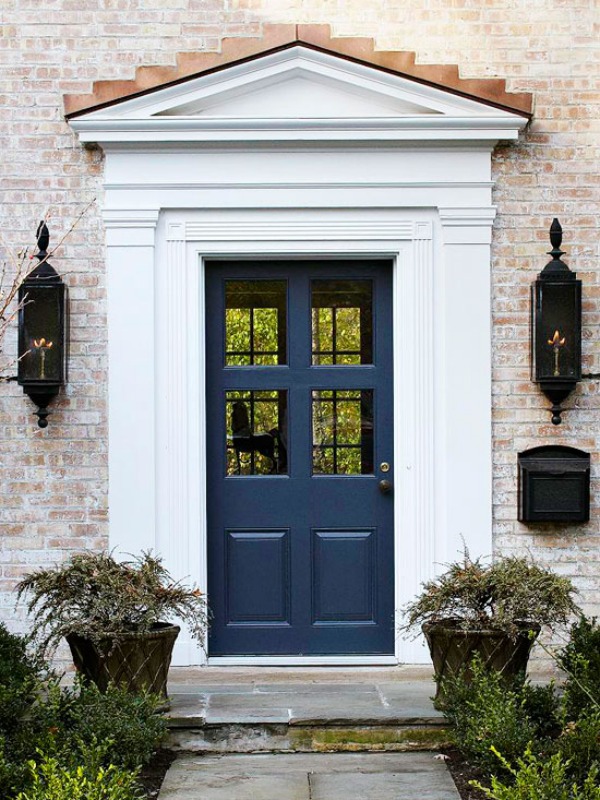 Armed with sample paint pots and lots of inspiration from pictures I began painting sample boards to try out various shades of blue green.  When I looked at the first set of colors I chose nothing looked quite right so, I took to mixing my own. A little Benjamin Moore Hale Navy with some Van Courtland Blue and a touch of Wythe Blue and voila I was finally able to get more of the shade I was looking for. I took pictures in different lights and got opinions from family and friends.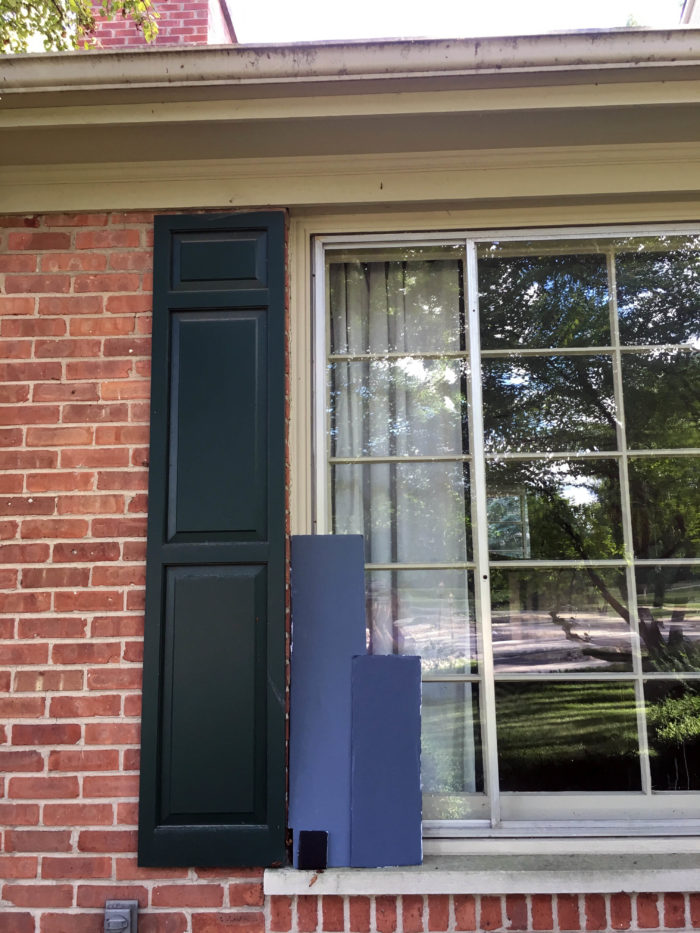 I was feeling confident about my choice until the afternoon before the painter arrived when I got brave enough to paint the actual front door. The painter had taken a while to get to us and I didn't want to be the house of many colors for months on end. Then as the paint was drying I began to have visions of 1980's country goose blue. I texted my sister and sister in law who tried to allay my fears via long distance text messaging and I decided to stick with my choice.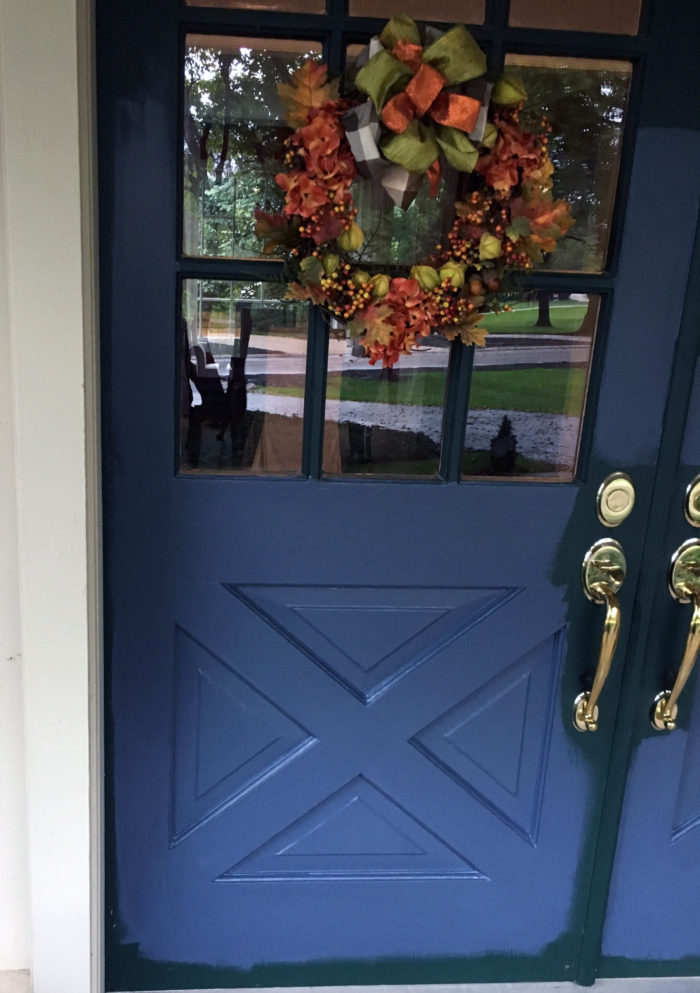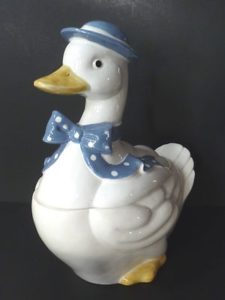 The painter came on Friday afternoon and painted just the front doors which gave me all weekend to worry about the country goose problem; by Sunday I was still concerned but I had come to the conclusion that it was the trim color and not the shade of blue that was the issue. So in a crazy effort to fix the mess and assure myself that we were not paying to have the house painted a color I would later regret, I painted the trim and sidelights with some leftover white dove paint. My husband thought I was nuts and you should have seen the confused look on the painters face when he saw all the new trim paint. After I explained to the painter that he had not been replaced and he was not seeing things he smiled with approval. We went with the blue paint on the doors and the shutters as well. In the end I think my husband has forgiven me for my drop everything paint crisis and I like the view from my new blue doors.