Fall is perhaps one of the shortest and yet most anticipated of all the seasons. It isn't technically here until next week on September 22nd, but I can feel it just around the corner. People are planting cabbages, kale and mums. This week I saw a  few brave maple leaves starting to turn color. School is back in full swing and pumpkin spice lattes are already back at Starbucks.
While I might like to hang on to just a few more warm sun filled days, I do love the beauty of a Midwest fall. I am looking forward to apple picking, autumn leaves, pumpkin patches and fall baking. So this week I baked one of my favorites gingered applesauce cake from Ruth Reichl. It's a simple mix and bake bundt cake with a poured caramel glaze that is so delicious.
Gingered Applesauce Cake
2 eggs
1 cup white sugar
1/2 cup brown sugar
½ cups applesauce
2 teaspoons freshly grated ginger
3/4 cup vegetable oil
1 teaspoon vanilla
1 ½ teaspoon baking soda
1 teaspoon kosher salt
2 teaspoons cinnamon
1/4 teaspoon ground cloves
2 cups flour
Preheat the oven to 350 degrees. Prepare a 12 cup bundt cake pan by spraying it with Baker's Joy or buttering and flouring it well.
In a medium sized bowl whisk together the egg and both sugars. Add in the applesauce and grated ginger. Next mix in the vegetable oil and vanilla until smooth.
Add in the baking soda, salt, cinnamon and cloves. Finally mix in the flour until well incorporated. Pour the batter in the prepared cake pan.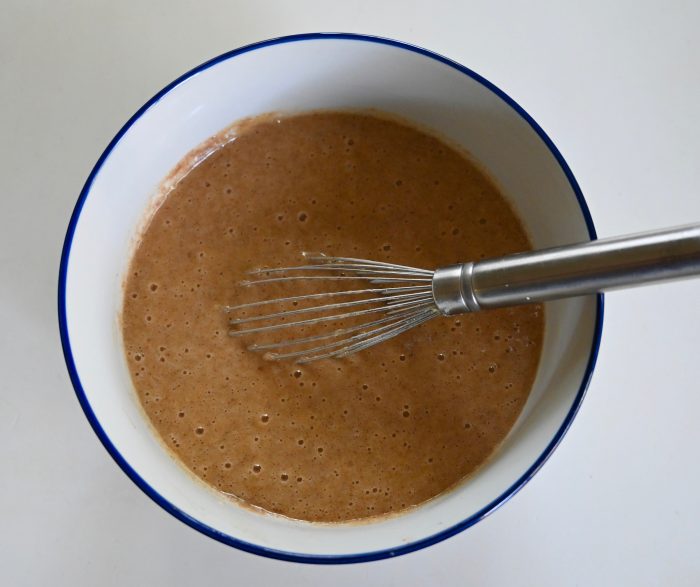 Bake for 35 to 40 minutes until a toothpick or cake tester comes out clean. I found that 37 minutes is exactly right in my convection oven. Let the cake cool for a few minutes before turning it out on a plate or cake rack.
Caramel Glaze
1 cup heavy cream
1 tablespoon light corn syrup
1/2 cup brown sugar
1/4 teaspoon salt
1 teaspoon vanilla
Put the cream, corn syrup, brown sugar and salt in a small sauce pan. Whisk the ingredients together and heat over medium high heat until it comes to a boil. Then turn the heat down to medium. Continue to let the mixture bubble for 14 to 15 minutes stirring every few minutes until the sauce thickens.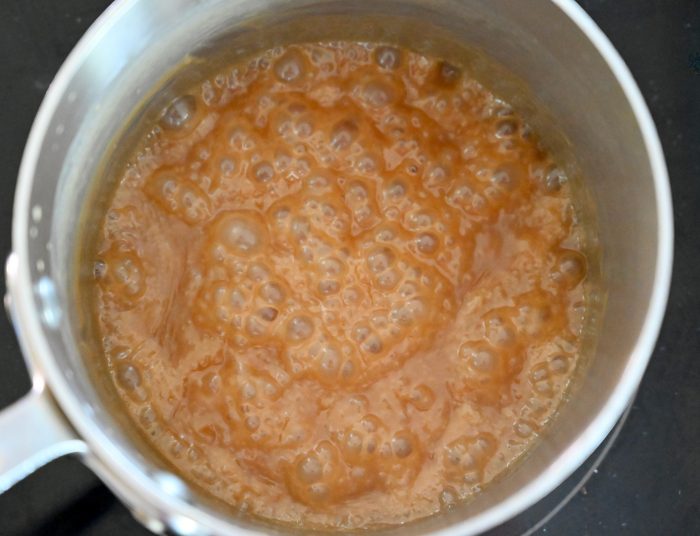 Finally, remove the glaze from the heat and whisk in the vanilla.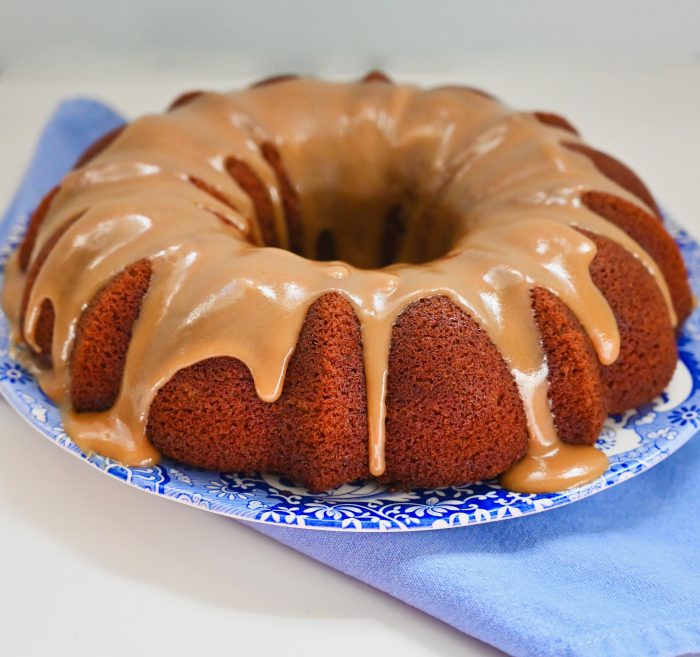 Immediately spoon or pour the sauce over the top of the cake. I like to pour the caramel glaze into a small cream pitcher because it makes it easy to create a controlled and slow pour.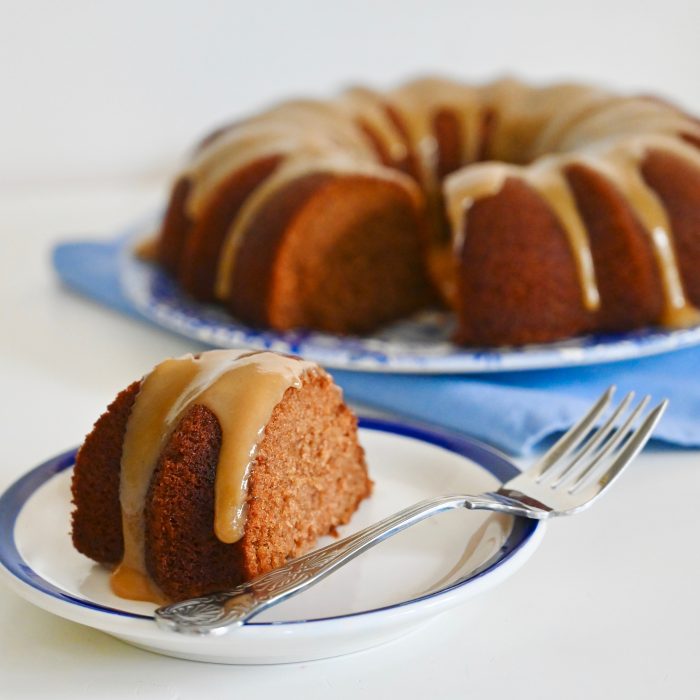 This moist and sweetly spiced cake hits all the right notes for fall baking. Gingered applesauce cake will have you in a fall mood no matter what the temperature is outside.