"What a beautiful, appetizing and satisfying creation the salad is-and what a simple one, too. Nature provides; you combine."
Julia Child
I can still remember the taste as if it was yesterday. On a hot summer day in Paris, after a long day of walking my husband and I wandered into a little bistro where I ordered the best salad I have ever had. It had the most divine roasted potatoes. They were crisp and golden with a hint of Dijon mustard and a creamy center. It was summer salad perfection.
Memories of that roasted French potato salad have found their way into my kitchen and my recipe for Roasted Salad Niçoise. Looking for a way to make the prep work a little easier than the usual blanched vegetables, I decided to try roasting my potatoes and green beans. The caramelized flavors were so delicious that it's now the only way I make it. Grill some fresh tuna steaks. Add a glass of wine and for a moment it takes me back to that little bistro in Paris.
Roasted Salad Niçoise- Serves 4 to 6
Tuna Steaks and Marinade
3 to 4 tuna steaks
2 garlic cloves, chopped
1 teaspoon kosher salt
1 tablespoon fresh rosemary leaves
½ teaspoon oregano
Zest from one lemon
¼ cup fresh lemon juice
½ cup extra-virgin olive oil
Roasted Potatoes and Green Beans
1 pound small yellow or gold potatoes, slice in half
1/2 teaspoon of Dijon mustard
2 tablespoons of olive oil
1/2 teaspoon kosher salt
1/4 teaspoon pepper
1 pound French green beans (haricot verts)
1 medium shallot, sliced into thin rings
2 tablespoons extra virgin olive oil
1/4 teaspoon kosher salt
1/8 teaspoon pepper
Salad and Dressing
2 heads of baby romaine lettuce, chopped
2 large tomatoes, chopped
6 hard boiled eggs
2 teaspoons dijon mustard
4 tablespoons red wine vinegar
½ teaspoon kosher salt
1 cup extra virgin olive oil
First, prepare the tuna steaks. Preheat your grill for medium direct heat (alternatively you could also use an indoor grill pan). Rinse the tuna steaks with cold water and then pat them dry with paper towels. Place the steaks in a large gallon sized zip top bag. Next, make the marinade for the tuna. In a small bowl whisk together the garlic salt, rosemary, oregano, lemon juice and zest. Then drizzle in the olive oil until fully incorporated. Pour the marinade in the bag and let it marinate for 15 to 30 minutes.
Second, get the potatoes ready for roasting. Preheat the oven to 350 degrees. Slice the potatoes in half. Then in a medium sized bowl whisk together the olive oil, Dijon mustard, salt and pepper. Coat the potatoes in the mustard and olive oil mixture. Place the potatoes cut side down on a sheet pan lined with parchment paper or foil. Bake for 30 minutes.
Third, get the green beans prepared. Mix together the French green beans, sliced shallots, olive oil, salt and pepper. Place them on a sheet pan in an even layer. Place them in the oven to roast at 350 degrees for 15 minutes.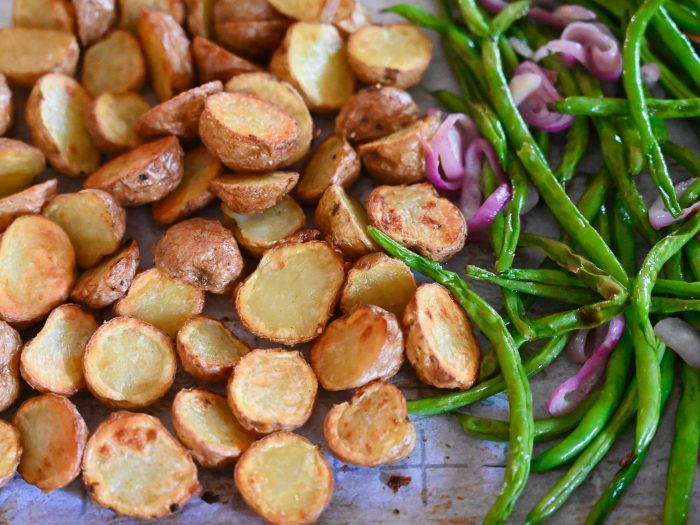 Next, cook the hardboiled eggs. Place the eggs in a sauce pan with enough water to cover the eggs by an inch of water. Heat the pan on high heat. Let the water come up to a full boil and boil the eggs for two minutes. Then turn off the burner and place a lid on the pan. Let the eggs sit in the hot water with the lid on for 15 minutes. Then take the pan and place it in the sink and let cold water run over the eggs in the pan until the eggs are cool enough to handle. Peel and slice the hard boiled eggs in half.
While the eggs are cooking grill the tuna steaks. Grill the tuna steaks until cooked to taste, 2 to 3 minutes a side for rare and 5 to 6 minutes per side for medium. Then when cooked slice the tuna steaks into thin slices.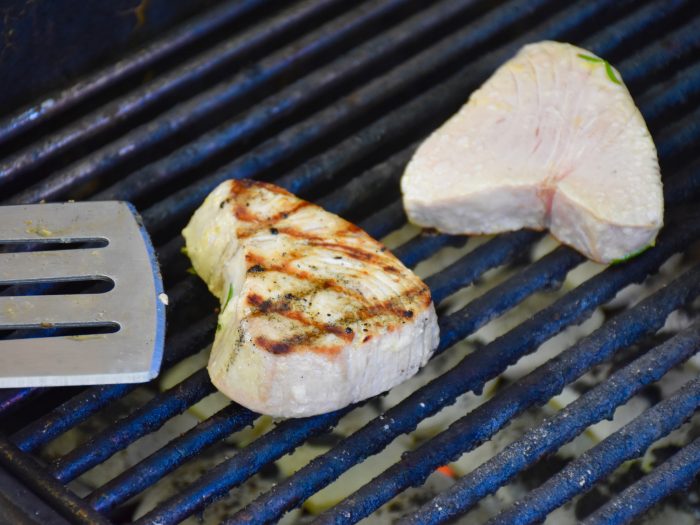 Finally make the salad dressing and assemble the salads. In a medium bowl whisk together 2 teaspoons dijon mustard, 4 tablespoons red wine vinegar and ½ teaspoon kosher salt. Then slowly drizzle in 1 cup extra virgin olive and continue to whisk it until fully emulsified. Place the chopped romaine lettuce in a large bowl and add some of the dressing to taste. Then save the rest to drizzle over the tomatoes, potatoes and green beans. Place a bed of lettuce in each bowl or plate. Top the lettuce with the roasted potatoes, green beans, tomatoes and sliced tuna. Drizzle with additional salad dressing.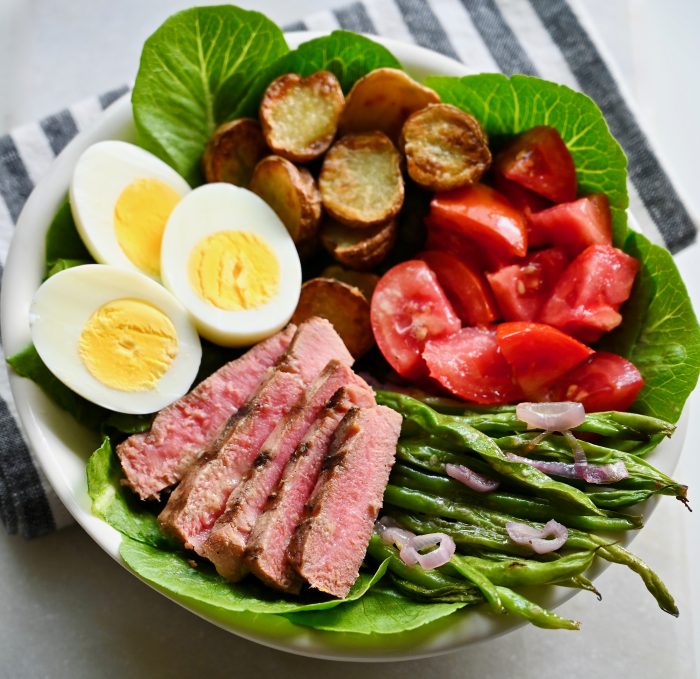 As Julia Child once wrote in Mastering the Art of French Cooking, the thing that makes French vegetables so memorable is the way they are prepared. "The French objective is to produce a cooked green vegetable so green, fresh-tasting, and full of flavor that it really can be served as a separate course." This salad may not be the recipe for a hectic weeknight, but it is well worth the effort. The flavors of each vegetable and ingredient shine. When you make Roasted Salad Niçoise dinner is a memorable experience. Bon appétit!