I have been away from writing a little longer than I had planned as we took an unexpected road trip to back home to Texas. But I am back with a new summer garden inspired recipe for Greek salmon burgers. I always look forward to summer flowers and our small vegetable garden.
Lately, I must confess that have begun to sympathize with Mr. MacGregor. The original grumpy gardener in Beatrix Potter's Tales of Peter Rabbit. My Sir Crunch a Lot cucumbers seedings have been under attack by a pack of cheeky little chipmunks. Cute as they may be I am growing tired of devising new ways to keep them out my raised vegetable beds. I have now had to resort to window screen netting and chili peppers. The chipmunks may have won round one, but my culinary knowledge of chilis runs deep. I am now on to them and determined to create the ultimate spicy defense system. One that hopefully has them feeling the heat and packing up for good.
Last year before the aforementioned chipmunks took up residence in my garden, we were overwhelmed by the bounty of cucumbers. By August I was giving them away to neighbors and adding them to every dish I could think of.
One of our favorite recipes was these Greek salmon burgers. Homemade salmon burgers are surprisingly simple to make and so delicious!  These salmon burgers are great on the grill and they make getting a healthy dinner on the table easy. I like to serve mine with a cucumber, tomato and feta cheese salad.
Greek Salmon Burgers -Serves 4
1½ pounds salmon fillet, skinned
½ cup panko bread crumbs
1/3 cup cucumber, seeded and finely chopped
2 tablespoons shallot, finely minced
1 tablespoon parsley, chopped
1/2 teaspoon kosher salt
2 tablespoons olive oil,
4 bakery burger buns
4 Boston or romaine lettuce leaves
Tzatziki sauce (see recipe below)
First, preheat your grilled for direct medium high heat grilling.
Next, make the salmon burgers. Prepare your salmon remove the skin with a sharp knife. Then cut the salmon into smaller chunks or pieces. Place the salmon in a food processor and grind it till it is in small pieces, like you would see if making a tuna salad.
Then in a medium sized bowl mix together the ground salmon, bread crumbs, cucumber, shallot, parsley and salt.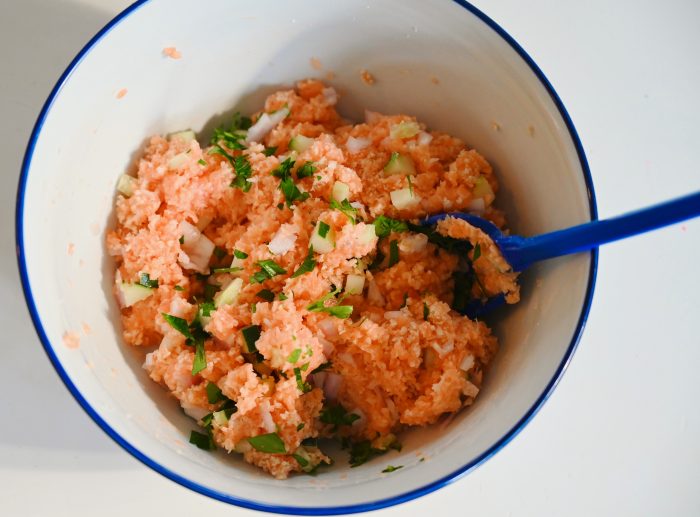 Divide the salmon mixture into 4 equal portions. Shape each portion into a burger patty. Then brush or rub a little olive oil on each side of the patties to keep them from sticking to the grill. Refrigerate the burgers until ready to grill.
Grill the burgers. Cook each salmon burger for 4 minutes on the first side and 3 ½ minutes on the second side until just cooked through.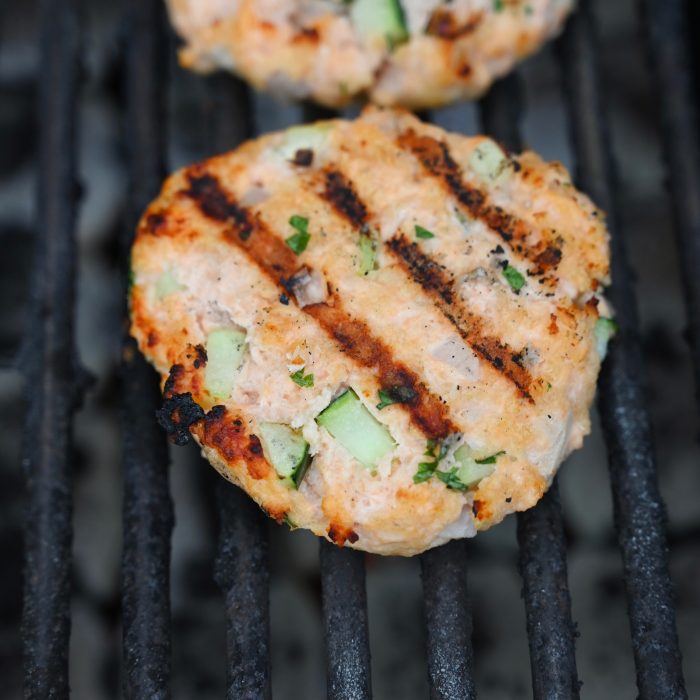 Serve the salmon burgers on a toasted bun with lettuce and a generous dollop or two of tzatziki sauce. The sauce is amazing!  It really makes these burgers memorable.
Tzatziki Sauce
1/2 cup mayonaise
3 tbsp sour cream
2 tsp fresh dill
1/4 cup  cucumber, finely chopped
1/2 tsp garlic powder
1/4 tsp oregano
1 tbsp lemon juice
Salt and Pepper to Taste (about 1/8 tsp of both salt and pepper)
In a small mixing bowl mix together the mayonnaise, sour cream, cucumbers and all of the herbs and seasonings. Keep refrigerated until serving. This sauce is also wonderful as a dip with pita chips.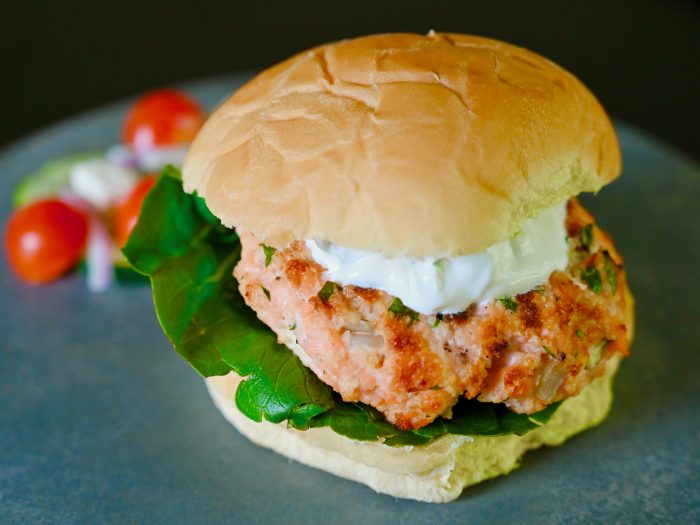 If the thought of cucumber in your salmon burger has you raising an eyebrow, then have faith. They really make these burgers outstanding. They keep the salmon moist and perfectly done when grilled. Greek salmon burgers are a summertime garden inspired favorite.