Maison McCauley is celebrating four years and what a last year it has been. What I didn't fully appreciate as I began this adventure is how much I would love the storytelling that comes with each recipe and project. My blog has become the best sort of writer's notebook that I am constantly drawing from as I write for other publications. So thank you for reading and inspiring me along the way.
This past year as a cook I have desperately missed cooking for others. I can't wait to till I can safely host a dinner party again and feel like I can share food with neighbors and friends. However, I remain especially grateful to still be able to share recipes on my blog. I have loved hearing how you have tried something new like French bread or chocolate cream or key lime pie. Cooking is such a comfort to me. It has seen me through so many hard times.
Last March when the pandemic hit and everyone found themselves in the kitchen my little website began to get thousands of visitors each month who have come and stayed, which has certainly been the sweet upside to a year filled with so many lemons. The top recipes of this past year have been some of my favorite comfort foods: Chips and El Tiempo Green Sauce, Caprese Prosciutto Sandwiches, Seafood Gumbo, Chicken Tacos, Key Lime Ice Cream Pie, Peach Cobbler, Biscuits, Gingerbread and Carrot Cake Cupcakes.
So to celebrate four years, 265 posts and my 130th recipe, I have a sweetly nostalgic lemon cake. This cake was inspired cake by my grandmother's signature marshmallow frosting. A pretty, but simple cake that is perfect for celebrating the everyday. The cake is a light egg white based cake that is sometimes called a silver cake. The light texture of the cake pairs well with the marshmallow frosting. My mom says that as a kid this frosting was always a birthday cake favorite.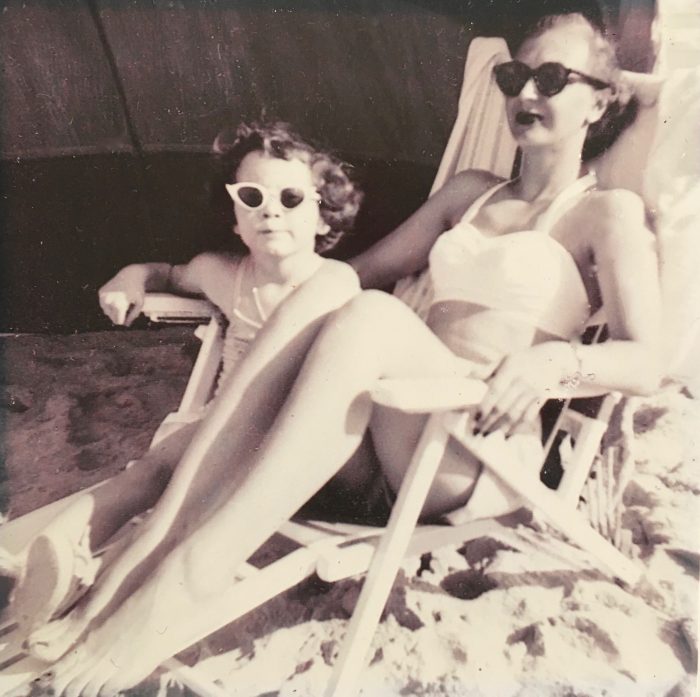 I love the combination of the light white cake and lemon curd. It's like a lemon meringue cake. However, the marshmallow frosting is also really delicious with chocolate cake .
Lemon Cake – makes 2 ten inch cake rounds
1 cup (2 sticks) butter, at room temperature
2 cups granulated sugar
3½ cups cake flour
4 teaspoons baking powder
1/4 teaspoon salt
1 cup milk
2 teaspoons vanilla extract
1 teaspoon lemon zest
8 egg whites, at room temperature
Preheat oven to 350 degrees. Grease and line the bottom of two ten inch cake rounds with parchment paper.
To make the cake beat the egg whites with a balloon whisk attachment at high speed until stiff. Then place them aside in a separate bowl.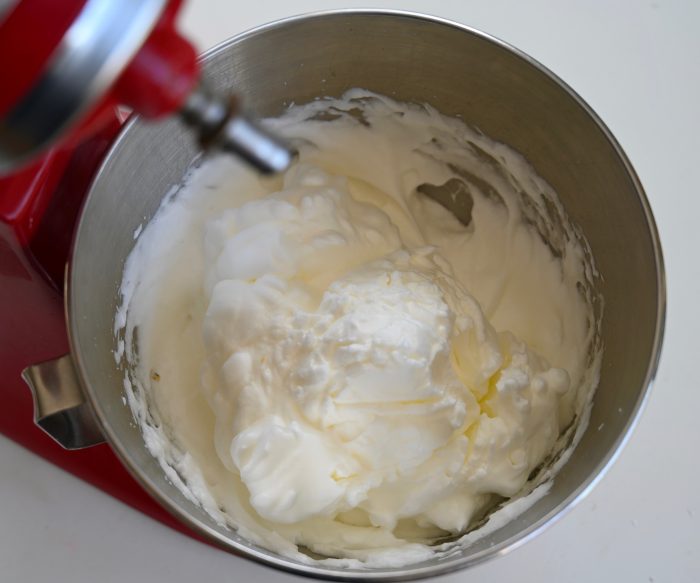 Next, cream or beat the butter and sugar at medium speed until fluffy.
In a separate bowl mix together the dry ingredients: flour, baking soda and salt. Then mix the flour mixture into the butter and sugar alternating with the milk. Now, mix in the vanilla extract and the lemon zest.
Finally, gently scoop and fold the egg whites into the cake batter a little at a time to keep the egg whites from deflating.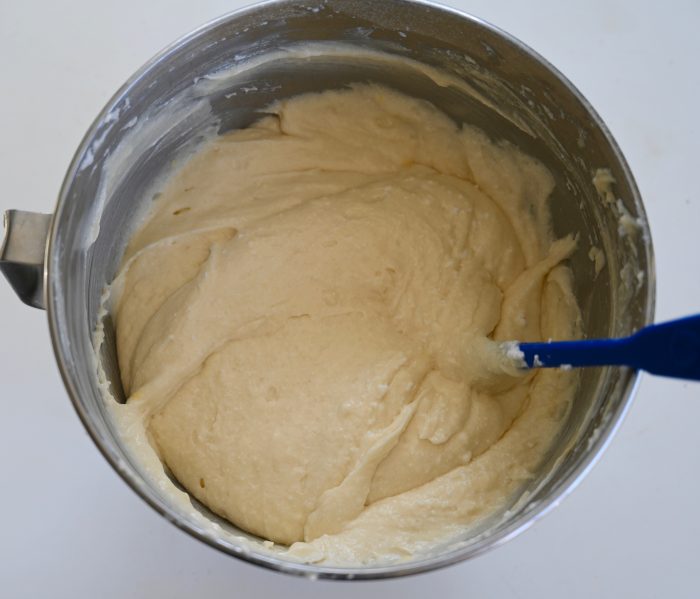 Divide the cake batter evenly between the two pans. Bake for 25 minutes until golden. Let the cakes cool for 10 minutes before turning them out of the pans.
Marshmallow Frosting
2 extra large egg whites or 3 regular sized egg whites, room temperature
1/4 teaspoon salt
1/4 cup granulated sugar
3/4 cup light corn syrup
1¼ teaspoon vanilla extract
2 tablespoons lemon curd (for decorating the cake)
1 lemon sliced into thin twists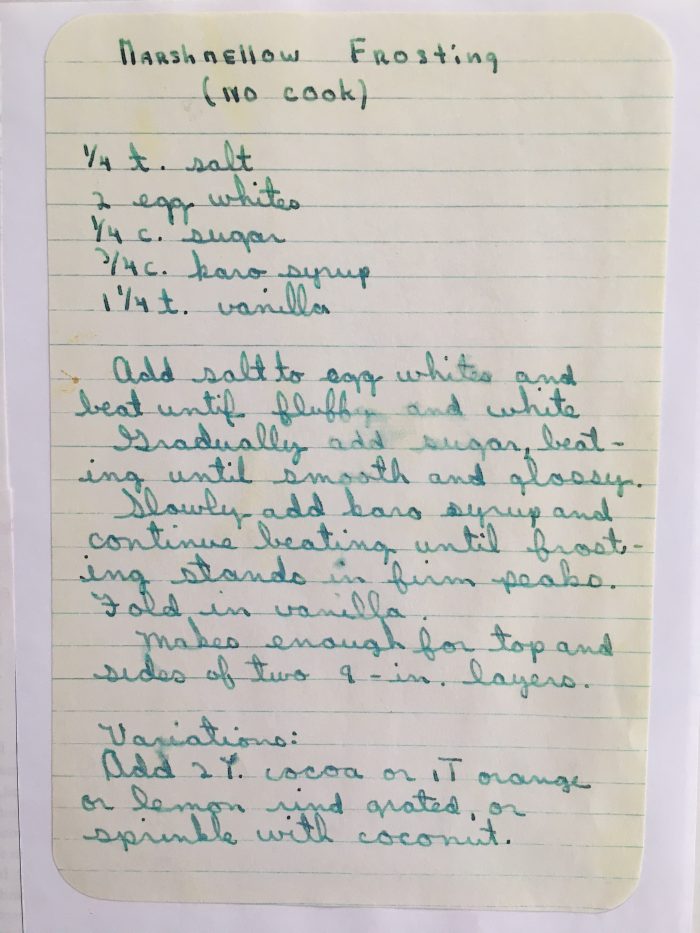 Add the egg white and salt to the large bowl of stand mixer. Beat with a balloon whisk at high speed until fluffy and bubbly.
Then gradually add the sugar and beat over high speed until shiny and smooth.
Finally, slowly stream in the corn syrup while continuing to mix the egg whites at high speed until the frosting is glossy and stiff. Once you blend in all the syrup scrape down the sides of the bowl and continue to beat the egg whites. Then blend in the vanilla. You want to beat the frosting until it is firm and can hold its shape.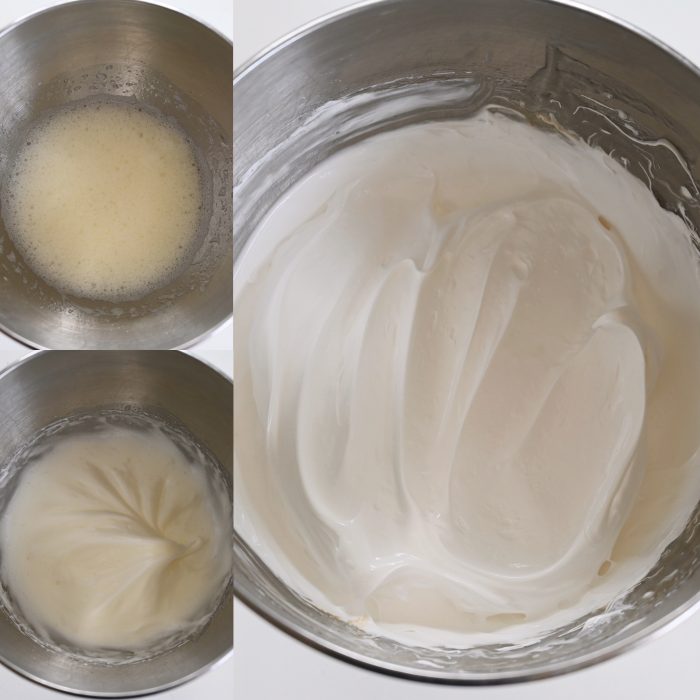 Decorate the cake by using a large star tip and a pastry bag. Create an even layer of icing stars on top of the first layer of cake. Alternatively, you could spread an even layer with a rubber spatula. Then drizzle the lemon curd on top.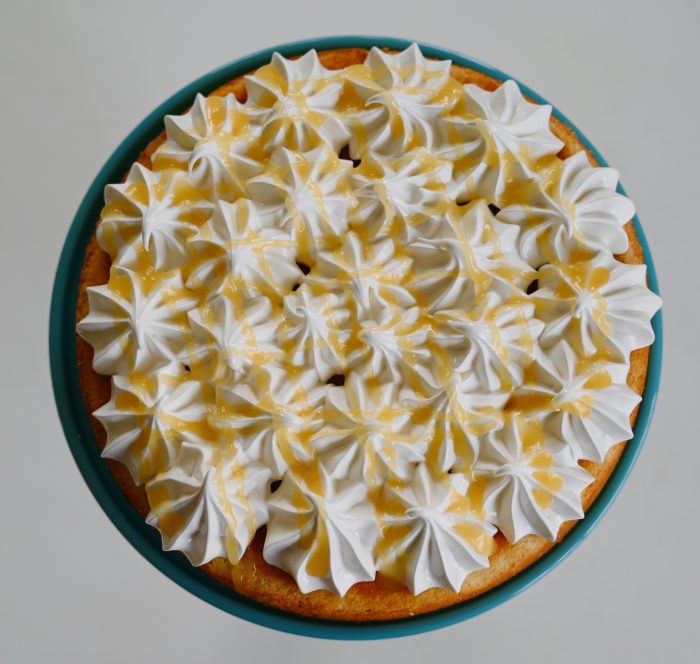 Place the second layer on top and spread a thin layer of marshmallow frosting on top. Pipe some decorative swirls on top and add five lemon twists, some edible flowers like pansies or violas or some fresh berries. Make the icing the day you plan to serve it. The sponge cake can be made ahead. The frosted cake needs to be refrigerated.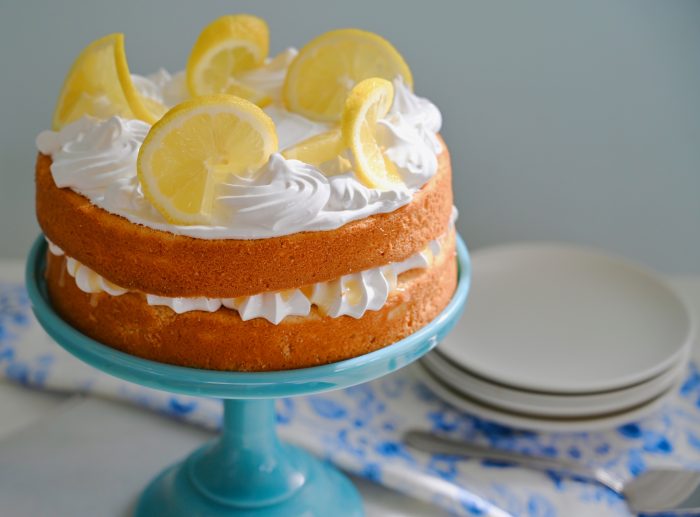 This lemon cake is light and delicious. The icing is miraculously fluffy and smooth. It has beautiful shine to it and it's easy to spread. The drizzle of lemon curd adds a nice balance to the sweet frosting. It would make a great spring cake or just something fun to get in the kitchen and bake.
I am truly grateful for everyone who keeps reading and cooking along with me.   Thank you for being such a sweet part of my year.