I have never cooked so many dinners and meals in a row! I love cooking but, I have been in the kitchen more than usual. Grocery store ingredients have been hit or miss this past month.  Although I am grateful, grocery shopping  just isn't quite the same. My carefully planned ingredient lists have needed to give a bit so I have been getting creative to keep cooking  fun and delicious.
I enjoy trying new recipes because I want dinner to be exciting. Something to look forward to and savor. So I love this new cookbook I found called All About Dinner by Molly Stevens. Stevens worked at the New England Culinary Institute and now is a freelance cooking instructor and writer. She was named best cooking instructor by Bon Appetit magazine and her previous two cookbooks All About Roasting and All About Braising each won a James Beard cookbook award.
I enjoyed reading her thoughts about cooking at home. "Cooking is not about perfection," she writes, "it's about making the time to care for ourselves and for others."  So as we all find ourselves at home and in the kitchen more than ever, I think it's important to have some simple and flavorful meals that make the most of your time in the kitchen.
One of my favorite recipes from the book is her Ginger Soy Roasted Salmon. It's a one sheet pan dinner. It's quick to prepare, but the flavors are fantastic. Stevens uses broccoli, but I have a family member who has some strong feelings about that particular vegetable. Therefore my version of this dish uses asparagus which is also delicious.
Ginger Soy Salmon and Asparagus – Serves 4 to 5
2 tablespoons soy sauce
2 tablespoons rice wine vinegar
1 tablespoons, neutral flavor oil like canola oil, grapeseed or sunflower
1 tablespoon honey
2 teaspoon grated peeled ginger
1 to 2 teaspoons Sriracha
1 teaspoon toasted sesame oil
salt and freshly ground pepper
1 1/2 pounds center cut salmon into 4 to 5 portions
1 bunch of asparagus
2 tablespoons neutral flavor oil
Preheat your oven to 400 degrees
Next make your marinade. In a small bowl whisk together the soy sauce, vinegar, oil, honey, ginger, Sriracha, sesame oil, a pinch of salt and pepper.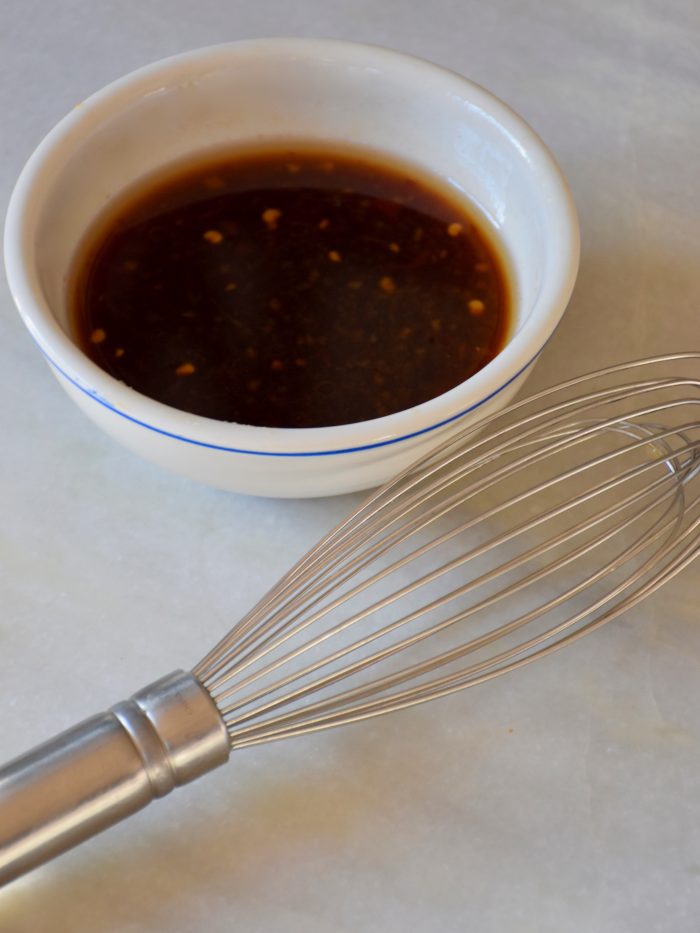 Reserve half of your marinade as a sauce at the end and place the other half in a ziplock bag to use as a marinade for your fish.
Let your fish marinate for 30 minutes and prepare the asparagus. Trim off the ends and cut the asparagus into small bite sized spears. Then place the spears into a medium sized bowl and coat them with 2 tablespoons of oil and a pinch of kosher salt and pepper.
Roast your salmon. Lift your fish from the marinade letting any excess drain away. Then place you salmon fillets skin side down on a rimmed sheet pan lined with parchment paper or foil for easy clean up. Put them in the oven to roast. I like my salmon cooked through so I roasted mine to 135 degrees which was about 22 minutes in my oven. If you like your salmon less firm then you will want to start checking it's doneness at about 15 minutes. You want salmon to be anywhere between 120 degrees to 140 degrees on an instant read thermometer.
When your salmon has 10 minutes left to roast add your asparagus.  Asparagus cooks quickly so you don't want to add them at the beginning.
I like to serve this dish with Jasmine Rice which cooks in just 20 minutes. So I start my rice just before I place my salmon in the oven, but you could serve it with any cooked rice or grain that you like.
Then as you serve the salmon drizzle the reserved ginger soy sauce on top.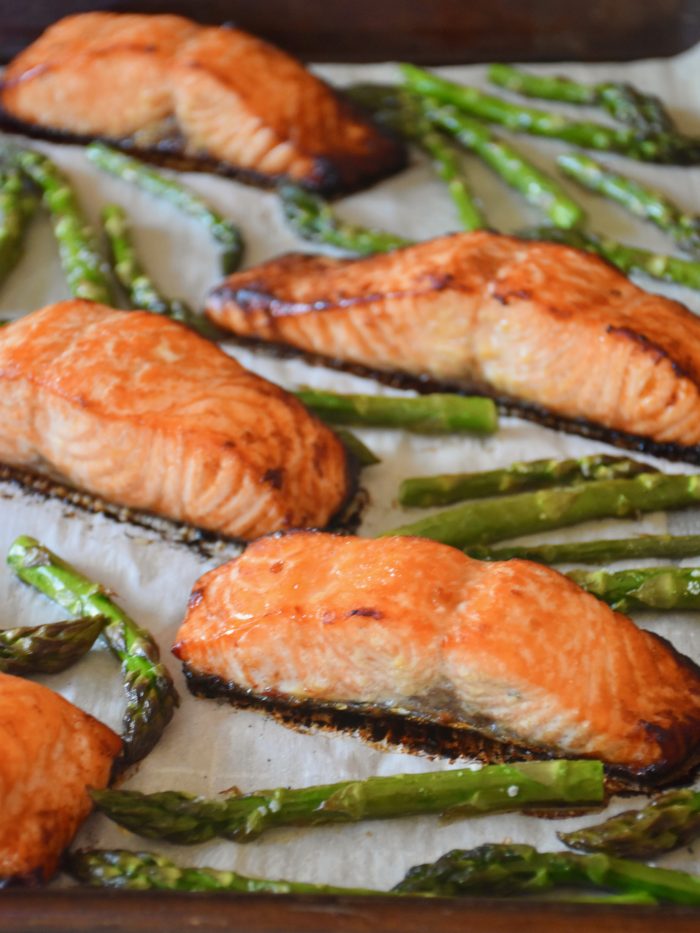 This recipe can be easily halved if you are serving just two or doubled if you have more. But if you double the recipe I recommend using two sheet pans so everything cooks evenly.
If you too are looking for a few new dinner ideas then I highly recommend Molly Steven's new book. I made her Swedish Meatballs, which we liked and I am eyeing a few more recipes too, like her Roasted Halibut with Chile Lime Butter. She even has a section of her book dedicated to snacks and substantial dinner sandwiches. Cooking dinner as Steven writes can be the "ultimate expression of love" so in these tough times take care of yourself. We can all get tired from time to time, but I have found that that making something simple is often what I need to just keep cooking.