Have you had a bite of something that was so deeply satisfying that you could just taste the love? In times of change and uncertainty cooking and baking have a way of bringing us comfort. During this pandemic, people are now cooking and baking at home more than ever. Searches for recipes are now at record numbers. Google search trends show that searches for bread and baking have hit an all-time high in the U.S. So why are so many people baking?
Baking builds connection to our families, to our past and to happy memories. The Journal of Palliative Medicine found that baking can have a therapeutic effect that calms the central nervous system. Baking, especially bread baking, requires you to use repetitive motions. All that kneading has a way of smoothing the rough edges of one's thoughts. A welcome distraction from reading too many worrisome news reports. It's reassuring to shape a loaf, watch it rise and smell the aroma as it bakes.
I still remember the joy of tasting homemade bread. Commercial grocery store bread can't come close to the soft sweet taste of home baked. When I was in high school and learning to bake on my own, I remember tasting the homemade French bread a  little Texas hill country tea room called The Peach Tree.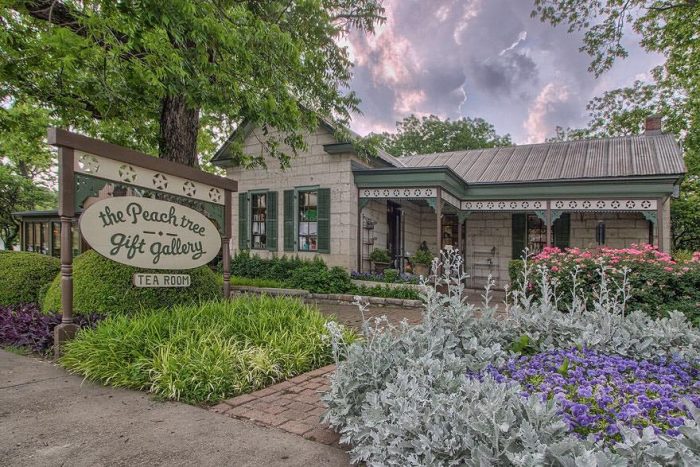 The tea room was set in a beautifully restored German limestone home from 1895. The Peach Tree, which was open for 49 years has now closed. But it was is known for its fabulous soups, breads and desserts. Recipes from the Chef and owner Cynthia Collins Pedragon won acclaim from Gourmet Magazine, The Dallas Morning News, and The San Antonio Express-News. Pedragon's food was so well-made and beautifully presented. You could taste the love in her cooking and especially in her homemade breads.
As the bakery shelves were looking a little bare this week, I pulled out an old recipe for the Peach Tree's Homemade French bread. I had some trouble finding specialty flours these days so I tested and adapted this recipe so it would work well with all purpose flour. This bread is made from simple ingredients, but when you bring them together it makes these delicious loaves. As we gather around our table to break the bread, I am grateful. Maybe this bread baking boom shouldn't be such a surprise because in times like these we need the joy and connection that baking brings.
The Peach Tree Homemade French Bread– makes two large loaves
1 1/2 cups lukewarm water
1 1/2 teaspoons sugar
1 package of active dry yeast
4 cups of all purpose flour, plus 1/2 cup for dusting when kneading
1 1/2 teaspoon kosher salt
1 egg
1 tablespoon water
In a glass mixing cup or a small bowl mix together the water and sugar until dissolved. Add the yeast and gently stir it in. Then let the yeast mixture rest and bloom for 5 minutes.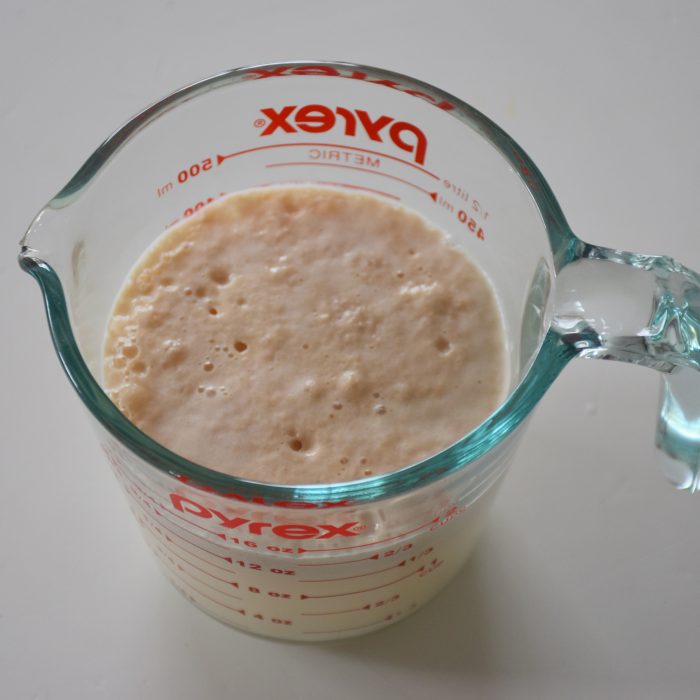 Then in a large bowl mix together the yeast mixture, the salt and 4 cups of the flour. String well with a wooden spoon or alternatively this step could be done with a stand mixer using a dough hook. The dough will look a little shaggy but the kneading will incorporate any little bits.
Next knead the dough on a lightly floured baking mat or a large cutting board. Gradually add some of the reserved 1/2 of flour as you need it. Continue to knead the dough for about 10 minutes until it is no longer sticky.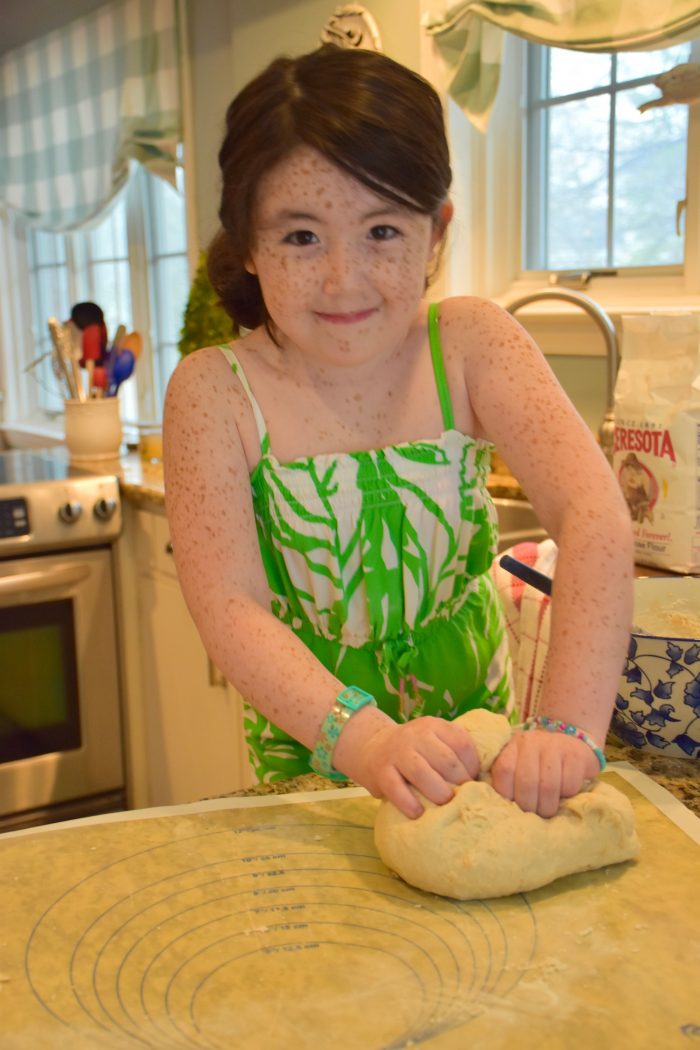 The dough will be smooth and elastic. Place the dough into a large bowl bowl that is coated in cooking spray or oil, turn to coat the top of the dough ball.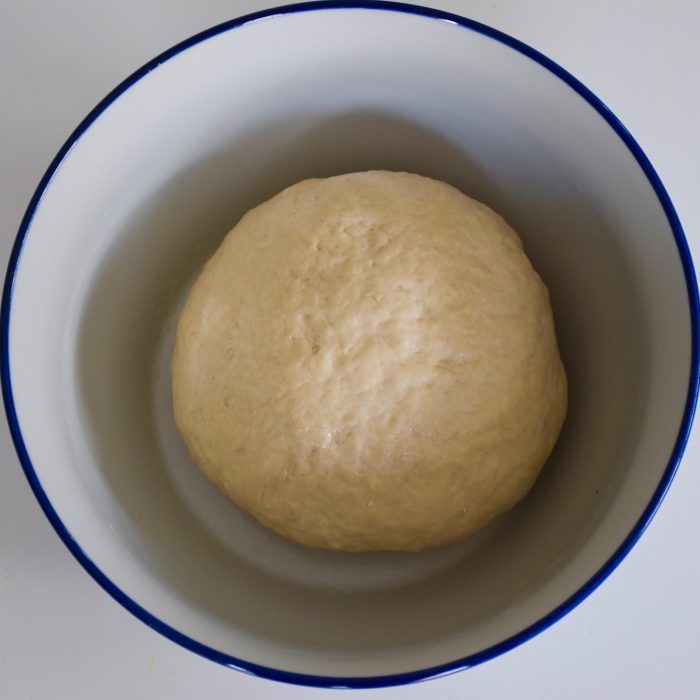 Cover the bowl with plastic wrap or a clean kitchen towel and let it rise until doubled in size, 1 hour.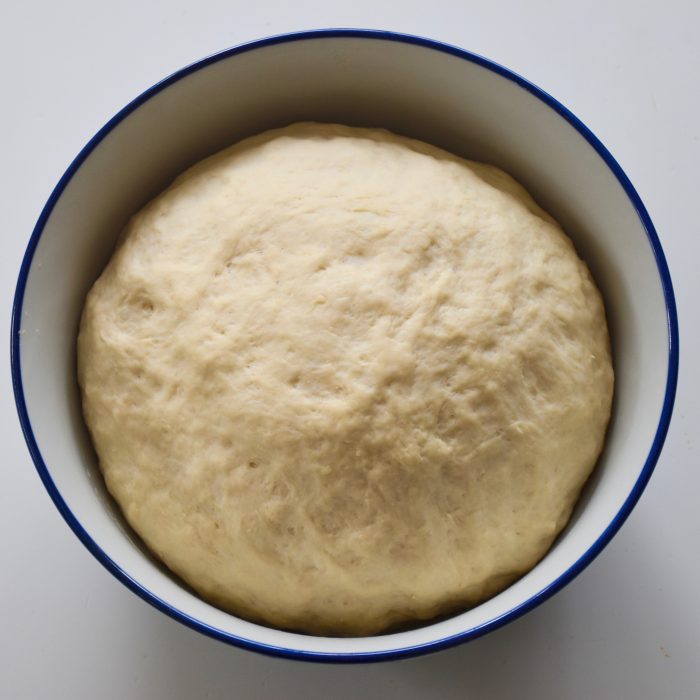 After the dough has doubled, punch it down and turn it out on your floured mat or board.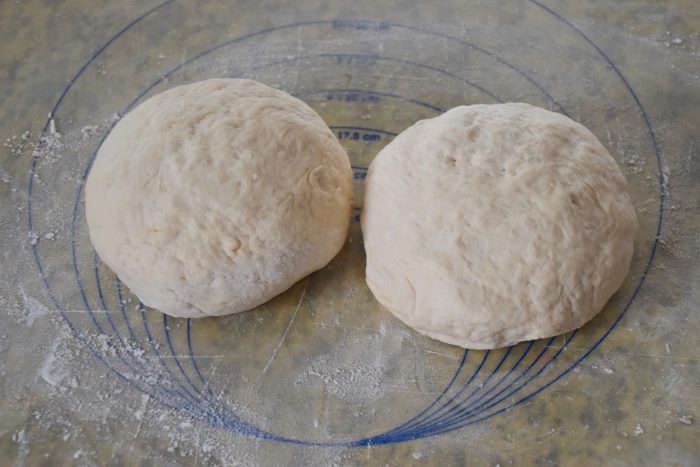 Divide the dough into two equal parts. Then pull and roll your dough till it is about 14 inches long.  If you prefer a thinner loaf then you can roll and pull it slightly thinner and longer. Make sure that the ends are smooth and that the seam sides are down.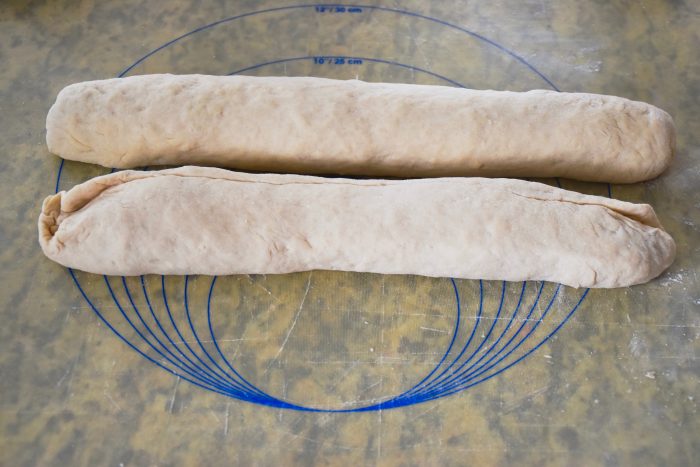 Place your loaves on a greased and cornmeal dusted cookie sheet or line your pan with parchment paper to prevent sticking. Then using a serrated knife gently make some shallow diagonal slices on top of each loaf. Then cover and let your loaves rise for about 30 minutes. Preheat your oven to 400 degrees.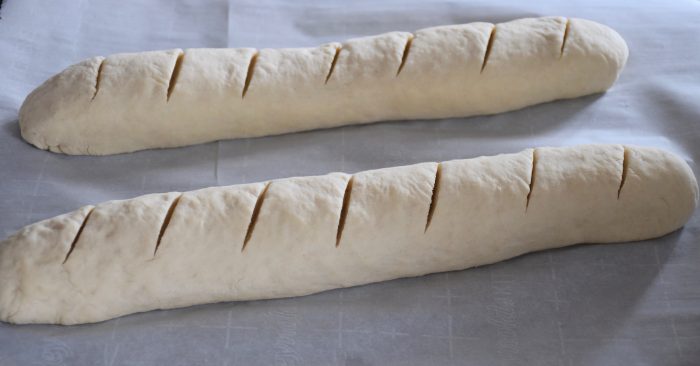 Then after your loaves have risen, in a small bowl whisk together the egg and 1 tablespoon of water. Brush the loaves with the egg wash making sure you cover the tops and sides evenly.
If you have a spray bottle then you can lightly mist the top of the bread as you put it in the oven.
Bake your loaves at 400 degrees. Then you can mist the bread again 1 to 2 times more in the first 5 minutes of baking to give you a crispier crust. (Don't worry if you don't have a spray bottle on hand it will still be good.)
Bake for 20 to 25 minutes or until golden.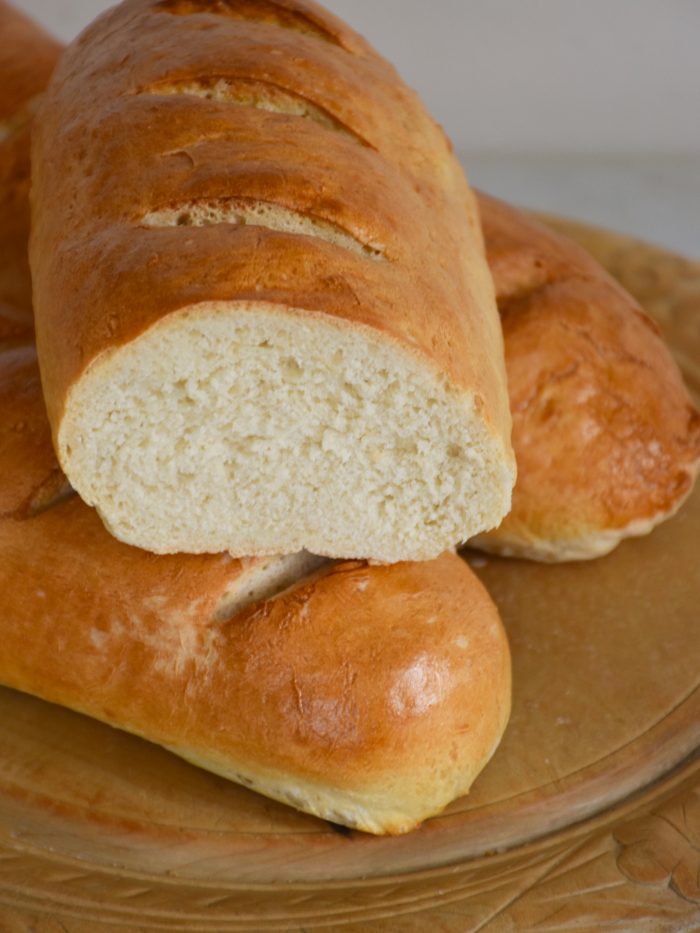 If you want more recipes from The Peach Tree, then Cynthia has several cookbooks including her last book With Love, From Cynthia.