There are all sorts of difficult food fads these days. So, what is the modern cook to do?  When it comes to cooking for others I put all those trends out. Instead, I try to focus on making something comforting that my guests will love. Menus in our house usually aren't filled with over the top recipes. Instead, there is something about serving simple crave worthy classic dishes. The kinds of recipes that have your taste buds singing.
One of my personal favorites is homemade chicken pot pie. This is a kind of retro dish these days. Something that not everybody makes anymore, but when done right this classic is so good. Roasted chicken and vegetables in a creamy sauce topped with an irresistible buttery crust.
What I like about this dish is that it's versatile. You can make one family styled pie or if you are making it for friends you can make mini pies in individual dishes. You can even make an all-vegetable version by making a couple of easy substitutions.  This is also something that you can make ahead and have in your fridge. Then when your guests arrive pop it into the oven. I have learned that when you are sharing food with friends, the more you can make ahead the better. Add a large salad like this apple salad and you have a delicious dinner that can all be assemble ahead of time. As Ina Garten would say "how easy is that."
Homemade Chicken Pot Pie– Serves 6 (makes one deep dish pie or 6 small pies)
1 medium sized yellow onion
3 carrots pealed and chopped
1 garlic clove, minced
1 cup frozen green peas
3 tablespoons butter
1 rotisserie chicken, shredded into bite sized pieces
If making an all vegetable pie then instead of adding the chicken you can include 1 large russet potato peeled and diced into small bite sized pieces
Melt your butter in your skillet over medium heat. Add your carrot, onions (if making the all vegetable version then add your potatoes to the pan too).
Sauce them until the onions are translucent and the carrots have begun to soften. Then add in your garlic and cook an additional minute. Finally add in your frozen peas and continue to cook it until the peas are warmed through and bright green.
Set your veggies aside in a bowl while you create the cream sauce.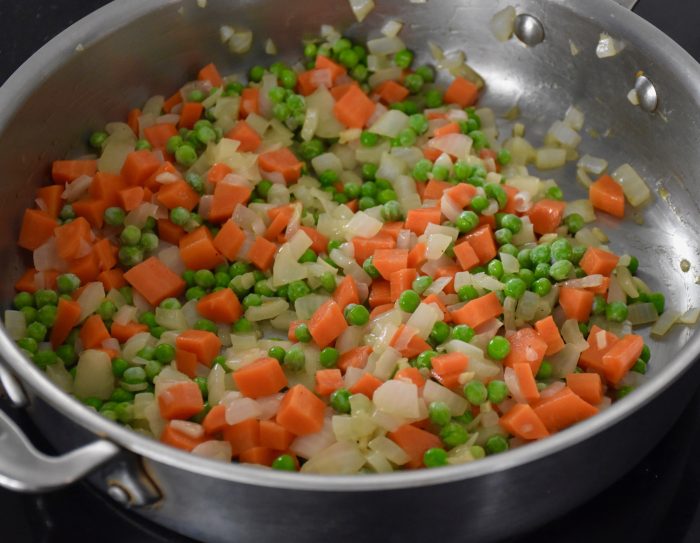 Cream Sauce
1/2 cup (1 stick) butter
1 cup flour
2 1/2 cup chicken or vegetable stock, warm
1/2 cup cream, room temperature
1/2 teaspoon kosher salt
1/8 teaspoon pepper
In a medium sized deep sided skillet melt your butter over medium heat. Then sprinkle in your flour to make a thick paste.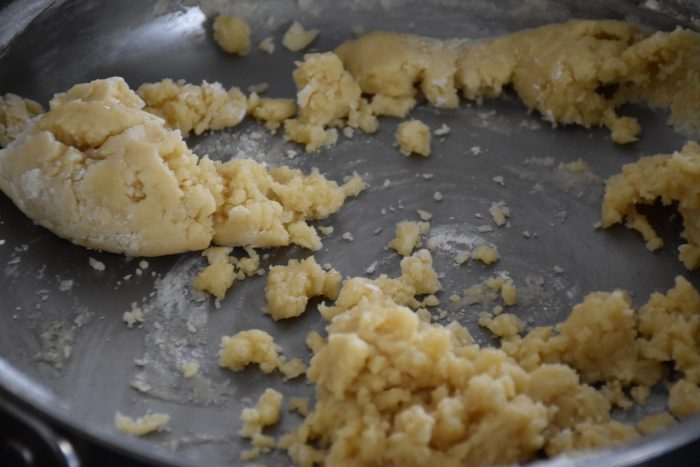 Next add your warm chicken or vegetable stock in slowly, about 1/2 cup at a time whisking to make a smooth creamy sauce.  Having your stock warm will ensure that your sauce comes together easily and without any lumps.
Next add the cream and whisk it. Then season your sauce with salt and pepper.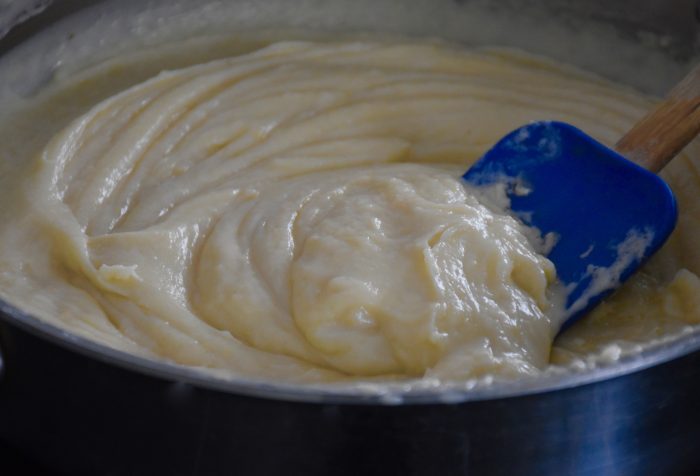 Finally add in your cooked vegetables and shredded rotisserie chicken and remove your filling from the heat.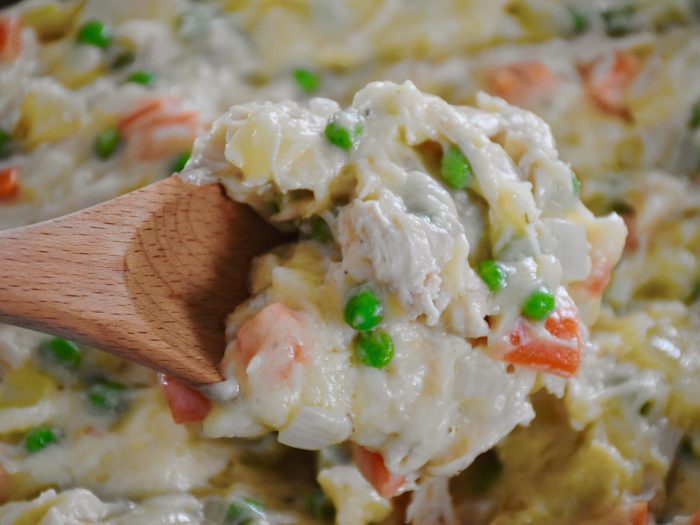 Then spoon your pot pie filling into a large deep dish pie dish or 6 large ramekins (I used a 13 oz size). Then top with pie crust.
*Note if you are pressed for time you could also use pre-made pie dough like Pillsbury or puff pastry like Pepperidge Farm
Pie Crust (This recipe makes enough for the 6 mini pies. There will be a little dough left over if you are making one large 10 inch pie with a single crust top)
2  1/2 cups all purpose flour
1 teaspoon salt
1 tablespoon sugar
1  cup (2 sticks) butter cut into chunks
1/4 cup cold water
First cut your cold butter into small squares or cubes.
Then in a food processor mix together your flour, salt and sugar. If you don't have a food processor you can use a pastry blender or your electric stand mixer with a paddle attachment, but these methods will take longer and I definitely prefer the food processor. Next pulse your butter and dry ingredients together until your butter is cut into small peas sized pieces. If you are using a stand mixer then blend your butter in at a low speed.
Then add in your cold water and blend it until your crust starts to just starts to come together in a ball.
Now you are ready to roll out your dough. I have a large silicone mat that I absolutely love when it comes to pastry, but if you don't have a non-stick mat then you can use a large piece of parchment paper. Lightly dust your mat or paper with flour as well as your rolling pin.
If making a single 10 inch pie then take a little over half of the dough and roll your crust out to make a large circle that is 14 inches in diameter. You want to roll your crust out larger than you pie plate so you have extra to make your crimped edges.
If making individual mini pies then cut circles out that are close to 2 inches wider than your ramekin. My ramekins from Sur La Table have a 4 inch diameter. I used a bread plate as a template.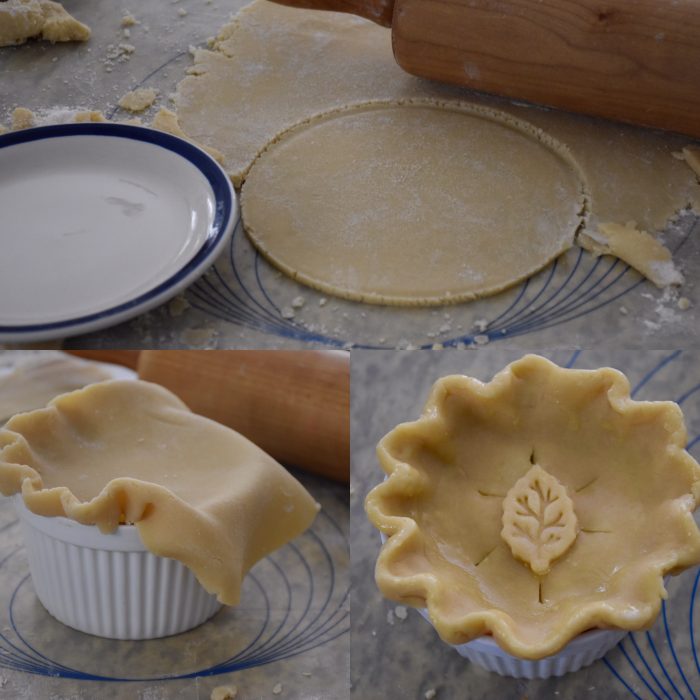 Once you get your pies topped with the crust add some small air vents with a knife to allow the steam to escape as they bake. If making these ahead of time then you can place them in your fridge until you are ready to bake them.
Right before baking them, brush the pie crust with an egg wash which gives it a golden color when baked. To make the egg wash, in a small bowl beat together one egg and 1 tablespoon of water. Then lightly brush it on your pie dough.
I like to protect the edges of my pie crust for the first half of the baking so I use a pie shield or make my own by folding a long piece of foil in half and wrapping it around the edge of my pie or pies so it protects just the crimped edge. I also like to bake the pies on a baking pan just in case any filling bubbles over the side.
Bake at 375 degrees for 25 to 30 minutes. If you are baking it from the fridge it will take 30 minutes for the individual mini pies.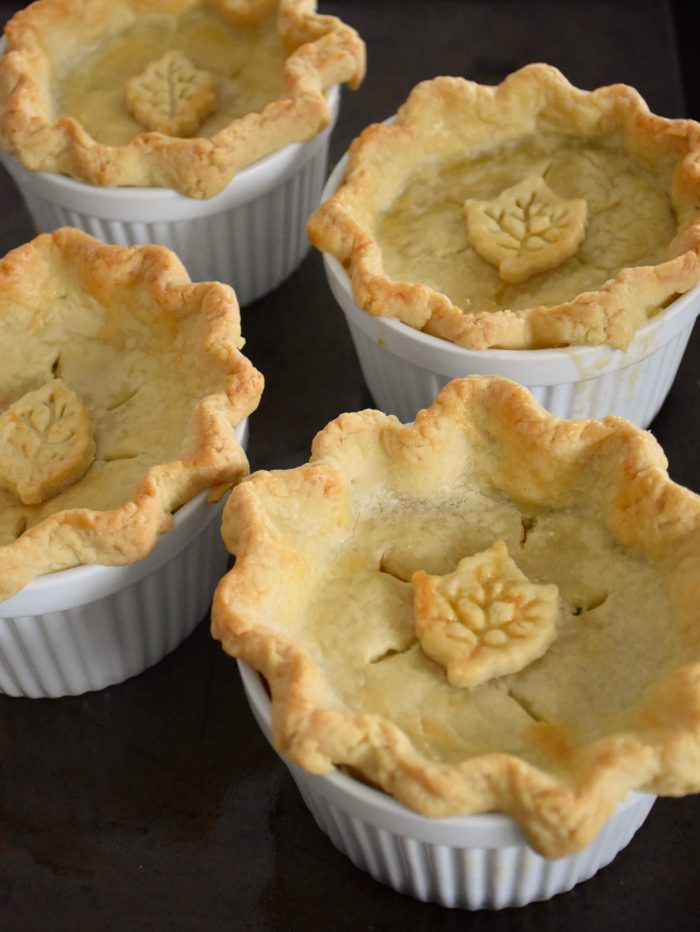 I believe that food is a gift something that should be shared and enjoyed. So here is one of my personal favorites. Homemade chicken pot pie-the kind of dish that feeds the soul.