Each year I look forward to hearing about the new "color of the year." Design is always changing and that is one of the reasons I love reading about color projections. I am not one to change everything in my home to suddenly fit the latest trend, but I do like to think that my decor slowly evolves. I am one of those people who likes to every so often give a room a mini update or remix. One of my favorite ways to do that is to think about accessories and new ways to update the feel of a room using color.
This year grey the reigning neutral of choice for the last decade seems to be warming up a bit as I am seeing more shades of greige (grey-browns and taupes). Now shades of white and deeper tones of charcoal and indigo seem to be everywhere. Sherwin Williams paint color of the year is a deep blue called naval. There are also light light pinks and deep greens that you are seeing in new fabrics and designs.
Pantone, a color matching company used by graphic designers, fashion designers and, printing and manufacturing companies is another design influencer that also releases its own "color of the year." I happen to like their projections because they tend to be looking at color across a whole range of industries. Often their color of the year is a good indicator of where you are going to see things like accessories going. You might not rush out to paint your whole house their color, but you will see things like lamps, fabrics, rugs and home goods headed that direction.
This year Pantone's color is Classic Blue. I like this bright shade of blue because it pairs well with many of the other paint color trends. Pantone says that their choice of Classic Blue highlights their "desire for a dependable and stable foundation on which to build as we cross the threshold into a new era."
Every new year I think about what new projects I want to take on. So if you are like me and have a few New Years goals for making a few updates then here are some  small ways to add a little splash of this dependable and classic blue.
This classic small pattern by Sister Parish is called Burmese. It comes in many other colors as well, but I like it because it's small scale works well with other patterns. The modern leaf pattern adds just a touch of whimsy.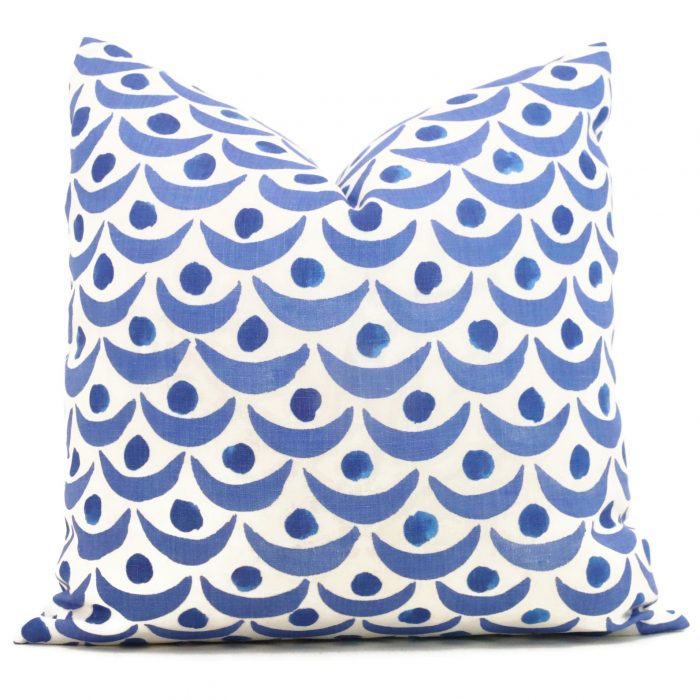 This more modern crescent dot pattern is by Rebecca Atwood. Atwood is an artist, textile designer and author. She had a new book come out this past year called Living with Color. I like her philosophy toward choosing colors that speak to you and her book has lots of pictures and tips on how to strike the right balance.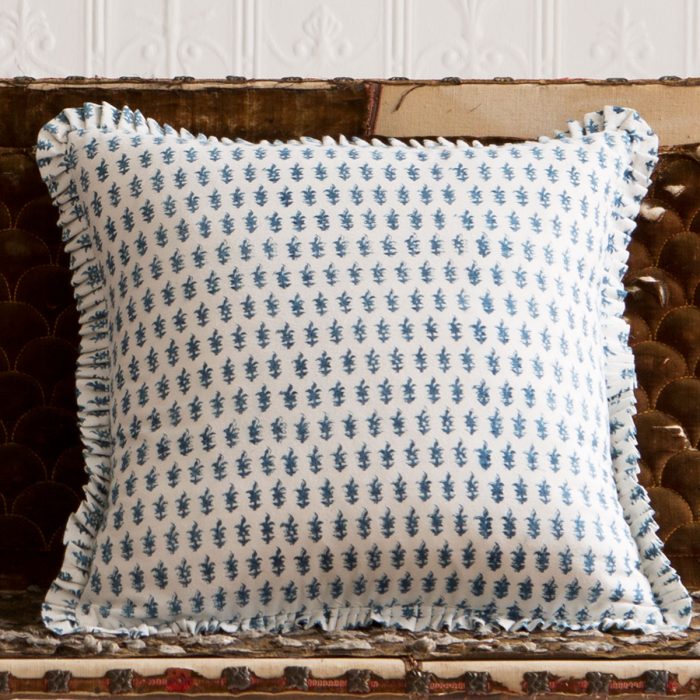 This small scaled French floral pattern would be great in a more traditional styled room. I love the pleated ruffle edge. This company has other beautiful block printed bedding and table linens.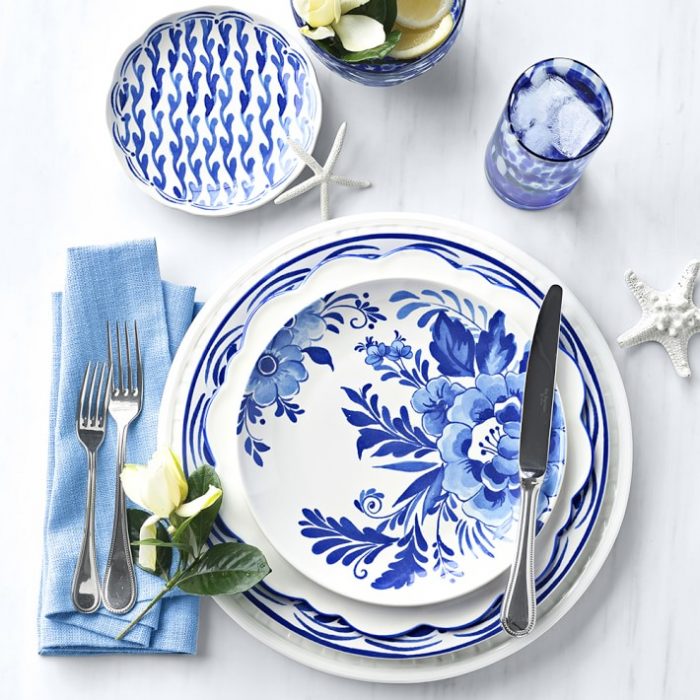 Style icon Aerin Lauder launched a gorgeous line of home accessories and dishes with William Sonoma. These plates are an inexpensive way to add a touch of blue to your wall or table.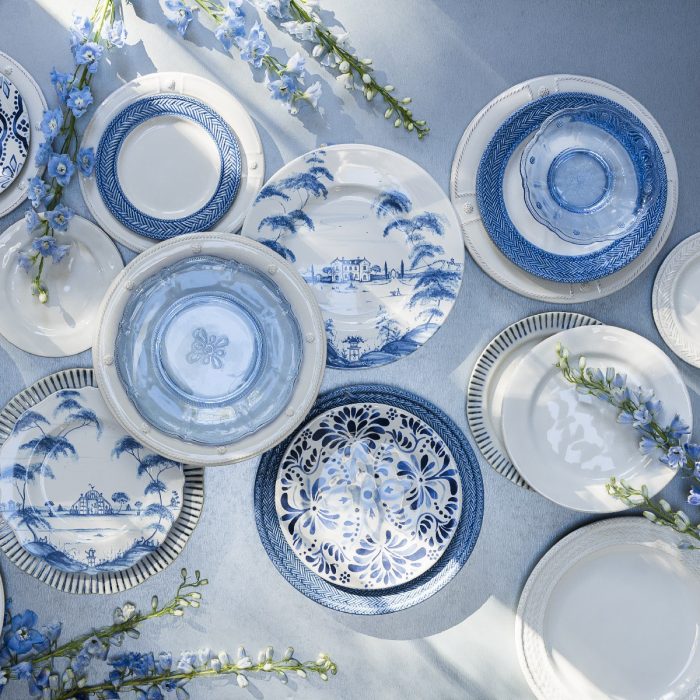 The china company Juliska has lots of beautiful plates, vases and glassware that come in the most gorgeous shades of one of my favorite flowers, delphiniums.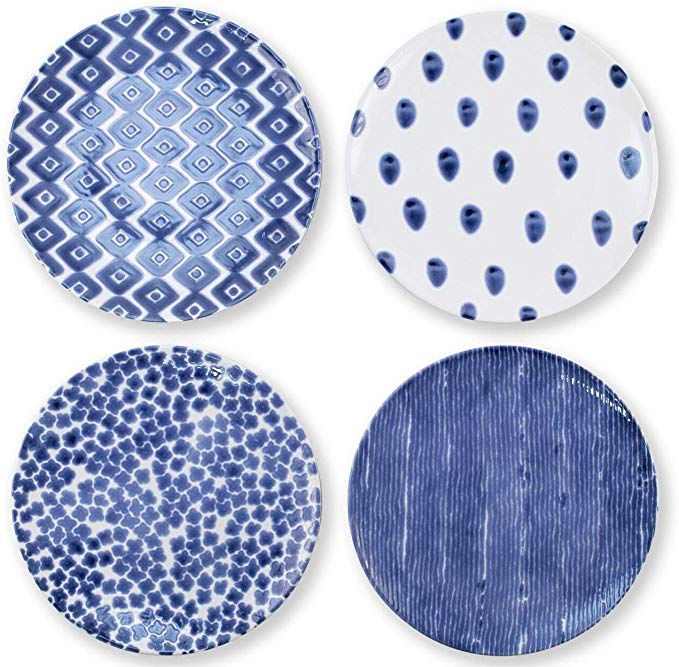 Want a more modern look, these bold graphic patterns by the Italian pottery company Vietri Santorini would be a fun way to add a little blue. This line of dishes was inspired by the deep blue mosaic tiles found on the Greek Isles. I found one of the serving pieces to this set at Marshals and I love it.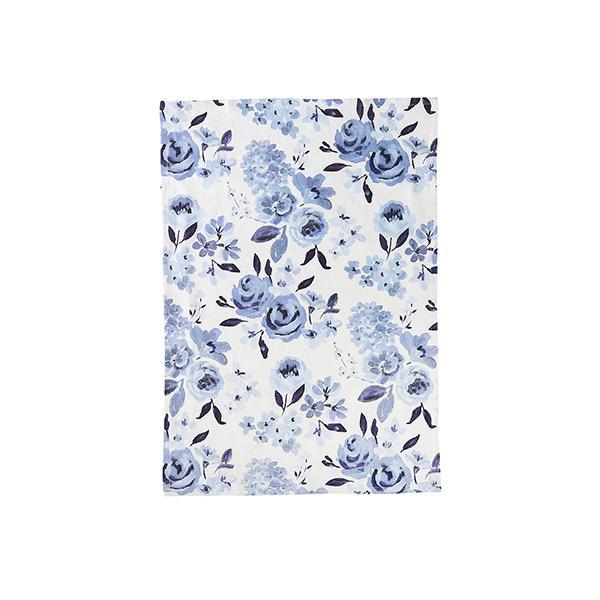 Caitlin Wilson Floral Tea Towel
Designer Caitlin Wilson's home in Dallas was featured in the January issue of House Beautiful.  It is a delightfully sunny home filled with many shades of blues, lavender and pink. I especially love her kitchen and her amazing French blue stove. She has a line of pillows, fabrics and even some small items like these floral tea towels that would add a lovely touch of blue to any kitchen or bathroom.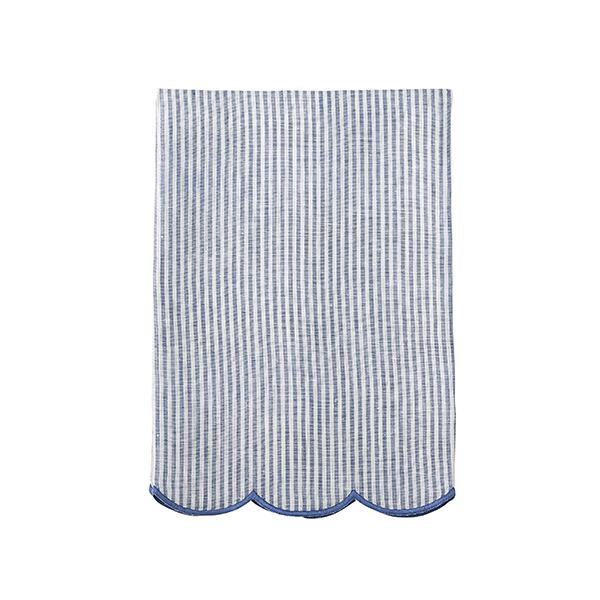 Caitlin Wilson French Stripe Towel
I love the the scalloped edge and small scaled stripes. These decorative towels would be great in the kitchen or used as a napkin on a pretty table.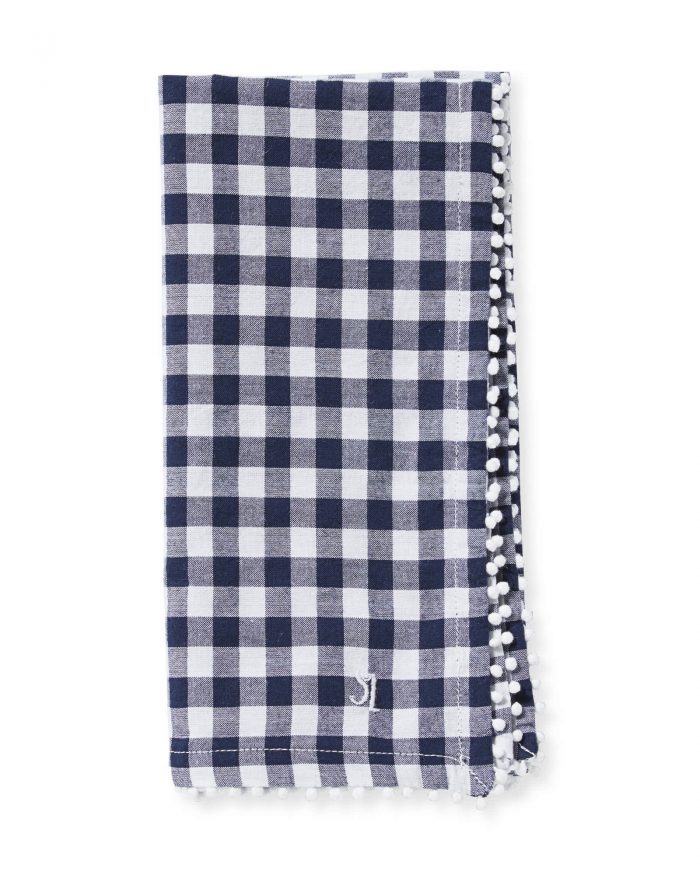 Serena and Lily Blue Checked Napkins
Always a classic blue checked napkins with a mini pom pom fringe from Serena and Lily.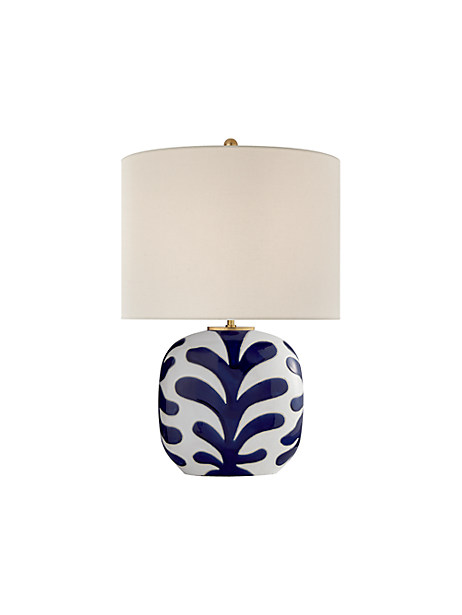 This Matisse inspired lamp would make a fun statement on a small table or desk.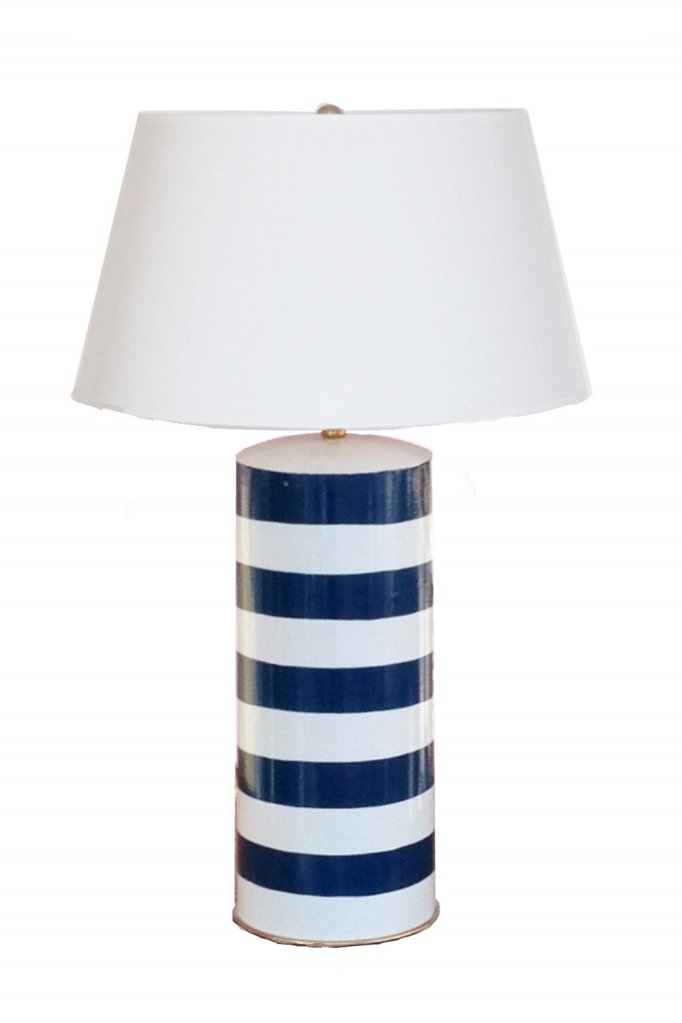 Artist Dana Gibson has some gorgeous and unique hand painted lamps. I love this classic stripe, but she has other blue and white and green and white patterns as well.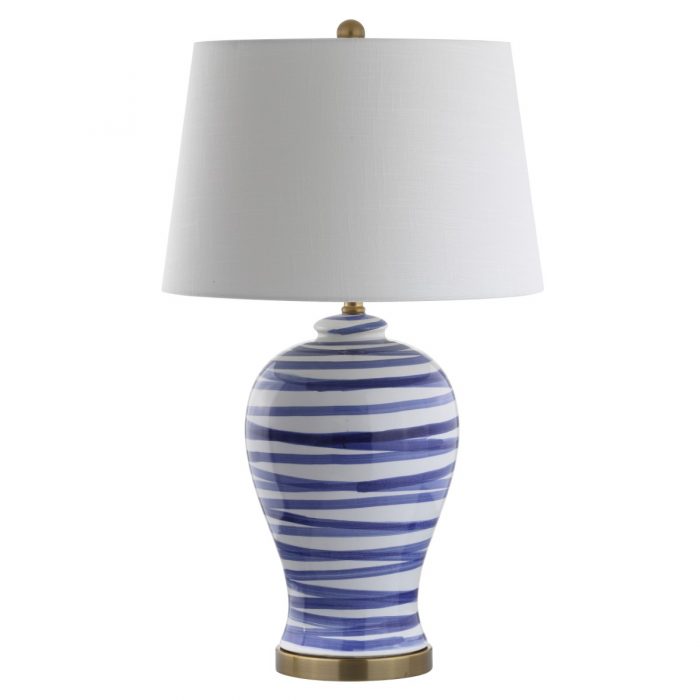 Finally, Bunny Williams has a striking brushstroke lamp that she designed and I have long loved its design. However the price tag of  $750  for one lamp has always been too much for me. So this lamp is a seventh of the the cost and still has all the classic blue and white look that I love.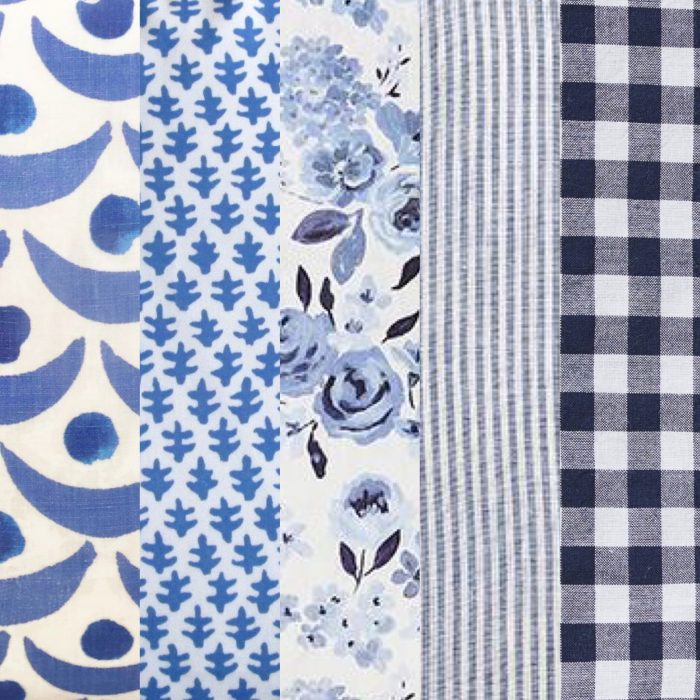 The director of the Pantone Color Institute, Latrice Eiseman says that to her classic blue "encourages us to look beyond… and think more deeply" So in this new year and decade, I am loving and thinking about adding a little more of this bright and optimistic blue to my life.