My love of cooking began at the age of seven when I cooked my first meal. Alone in the kitchen with my mother's Joy of Cooking I made dinner: vegetable soup with a side of Pillsbury refrigerator biscuits. My mom was out of town and my father, who wasn't much of a cook, was left in charge of dinner. So, after a few nights of his cooking I decided to take matters into my own hands. I don't remember the soup being an overwhelming success, possibly because I added iceberg lettuce as a substitute for cabbage. However, the spark was lit and from then on, I began cooking on my own.
This was well before the internet or the Food Network. So, I used Irma Rombauer's Joy of Cooking to teach me everything. I tried cookies, small cakes and I worked my way up. Then one Christmas break I was looking for something to do. Feeling festive I decided I would take on a classic, making my own gingerbread house. The Joy of Cooking doesn't have a recipe for gingerbread houses, but there was a recipe for gingerbread cookies. I worked to adapt the recipe to make a house. It took a few batches to get it right, but it worked. Pleased with my small gingerbread house, I began to bake more. Looking back, they were what made me fall in love with baking.
Put a pastry bag with royal icing in my hand and there is a deep sense of joy that comes over me. It doesn't matter how messy my kitchen looks or how many things I have left to do on my holiday list. Every year I make time to bake another gingerbread house.
My daughters are now old enough to be a part of the fun. So this year we decided to try something new: a gingerbread church.  My favorite part was the Jolly Rancher stained glass windows, which shine when you turn on the mini lights I placed inside.
I recently found an older baking book called The Gingerbread Architect, which had lots of clever ideas about windows. They used melted candies like butterscotch and even attached sheet gelatin to make clear window panes.  I also loved their tip for using sour belts to cut out shingles and decorations. So I took some of their ideas and used it for our house.
The windows were fairly simple. I just crushed my Jolly Ranchers and then placed them inside my baked gingerbread wall. The candy will bake right into the window frame.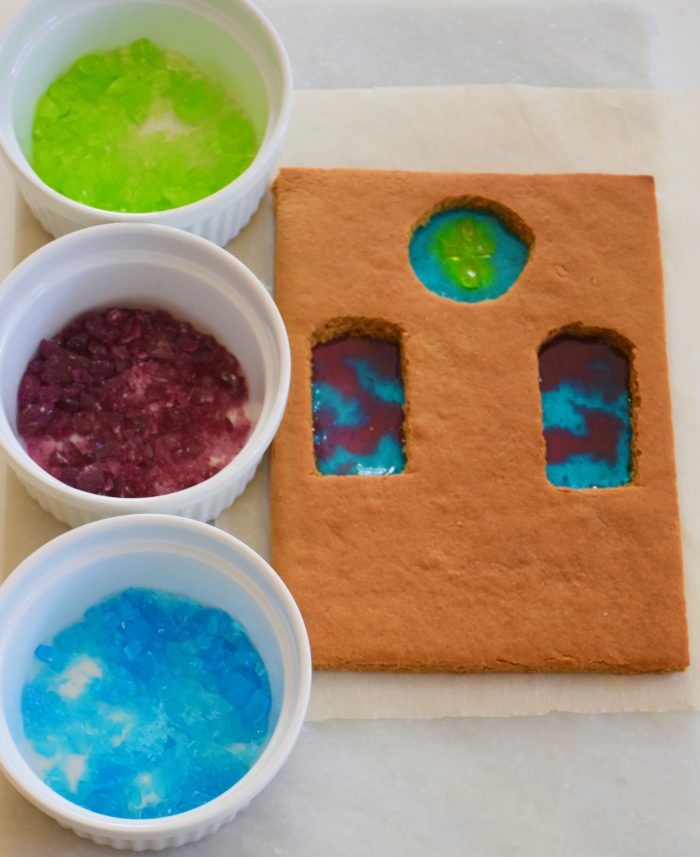 Then I baked it at 350 degrees until the candy melted which was about 5 minutes. The key is to bake it on parchment paper, once the candy cools it is easy to peel back the paper. If you want to add a detail like the cross I made, I found it helps to melt the background color first. Then right after you take your gingerbread out of the oven add the additional featured candy pieces. The candy pieces will melt in and not spread if you wait to add them after baking the window base.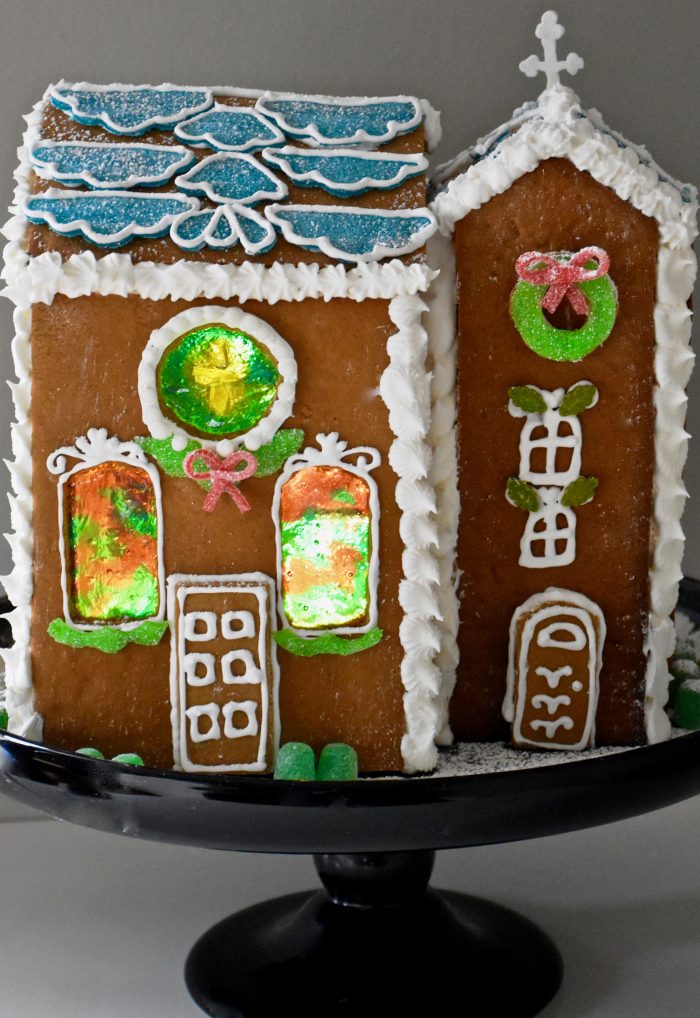 It's been a busy baking week in our house as my girls added their own creativity to the gingerbread village we made. I love displaying them on cake stands in my kitchen. It makes my cookbook collection look so festive!  If you want the recipe and a few more decorating tips for baking your own house then check out my post on Gingerbread with Kids.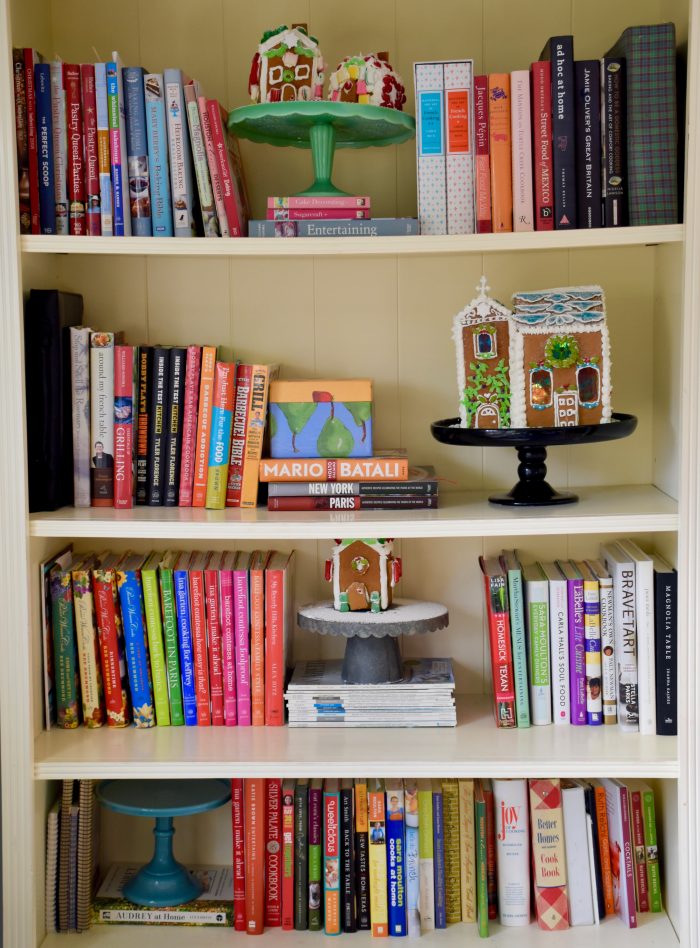 So the tradition continues with a new generation of gingerbread bakers. Let holiday baking fun begin! Wishing you all a happy holiday season!