The city sidewalks and houses are all dressed up in holiday style. Winter weather arrived a little early in Chicago this year, so I have been out early adding some evergreens to my front porch pots. I love this time of year all the garlands and twinkling lights. So, if you too are out holiday decorating, I thought I would share a little winter porch inspiration.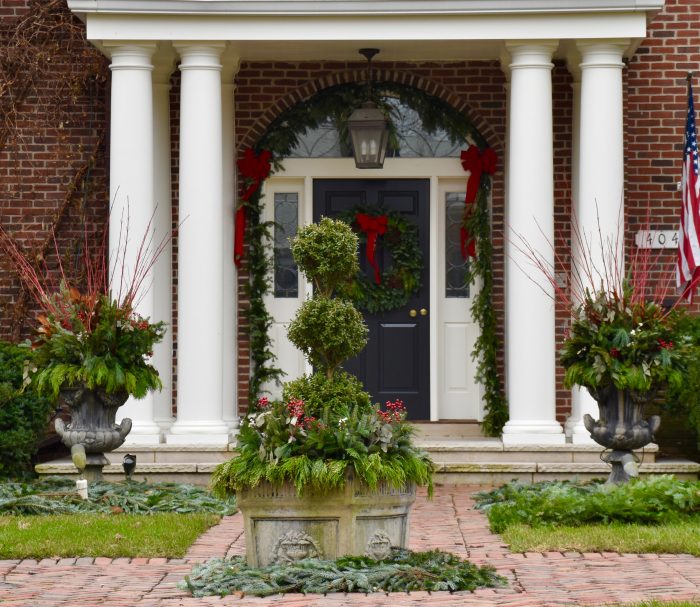 This classic colonial I passed had a lovely topiary trimmed with evergreens and berries. The snow and ice can make traditional gardening a little challenging this time of year, but these evergreen planters look beautiful.
This cute little southern home has a porch trimmed with beautiful poinsettias, cyclamens, and pansies. Evergreens aren't well suited to some parts the south, but that just means you can add a few flowers. These planters have all the colors of the season and these plants will continue look good all winter long.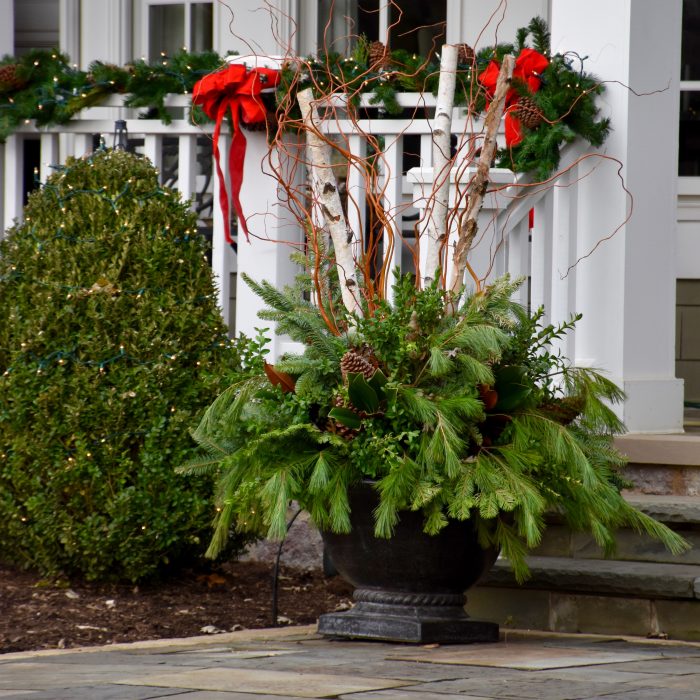 A more northern styled arrangement with birch and willow branches. The branches add some height to these elegant planters.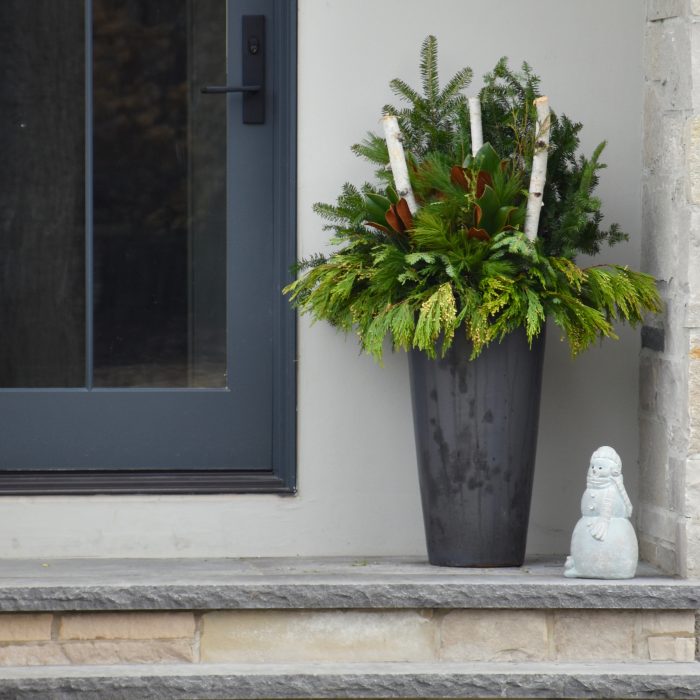 Want a more modern look? This layered planter that adds a festive, but not too over the top touch to this porch.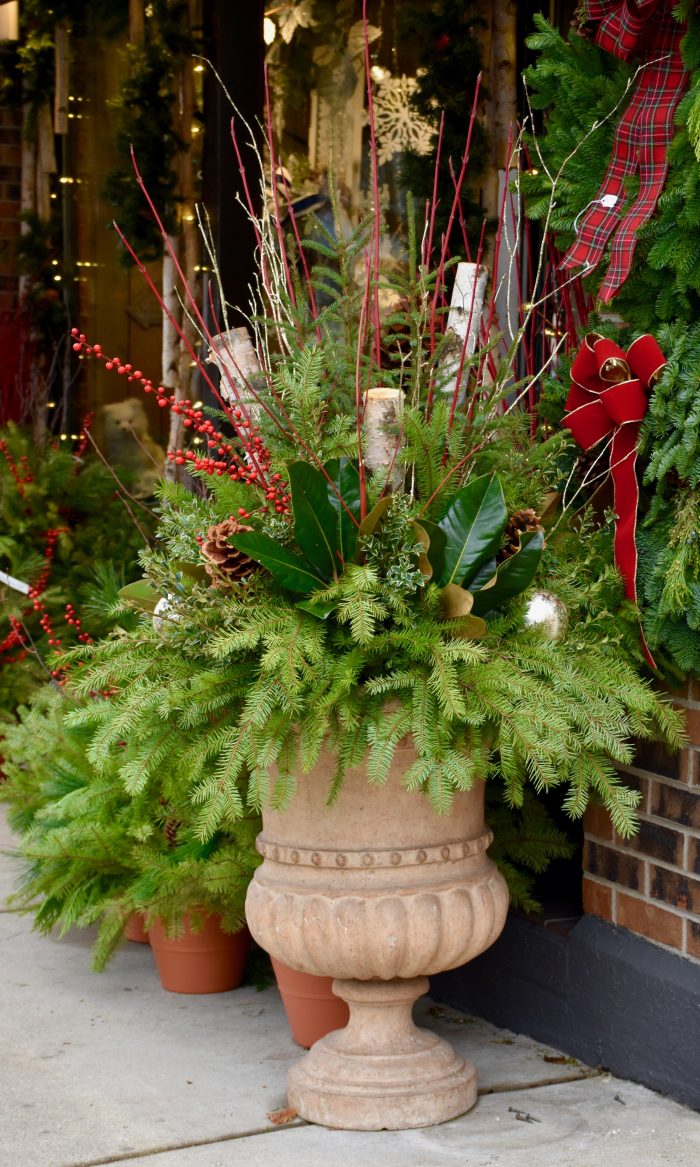 A walk downtown had more Christmas inspiration. Phillips Florist had the sidewalk lined with some lovely birch branch and evergreen pots. The florists usually plant their pots in rice hulls, which are great for cut branch arrangements since they can hold more water than traditional soil. However they lack the nutrients that live plants need, so I only recommend using rice hulls for cut branches.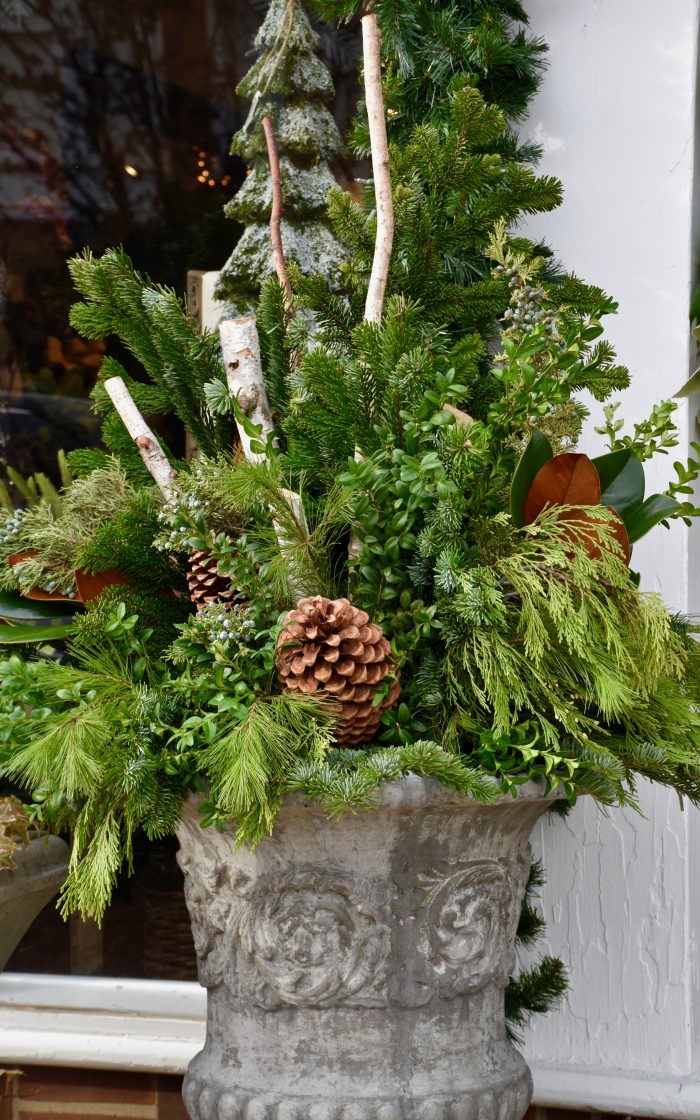 Then Jane's Blue Iris, another local florist, had a gorgeous mix of greenery with boxwood, magnolia, juniper, cedar and pine. Adding a wide variety of greenery allows you to add some color and texture. This arrangement is particularly eye catching because of the balanced asymmetric arrangement with the the spruce top on one side and staggered branches on the other.
So after admiring all these pretty planter, I took a little creative inspiration to create my own. I moved my small boxwoods indoors for the winter. I found some small Japanese cedar trees that I trimmed to look like mini spruce tops. I thought these cedars would look festive and I liked their silvery blue tinged needles. These cedar trees should tolerate the cold, but to keep my pots looking green a little longer I created some faux evergreen bases.  The great part about this project is that even if southern temperatures keep you from using real evergreens outdoors, you could still make an arrangement like this without worrying about it wilting in the sun. So here are a few tips for creating your own evergreen topiary bases.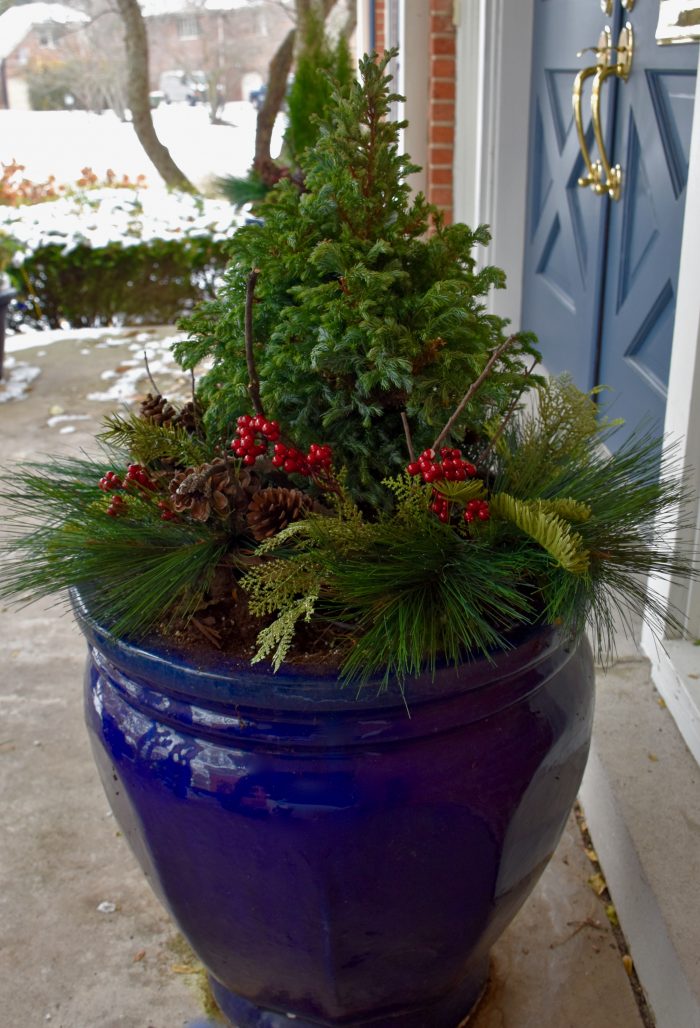 First select a a large grapevine wreath to use as a base. Then purchased some faux greenery and pine cones from your local craft or floral supply store.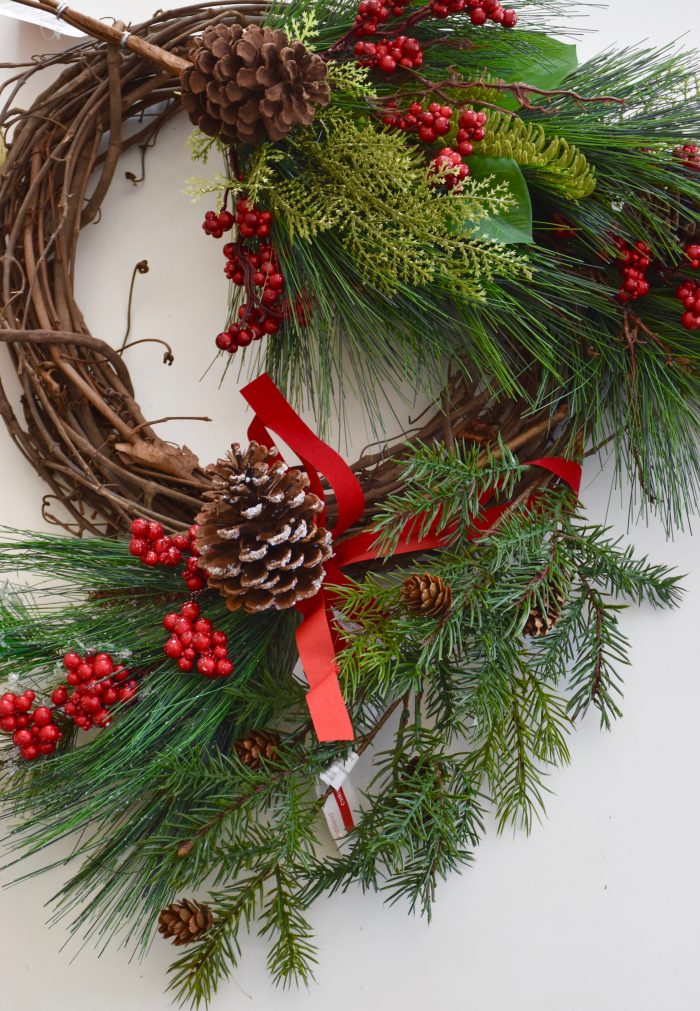 Separated and cut your branches and berries into smaller pieces that you can arrange around your wreath.
It helps to place your largest greenery first. Make sure that you securely place the wired end into the grapevine.  Then add in your pinecones and berries. I arranged my branches so that they pointed up and out since it would be sitting in my pot.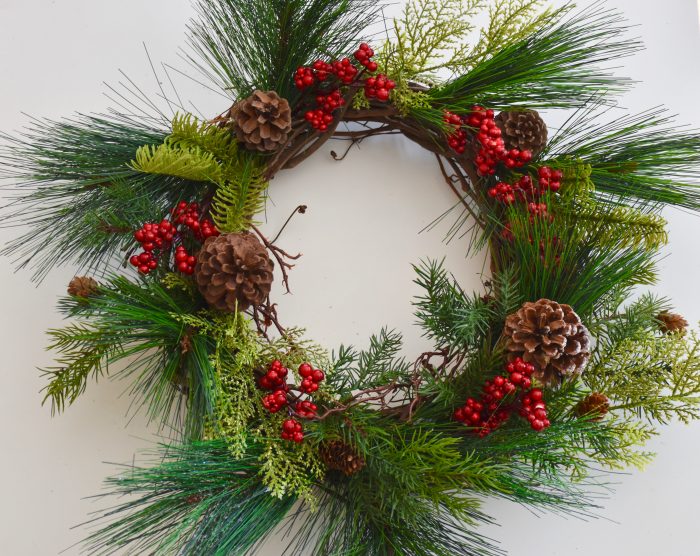 Then one they were place around my topiary I added a few branches and additional pinecones to give it a more realistic look. You could also add a few extra pieces of greenery to trail down the pot a bit. I think these evergreen topiary wreaths would work well with any small tree or topiary.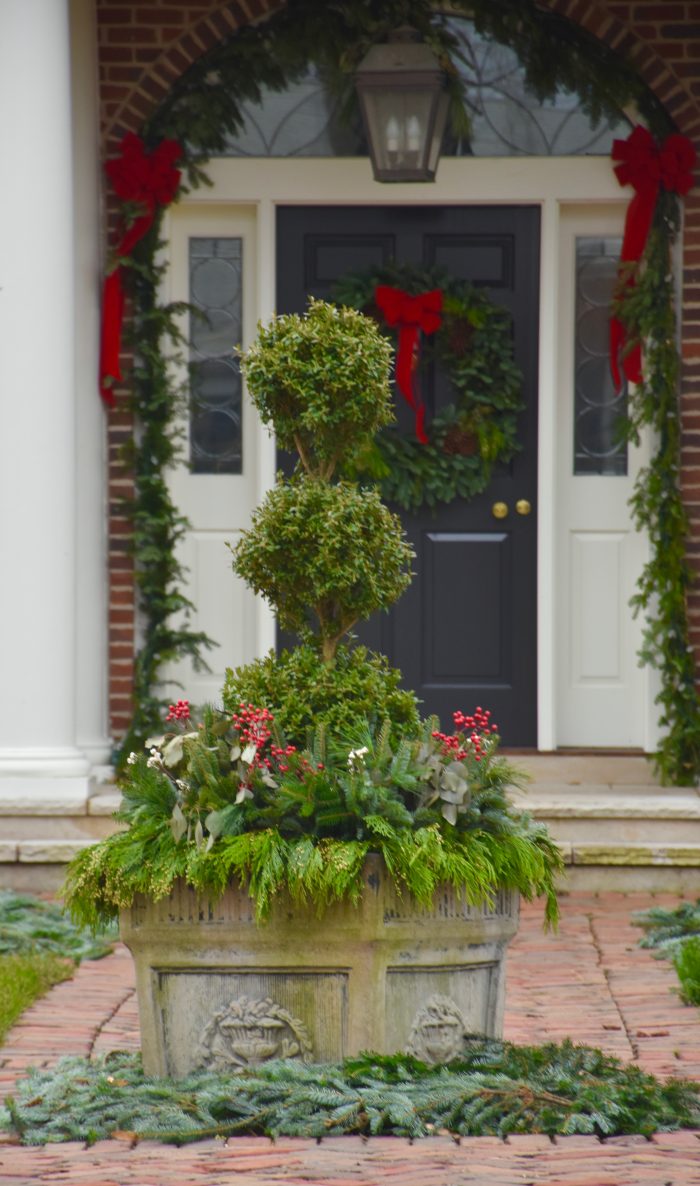 Now that December is nearly here it's time to embrace the joy of Christmas. Adding some greenery to your front door is easy way to welcome the winter season. So, no matter how frosty it gets where you live you can still add a little holiday style to your porch and planters.