It's hard to think about Chicago summers and not talk about color. The winter snow is now a distant memory and the trees and grass are all a deep summer green. Doors and walkways are adorned with colorful pots and the window boxes are overflowing with flowers. Summer is here and I have been out taking in the view and photographing some of my favorites.
I love photographing doors. I have shared a few posts on the subject before. Whether I am on vacation or just out walking I like to linger a moment to admire  the architectural details or an interesting color that makes certain doors and homes stand out.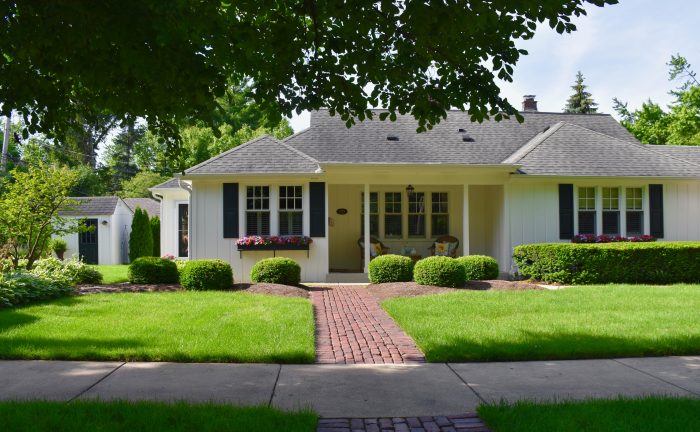 This little garden cottage has a cheerful touches of yellow against the crisp black and white exterior.  The woven letter box and those wicker chairs look like a lovely place to sit and enjoy a view. I like the colorful window boxes and all the neatly trimmed boxwoods.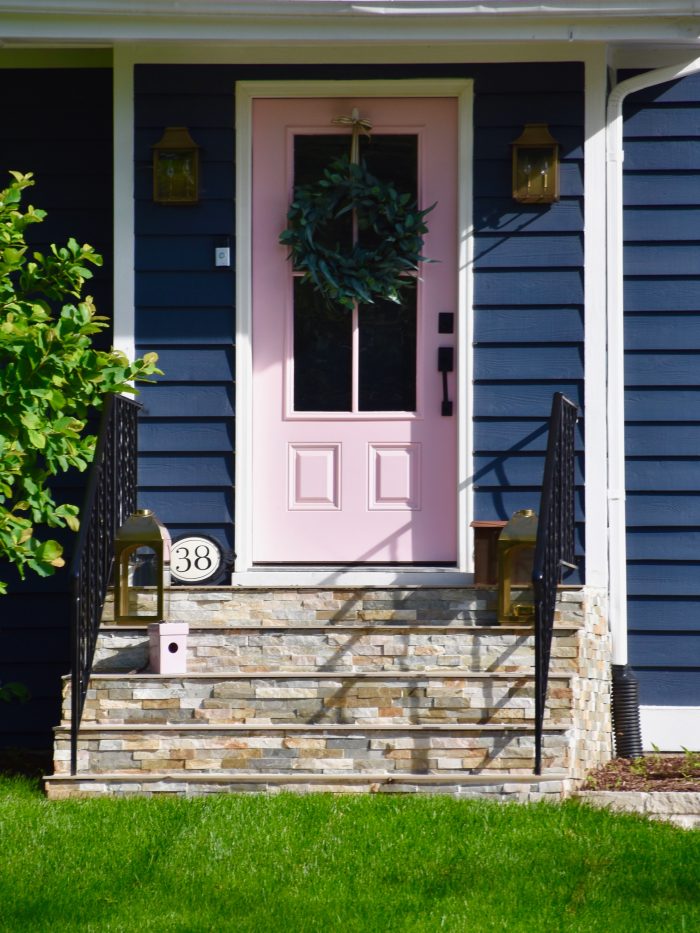 The contrast of this light pink door against the deep navy siding is eye catching. The brass light fixtures and lanterns add a polished finish that ties in the colors from stone stairs. Then little bird house detail adds just the right touch of fun.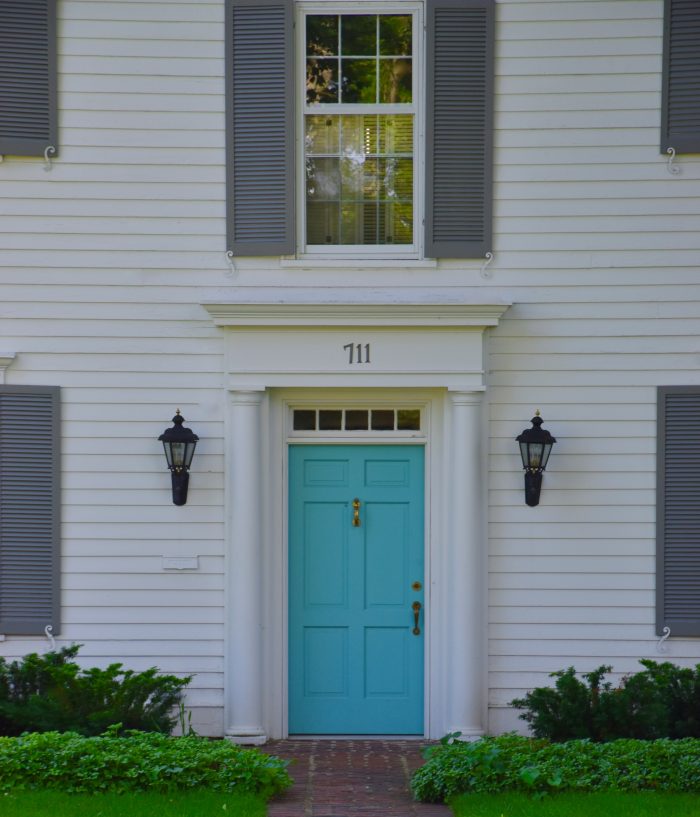 This stately colonial looks fresh and up to date with this Tiffany blue door. The bright color draws the eye in and makes you notice the transom window and columns.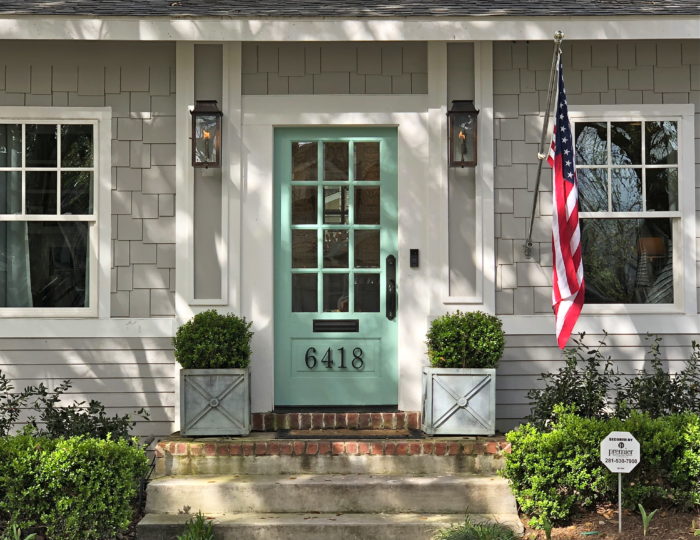 This coastal inspired home is one of my favorites. The contrast between the soft gray shingles and a robin's egg blue door is so pretty. I like the weathered metal planters and the boxwood. It's a city home that make you feel like you might be on the beach.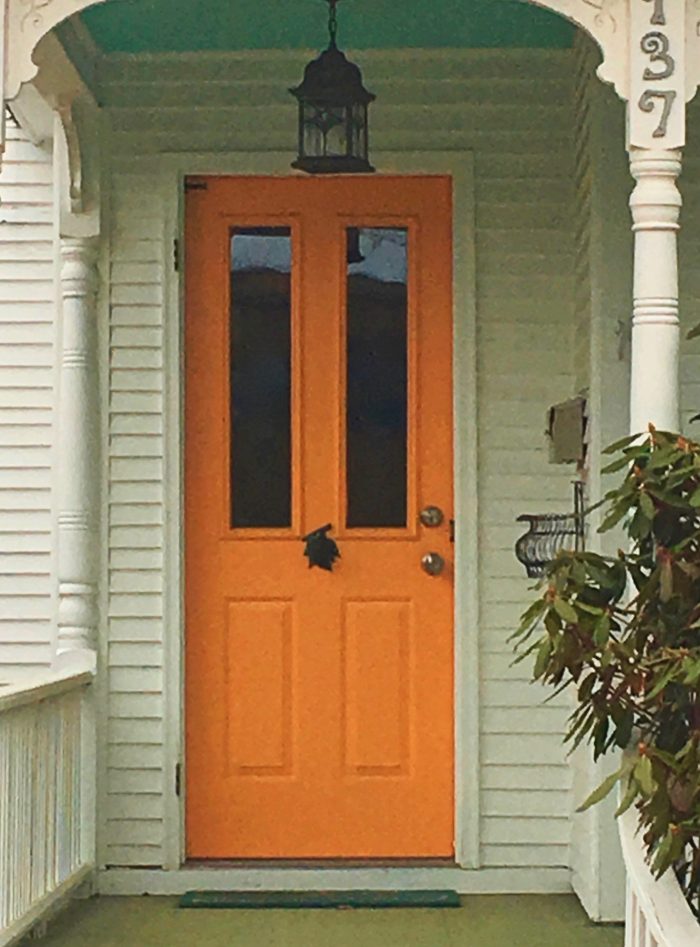 This tangerine door is something I saw while on vacation in Michigan. The preppy orange against the turquoise haint ceiling made this small home feel like it had a larger than life personality.
This classic victorian had me stopping to enjoy the view.  The gorgeous coral door with the brass hardware makes you take notice of the leaded window sidelights and the detailed trim work. The metal urns of coral geraniums and ivy add a touch of color to the yard.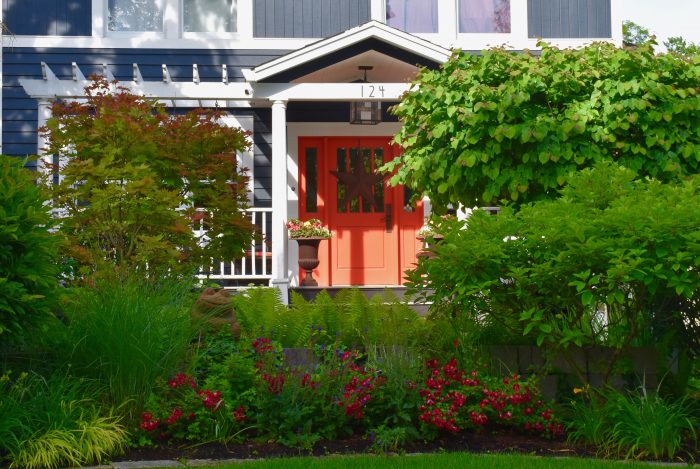 Finally, a craftsman styled home with a welcoming tomato red. The lighting and house numbers add a finished feel to the craftsmen look. I love the metal barn star. It adds a patriotic touch that feels like summer in Chicago.
Sometimes it's fun to just stop and take in the beauty of a summer garden and a doorway or two. The bright colors and landscaping details add character and charm to all of these memorable homes.