"Pies make everyone happy."
-Laurie Halse Anderson
Do you have a favorite pie? Or does picking a favorite seem like an unfair question? There are after all so many good choices. So maybe one should think about it seasonally or just narrow it down to a smaller list of seasonal favorites. When it comes to summer, I happen to be partial to berry pies. This week I was walking down the row at my local farmer's market when a table filled with beautiful blueberries caught my eye. When I saw them I  knew I wanted to take a few pints home. As I was walking back with a bag full of berries, I immediately began to think about the mixed berry crumb pie that I had on a trip to Michigan this spring. So inspired, I set out to create my own blueberry crumb pie.
Crumb pies are one of my favorites types of pies because they have all the best parts of eating both a pie and a cobbler or crisp. The buttery crust with a sweet berry filling and a crunchy oat strudel topping is summer pie perfection. I spent some time in my kitchen testing recipes to create the ultimate crumb pie. Baking with fresh berries is wonderful, but it helps to have a few baking tricks up your sleeve when dealing with juicy berries and pies crust.  So I am sharing my recipe and all my tips to ensure your crumb pie is crisp and delicious.
Blueberry Crumble Pie – Serves 8
One pie crust, plus extra pie dough from a second if you want to add decorative cutouts. My favorite recipe for a double crust is featured at the link above, but if you are running short on time you could use store bought dough
Blueberry Pie Filling
4 cups blueberries, washed and then well dried out on some paper towels
1 lemon, zested
1/2 cup granulated sugar
1/4 cup of flour
Crumble Topping
1/3 cup brown sugar
1/4 cup granulated sugar
3/4 cup flour
1/2 cup oatmeal
1 teaspoon cinnamon
1 stick butter, cold and diced into small pieces
First, preheat your oven to 375 degrees.
Then prepare your pie crust by greasing the bottom of your 9 inch pie plate with cooking spray and then fold over the edges of your dough. I like to roll my dough into a 12 to 13 inch circle and then I fold the extra dough over to create a thicker crust edge. Then flute the edges by pressing your thumb into the inside of the dough while holding the outside edge with your index and pointer fingers. Then if you would like, you can make some additional pie dough cutouts as a decoration for the top. Make sure to cut thicker pieces for your decorations so they don't brown too quickly while your pie bakes.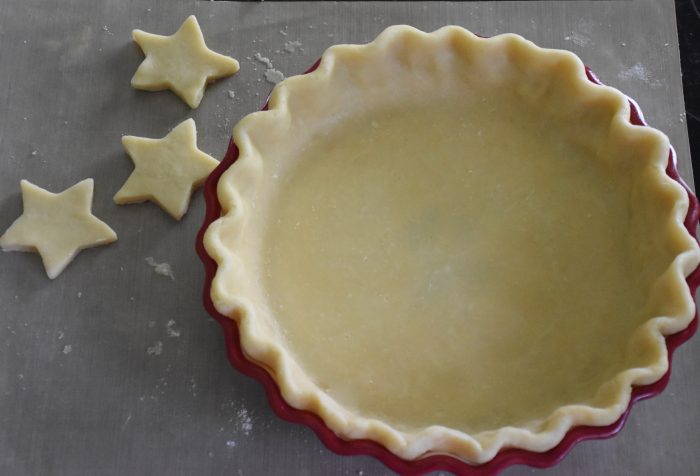 Then you want to blind bake your pie crust before you place your filling in it. This step is important because crumb pies have lots of moisture from the topping and fruit filling. Blind baking your crust first will ensure that you don't end up with a soggy pie bottom. (I tried a version without blind baking and it was a soupy mess.)
In order to blind bake your crust cut a circle of parchment paper that is 2 to 3 inches larger than your pie plate. Then place the parchment in your unbaked pie shell and fill it with pie weights or plain dried beans or rice will work too. You just need something that will allow your pie crust to keep its shape and not puff up while you bake it.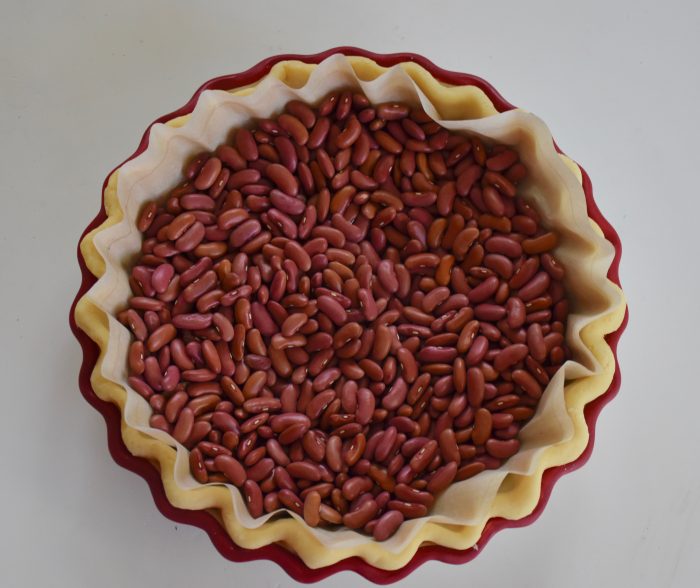 Then bake your crust for 10 minutes with the weights. Then carefully remove the parchment paper and weights and return your unfilled pie to the oven for 5 more minutes. This will ensure that the crust is well cooked and crisp.
While your crust is baking you can make your filling and crumb topping.
In a medium sized bowl mix together your blueberries, lemon zest, sugar and flour maker the flour and sugar are well mixed to coat all the berries.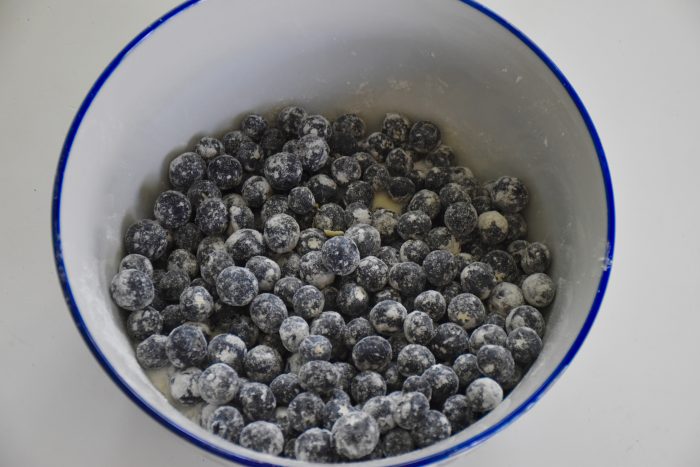 Next make your crumb topping. I used a food processor, but you could also use a fork or pastry blender. In a medium sized bowl or in the bowl of your food processor mix together the flour, oatmeal, brown sugar, sugar and cinnamon. Then add in your butter pieces using the food processor or a pastry blender or fork. You want to cut the butter into the flour mixture to create a crumb like topping.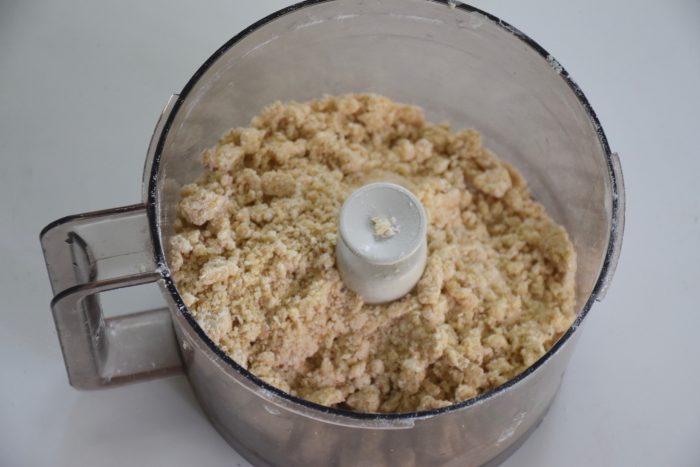 Then pour your blueberry mixture into your blind baked pie crust and then top it with an even layer of the crumb mixture. Add on any pie dough cutout and brush them with a little melted butter and a sprinkle of granulated sugar.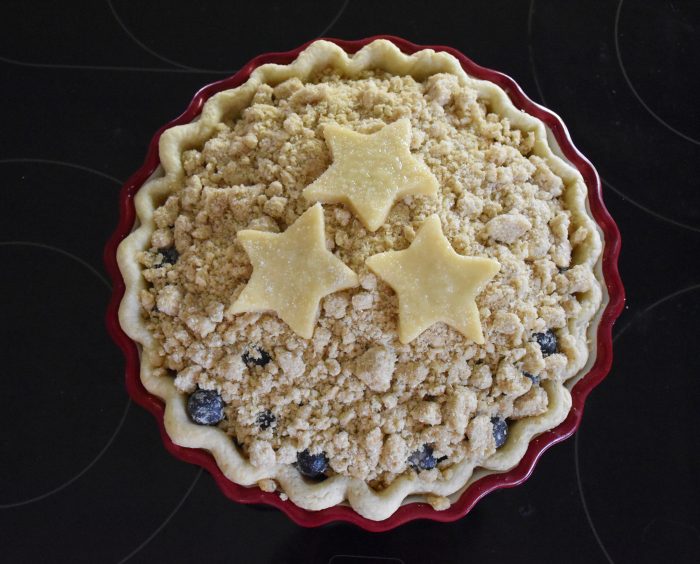 Then to protect the edges of your pie crust and keep them from getting to brown use a pie shield or create your own with a long  folded piece of foil.
Bake at 375 degrees for 30 minutes. Then remove your pie shield or foil and continue to bake for an additional 10 minutes. (Total baking time is 40 minutes.)
Then let it cool a bit before you serve it. The blueberry mixture will firm up to create a pretty slice if you let it rest for a couple hours, but it's delicious no matter how you serve it. I like to add a little vanilla ice cream on top.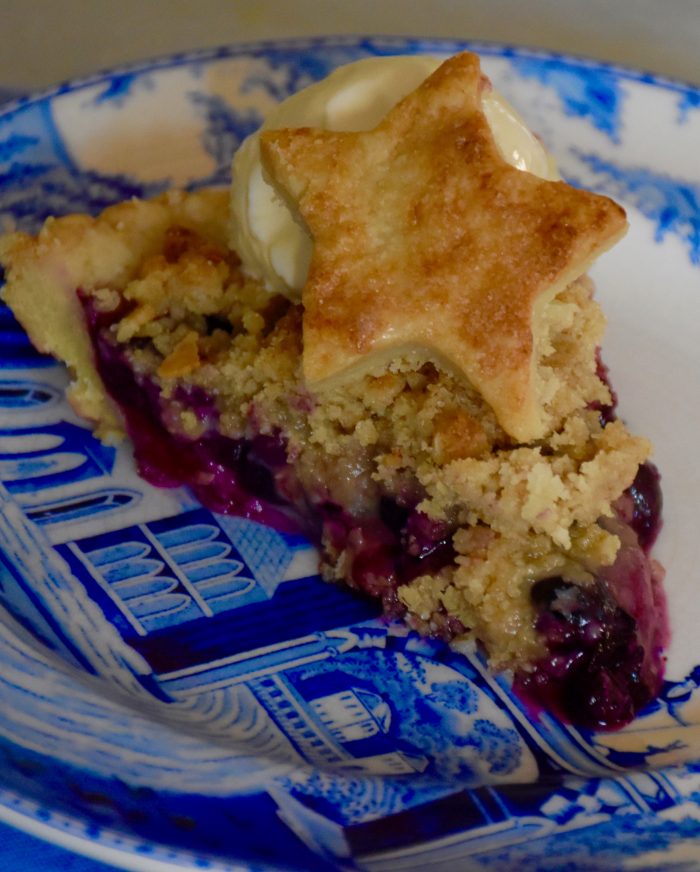 The amazing blueberry smell coming from your oven is reason enough to make this pie. My husband even had a slice for breakfast. Because is there ever really a bad time for pie?