Sometimes even a dreaded stomach bug can in its own way bring good things. In my case being quarantined in my bedroom for two days is what gave me the time to think and get inspired to do something new. As I lay there and watched the snow fall outside of my bedroom windows, began to think about those almond beige draperies I had purchased so many years ago as a newlywed. Their design appeal had certainly faded, but other projects had been a high priority when we moved. So after staring at them for two days, I decided it was finally time for a change.
Once I was on the mend I made my way to the Pottery Barn  to purchase some new white draperies. The fact that there was a "friends and family sale" made it feel like design kismet; these new drapes were meant to be. I had planned to add a custom trim to them, but when I saw this Instagram photograph from Sarah Richardson I knew exactly what I wanted to do. That crisp blue and white trim added a pop of color and pattern. It struck the right balance between pretty, but not so feminine that my husband would object.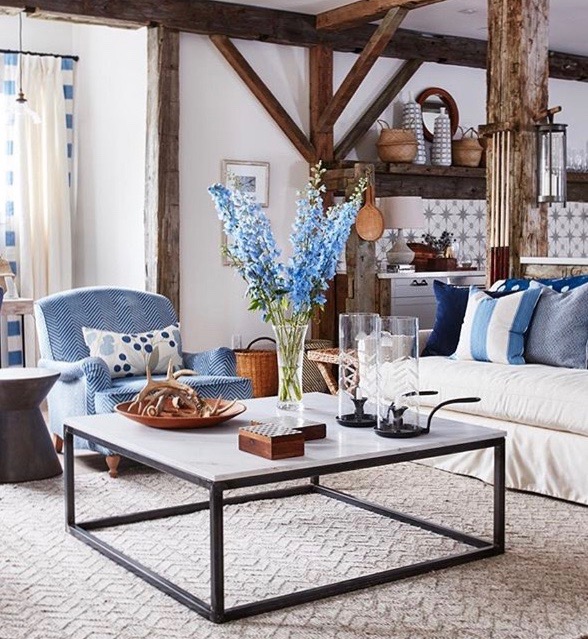 So I got online and ordered three yards of sea breeze buffalo check fabric and then began to think about how I could create my own custom fabric trim.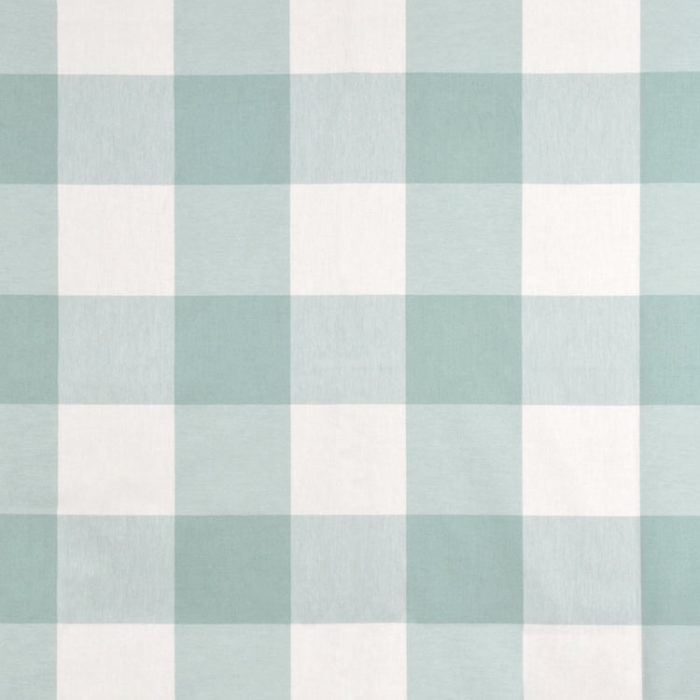 I then summoned the courage to cut the fabric, because admittedly my sewing skills are in the category of enough to get the job done. The checks made the cutting and matching of the patterns on my four panels fairly straight forward. I folded and ironed the rough edges over and then folded each fabric strip in the center to create a blanket like binding for the edge of each panel.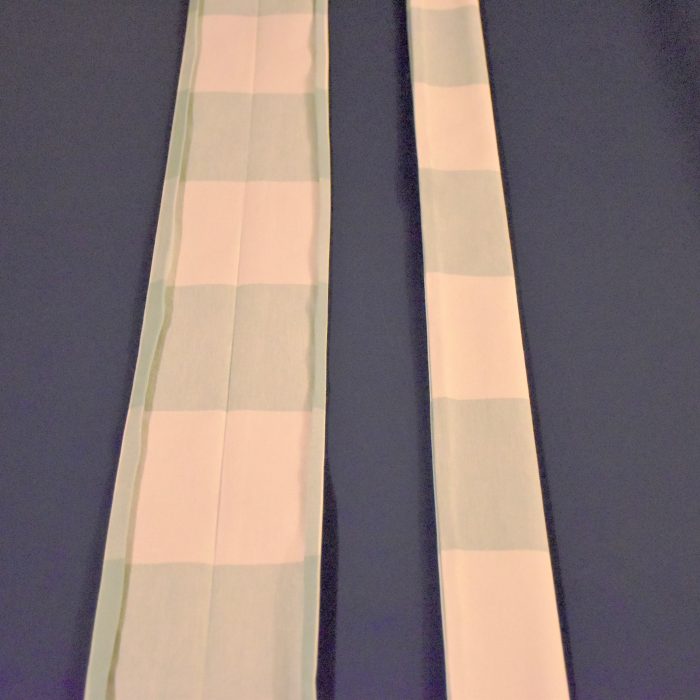 I pinned my fabric trim to my panels and sewed a single stitch on the inside edge.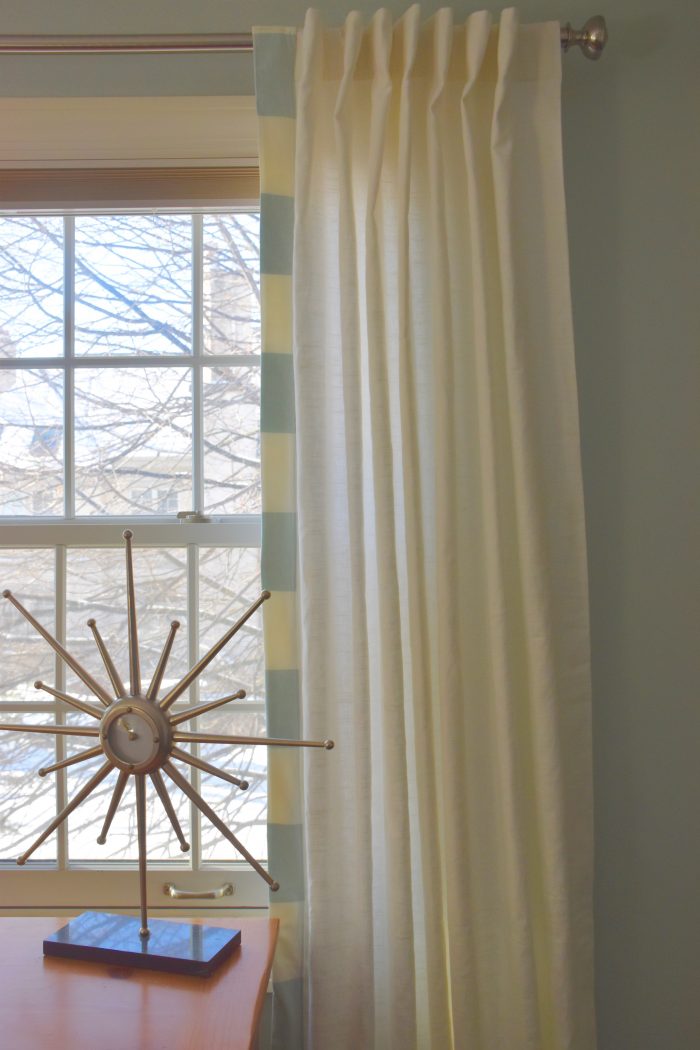 The checked trim is colorful and adds just the right bit of pattern to the otherwise plain white draperies, so now I smile every time I walk in the room and see them.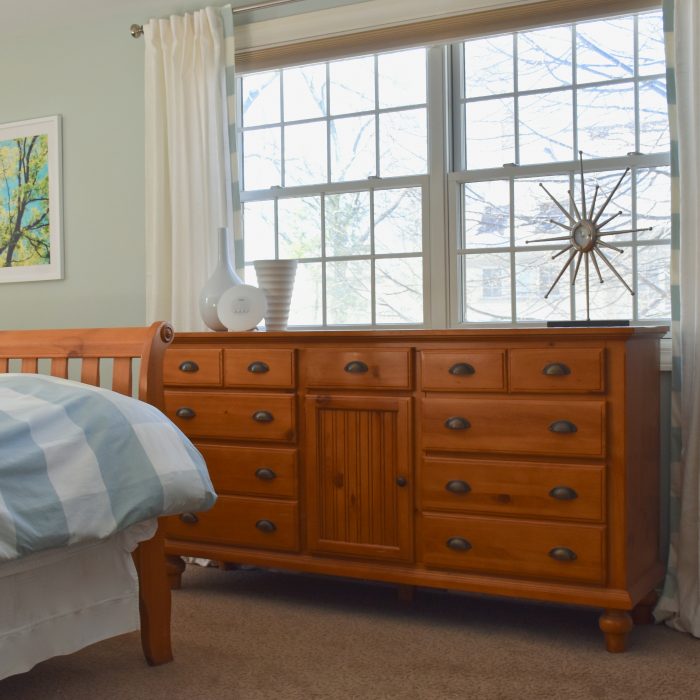 This fabric trim is one of my favorite projects. It now has me looking at some of my other draperies thinking about the design possibilities. Fabrics with vertical repeats are perfect for a project like this because the repeated patterns often means you need less yardage. Because of this fabric trims are generally much less expensive than woven tapes. It's also a way to add a beautiful designer touch to your home. A fabric that may have been far too expensive to make multiple custom drapery panels from could still add just the right touch as a trim on a store bought drapery.
So with my mind a buzz with all the possibilities, I thought I would share a few favorite fabrics that I think would make gorgeous trims for any design project.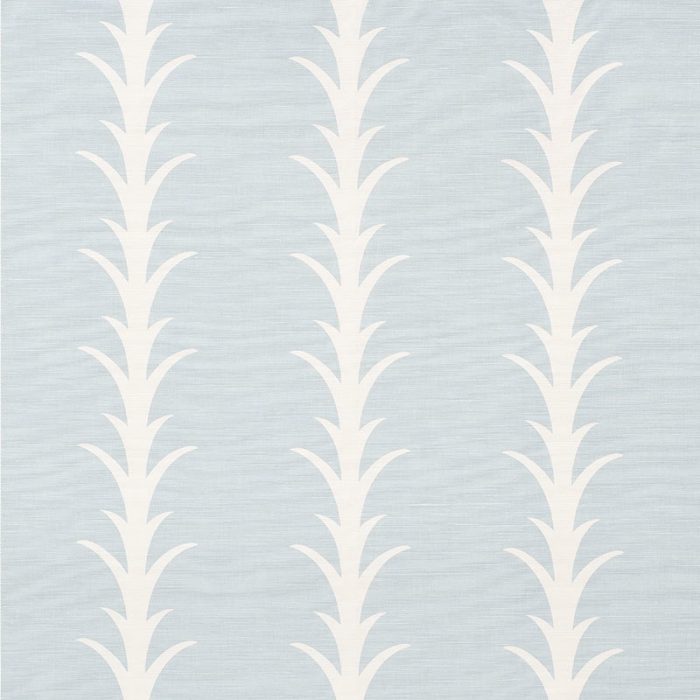 Celerie Kemble has some of the the most elegant and sophisticated fabrics. I have seen this Acanthus pattern used in wallpaper in a number of projects that I love, but I also think this botanical inspired pattern would look fabulous as a trim on the edge of a drapery.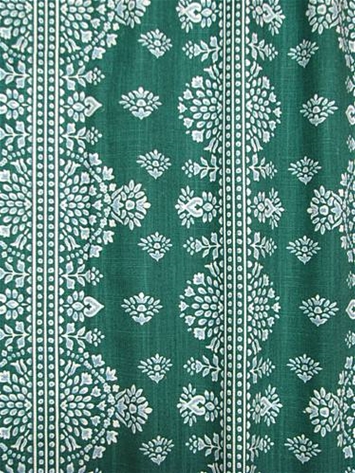 Want a more worldly inspired design? This Persian block print by Tilton and Fenwick would add a layer of color and pattern to any room. If emerald green isn't your color it also comes in several other colors including a classic blue and white and an eye catching poppy red and blue.
Want some more inspiration from the ever talented Sarah Richardson? I like the soft chambray color and the diamond pattern of her Brookhaven fabric. I have seen this fabric used as a trim with white linen draperies and I loved the finished look.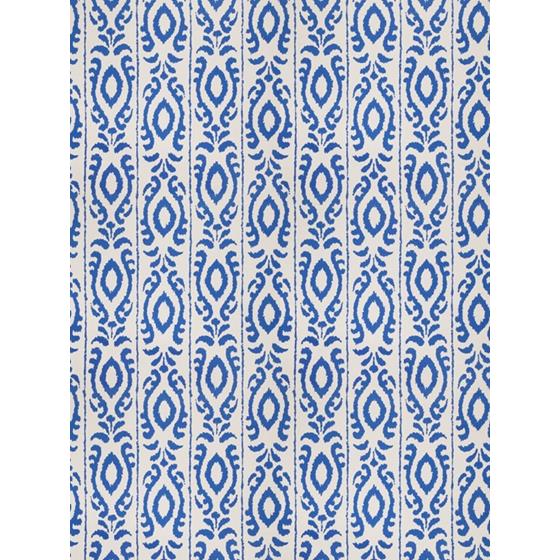 This crisp and cheery blue by Dana Gibson would add a touch of whimsy and color. I could see this fabric in a less formal dining room or a bedroom. The pattern repeat also appears large enough to be able to do a lot with just a few yards.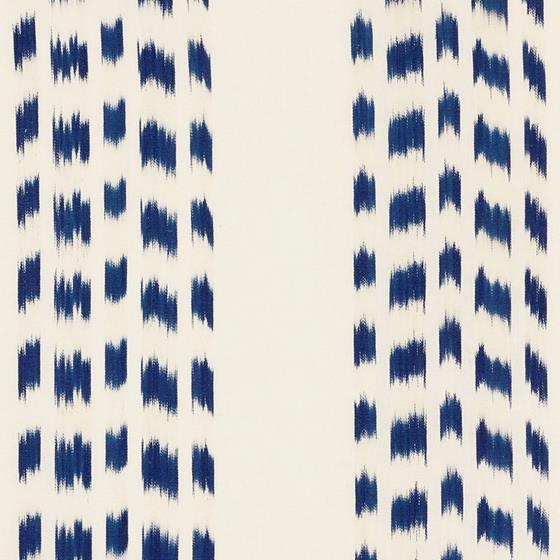 I love this gorgeous Schumacher Ikat pattern and have thought about using it as a trim on my dining room draperies.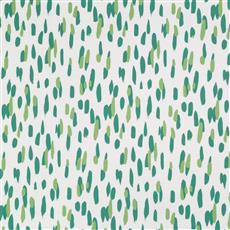 This green and white pattern reminds me of the more a more expensive fabric by Brunschwig and Fils called Les Touches. This smaller scaled pattern by Madcap Cottage also come in turquoise and coral. I like smaller abstract prints like this when used as thin trims on either roman shades or curtain panels.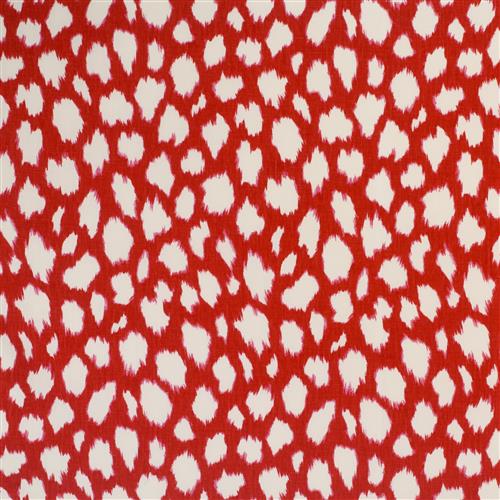 Finally because I love a touch of red in a room, here is a vibrant and pretty pattern from Kate Spade that would add a touch of drama and style.
Draperies frame the view in any room, so they give you the opportunity to define your style and can add a much needed touch of color and pattern. However I believe that good design shouldn't feel out of reach. There are great solid curtain panels out there from places like Pottery Barn, West Elm, Ballard Designs, Crate and Barrel and even Ikea that would be nothing short of amazing with just a few yards of a gorgeous and defining pattern. This project took a few hours of my time, but the finished look was worth it. It's those small details that sometimes make all the difference.