Cranberry sauce is more than a condiment in our house; it is a celebrated side dish. My family's recipe comes from an old Houston Chronicle recipe that has been shared around our family for years. Our family loves it so much that this Grand Marnier cranberry sauce makes an appearance at both Thanksgiving and Christmas. I should note that we don't even serve turkey at Christmas. It's just such a beloved side dish in our house that it wouldn't be a holiday meal without it. So while my mom, the expert on Thanksgiving sides, was in town I got her help in the kitchen. I took notes and I am sharing all her tips for this delicious sauce.
Grand Marnier Cranberry Sauce
2 (12oz) bags of fresh cranberries, washed and drained
3/4 cup of orange juice (about 3 medium oranges squeezed)
1/4 cup Grand Marnier Liquor
The zest of one orange
The zest of 1/2 of one lemon
2 cups of brown sugar
In a large sauce pan combine your cranberries, orange juice, Grand Marnier and citrus zest. Then heat your cranberry mixture on medium heat for about 15 minutes stirring intermittently, until you hear your cranberries popping as they cook. You want about 3/4 of your cranberries to have popped before you add in your brown sugar.
Then add in your brown sugar and stir. Continue to cook your sauce it at medium heat for about 5 minutes. The brown sugar will melt and your sauce will begin to thicken like a cranberry jam. Then let your sauce cool and refrigerate it. The sauce will thicken a little more as it cools. This cranberry sauce can be kept in your fridge for one week, so you can easily make it ahead and the flavors will only get better.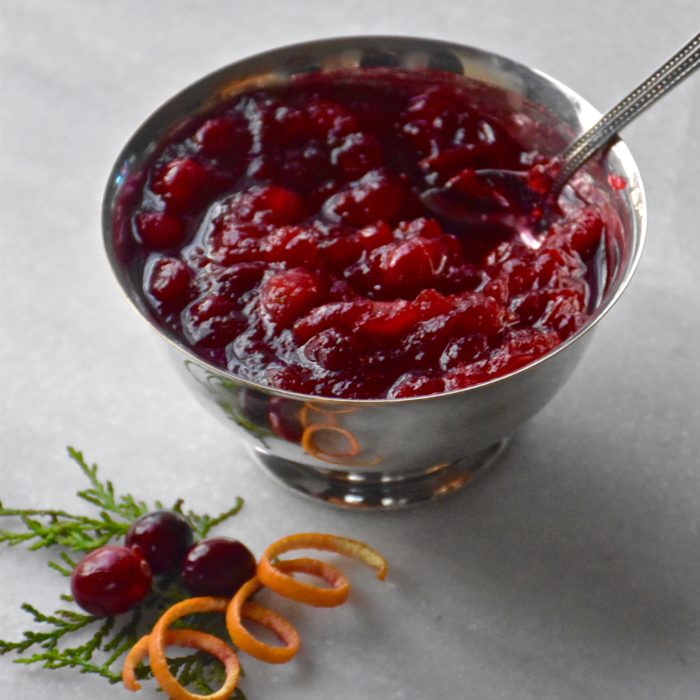 The orange juice and the orange liquor make this sauce special. The citrus and the brown sugar add some sweetness that balances without overpowering the signature tartness of the cranberries and has me wanting to eat it by the spoonful. I feel like Thanksgiving has snuck up so quickly this year, so if you too are just getting your meal plans together, then this easy make ahead side would be a great one to share with family and friends. I am sharing one last side dish this Sunday so come back for another quick and easy Thanksgiving recipe.