I love red velvet cake and my favorite recipe is from pastry chef Rebecca Rather. She has a Christmas red velvet cake with peppermint which I adore, but I thought it might be festive to make a Fourth of July version. I have changed the icing and adapted her recipe to create my own star studded red velvet cupcakes. A few months ago I shared the recipe with a good friend of mine and the text I got back was, "OMG!! This mascarpone business is magic." I couldn't have said it better. These cupcakes are delicious and the berries, sprinkles and stars make it fun to bake and decorate too.
Red Velvet Cupcakes (Makes 15 cupcakes)
2 tablespoons red food coloring
2 tablespoons cocoa powder
1/2 cup (1 stick) butter, room temperature (let it sit out at least an hour)
3/4 cup sugar
1 egg
1 cup cake flour
3/4 cup all purpose flour
1/2 tsp kosher salt
1/2 teaspoon baking soda
1 teaspoon vanilla extract
1/2 cup buttermilk
1/2 cup sour cream
1 1/2 teaspoons distilled white vinegar
Preheat your oven to 350 degrees and prepare your cupcake tins by lining them with baking papers or cups.
Next cream your butter and sugar on medium speed of your electric or stand mixer for about two minutes. Next add in your egg and beat until it is incorporated. Then add in your cocoa power and red food coloring and mix at medium speed for four minutes. This will allow the distinctive red food coloring to get fully incorporated.
Meanwhile sift together your flours, baking soda and salt in a medium-sized bowl. Then in a measuring cup measure you buttermilk and add in your vanilla.
Now add half of the flour and half of the buttermilk mixtures to your butter and cocoa powder. Mix them in on low-speed until just mixed in then add your remaining flour and buttermilk.
Finally add in your sour cream and vinegar being careful to not over mix your cake batter.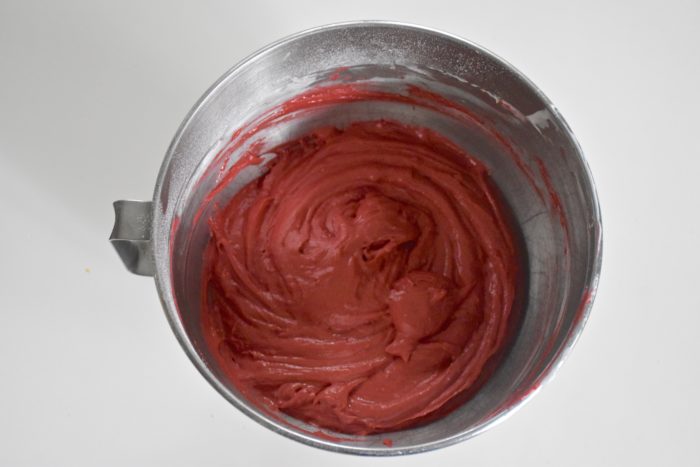 Now fill each cupcake liner about 3/4 of the way full with batter. I use a large ice cream scoop that holds 2 approximately tablespoons so that each cupcake has an even amount of batter.
Then bake your cupcakes for 20 minutes and let them cool before your frost them.
Mascarpone and Cream Cheese Icing
1 cup (2 sticks) butter, room temperature
8 ounces cream cheese, room temperature
6 cups of powdered sugar
1/2 teaspoon kosher salt
2 teaspoons vanilla extract
3 Tablespoons of milk
8 ounces of mascarpone cheese
Sprinkles for decorating
Blueberries, raspberries, blackberries or your favorite berries for decorating
At medium speed beat together your butter and cream cheese for a minute. Then add in your powdered sugar, vanilla, kosher salt and milk and beat it a low-speed until your powdered sugar is fully blended in and your icing looks light and fluffy.
Finally add in your mascarpone cheese and beat it until it is just incorporated because  mascarpone cheese is more delicate and over beating it could cause your icing to curdle.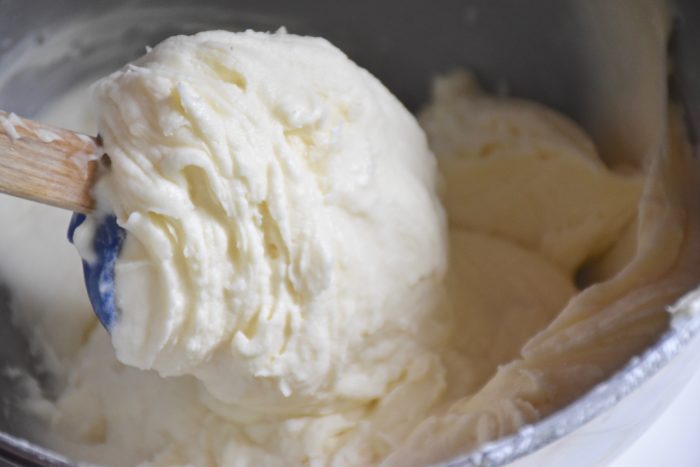 Now the best part frosting and decorating your cupcakes, I like to pipe my icing on with a large star tip. If you are new to cake decorating or would like to see how I frost my cupcakes then here is a link to my carrot cupcake video that uses some of the same techniques.
White Chocolate Stars
8 ounces (1 bar) of white baking chocolate
Then because I wanted to add something special for the Fourth of July I decided to add some white chocolate stars. These stars are easy to make if you have a silicone or plastic mold. I think my mold was originally made for ice cubes, but it makes a great chocolate mold too. You can also find inexpensive plastic molds in the baking section of your craft store.
Melt your white chocolate in a microwave safe bowl for one minute then stir and heat it for an additional 20 seconds and stir until it is smooth and fully melted. Then I poured my chocolate into a small pastry bag and I cut off the tip and evenly filled my mold. Then I placed my mold in the freezer for 15 minutes to allow my chocolate to fully cool and become firm. Then I turned my mold over and popped out my stars.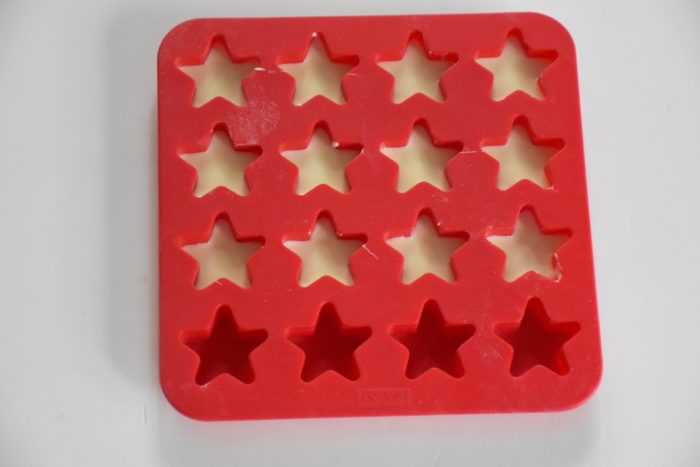 Add a few red and blue berries to your cupcakes. Then top it off with a white chocolate star and some festive sprinkles.  It's a red white and blue cupcake that is every bit as delicious as it is festive.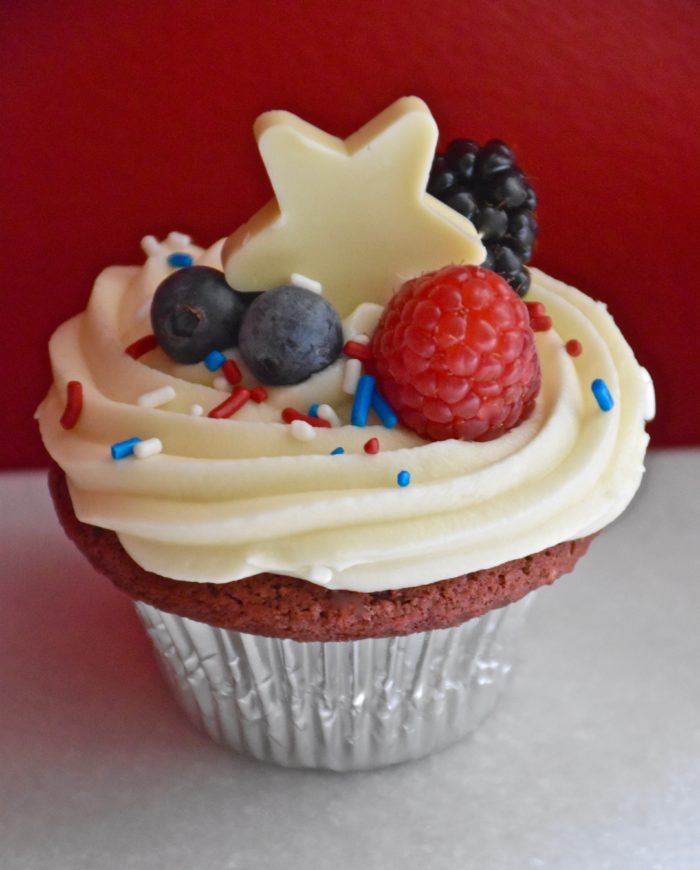 Looking for something to share with family and friends this Fourth of July? Then these red velvet cupcakes are definitely fun and would add something special to any celebration. They  so delicious that they are sure to disappear like "magic."
This recipe was a featured recipe on Tasty Kitchen get a printer friendly version here.