I have been on a short kitchen break because our air conditioner went out over the weekend, which happened to coincide with a mini heat wave that we had here in Chicago. There is something about the kitchen being nearly 90 degrees that drains all my creative thinking and desire to bake. So I spent a good bit of time with my girls in the backyard sprinkler. Desperate times call for desperate measures and now thankfully I am back in the kitchen living the good life with air conditioning.
One of the best parts of summer besides air conditioning is peaches season. There is nothing in this world like a sweet peach. I had been waiting for summer peaches and thinking about creating a peach cake for a while now. After testing a few ideas and deciding what type of cake to make I found a winning combination peaches and pound cake. Pound cakes are great because their sturdy buttery texture bakes beautifully when fresh fruit to the batter. The other great thing about them is that they tend to be less fussy cakes, that don't need lots of decoration to be delicious. So this cake is definitely a new favorite in our house.
Peachy Pound Cake 
2 ( 1 1/2 cups) peaches, peeled and diced
3 sticks of butter, room temperature (let it sit out of the fridge for at least an hour)
2 cups granulated sugar
6 eggs, room temperature
1 tablespoon vanilla extract
1 teaspoon baking soda
1/2 teaspoon of salt
1/2 cup buttermilk
4 cups of cake flour
Preheat your oven 350 degrees. I have a convection oven that runs slightly hot so I set my oven to 330 degrees.
First get your fresh peaches prepared. My trick for peeling peaches is to have a small sauce pan with boiling water. Then make an X-shaped cut on the bottom of your peach. Submerge your peach in the boiling water using a slotted spoon for 30 to 40 seconds. Then rinse your peach in cold water and the skin will peel right off and it will be easy to dice into pieces. If you are making this cake out of season and using frozen peaches then make sure they are drained well on a plate lined with paper towels because the extra moisture could create an issue.
Next in a large bowl of your stand mixer cream or mix together your butter and sugar on medium speed for about two minutes until the butter mixture gets light and fluffy. Then add in your eggs individually and until they are all well incorporated.
Next add in your vanilla, baking soda and salt. Then add in 2 cups of your cake flour along with 1/4 of a cup of the buttermilk and beat that on low spend until just mixed in. Then add the remaining cake flour and buttermilk taking care not to over mixture your batter. Finally, mix in your fresh peaches.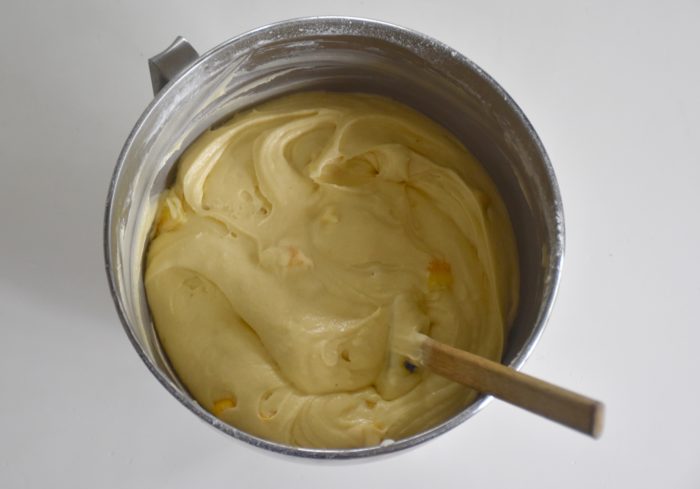 Then evenly pour your cake batter into a 10 inch bundt cake pan or 10 inch tube pan. Make sure your cake pan is well-greased and floured. I like to use Baker's Joy spray which I find works better than anything else when it comes to ensuring that your cake comes out the pan perfectly.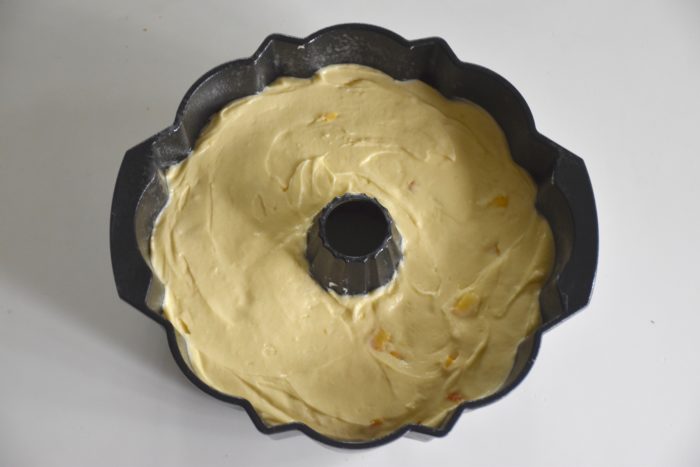 Then bake your bunt cake for 60 minutes. If you are using a tube pan, then when I tested it in my light sided aluminum pan I found it took close to 75 minutes to bake. So keep an eye on your cake. You will know it's done when you can put a toothpick or wooden skewer in it and it comes out clean.
Then let your cake cool in the pan for at least 15 to 20 minutes and then you will be ready to plate it and add the best part the drizzled icing.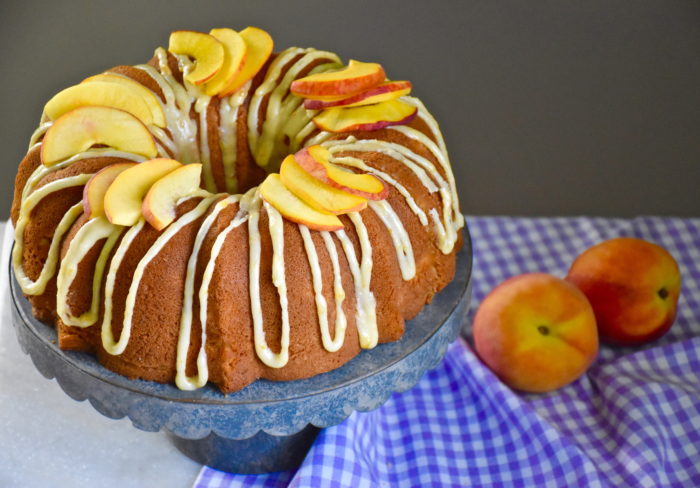 Peach Drizzle Icing
1/4 cup peach preserves
1/4 cup peach schnapps
2 cups powdered sugar
2 Extra peaches sliced for decoration or serving
In a small sauce pan over medium heat whisk together your peach jam and the schnapps then whisk in your powder sugar until the sugar melts and the mixture is thick and smooth.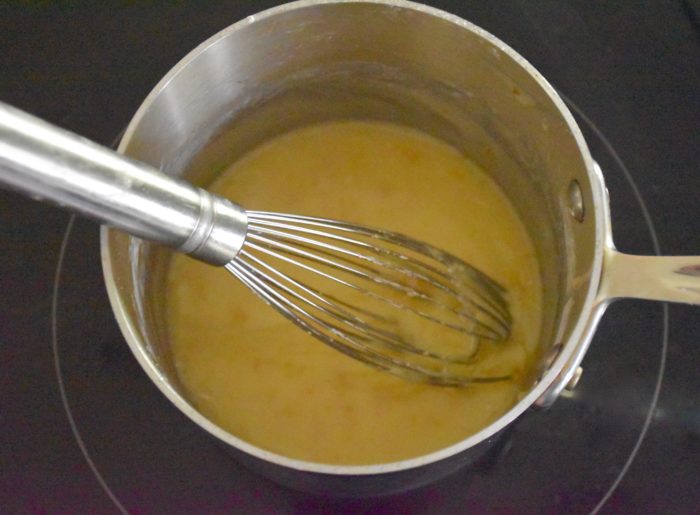 Then you can let the peach icing cool a bit and drizzle it on using a pastry bag or you could serve it warm and spoon it over your cake with some additional sliced peaches and ice cream. No matter how your serve it don't skip making the peach drizzle because it is one of the best parts of this cake.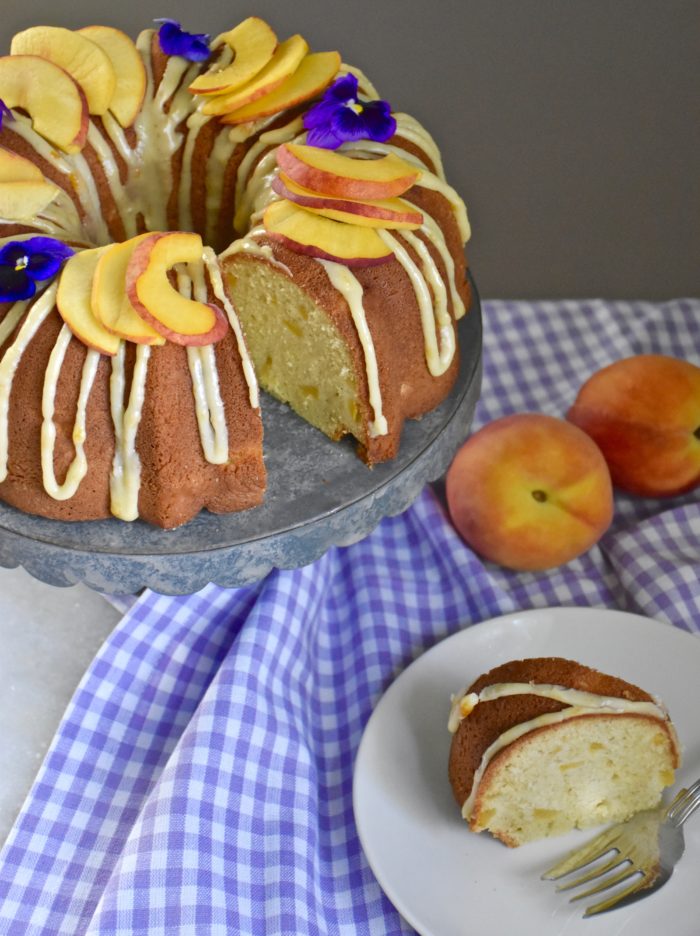 Summer cake at it's best. Made even better with extra peaches and ice cream. This sweet buttery peachy pound cake is definitely worth a little time in the kitchen.