Have you ever had that lovable but eclectic furniture piece that felt just a little out-of-place? Maybe it's old or you found it or it belonged to someone special, but something about it just doesn't quite work with the style of your home.
I have had quite a few of those pieces that have found their way into my home and over the years and I have discovered that there is nothing like chalk paint when it comes to rescuing or recreating a piece. It's thick velvety formula requires little prep work and it glosses over a chipped or less than perfect finish better that an other paint I have tried. The wide array and depth of colors have made me fall in love with something all over again.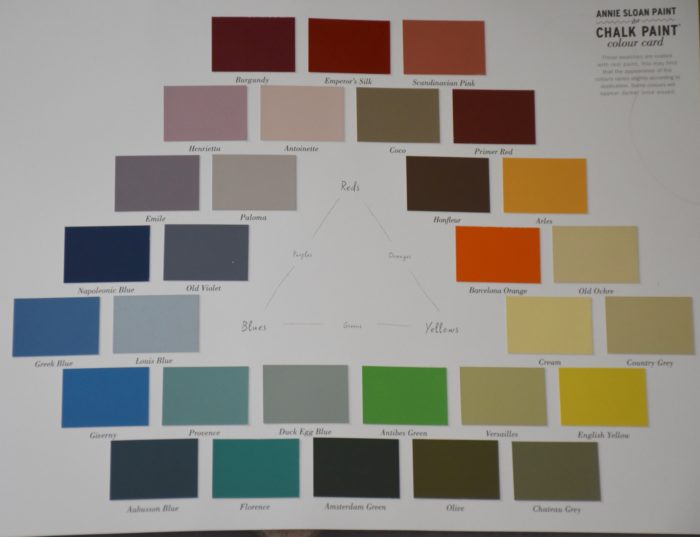 So if you have that piece, the one with the great lines and lots of potential then I have a few tips and thoughts about all those paint choices and projects.
Create A Custom Layered Look With Inexpensive Chalk Paint
First, although I like the Annie Sloan brand you can still get great results using a less  expensive craft store brand like Folk Art, Decor Art or Art Minds. Sometimes a small project like picture frames just doesn't need the investment in a quart of the more expensive paint. Here are some custom picture frames I created for my daughters' bathroom using Art Minds chalk paint to create a coastal styled look.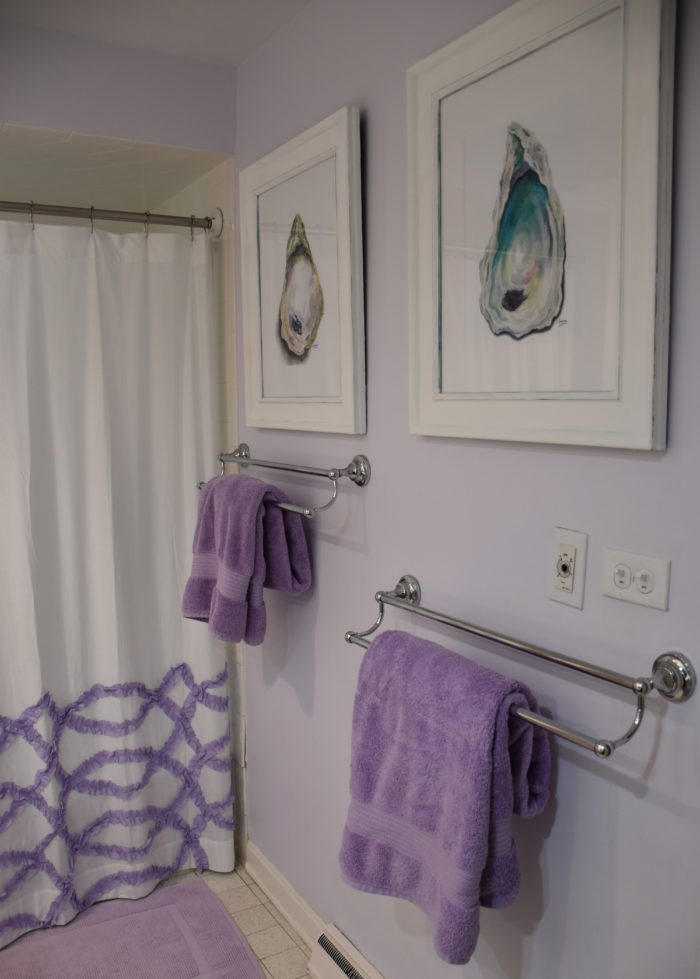 This is what the frames from Hobby Lobby looked like originally. I liked the molding style but the big black distressed marks weren't my favorite look.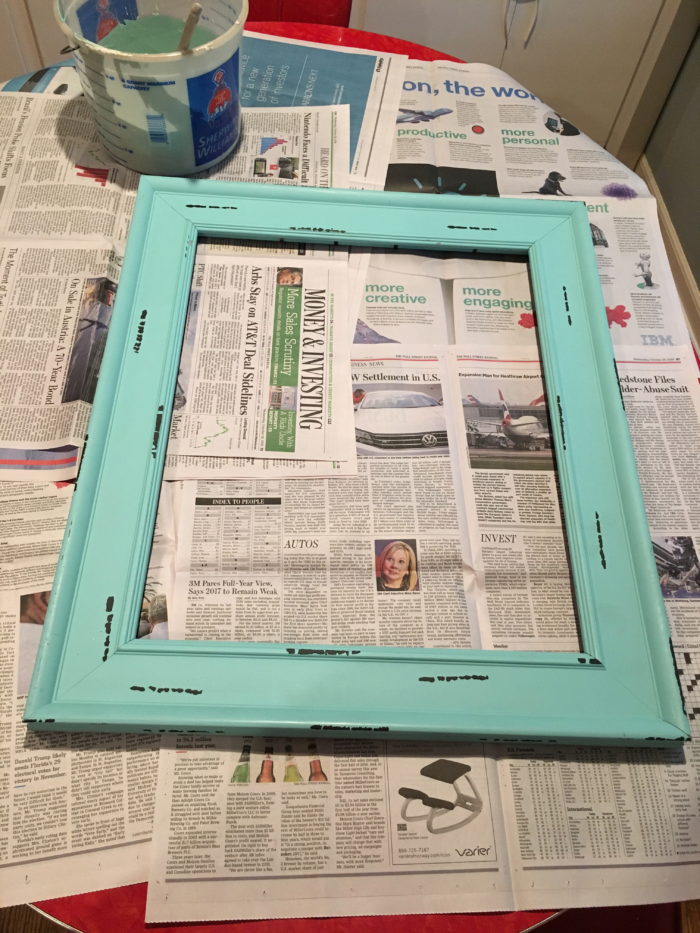 So I painted a base layer with some left over water based house paint that I had used in our master bathroom and then once it was dry I added on a layer of white chalk paint.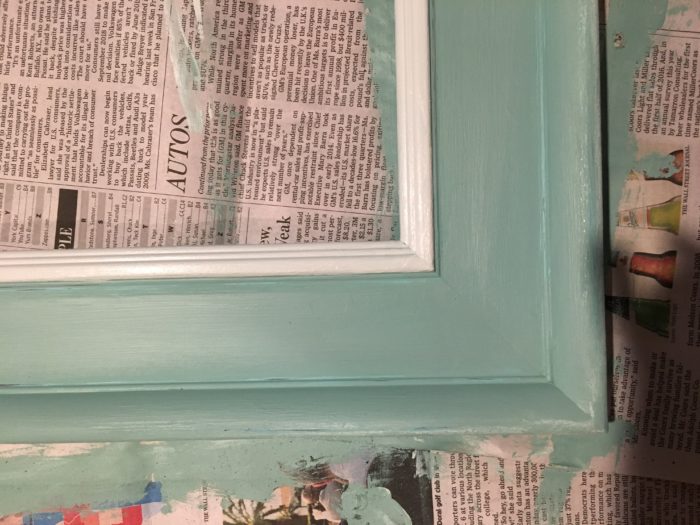 I applied three coats of chalk paint on top using a circular brush motion which gave me a slightly crackled finish where you can see hints of the aqua underneath. Then I took some fine grain sand paper and lightly sanded the edges so you could see more of the pretty aqua color along the molding detail. The distressed coastal styled finished was exactly what I wanted for these pretty oyster shell prints.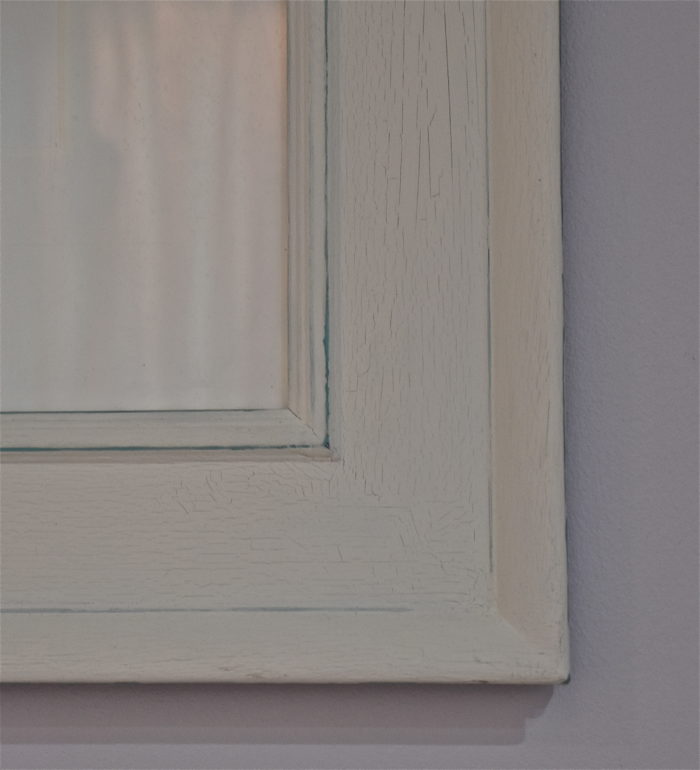 White Chalk Paint Can Give Dull Old Pieces A Sculptural Look
Another project I took on recently was this old luggage rack that I found at an estate sale. The straps and finish had seen better days, but the wood frame was solid so I decided to give it an update to match the decor in our guest room.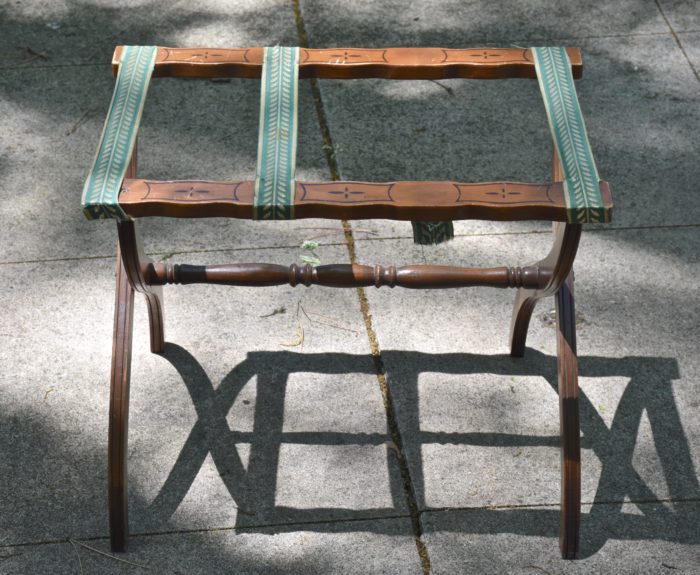 I removed the fabric straps and staples that held them underneath and then I painted the whole piece in a bright white chalk paint from Annie Sloan. I have found that when painting furniture it is best to paint outdoors on plastic sheeting, because newsprint tends to stick to furniture legs. I like to start painting one coat with the finished or front side up then let it dry and flip it over and paint it from underneath. Then let that coat dry and follow it up with by more top coat. I find that painting those three coats give you the coverage you need to get an even and smooth finish. Then I sanded down any rough spots with a fine grain sandpaper and then once I wiped it clean I applied some clear wax to seal the finish
Some new paint and decorative trim give this luggage rack a whole new lease on life. It's amazing the difference that just a little chalk paint can make.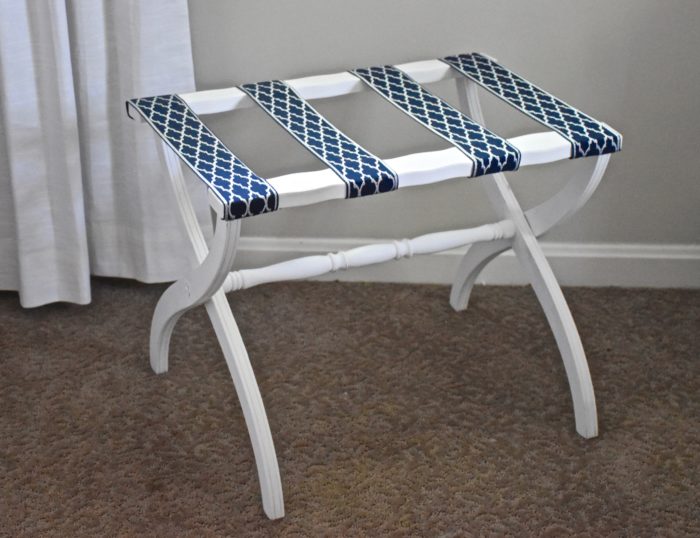 Don't Banish The Boring Brown Hand Me Down Paint It With White Chalk Paint For A Fresh New Look
Now for one last make over I though I would share a before photo of my daughter's bed that my mom and I painted a month ago.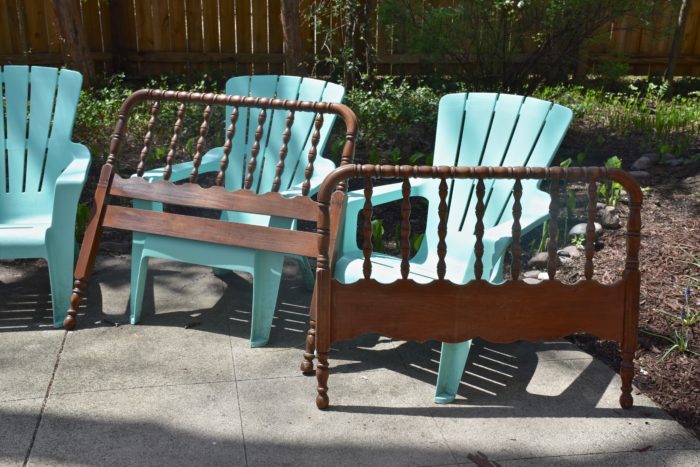 This old Jenny Lind bed had been in my brother's room years ago, but the brown finish wasn't exactly what I had in mind for my daughter's shabby chic room. So we painted it white.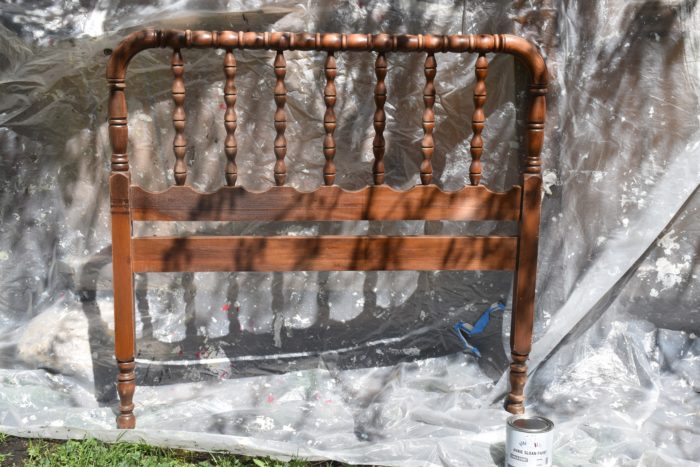 I secured a plastic painting cloth to the fence with some clothes pins which  made it a great place to paint an otherwise awkward piece like this headboard. The spindles were a bit tricky because the thick chalk paint tended to drip a bit, but I found that if you focused on painting them all the way around and not just on one side that the finish was better. It took three coats of paint and some sanding with a sandpaper sponge that could flex around the spindles to get the smooth finish that I wanted. Annie Sloan chalk paint is thicker that the craft store brands which makes it good for furniture, but I found it requires more sanding to achieve a smooth finish.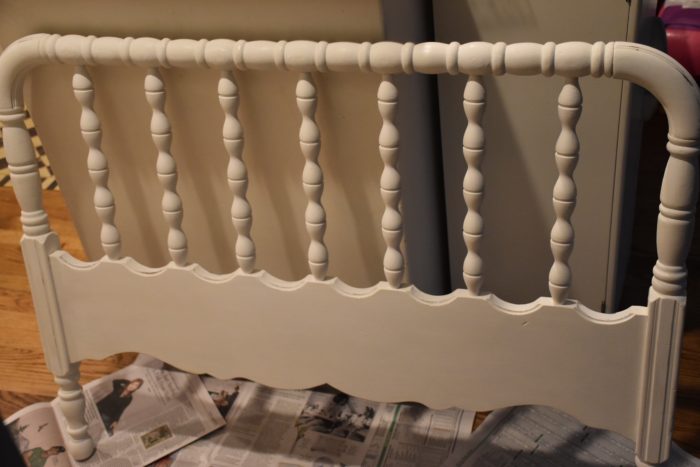 Once I was done sanding it smooth, I wiped it clean and used a natural fiber brush to seal it with a thick layer of clear wax. When the wax set a bit I buffed it with some smooth paper towels. The wax is a bit sticky at first but as it dries and cures it gives the matte finish a slight sheen. The wax takes 30 days to fully cure but I found it gives it a good protection against little fingerprints and messes.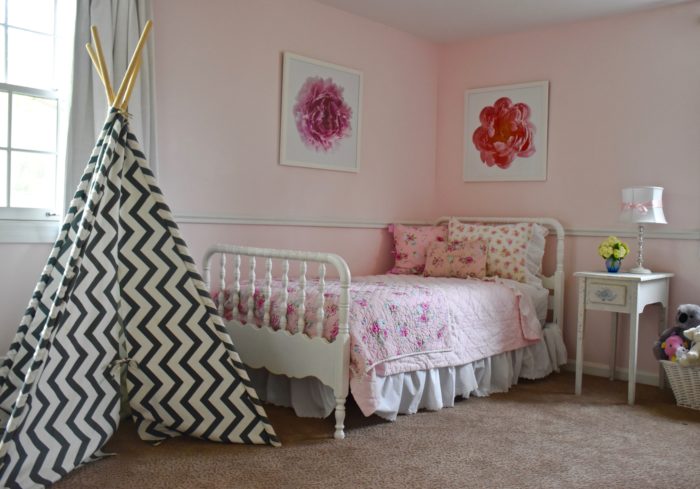 Helpful Tips For Chalk Painting
I find it's helpful to have two natural bristle brushes for painting. One larger round brush that makes corners, edges easier and a smaller flat brush for details.

Store your washed paint brushes in a plastic ziplock bags. It keeps brushes from getting to dry and stiff between coats.

Avoid mixing your wax brushes and paint brushes. Have a separate smaller set of brushes for the wax.

Don't worry too much about small imperfections because a light sanding will take care of any small drips or brush stroke marks.

If you apply a clear sealing coat of wax I found it looks better if you buff it with a rag or smooth paper towel like the Viva brand. The buffed wax will give your matte finish just a bit of shine.

 If you are painting furniture then try sanding your piece with a fine grain sanding sponge. The flexibility of the thin sponge makes it ideal for getting a smooth and even finish.

Chalk painting is fun and part of the look is for it to be distressed, so play with the paint and sanding until you get the look you want.
Chalk paint can definitely save the day when it comes to reinventing old furniture pieces. It's easy to use and I have found that it is much more forgiving than other types of paint. Even if painting isn't exactly your thing, then you can still get great results. I have painted lots of furniture over the years, but I have to say that chalk paint is definitely my favorite go to paint. I am working on another more colorful project now so I will have to share a few more photos when it's all finished. Maybe you have a great chalk paint story or tip of your own. I would love to hear about it and if you had thought about using chalk paint and just weren't sure then maybe this will give you the confidence to turn that old eclectic frame or furniture piece into something you love.