Burgers in our house will never be the same because I have discovered the sweet tangy goodness of tomato onion jam. This jam is so delicious that I might never go back to standard ketchup. The first time I tasted a tomato jam was at a local gastro-pub called Neat Kitchen. My husband ordered their bison burger that is served with  tomato jam and when he shared a bite with me I had serious burger envy. So we made a sandwich trade and being the wonderful husband that he is he shared half of his burger with me. That burger was so good that for a time I had a hard time thinking about ordering anything else from their menu. So with summer grilling season here, I decided that I had to create my own. Summer brings with it great produce like heirloom tomatoes and sweet Vidalia onions, so making your own tomato jam is easy way to bring summer's very best to your table.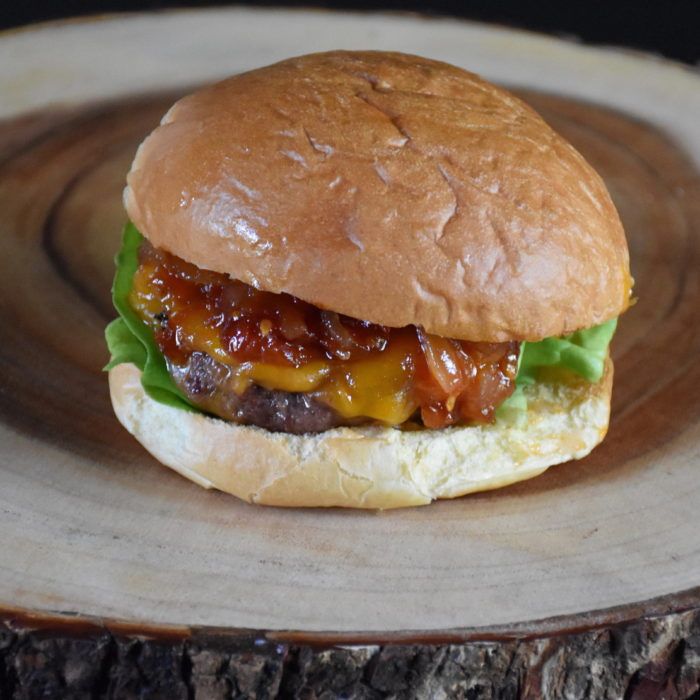 Tomato Onion Jam- (Makes one cup, but this recipe can easily be doubled)
3 heirloom tomatoes, diced
1 medium sweet yellow onion, diced (My favorites sweet onions are Vadalia onions or Texas 1015 onions)
2 cloves of garlic, minced
1 tablespoon butter
1/2 cup light brown sugar
1 tablespoon apple cider vinegar
1/2 teaspoon kosher salt
First, core and dice your tomatoes and chop your onions and garlic.
Then melt your butter in a large skillet and sauté your onions over medium low heat until your onions begin to turn translucent.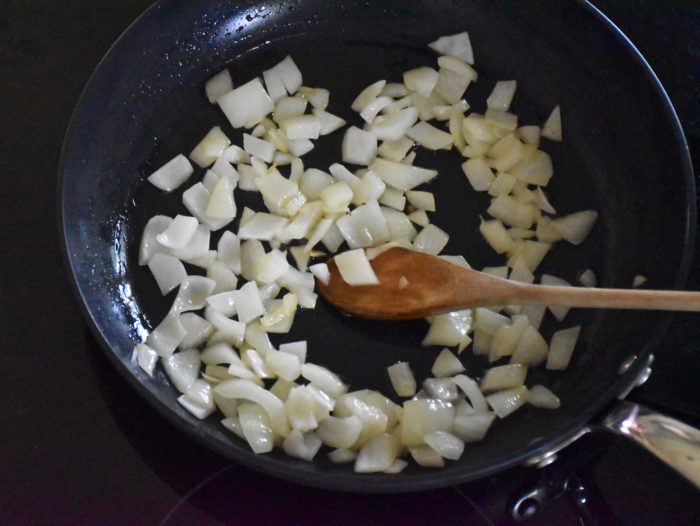 Add in your garlic tomatoes, brown sugar, cider vinegar and salt and continue to cook them over medium heat for 20 to 25 minutes storing occasionally.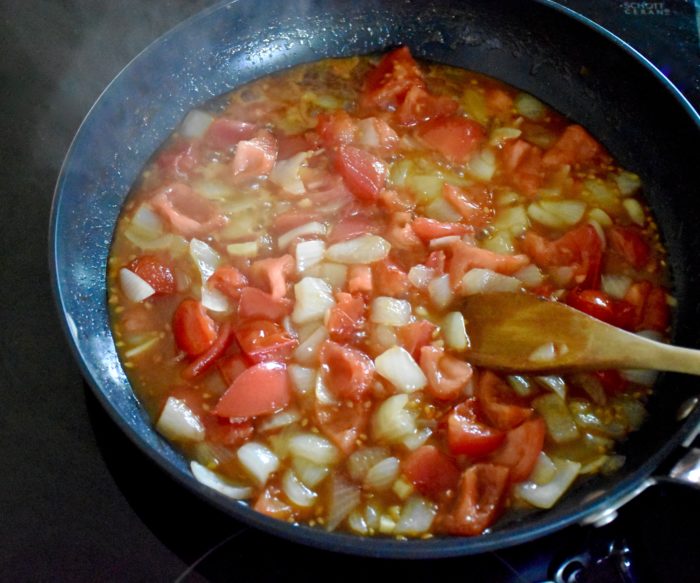 As you can see, your onions and tomatoes will cook down to a thick syrupy jam that will coat the back of your spoon.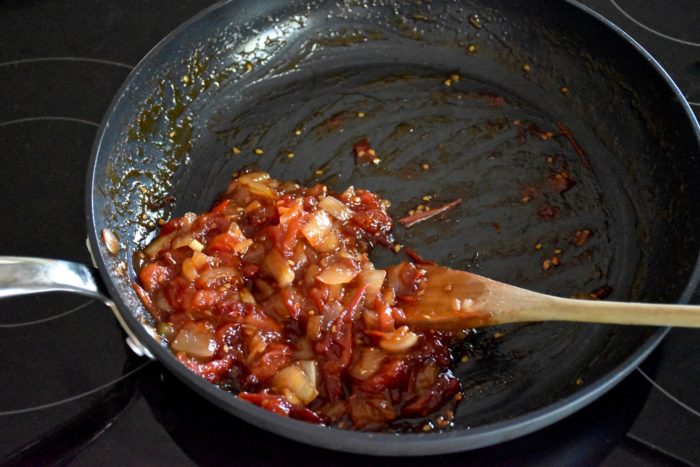 Let your jam cool a few minutes before you serve it and there you have it. If you are making it ahead it will keep covered in your fridge for up to a week. It's my new favorite topping for burgers. A summer grilling game changer that will transform your kitchen into gourmet gastro-pub.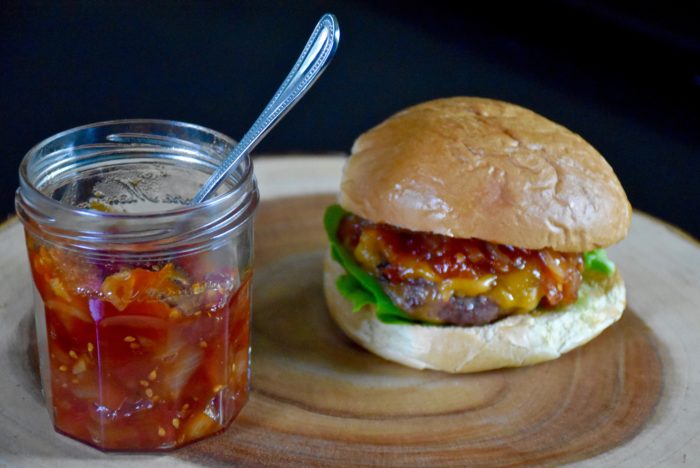 As a side note: this week I have felt a bit like I was on that episode of Friends where Monica makes way too much jam and Joey is eating it with everything. As I was recipe testing and making several different batches of my tomato onion jam, I tried pairing it with the breaded chicken I was making for dinner and found it made an absolutely amazing sauce.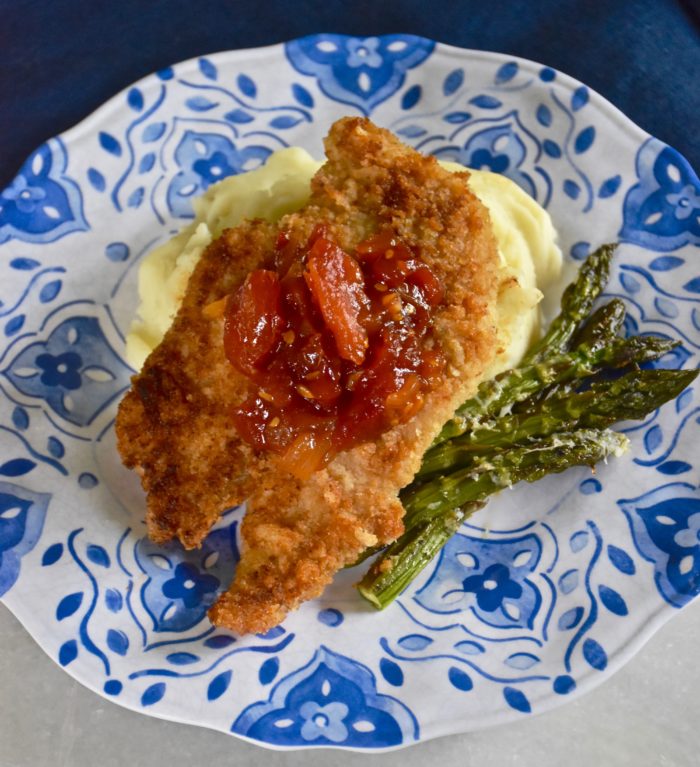 I just pan fried some bread crumbed chicken cutlets with some olive oil and just a touch of butter. Then I served some tomato jam on top and with a side of parmesan mashed potatoes and it was so good that I would definitely make it again to share it with friends. So no matter what you pair it you have to try this tomato onion jam. It's one of my favorite recipes that I have created this year. Come back next week because I am sharing another one of my all time summer favorites.