There is nothing like the taste of homemade bread. The first time I tasted a slice was at my grandparent's house. My grandmother's friend Ernestine was a baker and when my family came in town to visit and she would stop by and bring us a loaf or two of homemade bread. Commercial grocery store bread can't come close to the soft sweet taste of home baked bread. When I was in high school and learning to bake on my own I discovered a set of recipes in a little country farmhouse our family rented on a trip to Fredericksburg, Texas. The homeowners had a notebook that that was filled with wonderful family recipes. They looked promising so I copied down a number of them including this bread and the peach cobbler I have shared with you.
I had never made bread before I tried this recipe, but the recipe seemed simple enough, so one afternoon I decided to give it a try. I was amazed as the bread rose and turned a beautiful golden color in the oven. The recipe was wonderful and my first bread loaf came out every bit as good as I had imagined. This simple bread recipe was delicious and easy to make and that was all it took to get me hooked on baking bread. This first farmhouse bread recipe gave me to confidence to learn more and to try different and more elaborate bread recipes, but years later it is still one of my favorites.
Those of you who follow the blog know that my oven has had issues. So I am happy to report that after three weeks of trying to get parts for my discontinued oven and stove top the repairs have finally happened, hallelujah! So I am trying out my larger oven and making something I haven't been able to successfully bake in it before, bread. I usually use a small convection oven I have for quick breads and muffins, but this yeast bread rises a bit higher than the capacity of that small oven so it has been a while since I have baked it. I decided there was no better way to give my newly repaired oven a test drive then with this reliable and favorite recipe.
Farmhouse Bread
1 (1/4 oz) package of fast acting or rapid rise yeast
1 1/2 cup warm water
2 tablespoons granulated sugar
3 tablespoons of Crisco vegetable shortening, cut into small pieces
1 teaspoon of salt
3 cups all purpose flour plus 1/4 to 1/2 cup of additional flour to dust and kneed into your dough
First, stir your sugar into your warm water in a small bowl or measuring cup. You want your water to be lukewarm (about 110 to 115 degrees). If your water is too hot it can kill the yeast.
Next empty your packet of yeast into your sugar water and stir it just slightly. Then let it sit for 5 minutes, so the yeast has time to begin to grow.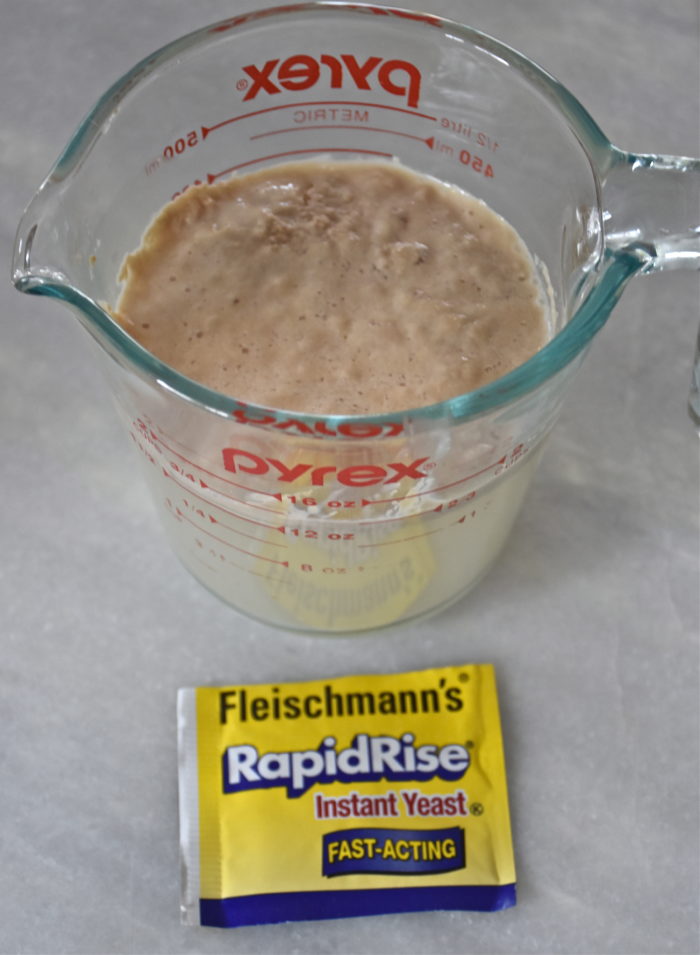 Meanwhile in a large mixing bowl mix together 3 cups of flour and 1 teaspoon of salt. Then when the yeast has rested pour it in and add in your pats or pieces of shortening. Use a rubber spatula or spoon to bring your dough together.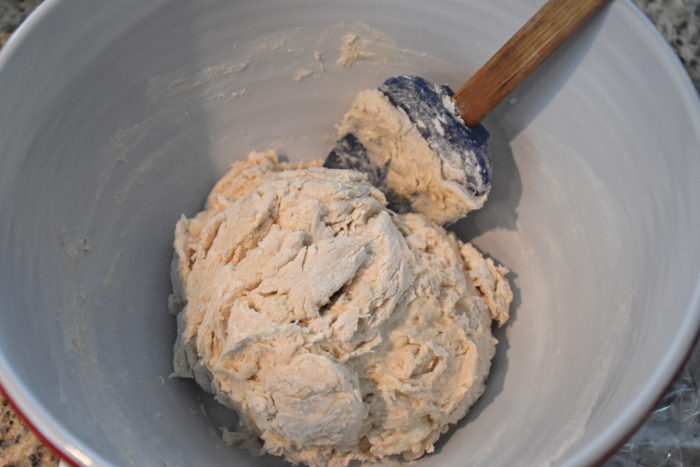 Then take your dough and place it on a lightly floured surface. Then lightly coat your hands in flour and begin kneading your dough for ten minutes. You will need to add in 1/4 to 1/2 a cup of flour as you work your dough to keep it from sticking to your cutting board or countertop.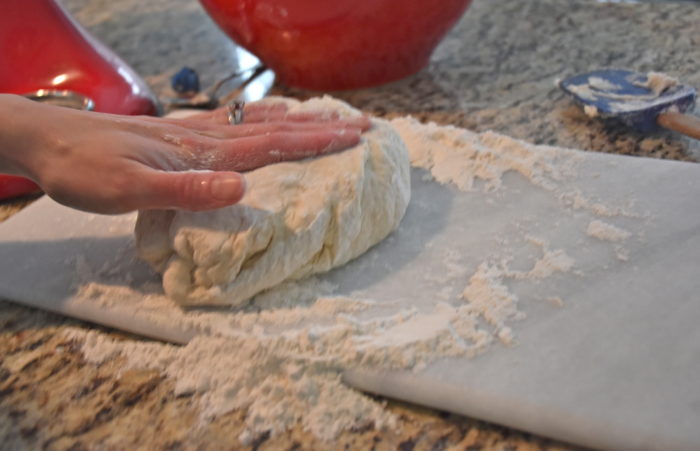 You will begin to feel the dough get firmer and more elastic as you knead it. Then after you have kneaded your dough shape it into a round ball.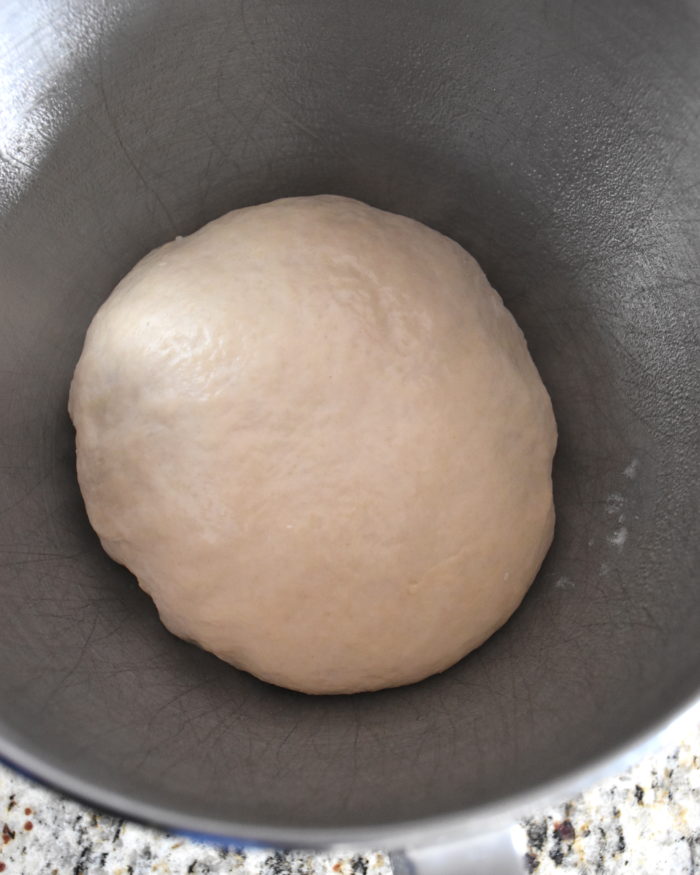 Then take a large mixing bowl and lightly spray the inside of the bowl with cooking spray.  Put your dough inside and then flip your dough over to coat the top with just a bit of cooking spray this will keep it from sticking to anything as it rises. Then cover the top of your bowl with plastic wrap or a clean kitchen towel.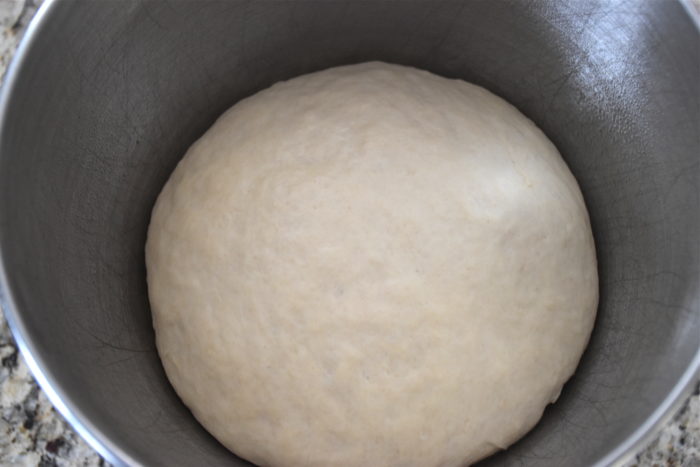 Let your dough rise in your kitchen for 30 minutes. If it is cold in your house or you live in Chicago in February like me, then preheat your oven to 350 degrees and put your dough on top of your stove. It will warm your kitchen and your yeast will happily rise.
Then knead your bread for another 2 to 3 minutes and then let it rise again for another 30 minutes.
After this second rise take your dough out and knead it slightly to shape your loaf. then place your loaf in a 9x5x3 inch pan that is sprayed with cooking spray.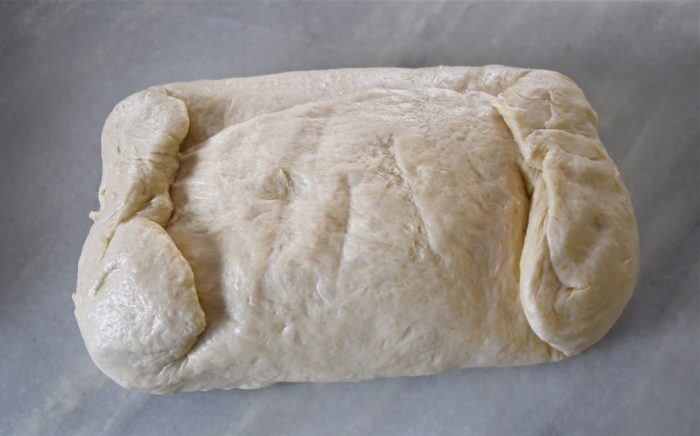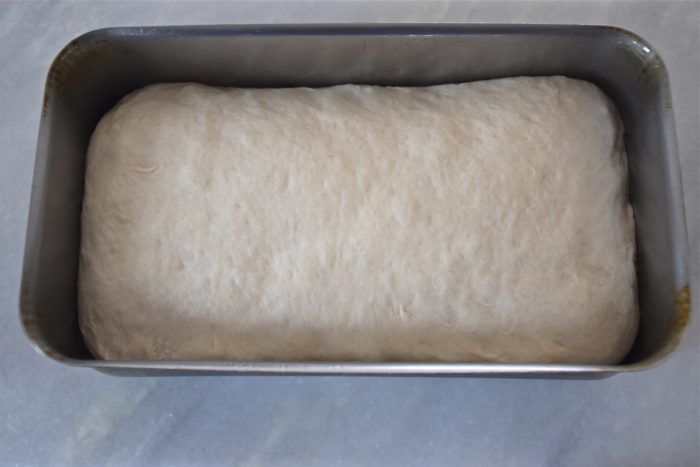 Then cover your loaf pan and let it rise for 20 minutes until your dough rises to fill the base of your pan.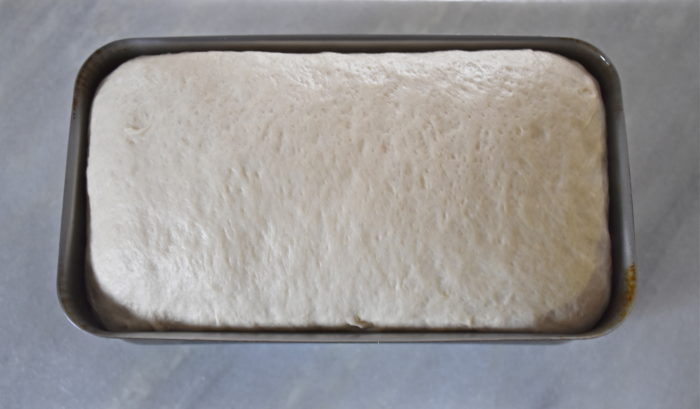 Bake your bread at 350 degrees for 35 minutes until the top of your loaf is golden and the top sounds hollow when you tap on it.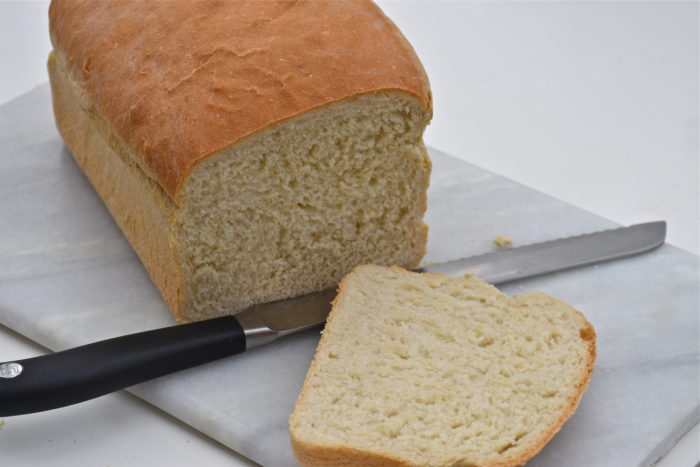 This farmhouse bread is easy to make. It has just six ingredients and it requires no fancy equipment. It's a simple loaf but the heavenly smell coming from your oven and the taste make it worth the little bit of time it takes. If you have never made bread before then this is your recipe and if you are feeling nervous the step by step pictures will help you all along the way. There is something so gratifying about kneading and baking your own loaf of bread. It's one of those things to try because in a busy world of quick food it's nice to slow down and make something home baked and delicious.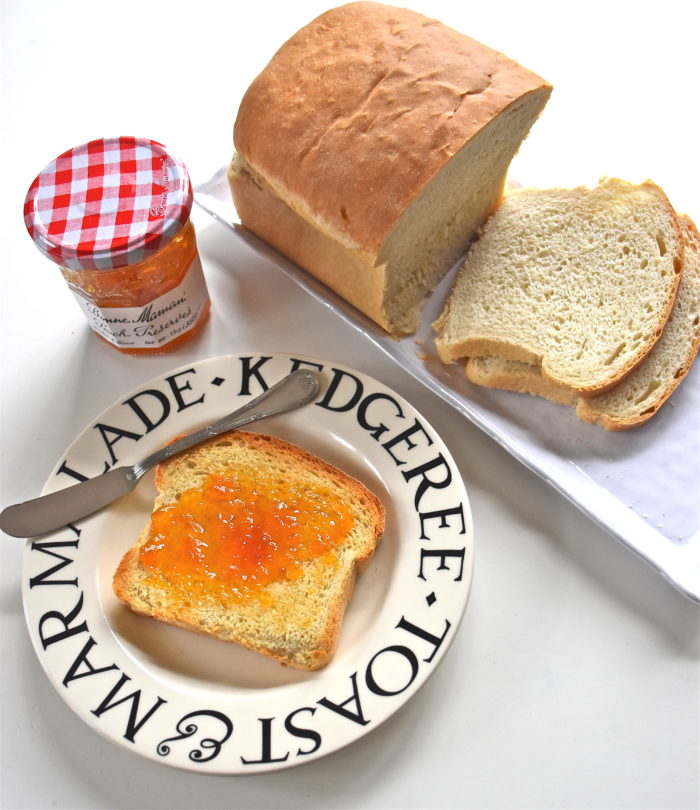 This recipe makes one loaf but you could easily make a second batch that you let rise and bake at the same time. This farmhouse bread would also make a great gift when wrapped in a pretty towel or placed in a basket with a good jar of jam.