This year was our twelfth wedding anniversary. The day became a bit more eventful than we had planned, because our furnace decided to suddenly stop working that morning and by late afternoon it was becoming clear that we were not going to make the top of the repair service call list. So we called our babysitter to let her know about our home's falling temperatures and thankfully she agreed to come with some extra layers of clothing. Despite our concerns about having to cancel our plans we were able to spend a night out. We had a wonderful evening together and a delicious pear salad that left me inspired. Pears are one of my favorite fruits, but take that pear and poach it in some white wine, cinnamon and cloves and you have something special.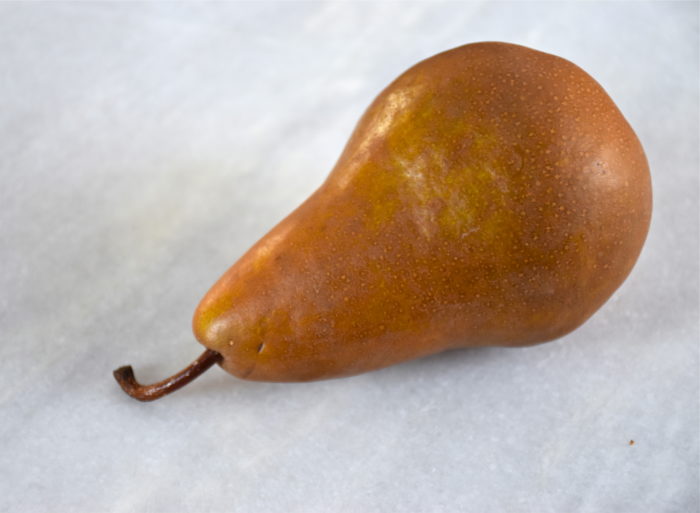 Cooking and sharing meals together is an important part of our relationship. My first date with my husband was cooking together at his apartment. My husband often says that even when his day is crazy or stressful there is something about coming home and having a great dinner together. It's a meaningful part of who we are as a couple and as a family.
I have been tweaking the ingredients in this salad over the last month and I love the balance of flavors. The sweet and spicy pears with the slightly salty prosciutto and a little sharpness from the cheese makes this a salad to share with the ones you love. I made this salad for our Valentine's dinner so I thought I would share it with you.
Pear and Prosciutto Salad
2 Bosc pears
2 cups of chardonnay or another white wine that is not overly sweet
3/4 cup granulated sugar
3 cloves
1 cinnamon stick
3 tablespoons of the reduced pear poaching syrup
2 tablespoons of minced shallot
3 tablespoons champagne vinegar
1 tablespoon sherry vinegar
1/2 cup canola oil
1/2 tsp kosher salt
pick of ground pepper
4 slices of prosciutto sliced into thin ribbons
1 head of butter lettuce
1/3 cup pecan halves (optional)
1/4 cup of crumbled blue cheese
First prepare your poached pears. You can make these in advance if you are entertaining with this salad. Peel your pears and slice them in half lengthwise. Then use a melon baller or small spoon to scoop out your seeds.
Then in a medium sized saucepan heat your white wine, sugar, cinnamon and cloves over medium high heat. Then when it begins to bubble add in your pears and reduce your heat slightly to medium low. Let your pears cook for 15 minutes until they are soft, but still firm enough to cut into slices. When your pears are cooked remove them from the pan, but reserve one cup of your poaching liquid.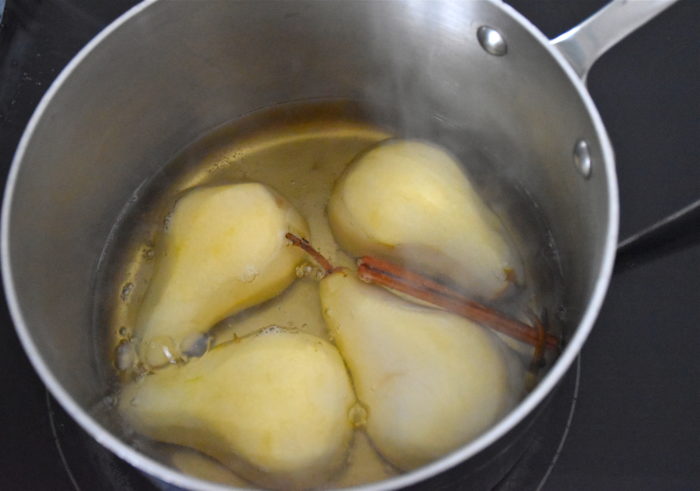 Then reduce that poaching liquid over high heat until it reduces down to 1/4 cup and becomes syrupy.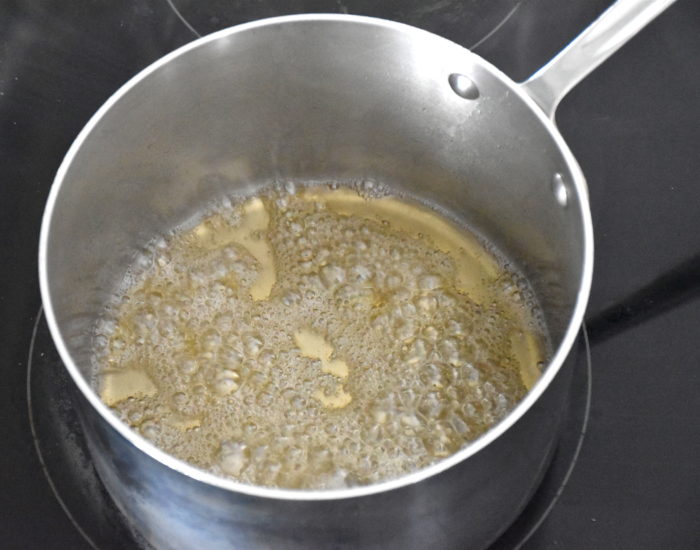 Now make your salad dressing. In a medium sized bowl or a mini food processor mix together 3 tablespoons of the pear poaching syrup, 2 tablespoons of minced shallots, 3 tablespoons of champagne vinegar, 1 tablespoon of sherry vinegar, salt and pepper . Then whisk in your oil or pulse your salad dressing together until it becomes thicker and full emulsified.
Finally, assemble your salad close to the time you want to serve it. In a large bowl toss your dressing and lettuce. Then layer on your prosciutto, pecans and blue cheese and top it off with your pears. You can either slice them into separate thin slices or slice your halves as a thin spiral by not cutting them all the way through at the very top of your pear stem.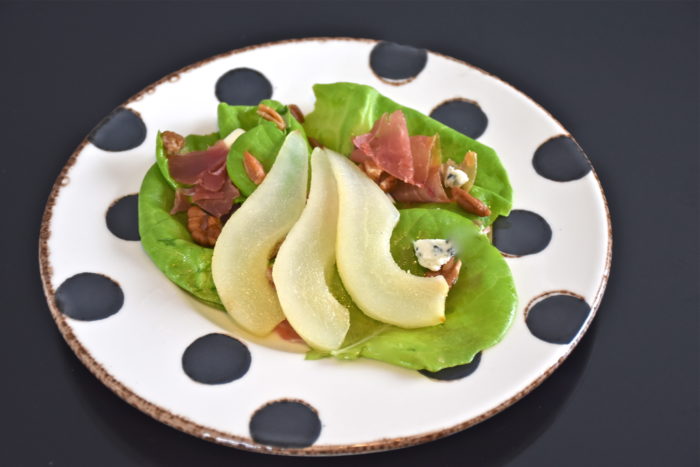 This salad is not only gorgeous on the plate it's absolutely delicious. These poached pears are so wonderful that I think they would also be great as a dessert. I would serve them with vanilla ice cream and drizzle the pear syrup over them and I am already thinking about how that pear syrup might make a wonderful base for a cocktail. Oh the possibilities and recipes to come.