Sometimes the art of cooking is more like matchmaking. My grandmother used to serve a classic 1950s dish called "No Peek Beef" which she served with egg noodles. It was a good recipe but I always felt like that flavorful wine braised beef could use a better match. Then one day I was trying out a new steak recipe that was served with parmesan polenta. The steak wasn't anything to write home about, but the polenta was fantastic. So I thought what if I paired an updated version of my grandmother's beef with a parmesan polenta. The combination was a perfect match. The pairing of these two dishes was definitely love at first bite.
My grandmother's recipe called for braising the beef in a dutch oven or covered dish for three hours, but committing to being home for three hours before you serve dinner can sometimes be difficult, so I decided to make a crockpot friendly version of the recipe. I love crockpot recipes because with just a little morning prep work you can come home to the wonderful aroma of this braised beef. The polenta takes under ten minutes to make, so its also a great meal that you can quickly get on the table. This recipe is simple enough for a weeknight and I like it because it is one of those dishes that can be ready when you want it. So if its going to be a crazy day this is a great meal to have waiting for you when you get home.
Rosemary and Wine Braised Beef (Serves 4 to 6)
2 pounds of boneless sirloin steak cut into 1 inch pieces
1 tablespoon kosher salt
1 tablespoon garlic powder
1 teaspoon ground pepper
2 tablespoons of olive oil
1 can cream of mushroom soup
1 packet of Lipton onion soup mix
1 cup red wine
1 cup of beef broth
1 tablespoon fresh rosemary (if using dried rosemary then use only 1 teaspoon since dried herbs are stronger in flavor)
1 1/2 cup of frozen green peas, cooked (optional but I like the flavor and it makes this a complete meal no side dishes needed)
First get your sirloin steaks cut into bite sized pieces. Then in a small bowl mix together your salt, garlic powder and pepper. Pat your beef with a paper towel so it's dry and will brown better. Then season it with your garlic salt seasoning mix.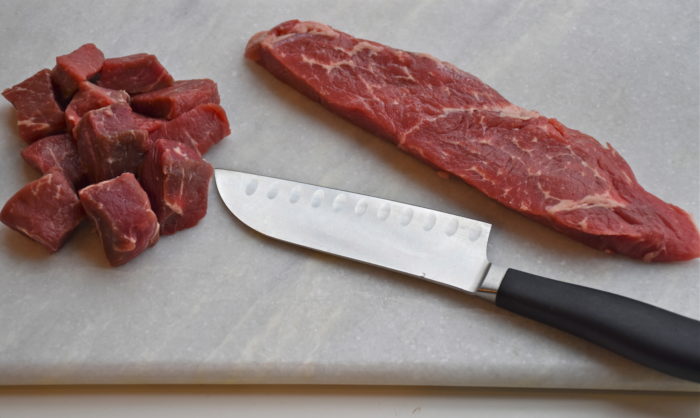 Then heat 2 tablespoons of olive oil  on medium to medium high heat in a large skillet. Then add in your beef and brown it on each side (about 2 to 3 minutes on each side).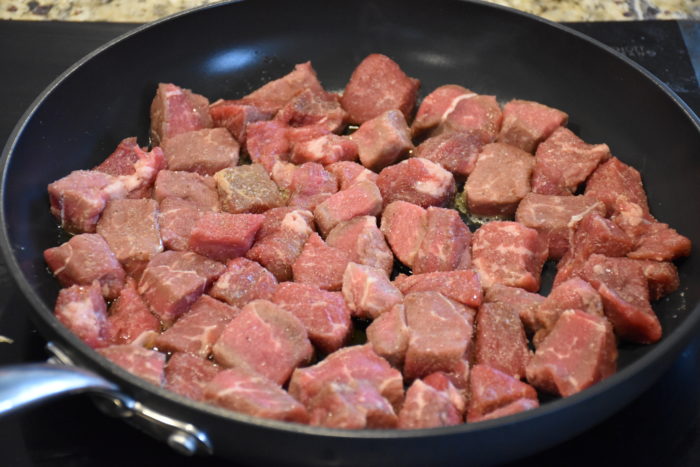 Then in the bottom of your crock pot whisk together your onion soup mix, red wine, cream of mushroom soup, beef broth and rosemary. Once your ingredients are well mixed add in your browned beef pieces. Then set your crockpot on low and let it cook for eight hours.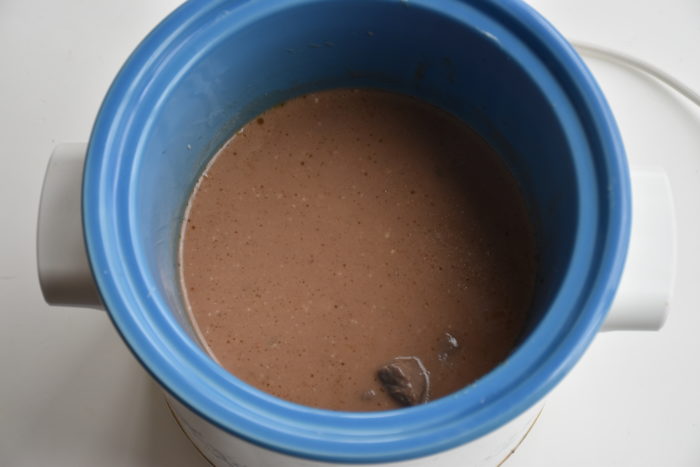 Then right before you are ready to serve your braised beef make your parmesan polenta.
Parmesan Polenta with Rosemary Infused Olive Oil
1 1/2 cups of quick cooking polenta
4 1/2 cups of water
3/4 cup of grated parmesan
4 tablespoons of butter
1/4 cup extra virgin olive oil
3 tablespoons of fresh rosemary leaves or small sprigs (I tested dried rosemary and it is not the same)
Bring 4 1/2 cups of water to boil in a medium sized sauce pan. Then stir in your polenta and turn the heat down to a lower simmer. Allow your polenta to simmer until it gets thick, but still pourable about 5 minutes. Polenta tends to bubble and pop when cooking so be careful when stirring it. I usually cover my pot with my metal spatter screen.
Then remove your polenta from the heat and stir in your butter and parmesan cheese.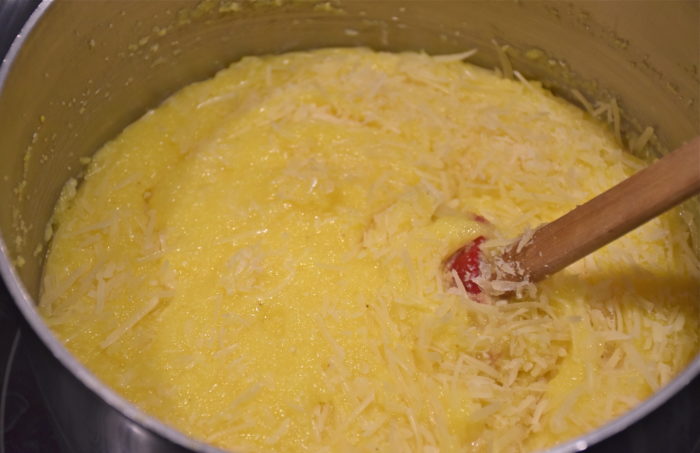 Then in a small skillet heat your olive oil over medium high heat with your fresh rosemary for about 2 minutes until your oil is hot and you can smell the rosemary.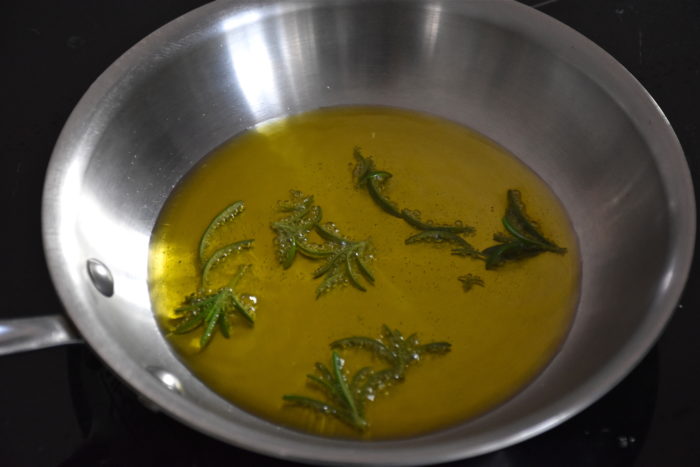 Now you are ready to assemble your dish. I like to serve mine in a rimed soup bowl. I place about a cup or so of the polenta on my dish then I add my braised beef with some of the sauce on top. Next, I add on about 1/4 cup of peas, which adds a little color and makes this a complete meal. Then I drizzle a little of the rosemary oil on top.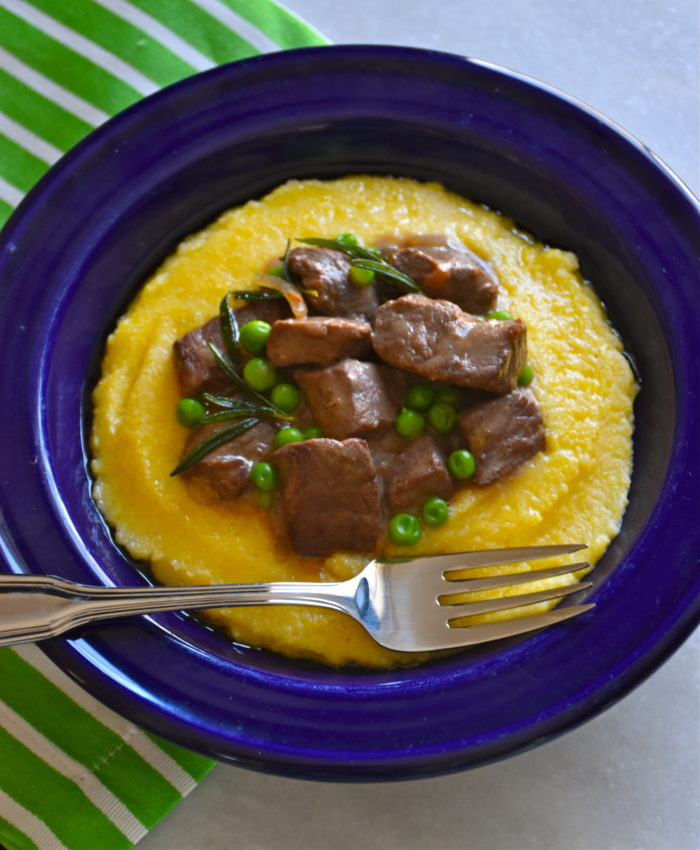 This recipe is not your ordinary 1950s recipe, because the parmesan polenta and the rosemary oil give this dish a new depth of flavor with a restaurant styled finish.  Finally, the best part of this recipe is that it is easy to make because you can let your crock pot do all the work.
You can get a on page printer friendly version of my recipe at this link to Tasty Kitchen.