Have you ever had that perfect bite? The one that somehow captures all these different textures and tastes and you just want to savor it a moment as it it melts in your mouth. My mom has been talking about this brisket topped sweet potato that they serve at a Houston restaurant called Dish Society, since I first shared my crock pot barbecue brisket recipe. So when I was back in Texas I decided to make plans to try this most talked about sweet potato. She was right it was absolutely delicious. The only problem is that there are about a thousand miles that regularly separate me from this dish and I have yet to find a Chicago barbecue spot that that serves these Texas style brisket topped potatoes.  My friends in the North, this is a real barbeque deficit, because it is one of my favorite ways to eat brisket. So I came home determined to recreate the magic in my kitchen.
My recipe is a little different because once I started creating my slaw I decided to add in some apple. I had been cutting some honey crisp apples for my daughters so I decided to put some in my slaw. The sweet crispy texture really took the flavor balance of this dish to a whole other level. The brisket has a slightly salty chewiness that only gets better when you add it to the cheddar topped sweet potato and a tangy apple slaw. This is one of those dishes that might sound unusual but the flavors are so mind blowing that you have to try it.
Barbecue Brisket Sweet Potatoes with Apple Chive Slaw (Serves 4)
4 sweet potatoes
2 cups of shredded brisket (see my Brisket Recipe)
1/2 cup of barbecue sauce (I used a slightly sweet bourbon maple sauce)
2 tablespoons butter
1 cup shredded cheddar cheese
Apple Chive Slaw
1 cup of red cabbage sliced into thin bit sized pieces
1 cup of honey crisp apple sliced into thin matchstick sized pieces
1/4 cup of chives sliced on the diagonal into 1 inch sized pieces
2 tablespoons apple cider vinegar'
1/2 teaspoon kosher salt
1/8 teaspoon pepper
First, prepare your sweet potatoes by piercing with a fork a few times on each side to allow some steam to escape when you cook them. (Please don't skip this step or you could have a big exploding potato mess on your hands.)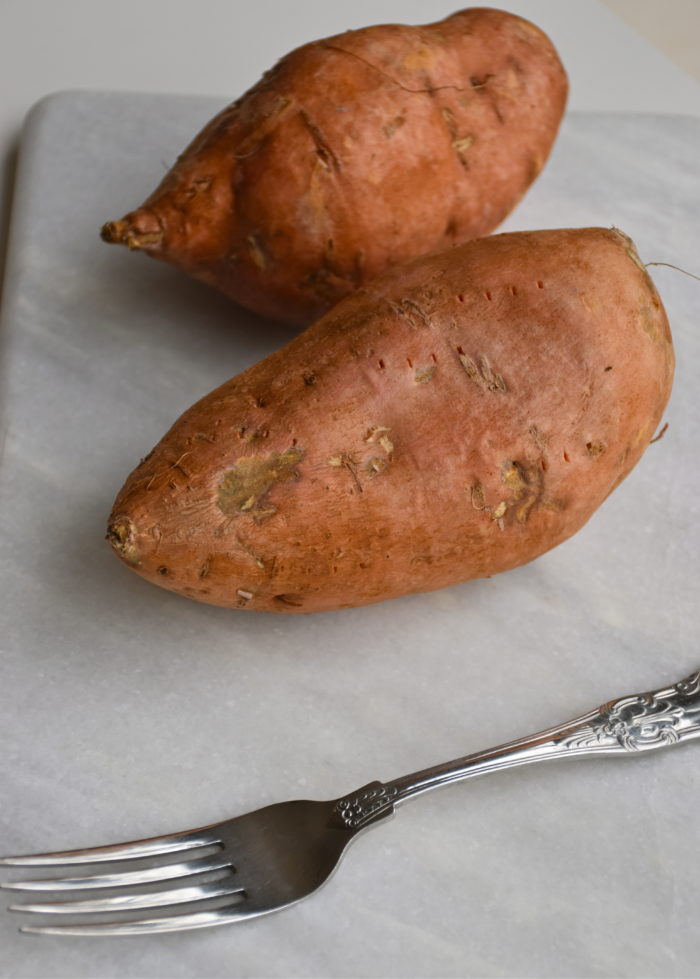 Then because it is so much faster, I microwave my sweet potatoes. I place my potatoes on a plate and heat them on high for about 5 minutes at a time flipping them over so they cook evenly. Microwave strengths and potato sizes can vary so you will need to keep checking their doneness every so often but I find in my microwave it takes about 12 minutes to cook several sweet potatoes at once but it could take anywhere between 10 to 15 minutes.
While your potatoes are cooking get your oven preheated to 375 degrees. Then when your potatoes are soft carefully make a single lengthwise slice down them to open them like a baked potato.  Then I like to add a small pat of butter inside them and season them to taste with salt and pepper. Then top each sweet potato with 1/4 cup of cheddar cheese and place in an oven safe dish to bake for about 5 minutes or until the cheese is melted.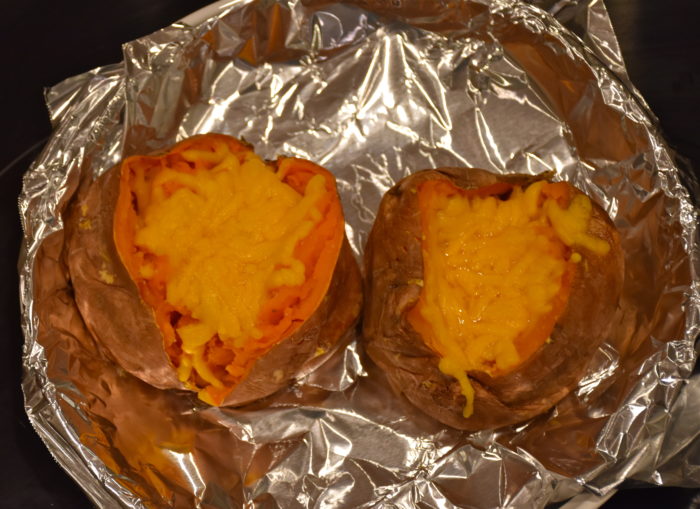 Meanwhile slice your cabbage, apple and chives to prepare them for the slaw.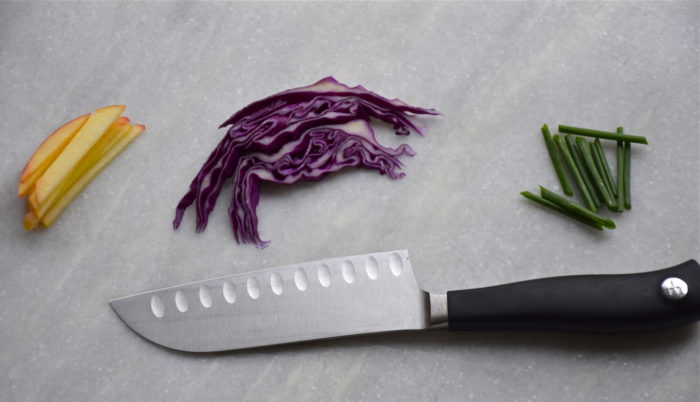 Here you can see how I sliced my ingredients. The apples are easier to slice if you stack thin slices on top of each other and then cut those slices in either halves or thirds depending on the size of your apple.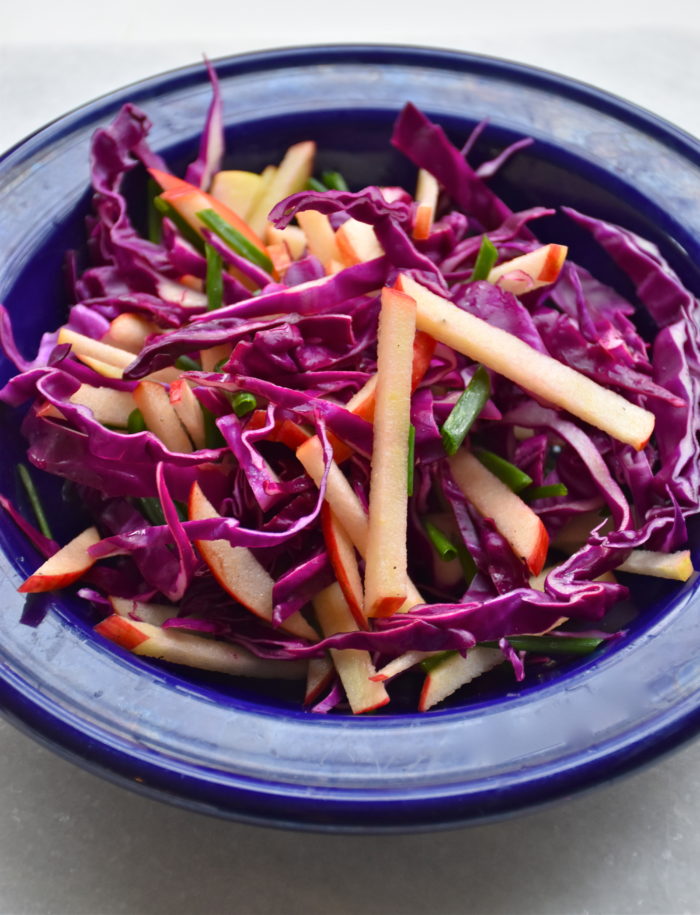 Then in a medium sized bowl whisk together your apple cider vinegar, salt and pepper and then add in your cabbage, apples and chives.
Then in a separate bowl mix your chopped or shredded brisket with 1/2 cup of barbecue sauce.
Then assemble your sweet potatoes by putting the brisket on top of the melted cheese and then top that off with some apple slaw and there you have it. One delicious dinner. Are you hungry yet?