Brunch is one of those great events where you can slow down and enjoy leisurely meal with family and friends. Generally, eggs and breakfast breads tend to get top billing on the menu, but making this blackberry citrus salad could change all that. I am excited to share this new recipe with you, it is definitely the best fruit salad I have created. The flavors from the oranges with these sweet spiced blackberries and a light honey and blackberry vinaigrette are unbelievably good.
It all started when our family was on vacation with friends in South Carolina. We had fun renting a little house near the beach and to keep things simple with our combined four children all five and under we decided to cook in. On our last day there, our friend ran out to the store and picked up these amazing blackberries. They were so sweet and delicious that on my plane ride home I was still thinking about them. I also happened to be reading the latest issue of Southern Living which features a story about Blackberry Farm in Walland, Tennessee. The article had a recipe from the farm for sweet pickled blackberries. The idea sounded so interesting and that my friends is how for the last week and a half I have been a teeny bit obsessed with blackberries.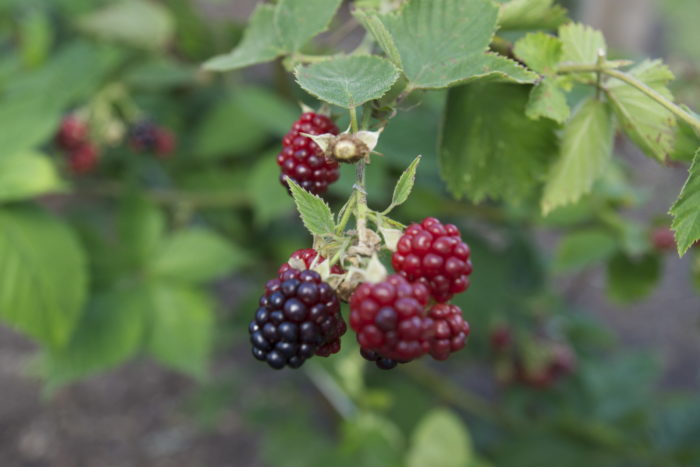 This salad is the result of my quest to find just the right flavor to complement these sweet spiced berries and the amazing vinegar they create. Pickling the black berries is easy you just need to do it at least 24 hours ahead of time so the flavors have time to develop. You could also make them a couple of days ahead and then pre-slice your oranges the day before for a easy to assemble salad for entertaining.
Sweet Pickled Blackberries  
1/2 Cup Granulated Sugar
1/2 Cup Champagne Vinegar
1/2 Cup Water
1 Teaspoon Dried Tarragon
1 Teaspoon Whole Black Peppercorns
2 Cups (about one 6 oz container) of Fresh Blackberries
Blackberry Citrus Salad
4 Mandarin Oranges
2 Naval Oranges
1/4 Cup of Thinly Sliced Red Onion
2 cups Pickled Blackberries
6 to 8 Mint Leaves (depending on the size)
1/4 Cup of Pecan Pieces (optional)
Blackberry Honey Vinaigrette 
1/4 cup Canola Oil
1/4 cup Olive Oil
2 Tablespoons of Honey
4 Tablespoons of Blackberry Vinegar (Reserved from your pickled blackberries)
1/2 Teaspoon Salt
1/4 Teaspoon Pepper
First at least 24 to 48 hours before you plan to serve your salad make your sweet pickled blackberries. In a small sauce pan mix together your 1/2 cup of sugar, 1/2 cup of champagne vinegar, 1/2 cup water, your tarragon and peppercorns. Heat the mixture over medium high heat stirring occasionally  until the mixture comes to a boil and the sugar is completely dissolved. Remove your pan from the heat and let it cool for 15 minutes.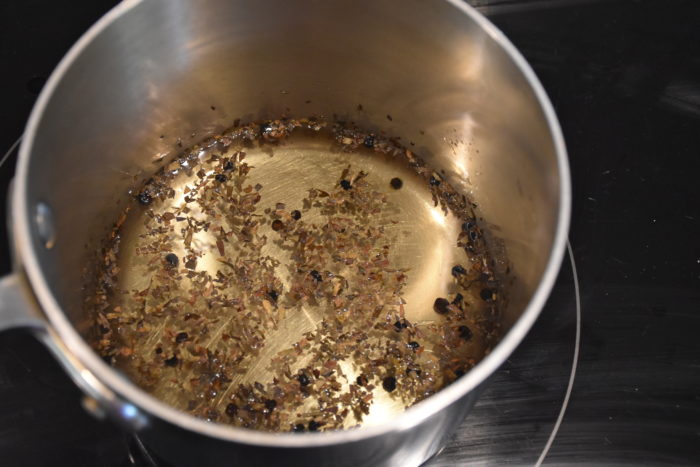 Then while the vinegar mixture is cooling prepare your black berries by rinsing them and then putting them in a 2 cup sized mason jar or a small bowl. Then when the mixture is cooled strain it through a metal strainer and then pour the flavored vinegar over the berries so it covers them completely. Let the berries sit out for 30 minutes and then cover them with the lid or with plastic wrap and place them in your refrigerator for at least 24 hours or up to a week.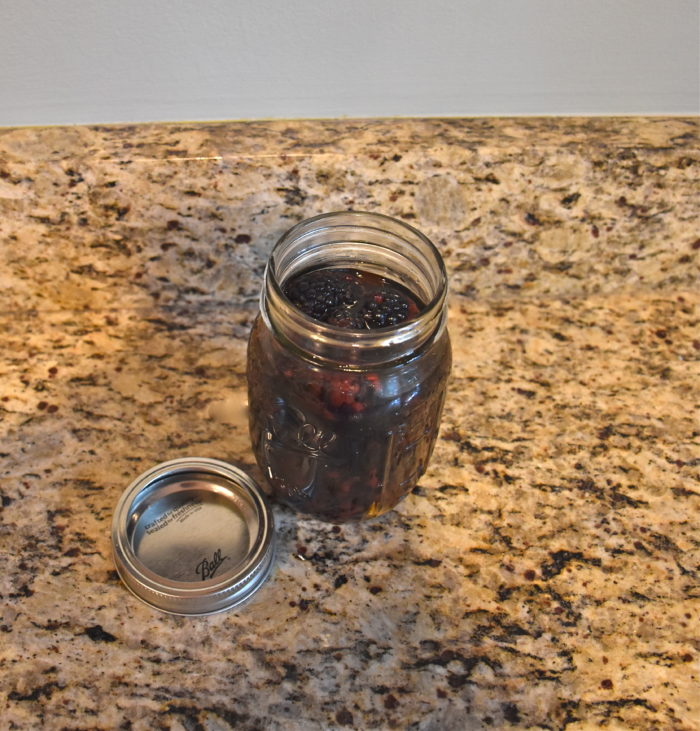 Next you will want to prepare the ingredients for your salad. First you are going to want to slice your orange segments or what they call supremes. In order to do this you are going to cut away the tougher membrane of the orange leaving you with tender slices. It may sound a bit tricky but I have step by step pictures to guide you through.
Take a sharp chef's knife and cut the peel off of both the top and bottom and then cut the peel away from the sides following the contour of the fruit. Make sure you get both the peel and the white pith. Don't worry if you have a little white pith in a small spot you can go back and cut it off after you are done peeling your orange.
Then you are left with a fully peeled orange. If you look at this orange you can see the little white lines between the orange slices those are the membranes you are going to cut the slices out of.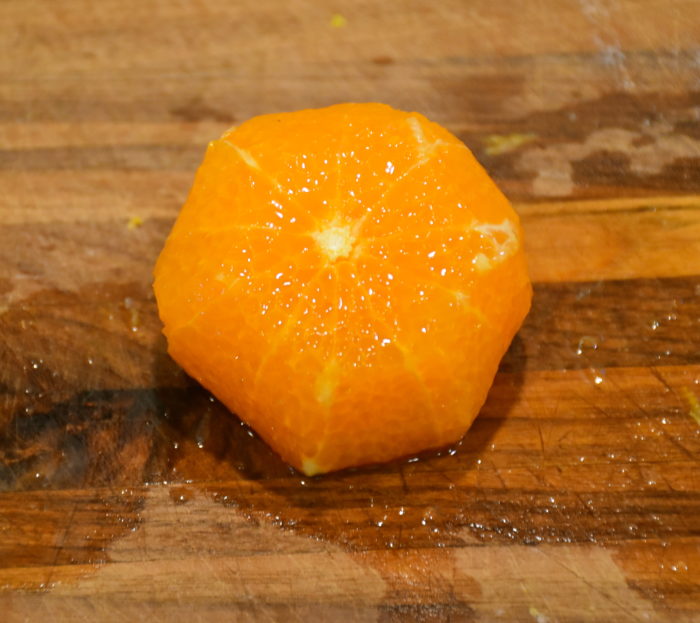 To cut the orange supremes  you want to make your cuts inside the white membrane lines. Make your first cut down one side just inside the white membrane and then make a second cut inside the membrane on the other side so you have a slice . Then when you cut the second side angle your knife up a bit  so you cut your slice free from the center. Then gently pull out your orange segment.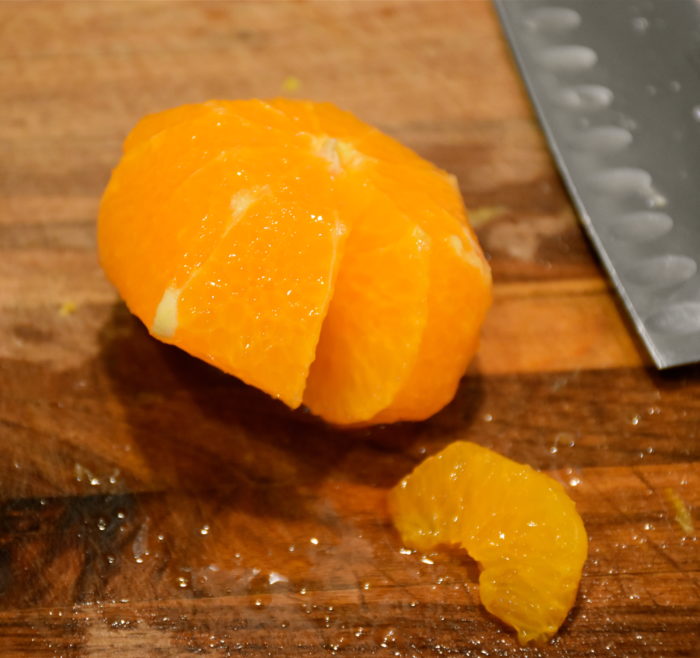 Once you have your slice out set it aside in a bowl or plate and continue cutting around the membranes to cut the rest of the orange segments. You can see in the photo below that the thin membranes are left where I have removed the orange segments.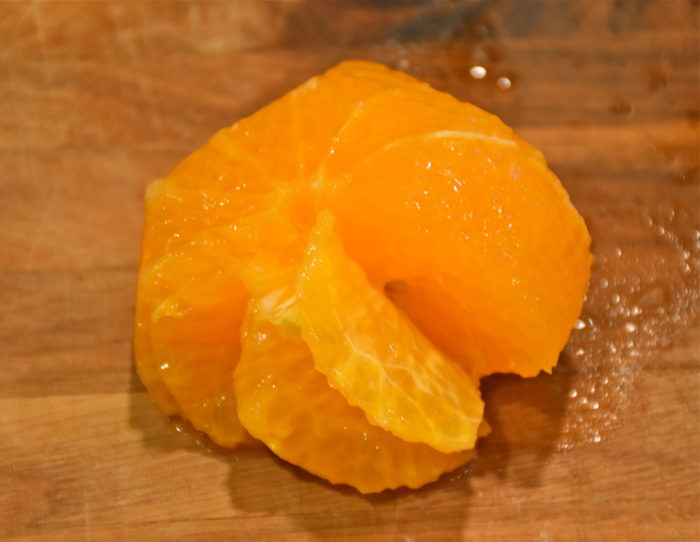 It takes a bit of effort but, cutting oranges and other citrus like this allows you to have tender and pretty slices. Cut all of the mandarine oranges and naval oranges the same way. Don't worry if you haven't done this before, once you get the hang of it the slicing will go faster.
Next peel and cut you red onion into thin bite sized strips. Then take your mint leaves and stack then on top of each other and then roll then up lengthwise like a cigar. Then make thin slices across the rolled up leaves to cut ribbon like strips.
Then remove your black berries from the vinegar mixture but be careful to save the blackberry vinegar for your salad dressing.
Finally to make you dressing in a medium sized bowl whisk together 4 tablespoons of the blackberry vinegar, 2 tablespoons of honey, 1/2 teaspoon of salt, 1/4 teaspoon of pepper then when that is well mixed slowly stream in your oils while you whisk your dressing and continue to whisk it until the oil is fully incorporated and the dressing comes together.
Then assemble your salad on a serving platter or carefully mix your salad together in a bowl and drizzle on dressing to taste. I had extra dressing left that I saved for later. If you are entertaining it could be fun to serve the salad in individual portions in a martini glass, a coupe style champagne glass. I also served this as a dinner salad where I added some butter lettuce leaves.
This blackberry citrus salad serves about four but it could serve 6 to 8 if you added in bed of butter lettuce leaves. Its a versatile salad that can be prepped ahead of time, so you can spread out the steps for easy assembly.  The flavor combination of these fruits are so delicious that this definitely not your average fruit salad. It's a brunch worthy recipe that I know I will be sharing with friends.