My dining room is still not finished. It needs another layer of pattern with a rug and possibly some shades for the chandelier, but sometimes decorating takes time. My dining room is one of the most sentimental rooms in the house because it is filled with furniture I have inherited. Decorating with inherited furniture can be meaningful, but sometimes using an older piece takes some creativity. Our dining room set belonged to my paternal grandmother who purchased her furniture in the early eighties when she was decorating her home. The dining room table and matching cabinets are over thirty years old, so they are not fine antiques but they have a soul and memories that you just can't buy.
The dining room is one of the nicest spaces in our home because it has a large bay window and it faces the double door entry of our home. This gives the room lots of natural light from both sides. Here is a picture I took of the dining room when we where on the real estate tour.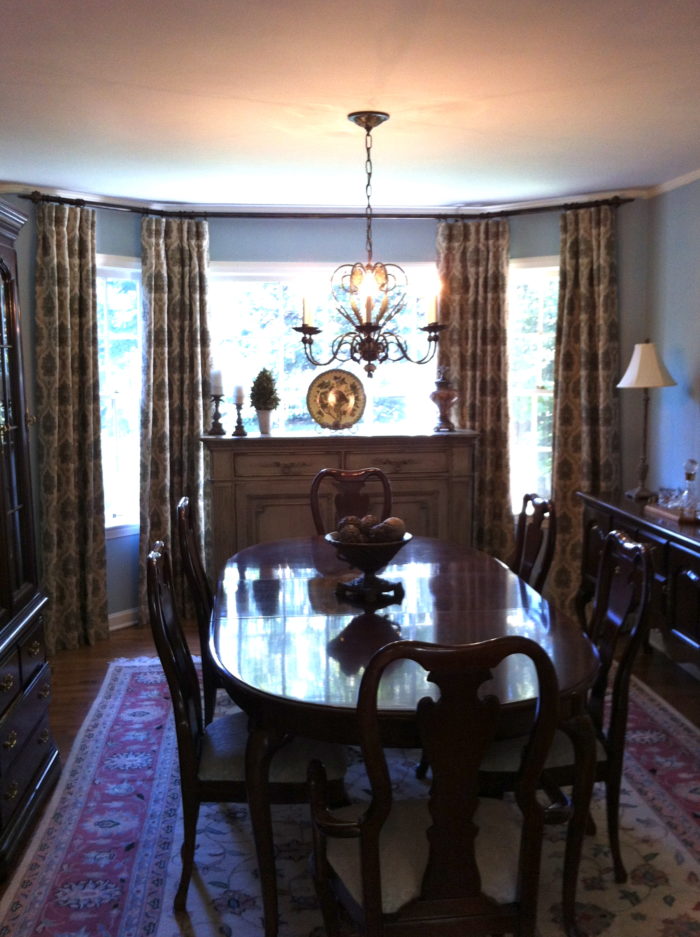 The previous owner had a lovely dining room but I decided that I wanted the space to feel a bit more modern. One of the things I have done when I have older furniture pieces  is to juxtapose the traditional shape and style with something more contemporary. So with this room I chose a modern paint color and accessories. My favorite color happens to be red so I wanted a red dining room, but I didn't want it to be a safer cranberry color. I knew I wanted something brighter, so I went with a bold red from Benjamin Moore called Exotic Red. As the name implies, it is definitely a gutsy color but that's why it works. Here is the room shortly after I painted it.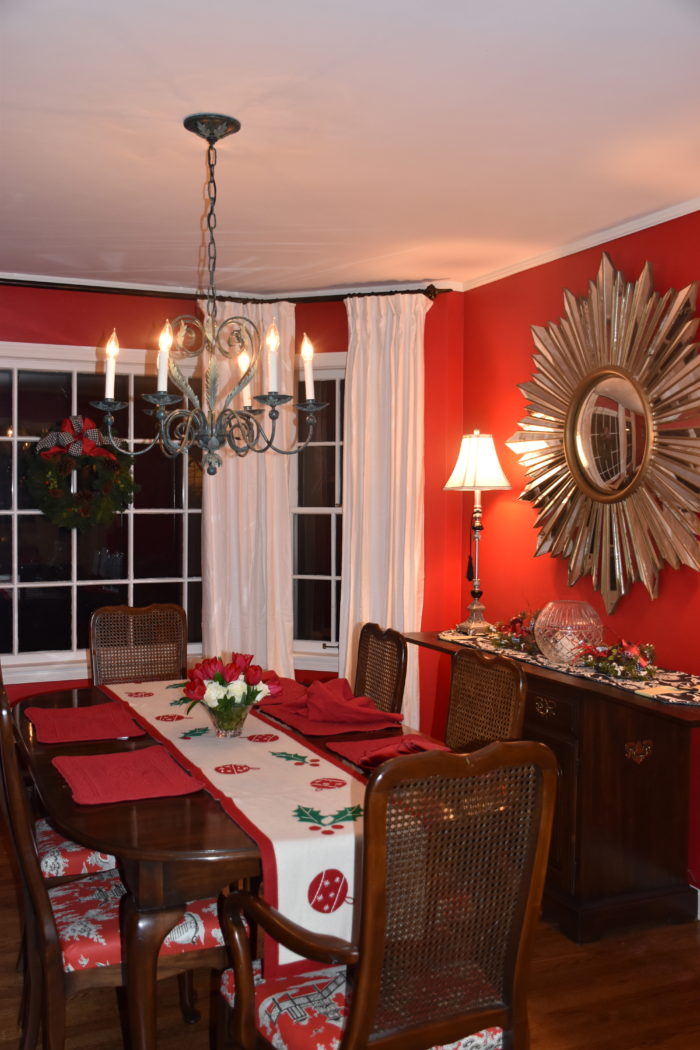 The next thing we did was to change out the chandelier. I wanted a more modern chandelier that still fit with the traditional furniture, so I went with a clear blown glass fixture that still had a traditional shape to it.
Then I worked on was the furniture arrangement. I think the key to using older family pieces is to allow yourself the freedom to make them your own. It has taken me some time to reinvent these pieces a bit. One of the things I have done is to reupholster my inherited pieces in a more modern fabric. The bench you see in the photo at the top of this post was is my maternal grandparents front entry. I had it recovered in a woven white fabric and I used it in the entry of my old home, but when we moved to this house I decided it fit better in my dining room.
Sometimes I like to move furniture around until I find the right spot for it. The starburst mirror is an antique and it is one of my favorite pieces in the house. It was a gift from my mom's godfather. It had originally been made for a church in Mexico, so the scale of the mirror is quite large. As I worked with the furniture arrangement, I decided that it needed a wall of its own. As you can see in the picture above, I had originally placed my buffet cabinet under the mirror but I decided to move the cabinet to the bay window so I could give the room a stronger focal point from the front entry.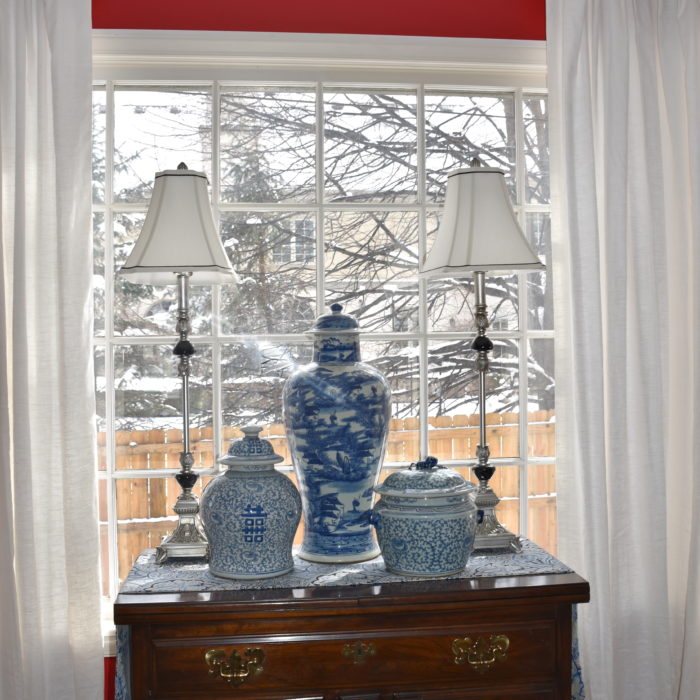 I added some height and interest to my buffet cabinet by sewing a patterned fabric runner and then layering on some larger scale blue and white ginger jars.
Once I decided to add in some blue and white I needed to update the fabric on my dining chairs. Here is a picture of a chair in its original pastel 1982 upholstery.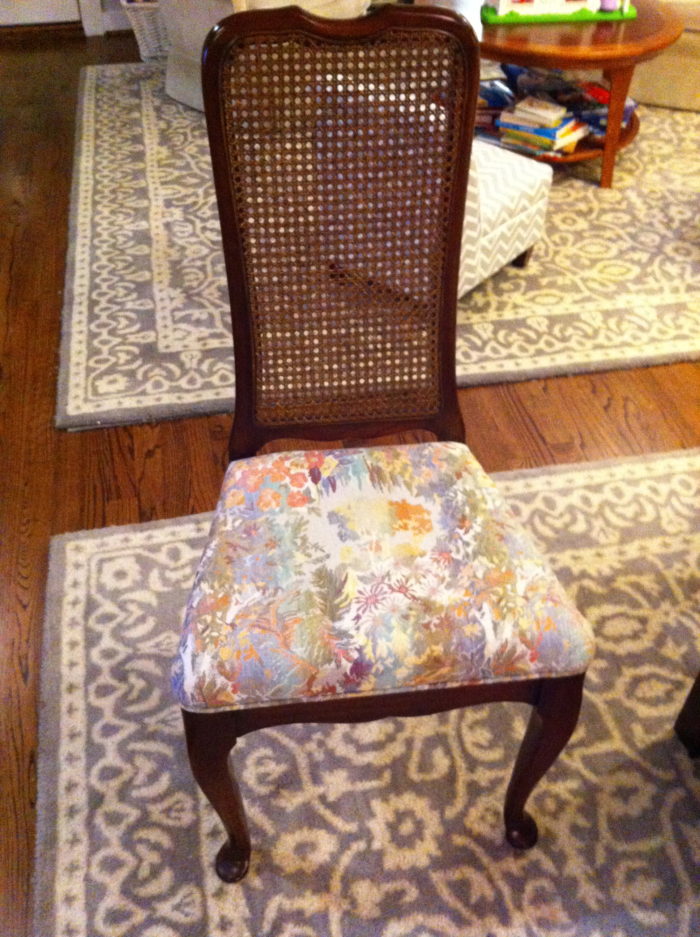 I will admit that I would not have chosen a cane backed chair, but with a series of upholstery changes the chairs have evolved to fit our home. This time I decide to go with an indigo microfiber fabric from Ballard Designs. I wanted our dining room to be a room we actually use so I went with a solid fabric that could easily be cleaned. I love patterned fabric, but this time I didn't want to be worried about chocolate pie or any other favorites getting spilled on the chairs. The latest update we have made to the room is the add some different end chairs. I wanted to break up the cane back chairs a bit so I got some slipcovered white Parsons chairs from Ballard Designs. In any room I like to have some fully upholstered pieces so you have a mix of wooden chair legs and fabric. I wanted removable slipcovers because spills happen and I need the chairs to be easy to wash.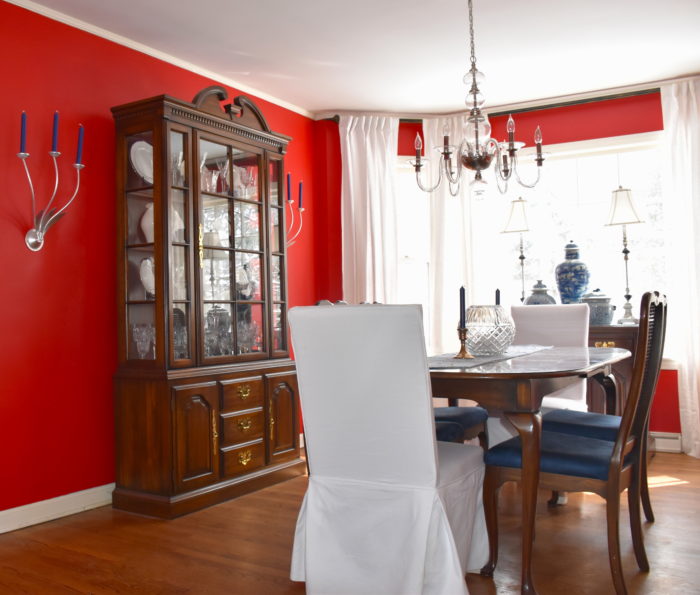 It might take time to incorporate some inherited pieces in your home, but I must admit I love sitting down to a family meal or celebration and thinking about my grandmother. I know she would love to see that her table is still being used and enjoyed and that makes this room just a bit more special.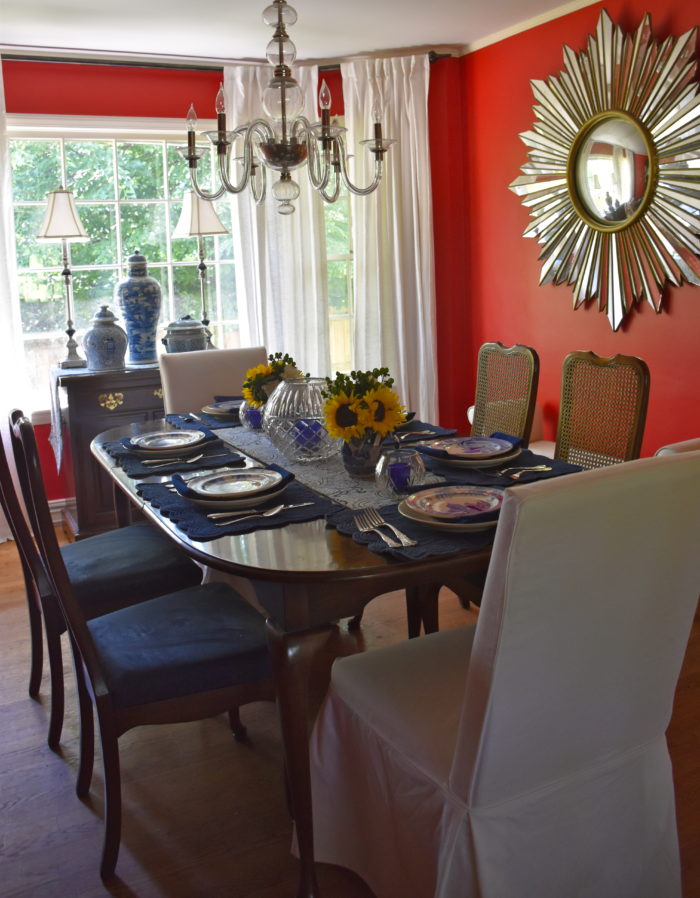 So to end this piece I though I would leave you with a few tips I have learned about making inherited or vintage pieces your own:
First, don't be afraid to make some changes.  An older piece can look completely different in a new fabric or painted a new color.
Second, give yourself time to decide what to do with a piece. Sometimes when you wait the right idea will come to you.
When you have a room full of older furniture think about making the entire room feel more current by choosing a bolder paint color or more modern wallpaper.
Add interest to your room by adding layers of accessories and mixing up the scale of the accessories. Experiment and don't be afraid to change things till you get the right look.
Finally, add in some new pieces to mix up the furniture. I added some new end chairs it instantly gave the room a more updated feel.
If you want to see more vintage dining room inspiration check out this link to fabric designer Caitlin Wilson's home. She gave a traditional estate sale dining room set a modern look with fabric.