Any recipe whose star ingredient is french bread is a winner if you ask me. Maybe that is why I just absolutely adore this salad. It's the dish I love to make for dinner. It's July so fresh tomatoes, cucumber and corn are here and they make this a very colorful and flavorful salad. My husband likes a little protein with his vegetables so sometimes I serve it with salmon or grilled chicken. Recently, I served it with my Italian inspired charcuterie plate and it was a great combination. My version of this classic salad has a bit of a Greek twist to it because I add feta cheese and romaine lettuce. So if you are looking for something a bit lighter to serve this Summer then give this salad a try.
Panzanella Salad
1 head of romaine lettuce
2 ears of fresh corn kernels cut off the cob
1 medium sized cucumber chopped into bite sized pieces
1 pint of cherry tomatoes halved or 2 vine ripe tomatoes chopped
1/2 cup red onion sliced thinly and cut into bite sized pieces
1 1/4 cups of feta cheese crumbled
Croutons
1 loaf of rustic french bread or ciabatta bread cut into cubes (about 6 cups of bread cubes)
2 tablespoons of butter
2 tablespoons of olive oil
1/4 tsp garlic powder
1/4 tsp salt
Salad Dressing
1/2 teaspoon dijon mustard
1 teaspoon salt
1 teaspoon garlic powder
1/8 teaspoon pepper
1/2 teaspoon dried oregano
3 tablespoons red wine vinegar
1/2 cup canola oil
I start by cutting by bread into bite sized cubes. I do this by slicing my loaf in half horizontally and then I take each half and slice it open like you were making a sandwich. Then take each half of bread and cut it into three of four strips depending on how thick your bread is. Then cut those strips into even sized cubes.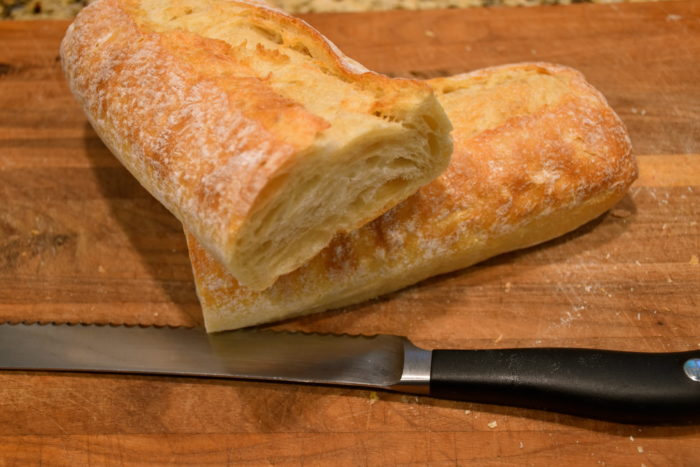 Once you get your bread prepared place a large skillet on medium low heat and melt the 2 tablespoons of butter and add the 2 tablespoons of oil. Then stir in the garlic powder and salt. Once you have the butter and oil seasoned add in your bread crumbs and stir them well so they are evenly covered in the butter.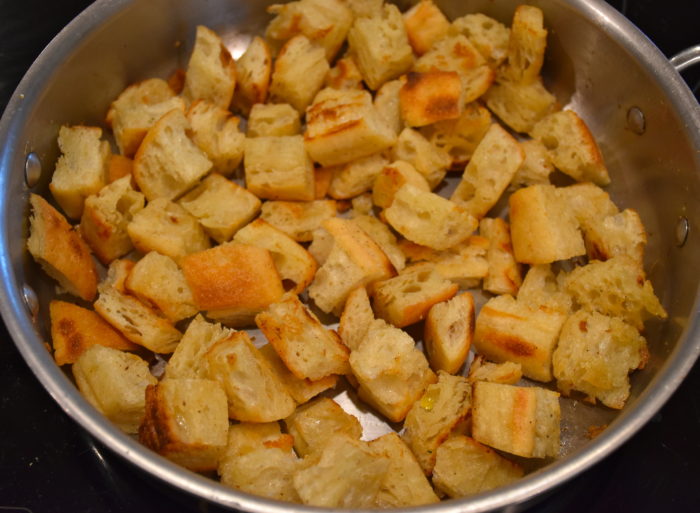 Then continue to cook your breadcrumbs on the stove top on medium low heat stirring occasionally to make sure they cook and get evenly toasted. It's a low and slow cooking process that takes about 30 minutes, but you can work on chopping your vegetables while your bread toasts.
In another pan melt 1 tablespoon of butter on medium heat and then add in your fresh corn kernels. Cook the corn until it turns a brighter yellow (about 4 minutes). Then set the corn aside to cool. Then chop your other vegetables.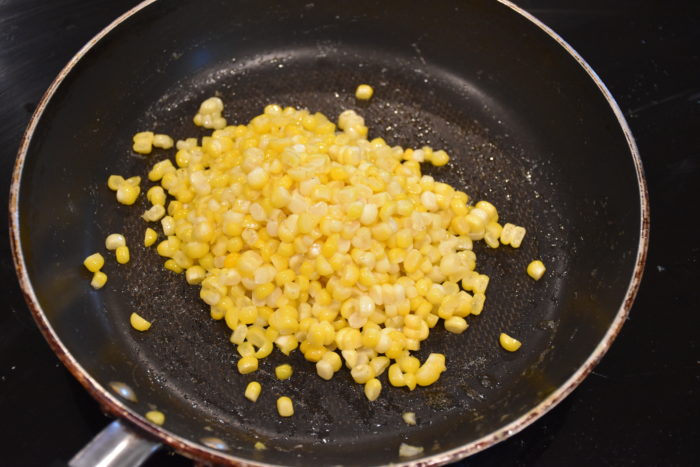 Next, make your salad dressing by whisking together the 1/2 teaspoon dijon mustard and the 3 tablespoons of red wine vinegar. Then add in your garlic powder, salt pepper, oregano. Then final slowly drizzle in your oil while whisking the mixture together and keep whisking until the salad dressing gets thicker and the oil is fully incorporated.
Finally, when you are ready to serve your salad toss together your chopped romaine, tomatoes, cucumber, red onion and corn. Then add the french bread croutons and sprinkle on the feta cheese. Then toss the salad with the dressing and there you have it one of my personal favorites, panzanella salad.