On the brief real estate tour I took of our home, the master bathroom stood out as one  of the rooms I wanted to update. The room was small and the colors felt dark. I took some photos and then I began thinking about what I could do to lighten up this bathroom.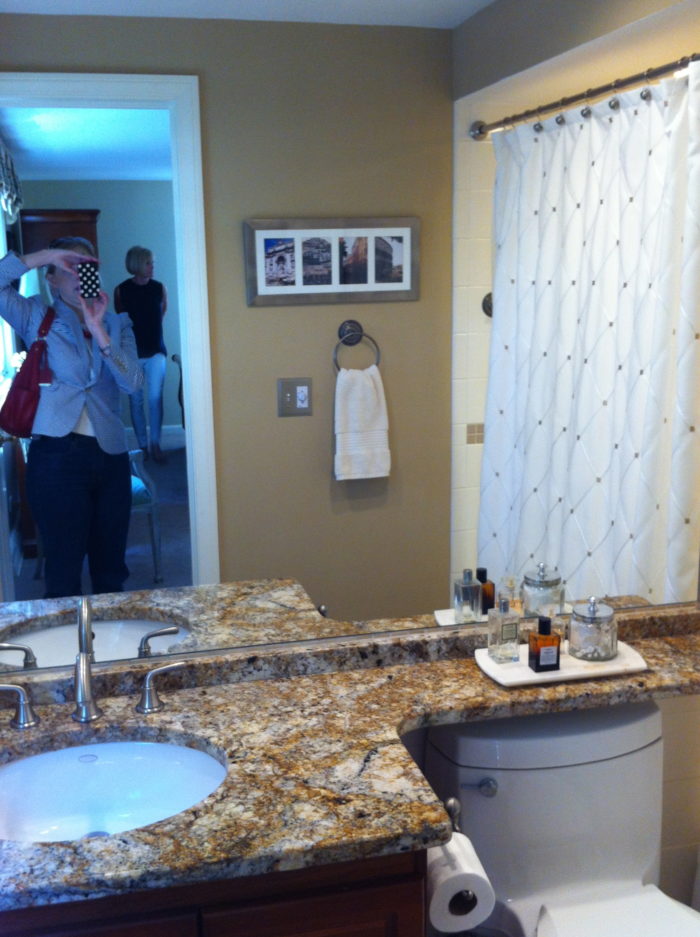 In the future, we would love to do a larger renovation to retile the bathroom and turn our tiny bath into a large walk in shower. However, with a small budget and careful plan, we have made some meaningful changes that have made a big difference in this tiny space.
The first thing I did was I began to think about adding a cooler color that would tone down the orange granite which in this small bathroom really stood out as the major focal point. Since changing the counter top was out, my mind immediately went to turquoise. I knew a blue green color would compliment the orange tones and help lessen its impact in the room. Once I had a color direction I began looking for a shower curtain. In our small bathroom the curtain takes up a lot of visual space, so I wanted to choose something that I really liked that brought in this new color scheme.
Then the second project was to find a way to create more storage. The bathroom had a large frameless mirror which covered the whole back wall. So if we removed the mirror and replaced it with a smaller framed mirror then would would have room for a much needed cabinet. I also wanted to remove a small medicine cabinet that had a dated shutter door. It may have added a tiny bit of storage but it was just not cute and it stuck out a bit. We hired a contractor who removed the cabinet and mirror and repaired the sheetrock.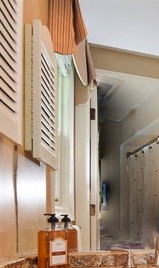 Our bathroom at our old home had a full sized cabinet above the toilet which created great storage.  I decided to add a similar cabinet to our new bathroom since we had very limited storage and no place to put our towels. I also like having a higher cabinet that keeps little ones out of any medicines or toiletries.
We replaced the mirror with the Henry mirror from Birch Lane and the cabinet was a kitchen cabinet from Home Depot which was a close match to the existing vanity. I then replaced the door pulls so they would all look the same. I found these knobs by Cynthia Rowley at Home Goods, but Hobby Lobby has some similar looking knobs.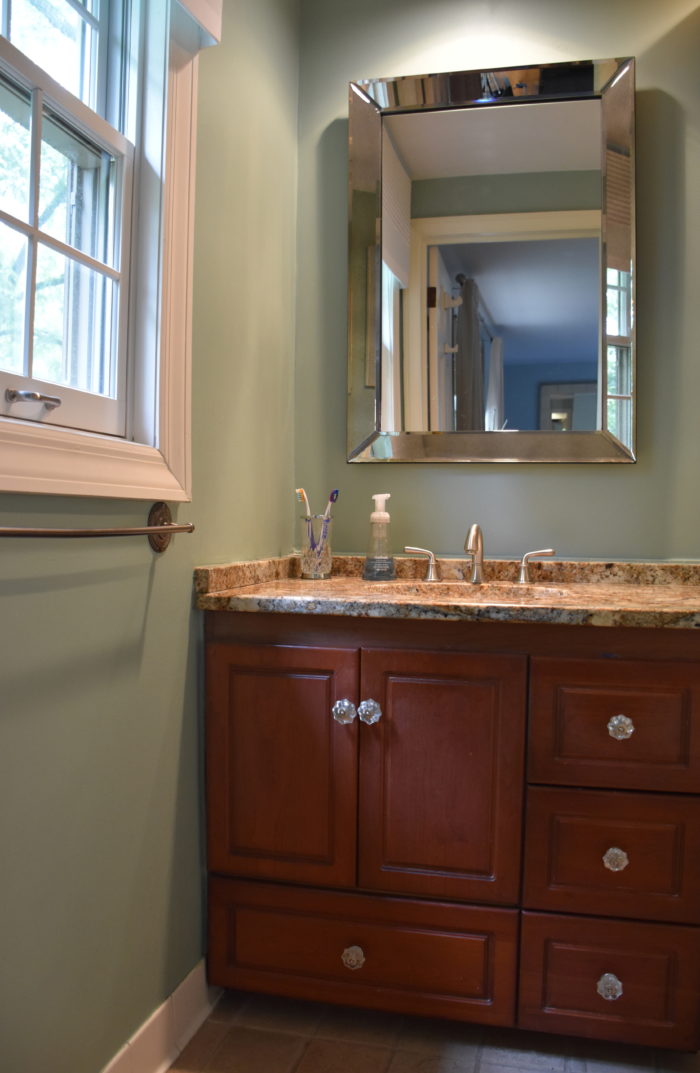 I painted the walls Wythe Blue by Benjamin Moore and I got it in their spa finish which has held up well with all the steam that a small bathroom can create. The cool toned blue green color works well with the counter tops and makes the bathroom feel a little brighter. The art was a lucky find at Home Goods years ago. They are printed on a plastic canvas so the pictures work well in a bathroom.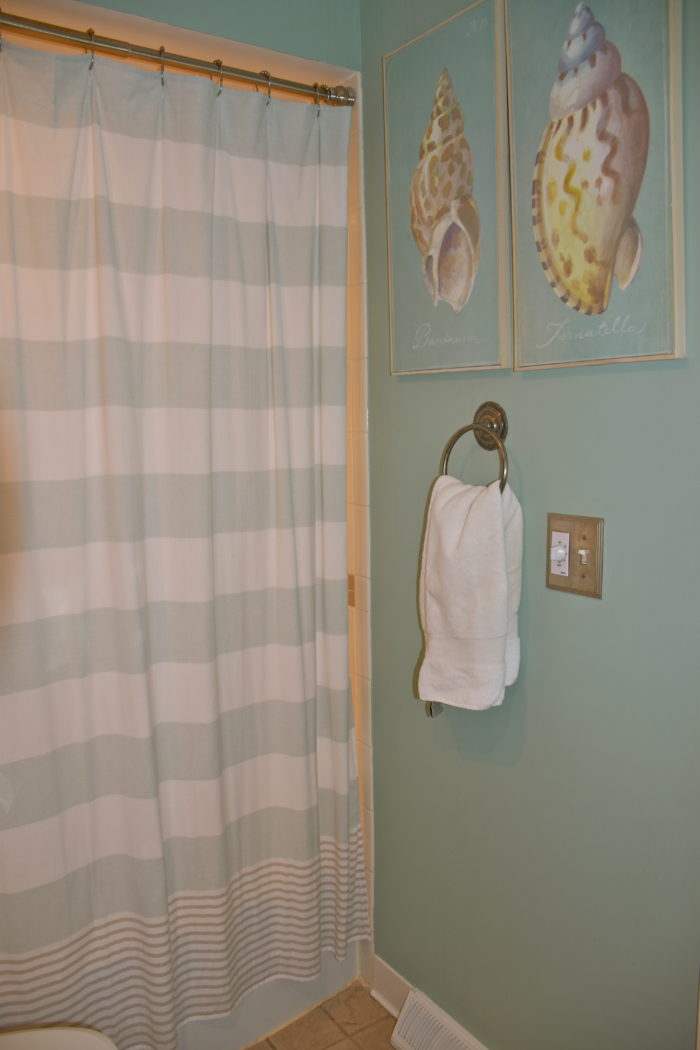 This shower curtain from Serena and Lily really makes this room. I so was excited when I found it because it had the beautiful aqua color stripes with a smaller bark colored accent, which worked to tie in the floor tile as well as the accent tile in the shower.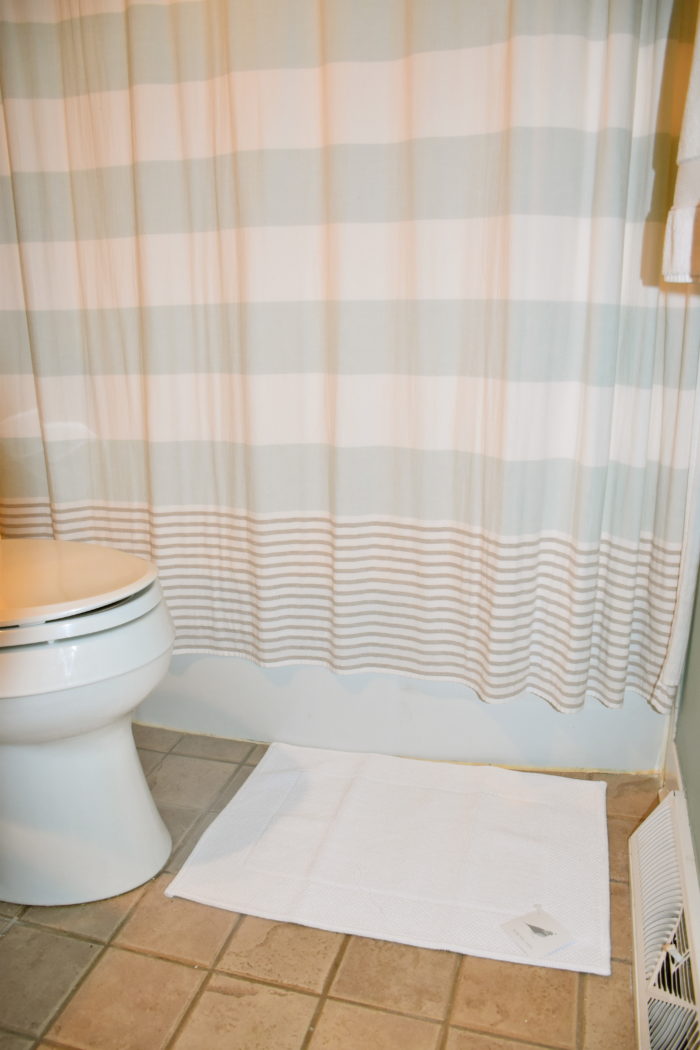 I had some trouble finding a small bathmat that would fit in the very tiny space between the toilet and the wall. After looking a lot of different places with no luck, I finally looked back a Serena and Lily and I found that they had a tiny mat. So if you are looking for a mat for an unusually small space you might have luck there as well. I like using white towels and mats because they can be bleached if they get dirty.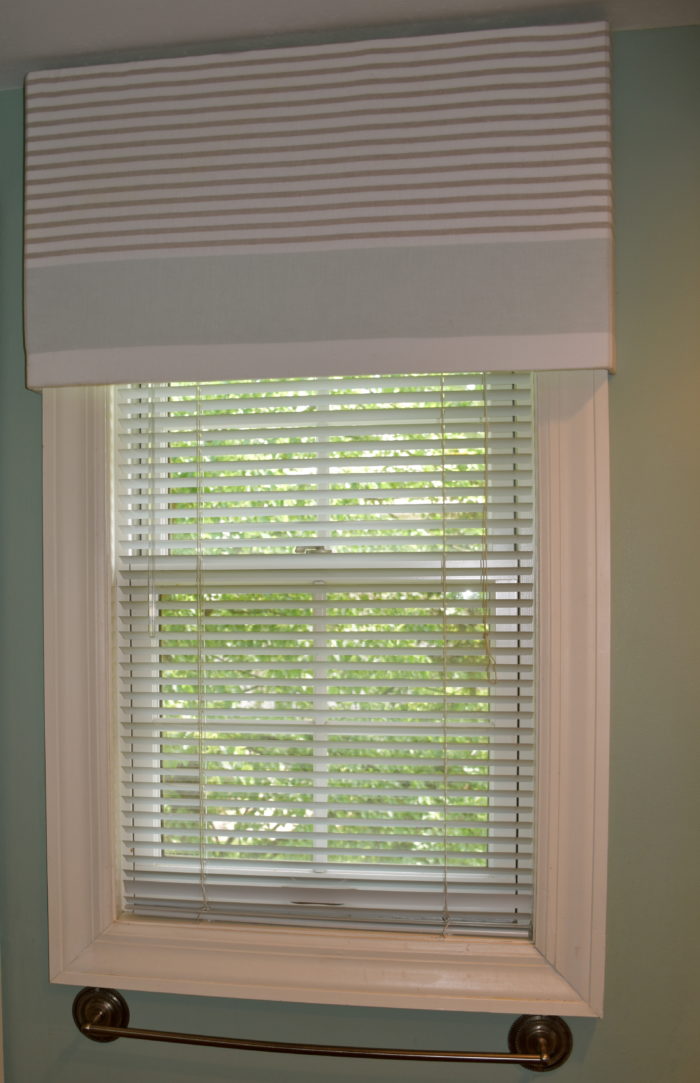 The final touch is the cornice valance that I recently made for the window. There is a story behind this window valance. I had been looking for fabrics but hadn't found the right one. Then there came the day when my husband was showering and out of nowhere our old shower rod broke and in the struggle to try and get the shower curtain back up again the woven fabric was ripped along the edge in such a way that it just couldn't be repaired. In the end, it was kind of a serendipity because I was able to order a new shower curtain and I used the old one to upholster this custom cornice board. I decided to flip the pattern so it was the opposite of the shower curtain. I love the final look. It adds just the right finishing touch.
This bathroom was one of our least favorite rooms in the house and now thanks to a new color scheme and a few changes it feels lighter and it functions better. So don't underestimate the big difference that color can make. Changing the paint to a cooler color made the room feel brighter and the shower curtain gave it an updated graphic pattern. The colors in the fabric were perfect, because it looks like it was custom made for our bathroom. I also love the look of our new mirror. The beveled glass frame is easy to keep clean and its classic lines updated our vanity, while giving us room for more storage. So if you have an older home with a quirky bathroom you would love to change, think about a new color scheme. The right color can really transform a room.