Keep your face to the sunshine and you cannot see the shadow. It's what sunflowers do.
-Helen Keller
Sunflowers have always been one of my very favorite flowers. There is just something about their bright sunny shape that never fails to brings a smile to my face. Pair them with some cobalt blue and white and you have everything you need for a pretty Summer table.
I was walking into the grocery store when I saw a woman with a bunch of sunflowers in her cart and when I saw them I knew exactly how I wanted to set my table for a small dinner party we were having with friends. Sunflowers are great because they are long lasting flowers that are generally easy to arrange. While I was at the store I also picked up some green hypericum coco berries and some white carnations. When I am making arranging flowers I often like to make arrangements with three different bunches of different flowers. It's a classic arrangement that works well with lots of different types of blooms.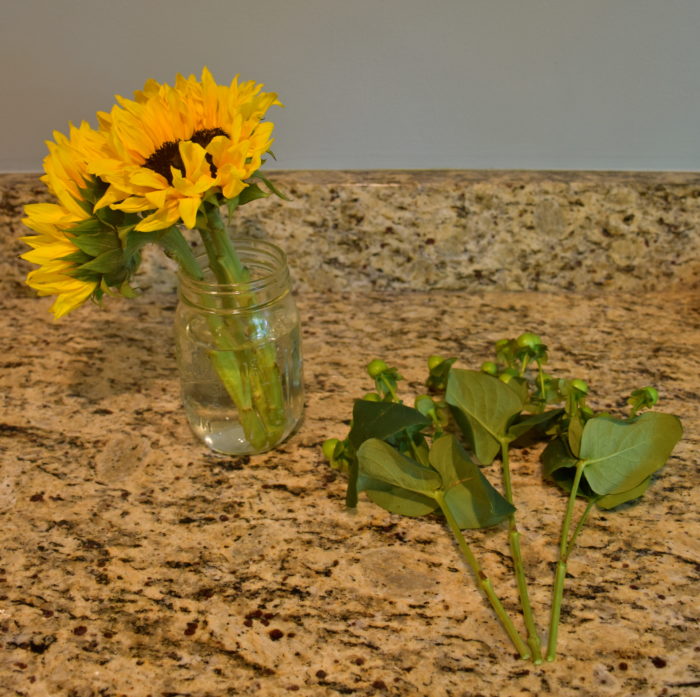 The first thing I did was cut three sunflowers to fit the mason jar I was using. Then I trimmed three stalks of hypericum berries where two were slight shorter and the middle one was about a half an inch taller. Then I placed the berries in the center of the arrangement.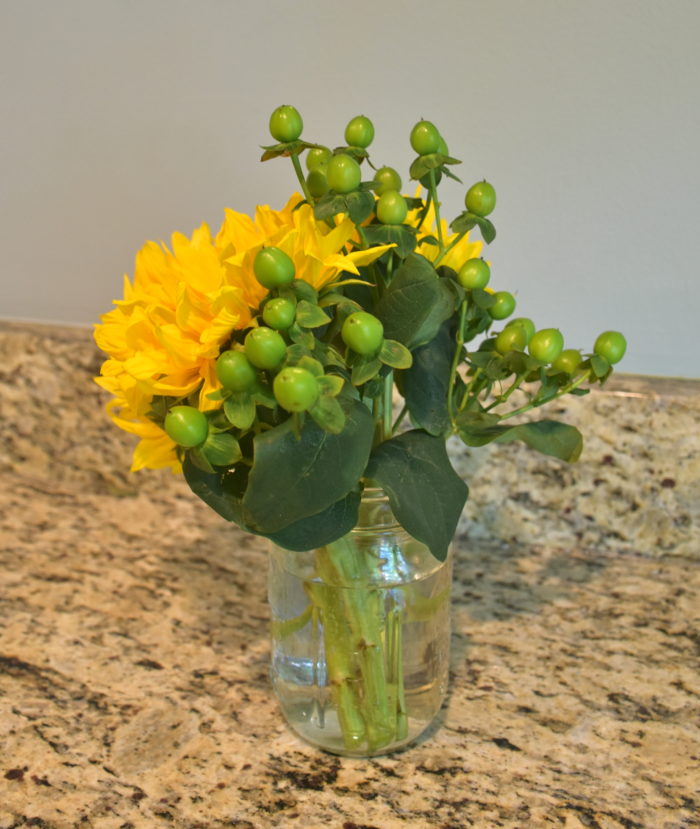 Next I added a group of four white carnations and I cut them where one was taller, then two were the same size and one was a little shorter to fill out the bottom.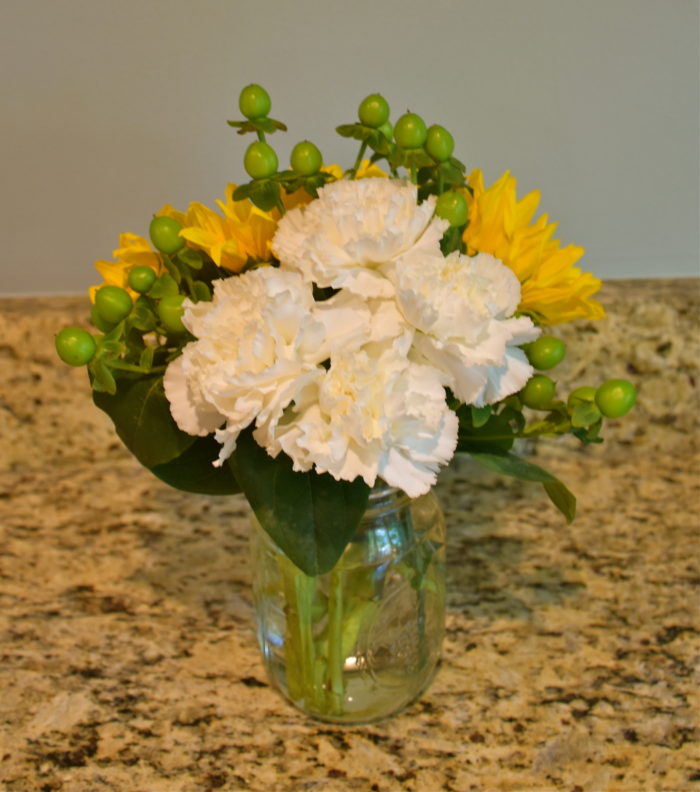 I decided to add some blue and white wired ribbon I found at Michaels. I cut the ribbon on the diagonal and I tied the ribbon around the base of the jar in a simple knot.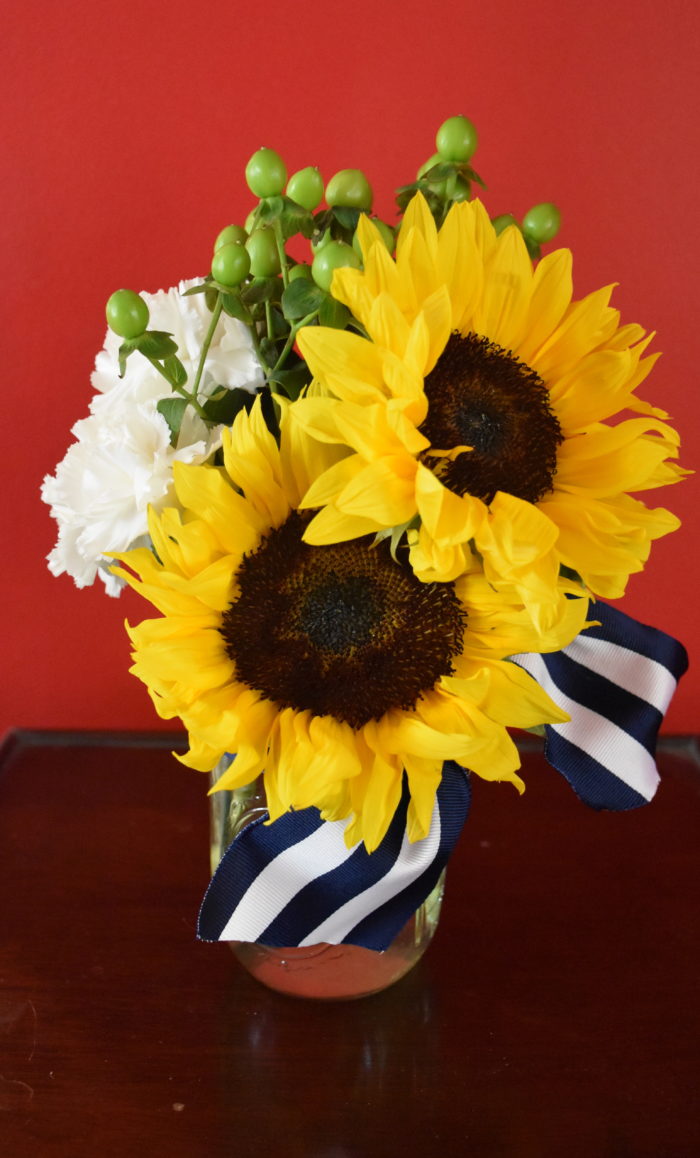 When I was setting my table I decided to make two identical arrangements and change the vase from the ball jars to use two ginger jars I had. Although the ginger jars had very different patterns they were about the same size. I liked the collected look of using two different jars. I placed the flowers on either side of my rose bowl with a cobalt blue candle inside. When I am entertaining at night I like to add some candles to my table. They add a nice glow to the table.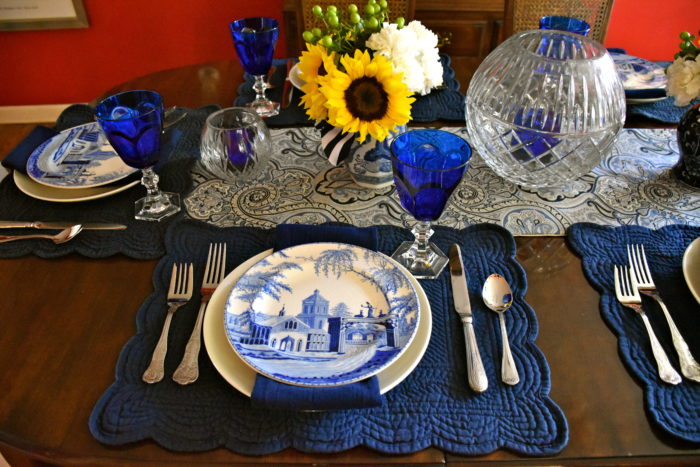 When I set a table I want to keep my flowers fairly low so guests can easily see each other. The blue and white salad dishes were a birthday gift. They are from the Sophia collection at Pottery Barn. These plates make my grandmother's white pottery plates look a little more special. The cobalt blue glasses are actually plastic which makes them great for summer entertaining. They add just the right bit of color and finishing touch to my table.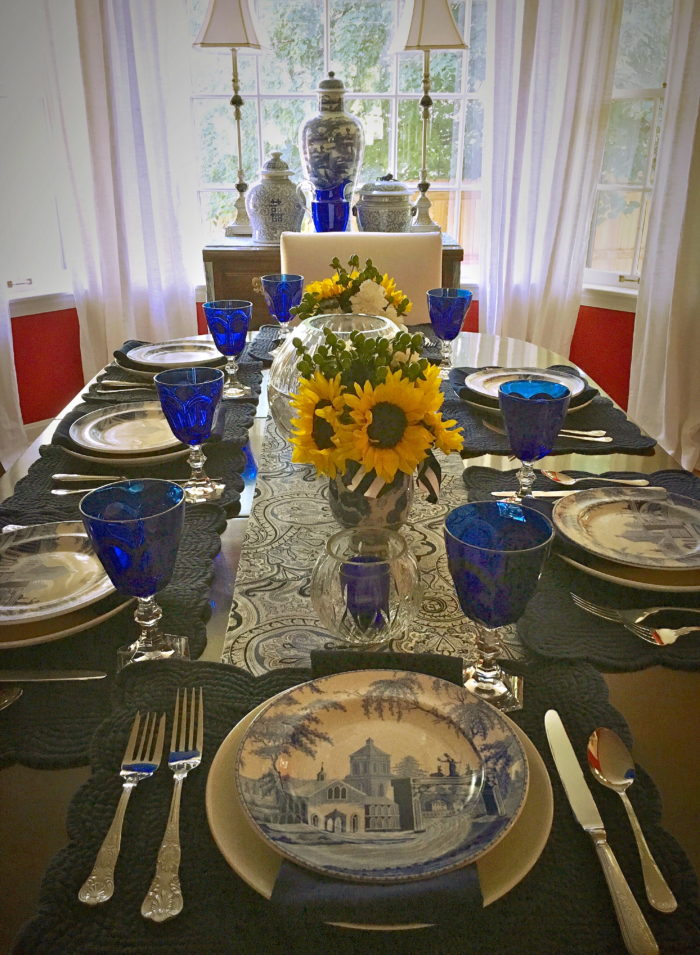 This was a fairly quick and simple table to put together. Sunflowers and blue and white make for a very happy and welcoming table. Happy entertaining!