When you really love a restaurant you come to know its best dishes. The things that make you want to come back and if you really like that menu item, every time you dine there its hard to think about ordering anything else but that signature dish. If there was a signature side dish from my kitchen it would be this salad.
I was making it when my mom was in town a couple of months ago and she asked where I originally got the idea for this black bean salad and I had to think. The truth is this salad has evolved over time but I have been making it for so long that I don't use a recipe. I did some looking back in my files looking and I finally found an old recipe for Gazpacho Dip. The dip doesn't have all the same ingredients but it must have been how this salad started, which is funny because my sister likes this salad and serves it as an appetizer with chips. If you have come to my my house for dinner or a party then chances are I have made this salad for you. Its easy to make and it goes well with any sort of mexican food. I like it on top of chicken enchiladas, with tacos or with king ranch chicken. It's a lighter alternative to the standard rice and beans. However, I find it is also good as a side when we are grilling burgers or flank steak. So here is one of my very favorites:
Black Bean Salad
1 (15 oz) can of black beans well rinsed and drained
2 ears ( 2 cups) of fresh corn cut off the cob
1 TBSP butter
1 pint (1 3/4 cup) of grape tomatoes chopped in half
4 green onion tops (just the green part) sliced thinly on the diagonal
2 avocados chopped into bite sized pieces
2 TBSP lime juice
2 TBSP apple cider vinegar
1/2 tsp cumin
1/4 tsp coriander
1/2 tsp kosher salt
1/4 tsp garlic powder
1/8 tsp pepper
1/4 cup canola oil
To make this salad start with rinsing and then letting the black beans drain in a strainer. You want the beans to be well drained because otherwise they will leave a black residue on everything else and although the salad will still taste good, it just isn't as pretty. Next heat the butter in a skillet and add the corn sauté the corn on medium heat for about 4 minutes or until the corn turns a brighter yellow and is cooked through.
Then remove the corn from the heat and let it cool. Next get the tomatoes and green onions chopped.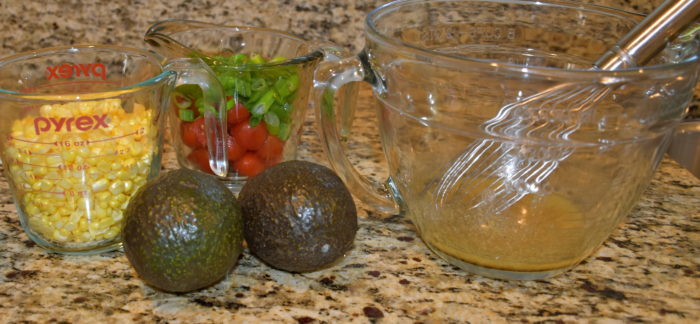 Then in a large mixing bowl make the salad dressing. Whisk together the lime juice, apple cider vinegar, cumin, coriander, salt, pepper and garlic powder. Then slowly drizzle in the oil while whisking it into the other ingredients. Continue whisking until the dressing comes together and the oil is fully incorporated.
Then chop your avocados. You want to save this till the end because they can get brown quickly if you don't get them in the dressing with the lime juice. I just love avocados but there are a few facts you should know about them that will help you pick the right ones and store them correctly. These are the kind of things that sometimes cookbooks don't tell you but are good to know. Avocados don't ripen on the tree. They only ripen once they have been picked so how you store an avocado once you buy it really matters.
When you are looking for avocados at the store you want to feel them to see how soft they are in order to determine ripeness. If it is too mushy or soft put it back. The same thing applies if it is as hard as a rock.  You want it to be somewhere in the middle. It should be have a little give without being too soft. You can buy firmer avocados and then let them ripen on your counter for a few days, but if they are ripe you can put the straight in the fridge. The key thing to know is once you place them in the refrigerator all ripening will stop. The other thing I do is to always buy an extra avocado. That way if one turns out to be not quite as good you thought then you don't have to worry.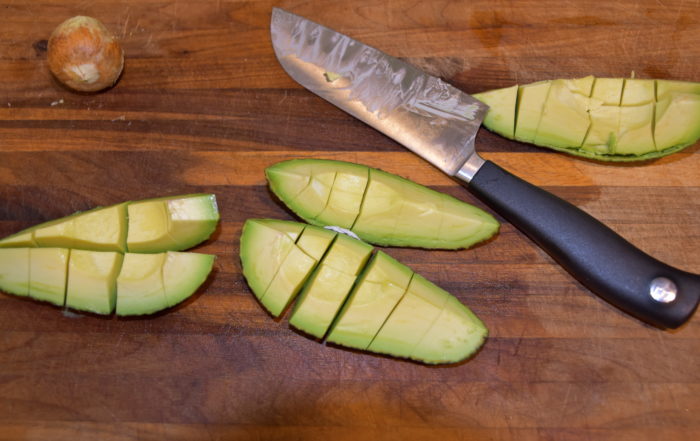 To chop my avocados I slice them in half lengthwise and then I remove the seed and cut them in the skin. Once they are sliced I peel off the skin. This makes them easier to handle and cut.
Then once your avocados are chopped place them in the dressing  and coat them in it so they don't brown on you. Then I layer on the tomatoes, green onions, black beans and corn. If I am making this ahead of time for a party I leave the salad un-tossed until right before I put it out. Then when serving you can put it in your serving dish or just carefully mix the salad in the bowl. Avocados can get mushy if you mix it too much.
So if you are looking for an easy side to make and share this summer try this salad. Its a versatile crowd pleaser and the good news about having a recipe for a favorite dish is there is no debate because you can make it anytime.